Are you wondering how to make a cozy home?
I have great ideas to make your home not only cozy but your safe haven.
Why a Cozy Home
These last two years have been nothing like most of us have ever faced.
We've been going through a worldwide pandemic.
Politics have made our world so divisive and I for one have never spent so much time in my home.
Meaning of Safe Haven
A Place of Refuge or Security
I've chosen (for my own sanity) to look at this as a time of new adventures.
My corporate job was eliminated and I've had the freedom to pursue my passions.
I'm blogging full-time and talking about all the things that make a house a home.
Making my home cozy and inviting has always been a priority for me but never so much as these past two years. I shared my feeling about this new normal for me HERE.
Peace of Mind
When things are neat and tidy it gives me peace of mind and less stress.
I can concentrate on being creative when I'm not stressing about laundry that needs to be done or a bathroom that needs to be cleaned.
Having my home neat and clean is cozy and relaxing to me. I've embraced some habits that are working well for me.
I make my bed every day
I do one load of laundry every day
Tidy up the kitchen every night before I go to bed
I wash my sheets every Friday
We work together on the weekends to deep clean the house
Make Your Bed Everyday
I didn't always make my bed. The saying "you're never too old to learn" is something I really believe.
One of my fabulous nieces came to stay with us for a month while she was waiting for her first apartment in Chicago to be ready. She made her bed every morning.
While she was a wonderful house guest, it wasn't something she was doing to please me. She told me that she always made her bed and it gave her a sense of starting the day off on the right foot.
I thought maybe she was on to something. She is a "glass is 7/8 full" kind of a gal!
I gave it a try and I have only missed a few mornings since then.
I can't believe how many days of my life I missed having this fabulous feeling.
Little secret (it also makes your sheets feel like they are crisp and clean for a bit longer).
Doing One Load of Laundry Everyday
Doing one load a day keeps the task so manageable. I do the one load from start to finish; wash, dry, fold, and put away. It's just so easy and it doesn't seem like a chore.
Tidy up the Kitchen before I go to bed
There is nothing like the feeling when you come downstairs and the kitchen is in order. You are ready to start the day.
Wash my Sheets Every Friday
If I had more time I would wash my sheets every single day.
To me, there is nothing more luxurious than getting into bed when the sheets are freshly laundered and crisp.
In my post about making your bedroom romantic, I talk about the kind of sheets that we sleep on. You can read about that HERE
Deep Cleaning on the Weekends
Everyone who lives in this house helps with weekend cleaning.
Granted the bulk of it, I do but "Handy" is typically working on other projects.
But we all have our things. I handle the bathrooms and the deep kitchen cleaning. Emma does the picking up and dusting and "Handy" does the floors.
When we work together it just takes a couple of hours and then we have the rest of the weekend to do whatever we like.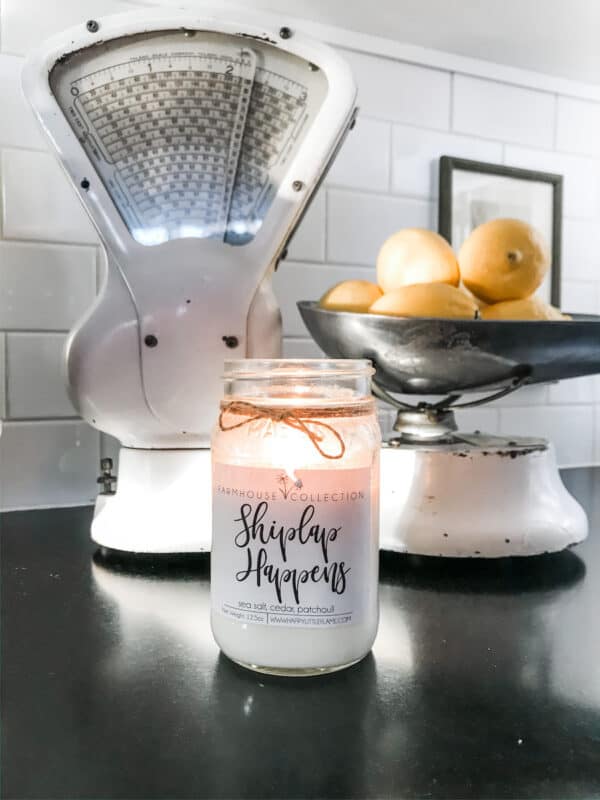 Add the Cozy
For me, a home isn't home without fresh flowers and I treat myself to them at least once a week.
My favorite place to buy flowers is Trader Joe's. I also love candles and my diffusers!
What is the sense of a clean house if you don't treat it to flowers and a great scent?
I also have an overabundance of pillows and throws out during this time of year.
Textures and layers are a must in the winter months.
On these cold, still, winter days, especially when it's cloudy and dreary I love a crackling fire in the fireplace. So to paint the picture; it's a Saturday evening in February.
My bed was made this morning and the house is completely clean.
I have some awesome flowers in just the right vase.
There are several candles burning and there's a roaring fire in the fireplace.
I wrap myself in a comfy throw after I've poured myself a glass of wine.
I'm snuggled up with a good book while "Handy" watches a western he's seen a million times.
All is right with my world!
While the world can be turning upside down outside, I love that my cozy home is my safe haven against the world.
Peace

A great way to save this article is to save it to your Pinterest boards. You can find the pin button in the top left corner of the photo below. Also, don't forget to follow me on Pinterest