How to Decorate Your Living Space with Vintage
I love vintage and today I'm going to share with you how to decorate your living space with vintage decor.
My style is actually a very eclectic mix of styles. I think the best way to describe my style would be a modern Vintage Farmhouse with a hint of French Country!
Which actually makes no sense at all!?!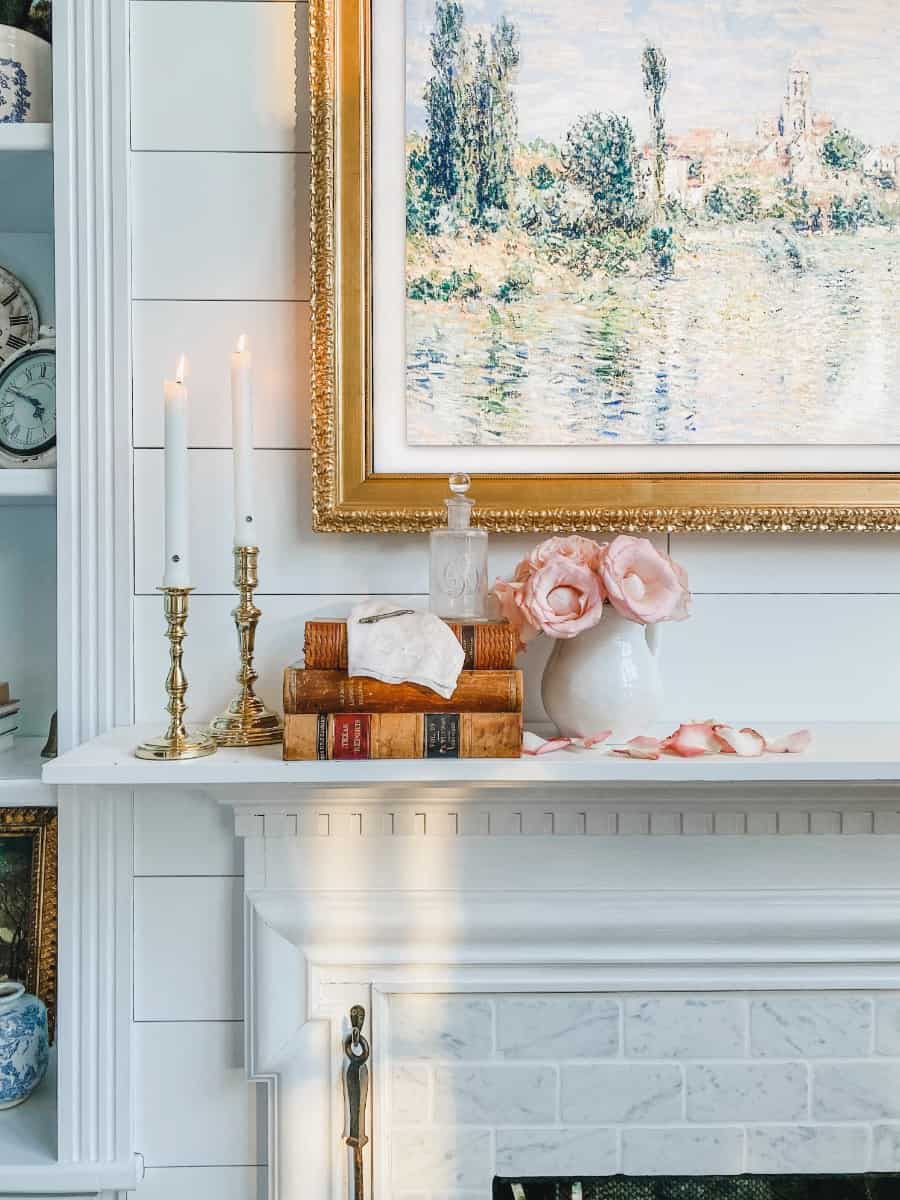 On my blog Living Large in A Small House, I may sometimes use affiliate links, which means a small commission is earned if you make a purchase via the link. The price will be the same whether you use the affiliate link or go directly to the vendor's website using a non-affiliate link. You can find my full Disclosure Policy HERE
My Living Room Furniture
My furniture is not old and has more of a farmhouse/coastal feel to it. It's all white slipcovered with rolled arms and a pillow back. Our space isn't large so the furniture we purchased is of a smaller scale. It's called apartment-sized furniture.
Our coffee table which sits in the middle of the room, isn't an antique but it's old. It's been painted several times; first black and now white. It's rather large and anchors the space. It also has great storage for games and cards, something that we treasure in a small house.
My rug is also white and has a boho feel but works in my space.
It is definitely a mix of different styles but they all work together.
For the most part, the room has a pretty neutral color palette and I like it that way so I can bring in different colors depending on the season.
The walls are painted blue which is my favorite color but we don't have much wall space so it's not overwhelming. In fact, I'm thinking of painting it a darker bold blue soon.
I have two chairs in the living room that aren't white. One is a blue buffalo check and the other has three different fabrics on it. I recently recovered an old French Louis XV Style Chair with floral, strip, and solid fabrics. What a difference!

How I Use Vintage
In my living room design, I use vintage items primarily as accessories. In addition to my two old chairs, I also have two end tables that are old.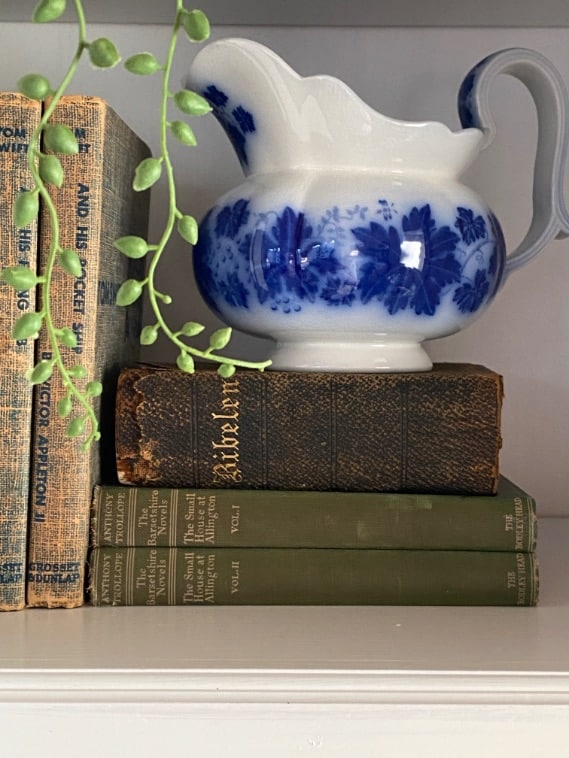 The bookshelves that flank the fireplace house many of my vintage finds and old books. Mixed in are some modern pieces to give it a more classic look.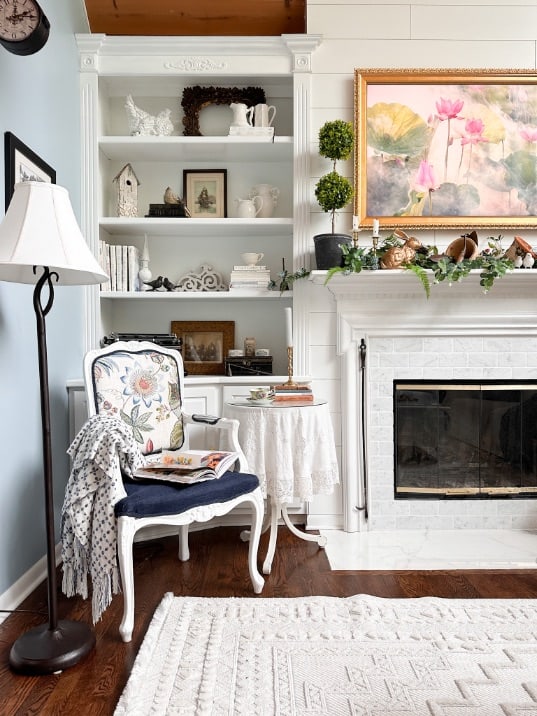 Currently, I have an old typewriter which is one of my favorite things on my shelves. There are also some old paintings and picture frames along with some old books. Some of my ironstone pieces are on my shelves and I also have other unique pieces mixed in.
I used to have more vintage items in the living room but while I love old pieces, it can give a cluttered look if not done properly. In recent years, I've embraced the less is more philosophy.
Having a few key pieces that become a focal point is an easy way to give your space a sense of nostalgia while keeping an updated modern living room feel.
The Dining Room
My dining area has the most vintage/antique furniture. My sideboard, dining room chairs, and jelly cupboard are all vintage furniture. "Handy" made our table to match the furniture.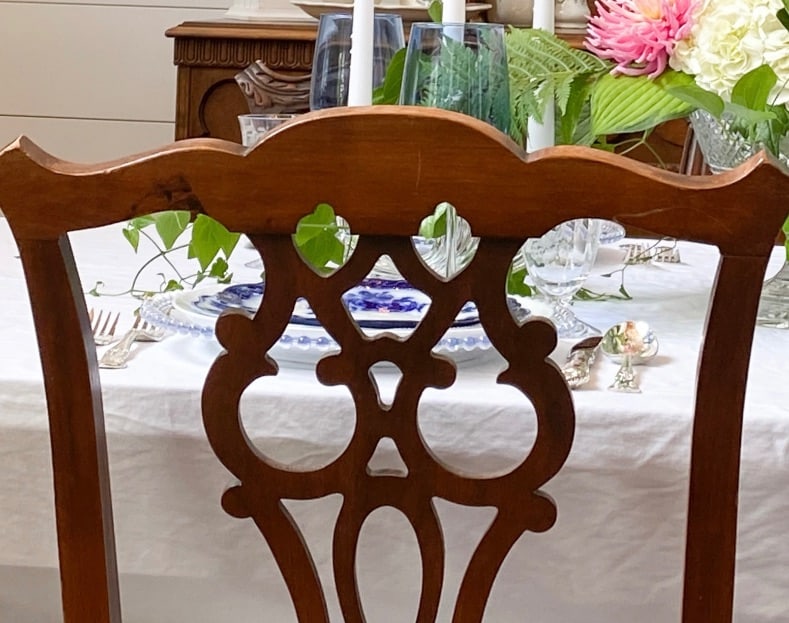 I'm crazy about old China and glassware. The corner cabinets in my dining room are filled with it.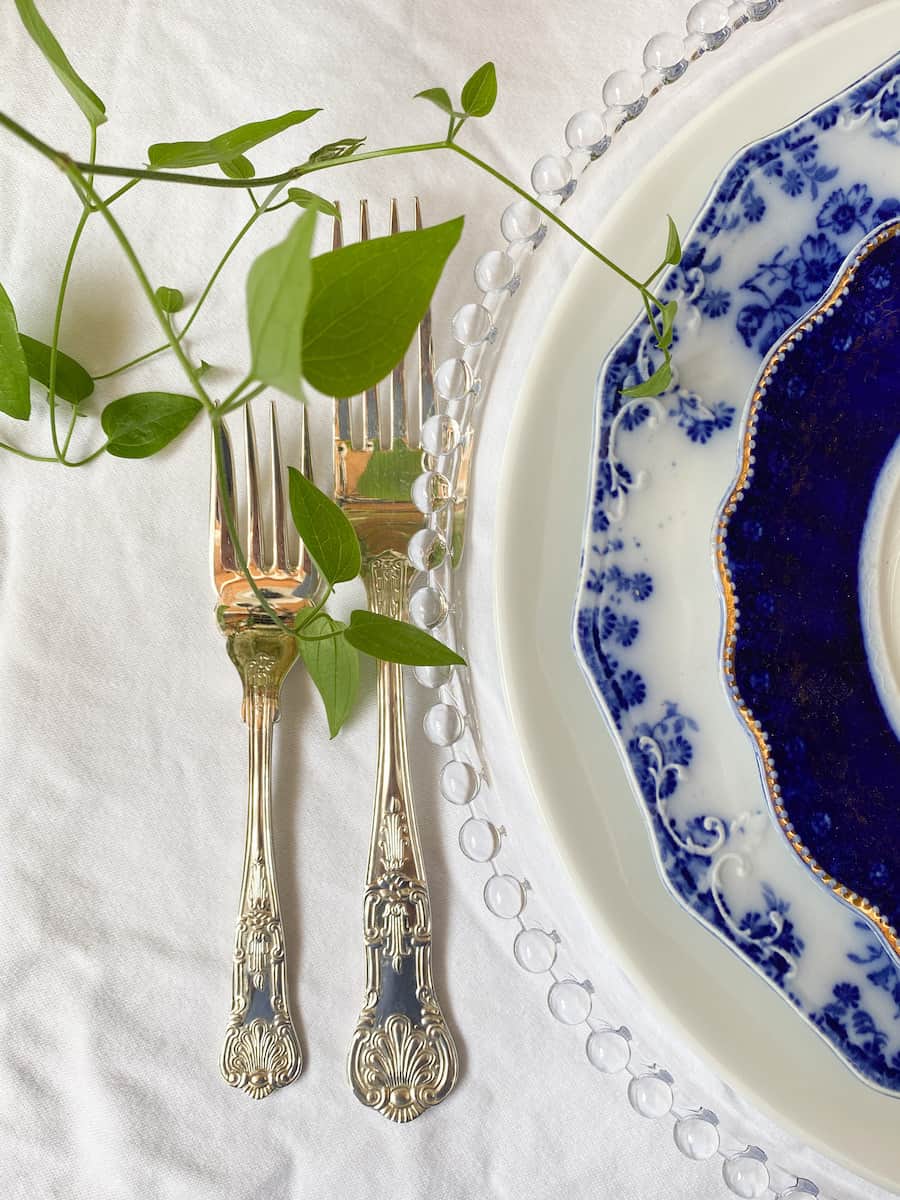 Where I Find My Vintage and Antiques
You can find vintage in so many different places, you need to not only be patient but also visit your favorite places often as the stock changes daily.
Flea Markets
Antique Shops
Estate Sales (Estatesales.net)
Yard Sale
Barn Sale
Thrift Store (Goodwill is a favorite)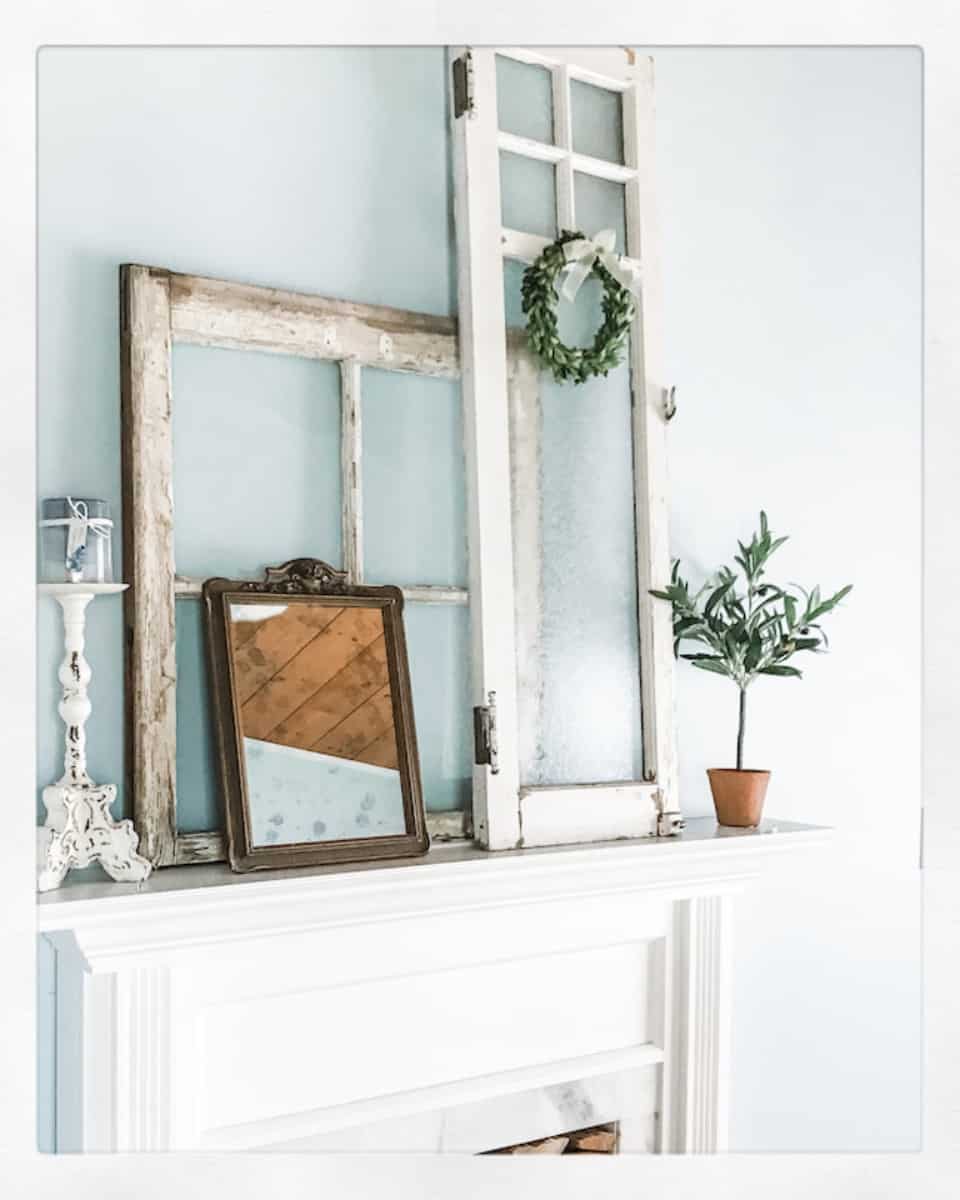 Favorite Vintage Collections
These are some of the things that I always have my eye out for. I used to buy things even if I didn't have a spot for them. Now I will only buy things that I love and I have a spot for it.
Flow Blue China
Ironstone
English Advertising Pots
Vintage Clocks
Vintage Art, Frames, and Photos
Leather Books
Vintage Living Room Ideas
As an Interior Designer, I have so many ideas for ways to give a home a beautiful vintage feel.
While vintage style is my own personal style, my own home is fighting me. I have a high ceiling in my living room with floor-to-ceiling windows. We have an open concept space with very little wall space. Because of this, I have to settle with vintage charm.
If I had a more traditional style home I would introduce the following:
Board and Batten
Vintage-Inspired Wallpaper
Vintage Chandeliers
Large Old Paintings and large Mirrors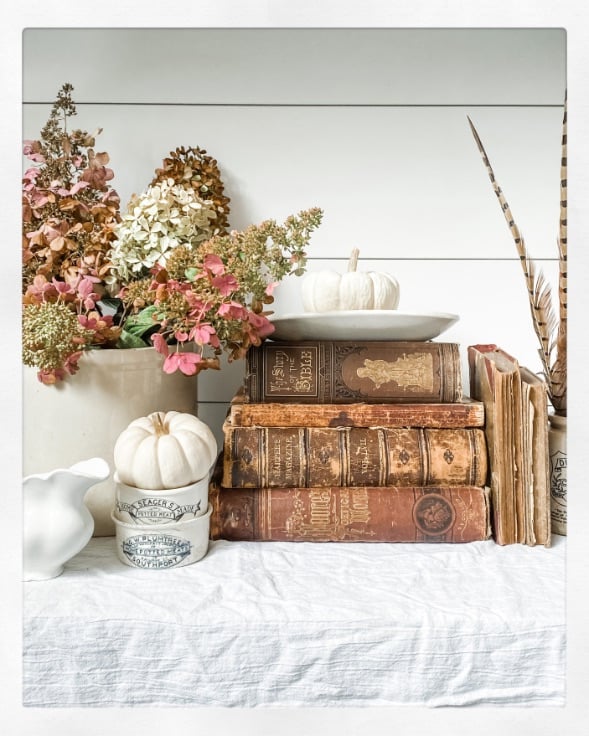 Changing Your Living Space Seasonally

Each season it's fun to change the look of your living room in a variety of ways.
Moving the furniture around is something that gives a space a fresh look.
Switching out throw pillows and throws is also on my seasonal to-do list
Replace house plants
Buy new candles
Use seasonal flowers in arrangements
Let's Hear from Other Vintage Collectors
"I love using architectural salvage pieces such as vintage chippy wood porch posts mounted over a window or salvage wood header mounted over a doorway. It adds visual interest. I love using vintage windows, I have them going up my stairway wall. My go-to places to find these things are local salvage shops, flea markets & small shops."
"When my husband and I were building our home we collected things for 2 years as we went through the design and building process. I wanted to add aged pieces to give our home character and stay on a budget.

We accomplished this by being patient until I found the perfect piece at a good price. I made consistent return visits to places I often had good luck finding things and scoured thrift stores, flea markets, vintage shops, and estate sales for unique pieces for our home.

Even if you're not building a new home but want a vintage, farmhouse, cottage, or even French style, you can achieve the look by collecting pieces you love and adding them to your home over time.

I think it's important to make a house your own and not necessarily follow what the current design trend says you need to do. Think outside the box when looking for things to decorate your home."
Amy @thevintagebreadbox
"My favorite vintage items are ones with a known story attached. I have several pieces from my grandma and while most of them might not have caught my attention in a store when I look at them today, they elicit a plethora of memories. These are the pieces that bring a smile to my day and help make my house into a home.
I've learned a lot from these three amazing women.
From Mickie, I learned that living in a small house doesn't mean it can't be beautiful and oozing with vintage charm. Her first Cottage on Main was tiny and she made it so lovely. Her current home which is a Farmhouse on Main is beyond!
Michele is my "Entertaining with Vintage" muse! Her vintage tablescapes are amazing. Everything she touches is creative and beautiful!
Amy introduced me to many things including Flow Blue. She also taught me that if I really love something, it's worth the price. She also shared her love of stories with pieces she owns or buys. I now make up stories in my head if there isn't one for each piece I own. They all have had an exciting former life!!
I hope you enjoyed finding out about my love for vintage and how I use it in my home.
Peace and Love,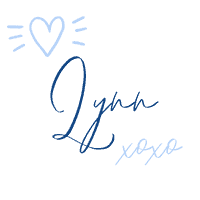 Designing Women – Tell All
If you're looking for inspiration from some other amazing designers, you can find that right here.
Crystal from Sweet Valley Acres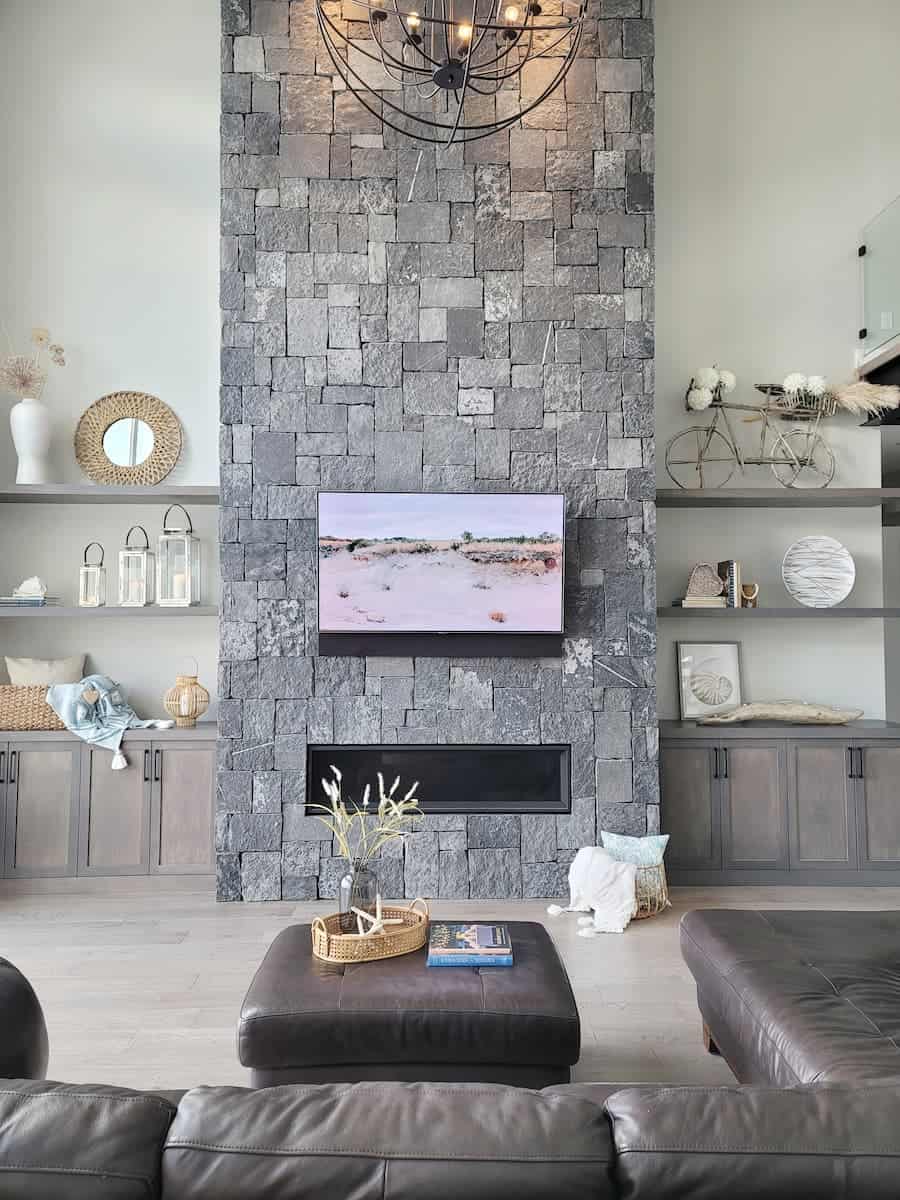 Kristy from At Home with Kristy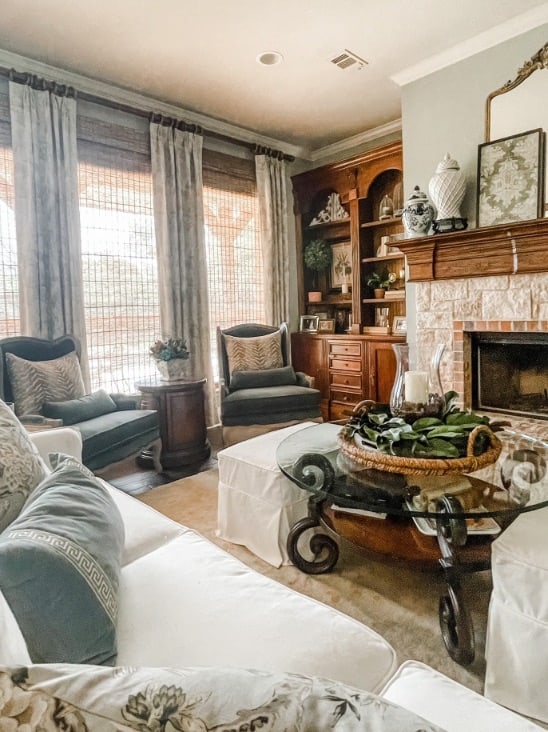 Modern French Country Living Room.
Sheri from Savvy in the Suburbs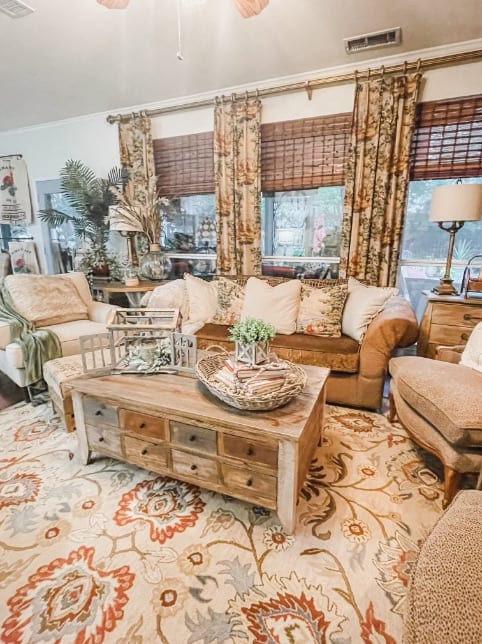 Thanks for Following Along
If you enjoyed this post I hope you sign up to be a friend of Living Large in A Small House! Then you won't miss any of the inspiration that is shared with you each week! You can also follow me on Instagram, Facebook, and YouTube. I share even more inspiration on Pinterest! You can listen to me chat on my Podcast.


A great way to save this article is to save it to your Pinterest boards. You can find the pin button in the top right corner of the photo below. Also, don't forget to follow me on Pinterest