Simple Bucatini Pomodoro Pasta Recipe
Pomodoro sauce is a simple tomato-based sauce that is rather light with a bit of a kick to it. By using Bucatini pasta in my Bucatini Pomodoro recipe it adds a bit of density to the dish.
Since Handy is a meat and potato guy, it gives him a little bit more bulk, if you will, to consider this a dinner meal. I can also add some of the homemade meatballs I make and freeze in bulk to his serving.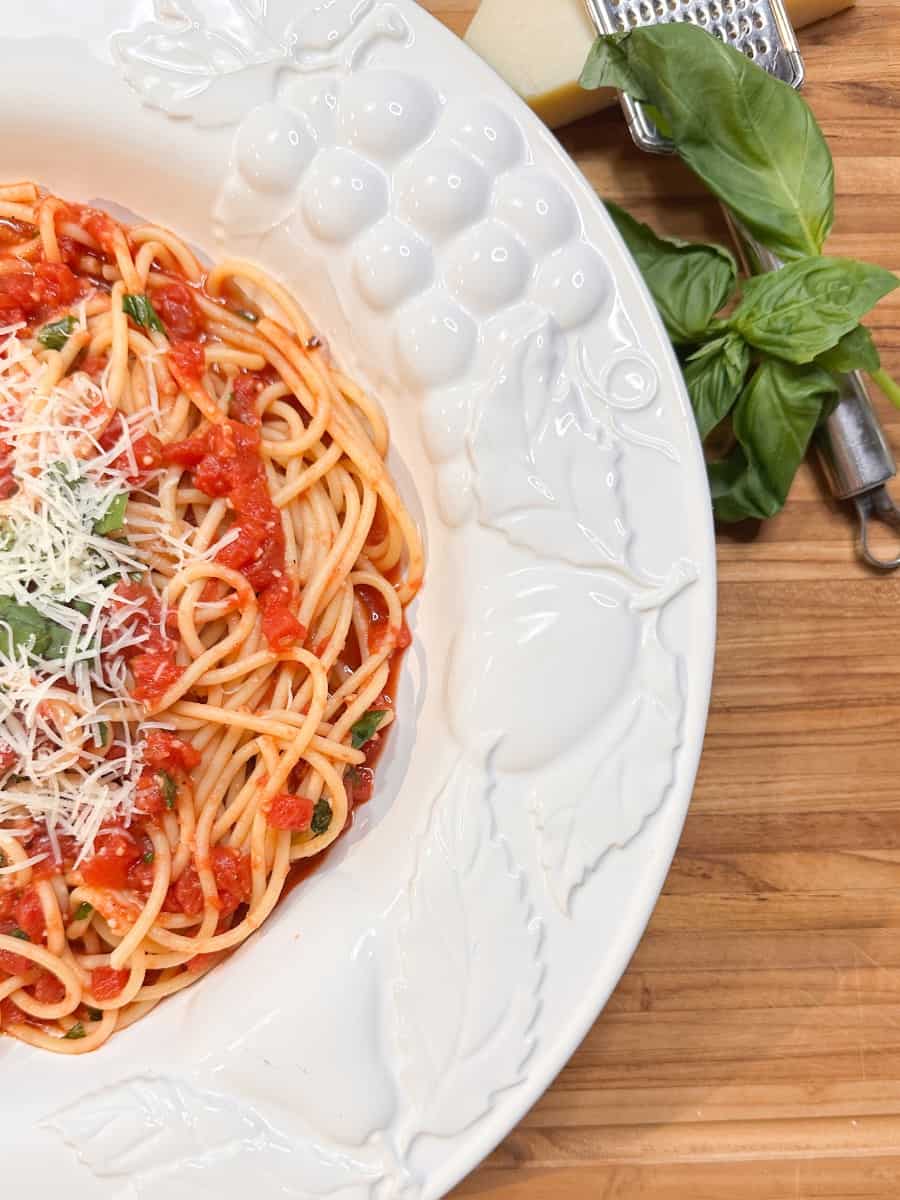 On my blog Living Large in A Small House, I may sometimes use affiliate links, which means a small commission is earned if you make a purchase via the link. The price will be the same whether you use the affiliate link or go directly to the vendor's website using a non-affiliate link. You can find my full Disclosure Policy HERE
Pomodoro Sauce
Pomodoro quite literally means Tomato in Italian and like all tomato sauces, my Pomodoro sauce may be a little different than the way some others make their sauce.
Some people put their tomatoes into a blender or food processor to make puréed tomatoes. Making it the way I do is easier and quicker and still has amazing taste.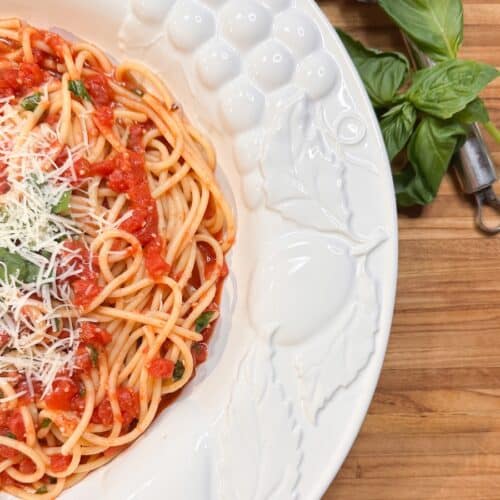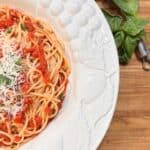 Print Recipe
Yum
Bucatini Pomodoro
A simple tomato sauce with a dense straw like pasta
Ingredients
3

tsp

kosher salt, divided

1

can

28 oz. diced tomatoes

can used whole tomatoes

4

cloves

minced garlic

1

tbsp

extra-virgin olive oil

1/2

tsp

red pepper flakes

1/2

tsp

black pepper

1/4

cup

loosely packed chopped fresh basil, plus more for garnish

1/2

pound

Bucatini Pasta

Can use spaghetti

1/4

cup

freshly grated parmesan cheese, plus more for garnish

pasta water
Instructions
Pasta
Bring 4-6 quarts of water to a boil, add 1 tsp of salt (or to taste)

Add pasta (without breaking) and cook for 10-12 minutes, stirring occasionally
Pomodoro Sauce
Add Olive Oil to the sauté pan over medium heat. Add the garlic and cook, stirring continually for 1-2 minutes (just until fragrant)

Add the tomatoes and stir to combine with the garlic. If using whole tomatoes, use the side of a wooden spoon to roughly cut them up.

Add 2 tsp., of salt, pepper, and red pepper. Stir occasionally.

Add the basil and combine it with the sauce.
Assembling
Drain the pasta, reserving some of the pasta water.

Add the drained pasta to the sauce in the skillet, and toss the pasta with tongs to coat with sauce. Add the cheese at this point if you want it combined with the sauce. (I serve it as a garnish)

Use pasta water, 1 tablespoon at a time if you choose to thin the sauce.

Garnish with grated parmesan cheese and chopped fresh basil.
Notes
Serve with a side salad and french bread
Nutrition
Calories:
289
kcal
|
Carbohydrates:
48
g
|
Protein:
11
g
|
Fat:
6
g
|
Saturated Fat:
2
g
|
Polyunsaturated Fat:
1
g
|
Monounsaturated Fat:
3
g
|
Cholesterol:
4
mg
|
Sodium:
1999
mg
|
Potassium:
350
mg
|
Fiber:
3
g
|
Sugar:
4
g
|
Vitamin A:
324
IU
|
Vitamin C:
11
mg
|
Calcium:
129
mg
|
Iron:
2
mg
Yum
Pomodoro sauce uses a few simple ingredients. It's garlic, tomatoes, red pepper flakes (optional), basil, and salt and pepper. Some recipes call for adding parmesan cheese to the sauce but I just serve it on the side as I prefer for my sauce to be light.
I used diced canned tomatoes. My favorite is San Marzano tomatoes. You can also use whole tomatoes and in the summer when I have fresh tomatoes from my garden, I use those. I love using cherry tomatoes as they add a hint of sweetness to the recipe that balances with the red pepper flakes nicely.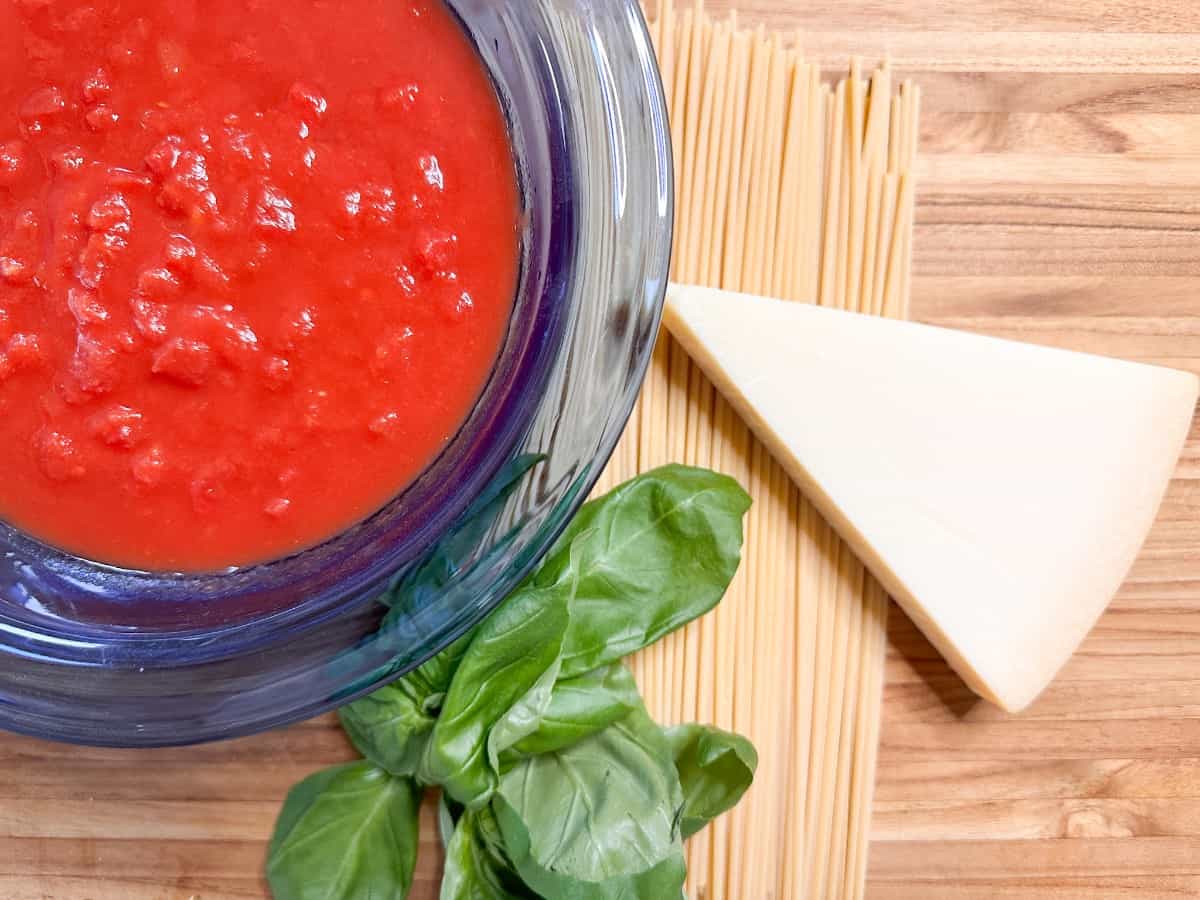 In a large skillet, sauté the garlic in some extra-virgin olive oil for 1-2 minutes over medium heat. Then add your tomatoes, red pepper flakes, salt, and pepper and bring to a simmering boil. I prepare this while my pasta is cooking, it doesn't take long.
I stir in the chopped fresh basil leaves right at the end.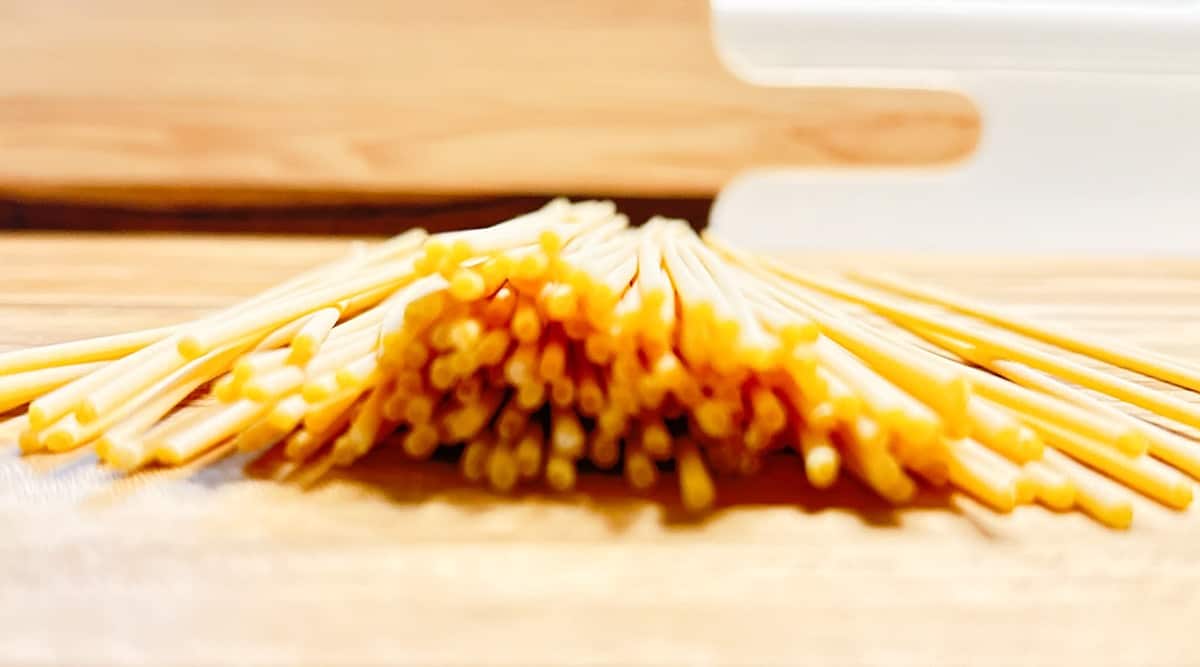 Bucatini Pasta
Bucatini noodles are interesting. It's a spaghetti-like pasta but with a whole down the middle. Think of a straw.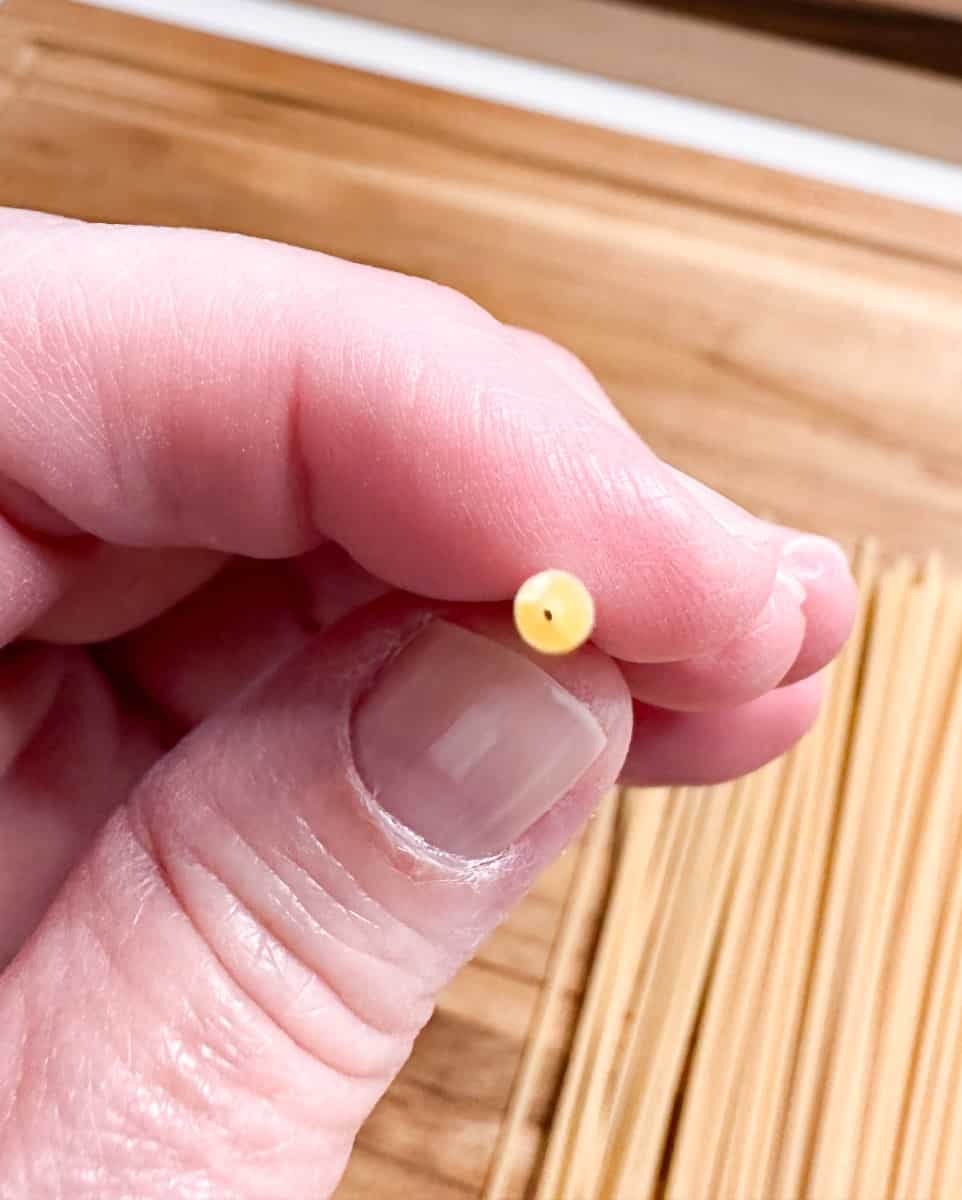 In a large pot, you cook the pasta. The package instructions say to cook for 7 minutes for authentic "al dente" pasta. We don't like our pasta that way. I like it to be cooked through so I boiled it for about 12 minutes.
Having never tried Bucatini before, it was interesting. The thickness was different than what we are used to but I rather enjoyed it as I'm a pasta nut! I think "Handy" would be fine with using spaghetti noodles next time.
You can use any simple pasta with this easy recipe.
Fresh pasta would be even better. Something you could try on a weekend.
Putting this Quick Dinner Together
Once your pasta is cooked, you will want to drain it but first, scoop out about 1 cup of pasta cooking water.
Add the drained pasta into your tomato sauce and toss with either a wooden spoon or tongs. I use tongs so you can grab the pasta and fold it into the sauce.
If the sauce is too thick you can add the pasta water, one tablespoon at a time to thin out the sauce. I don't find that I need to do that since I'm not cooking my sauce down for a long period of time.
You can also add parmesan cheese at this point if you want it incorporated into your sauce.
Serving Pasta Pomodoro
Serving the pasta dish with freshly grated parmesan cheese and some additional chopped fresh basil is the way we like to eat it. I also top mine with finishing salt. I think that serving sliced mozzarella cheese or burrata cheese with this dish would be absolutely yummy.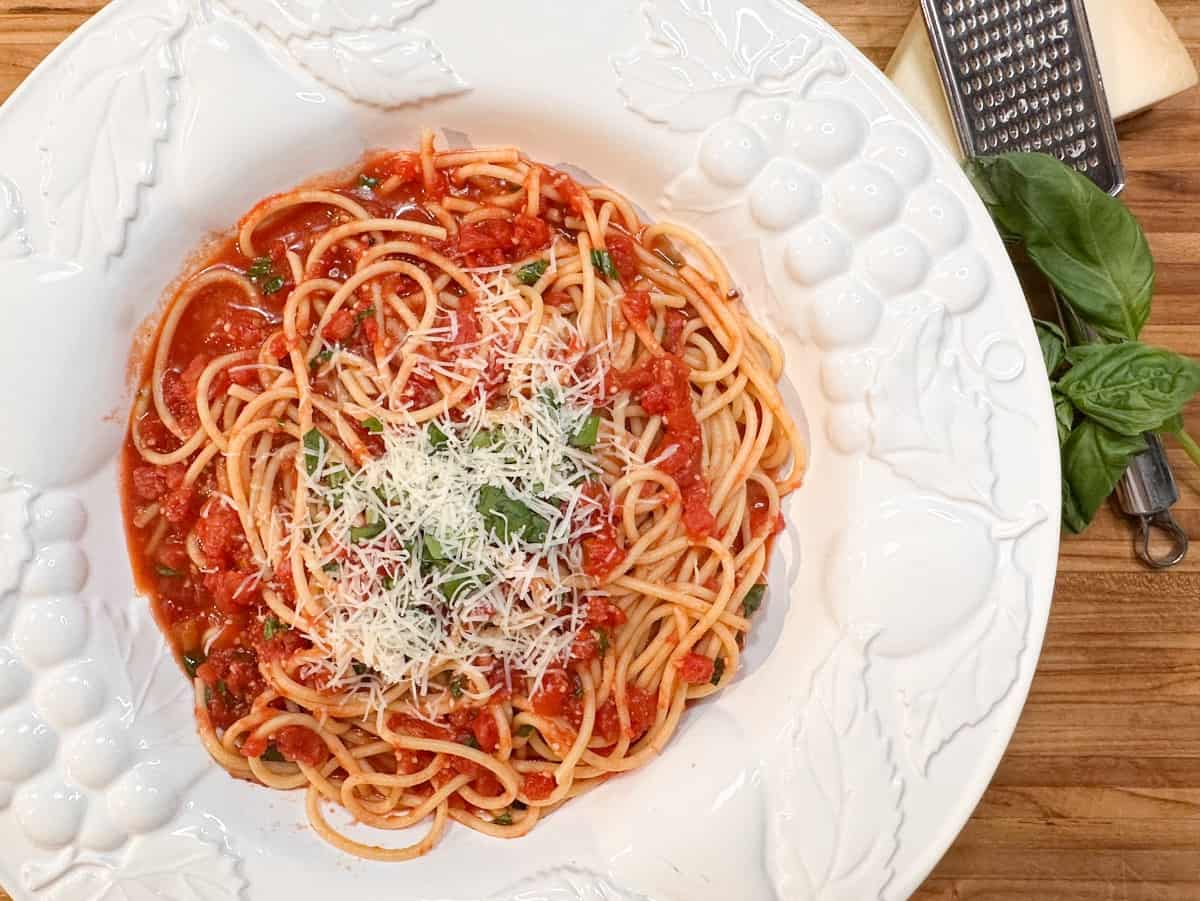 French bread or garlic bread along with a fresh side salad would round out this meal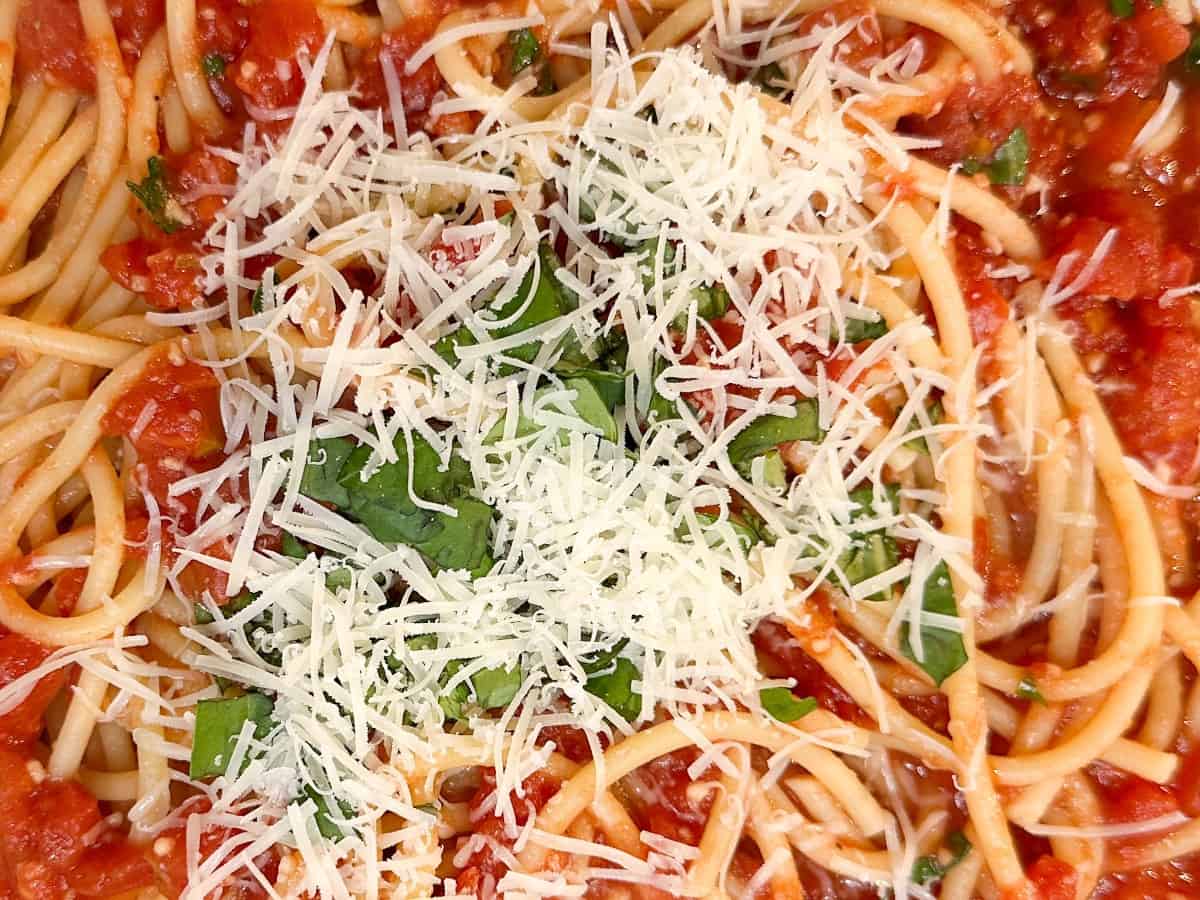 RPM Italian
RPM Italian is a restaurant in Chicago. It's co-owned by celebrity couple Bill and Giuliana Rancic. When I was staying in the city for a convention many years ago, I was lucky enough to eat at this Italian restaurant.
I of course had to try Mama DePandi's Bucatini which RPM is known for. This is when I fell in love and started making my own version at home.
I hope you enjoy my recipe for Bucatini Pomodoro.
Peace and Love,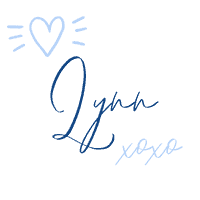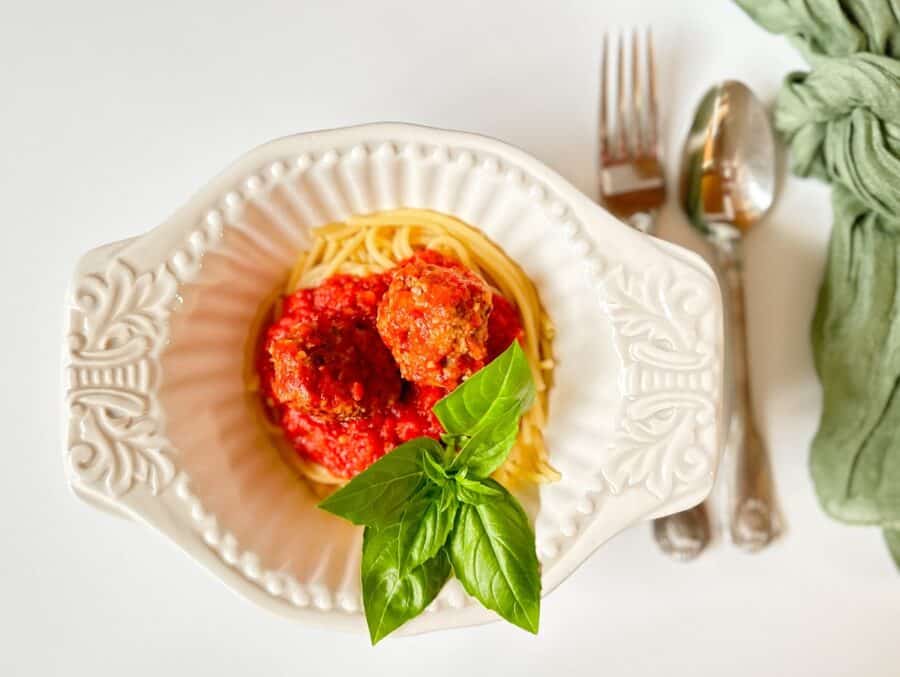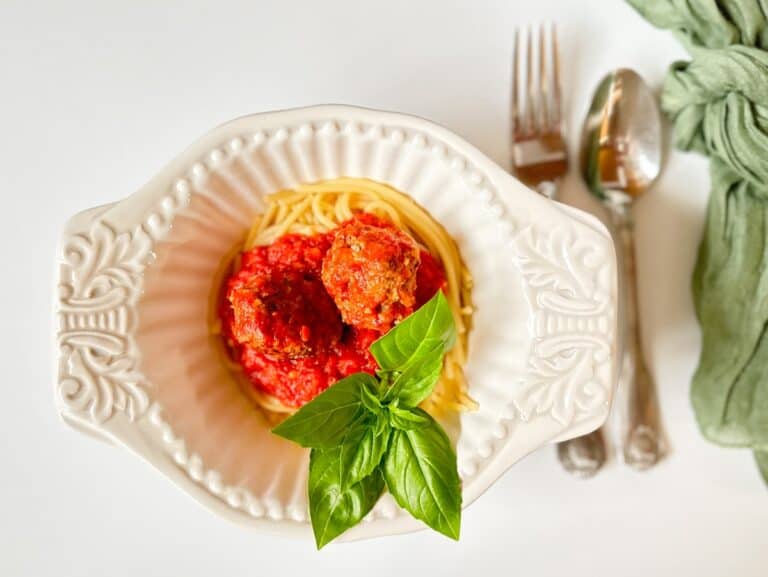 Thanks for Following Along
If you enjoyed this post I hope you sign up to be a friend of Living Large in A Small House! Then you won't miss any of the inspiration that is shared with you each week! You can also follow me on Instagram, Facebook, and YouTube. I share even more inspiration on Pinterest! You can listen to me chat on my Podcast

A great way to save this recipe is to save it to your Pinterest boards. You can find the pin button in the top left corner of the photo below. Also, don't forget to follow me on Pinterest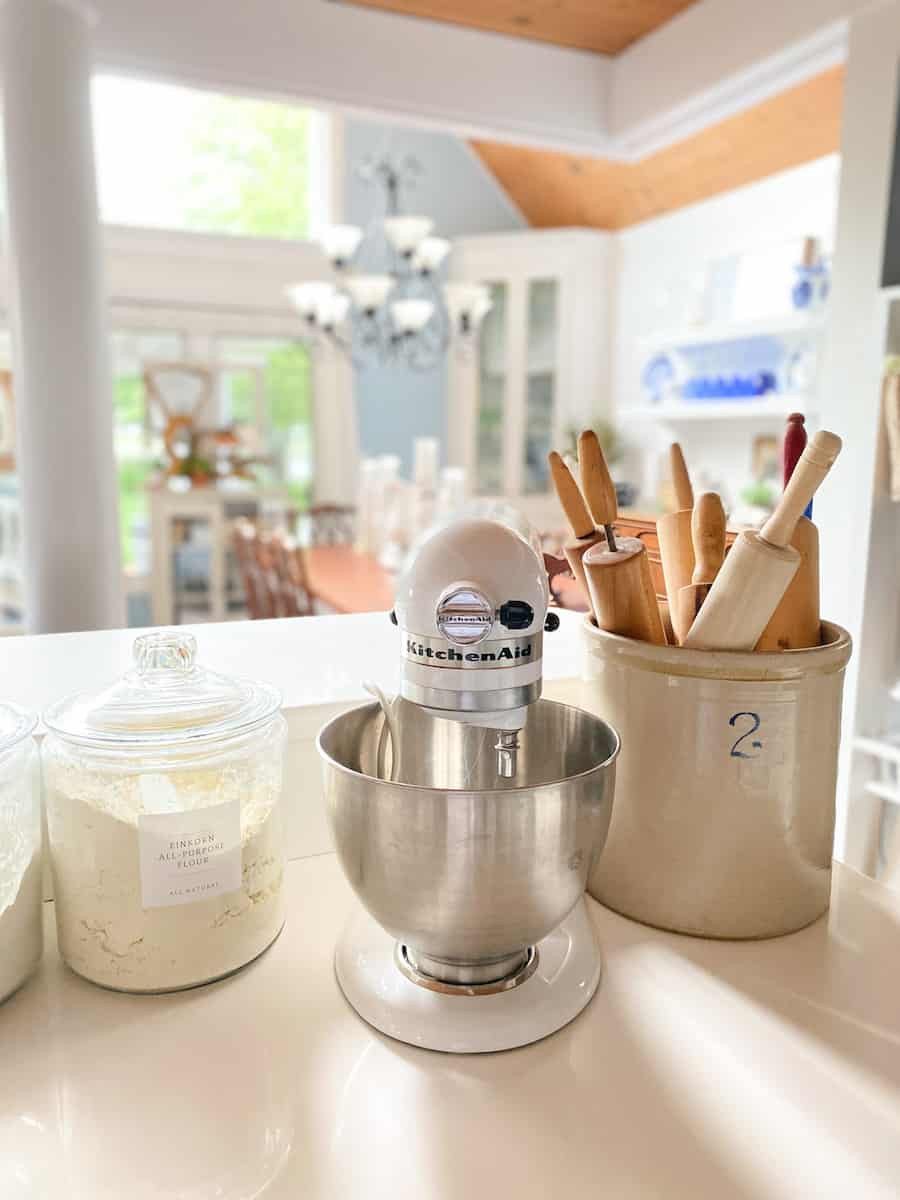 direct access to my amazon store
On Amazon
Did you know that you support my little business by purchasing through my links?? The price to you is the same but I receive a small commission on ALL the purchases you make when you shop through one of my links. I appreciate you helping Living Large in A Small House to grow!