Roasted Cherry Tomato & Pesto Pasta
I have an abundance of cherry tomatoes and basil in my garden so I will be making Roasted Cherry Tomato & Pesto Pasta for dinner tonight.
You can make this Gluten-Free meal by using Gluten-Free Pasta. My favorite is Barilla's, Gluten-Free Pasta.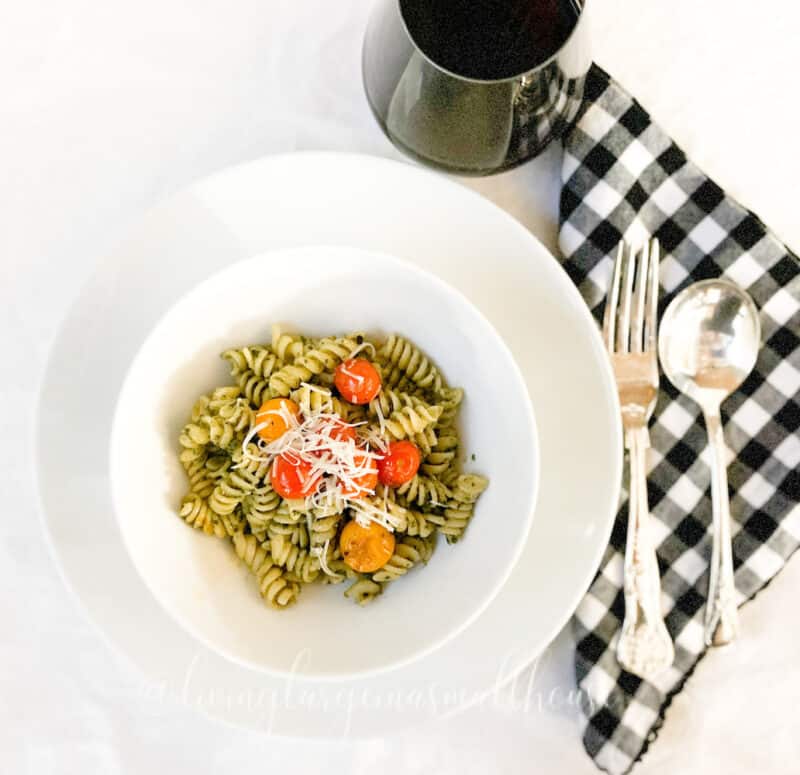 On my blog Living Large in A Small House, I may sometimes use affiliate links, which means a small commission is earned if you make a purchase via the link. The price will be the same whether you use the affiliate link or go directly to the vendor's website using a non-affiliate link. You can find my full Disclosure Policy HERE
What is in Pesto?
Pesto is basil that has been chopped up in a food processor with pine nuts, garlic, parmesan cheese, olive oil, salt, and pepper.
The key to making the best pesto is to finally chop (grind) all the ingredients except the olive oil and salt and pepper.
While the basil, nuts, garlic, and parmesan are processing, slowly drizzle the oil into the mixture through the blender spout.
It will form a smooth mixture to mix with your pasta. Salt and pepper to taste after you've processed the pesto.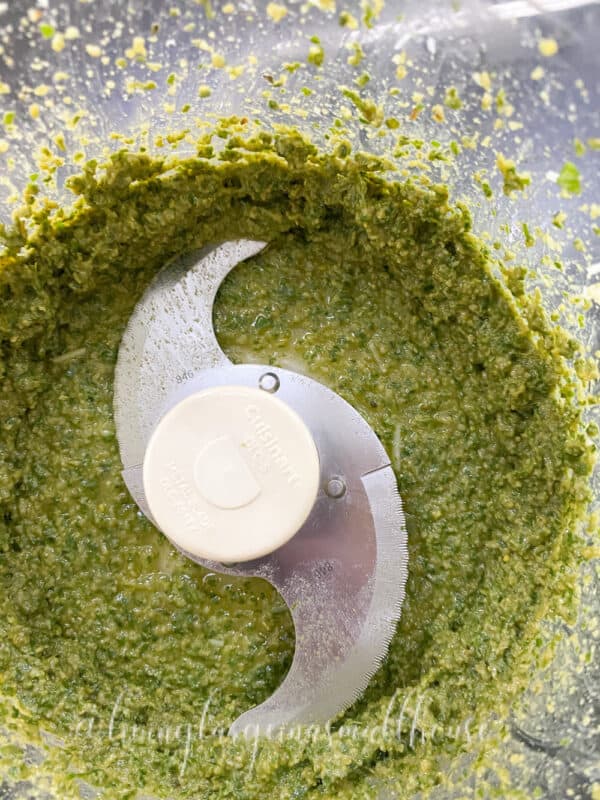 What type of Pasta do you use with Pesto?
You can use any type of pasta with pesto but I prefer a noodle such as Rotini as it seems to give the pesto sauce something fancy to hang on to.
As I mentioned gluten-free is also an option.
A cheese-filled ravioli is also very nice with pesto sauce.
Pesto on Zoodles is really good and is a great healthy choice.
What Can You Serve with Pesto?
Today I'm searing some cherry tomatoes with garlic until the tomatoes pop and create a little bit of a sauce and I will top the pesto-coated pasta with the tomato garnish.
Here are a few proteins that you could top pesto pasta with:
Sliced grilled chicken breast
Sauteed Shrimp
Salmon
Tuna
Other toppings:
Burrata Cheese
Mini Mozzarella cheese balls
Shaved Parmesan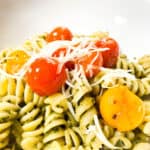 Print Recipe
Yum
Roasted Tomato & Pesto Pasta
Using the last of my garden harvest. Garlic and cherry tomatoes
Ingredients
Pesto
3

cups

basil, packed

1

tbsp

minced garlic

1/4

cup

pine nuts

1/4

cup

quality olive oil

1/4

cup

parmesan cheese

salt & pepper to taste
Tomato Topping
3

cups

cherry tomatoes

1

tbsp

olive oil

2

tsp

minced garlic
Pasta
14

oz

pasta, cooked per directions
Instructions
Pasta
Boil water and cook pasta per package directions
Pesto
While pasta is cooking add 1 tbsp olive oil to a saute pan and heat over medium-high heat. Add pine nuts and 1 tbsp minced garlic. Stir continually for about 1 minute until garlic is fragrant and pin nuts are slightly browned.

Put the basil in your blender along with the pine nuts, garlic, and parmesan cheese. Process until smooth. Scraping down as needed until well combined. I use the pulsing feature for most of this.

While the basil mixture is still processing, add the olive oil (1 tbsp at a time) through the feed tube. Stopping to scrape down as needed.
Tomato Garnish
After you have made the pesto, saute the tomatoes in 1 tbsp olive oil in saute pan over medium-high heat. Once the tomatoes blister, pop and release their juice, then take off the heat.
Assembling Pasta
When pasta is done, empty into the strainer. Add pasta to a pasta bowl, top with pesto, and toss to coat. Top with the tomato mixture.
Notes
Garlic is to taste. If you aren't a fan, don't add as much! If you love garlic, like me, add a little more.
Same with salt and pepper, it is to taste.
Yum

Side Dishes for Roasted Cherry Tomato & Pesto Pasta
Green Salad
Grilled Vegetables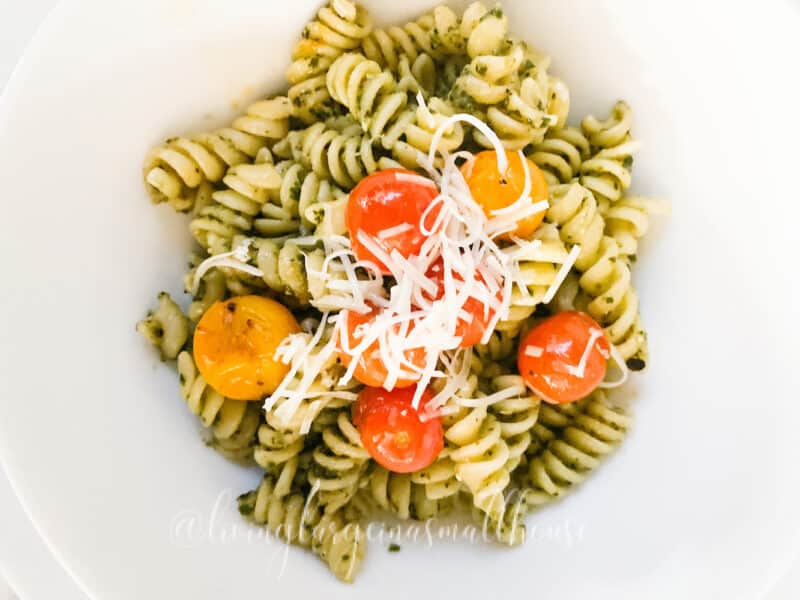 Mediterranean or Meatless Monday
When I'm meal planning I use themes as a way to make my plan easy. On Monday I typically make a pasta recipe.
I love pasta and I'm so glad that I can enjoy occasionally having pasta by choosing a GF option.
Most of the time I use zoodles for the sauce that I make on Mondays.
I'm so glad that I can use up the harvest that is still left in my garden. This meal was delicious!
Peace,

A great way to save this article is to save it to your Pinterest boards. You can find the pin button in the top left corner of the photo below. Also, don't forget to follow me on Pinterest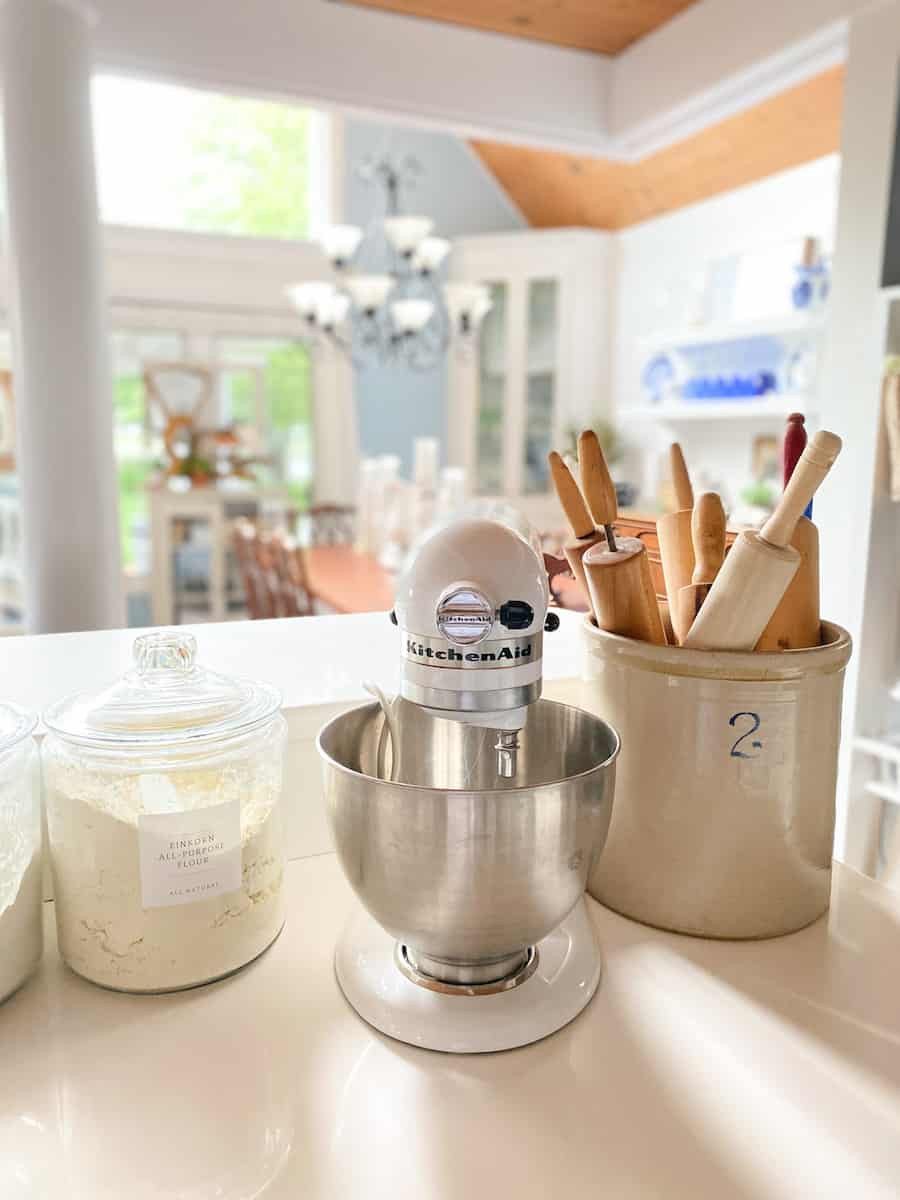 direct access to my amazon store
On Amazon
Did you know that you support my little business by purchasing through my links?? The price to you is the same but I receive a small commission on ALL the purchases you make when you shop through one of my links. I appreciate you helping Living Large in A Small House to grow!

living large podcast
On the Podcast this week, I interviewed Megan Moore who lives with her partner, two kids, and two dogs in a 414 sq., ft., tiny home in Golden, British Columbia, Canada.