Lazy Day Ham & Pea Pasta Recipe
Are you looking for a quick lazy day pasta recipe? This one is a family favorite and on my summer meal plan.
The most time it takes is to cook the pasta. Who doesn't enjoy that?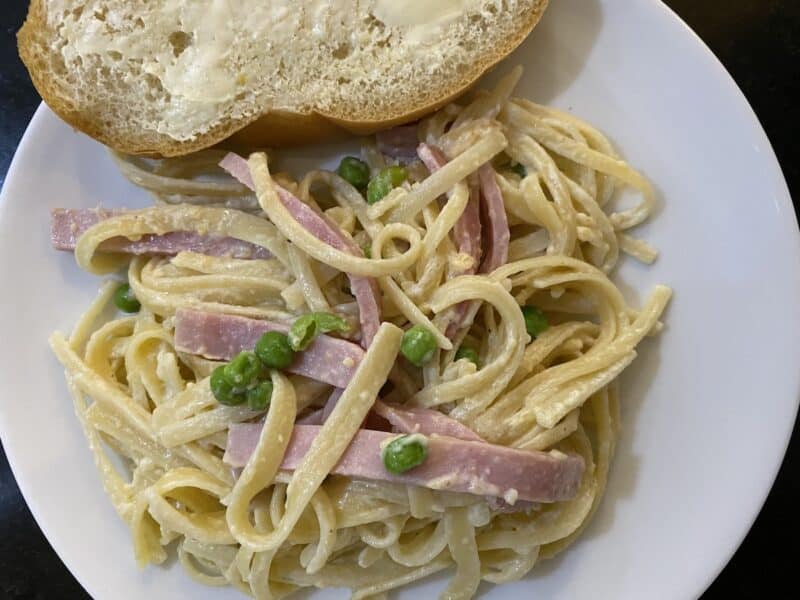 On my blog Living Large in A Small House, I may sometimes use affiliate links, which means a small commission is earned if you make a purchase via the link. The price will be the same whether you use the affiliate link or go directly to the vendor's website using a non-affiliate link. You can find my full Disclosure Policy HERE
Planning a Meal on a Busy or Lazy Day
This recipe is one that I have on my summer meal plan and I can switch it around in the week if I'm having a hectic day or I'm just exhausted and too lazy to cook what was planned.
I always keep ham sliced in the freezer as well as frozen peas. I also have pasta in my pantry.
Lazy Day Ham & Pea Pasta Recipe
When I initially found a recipe similar to this, it used way too much butter, sour cream, and parmesan cheese for my liking.
It was much heavier, almost like an alfredo. When I lightened it up, it tasted just as good and it really is something that we enjoy in the summer.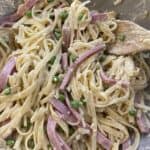 Print Recipe
Yum
Ham and Peas with Pasta
Ingredients
2

cloves

garlic, crushed

1

tbsp

butter

1/2

pound

Kraukus Ham, sliced thin

I get the ham sliced from the deli and then I slice it into thin strips

1

cup

frozen peas, thawed

3

tbsp

butter softened

1/2

cup

grated parmesan cheese

1/3

cup

sour cream

12

oz.

fettucini

salt & pepper to taste
Instructions
Ham & Pea Mixture
Melt 1 tablespoon butter in saute pan over medium heat. Add garlic and stir until fragrant (about 1 minute). Stir in the shredded ham and thawed peas. Saute over medium heat for 3-5 minutes. Take off the heat, set it aside, and keep warm.
Pasta
Cook pasta according to package direction and drain
Sauce
Put softened butter, sour cream, and parmesan cheese into a large mixing bowl.
Putting Everything Together
Put the hot drained noodles over the sauce ingredients that are in a large mixing bowl. Add salt and pepper if using

Toss until noodles are completely coated with butter, sour cream, and parmesan cheese. Then add the ham and pea mixture to this and continue tossing until well combined.
Notes
You can use additional grated parmesan cheese on the side for garnish
Yum

What Kind of Pasta Should I Use?
This recipe calls for fettuccine but you can use just about anything that you have. The following pasta would be my suggestion to use if you have them on hand. They all can stand up to tossing and the weight of the cream sauce.
Fettuccine – This is a flatter broader pasta than spaghetti
Linguini – Linguini is more delicate than fettucini. It isn't as broad or as thick as fettucini
Spaghetti – Spaghetti is a long, thin, solid, cylindrical pasta
Bow-Tie Pasta – Also known as Farfalle is a pasta shaped like a bow-tie
Rotini – This is a short cork-screw pasta
There are some great "pasta" that is now readily available that is healthier for you. We often use the Banza Brand chickpea pasta. Barilla makes some amazing gluten-free options. Most brands also have great whole-wheat varieties.

Our Favorite
Side Dish Ideas

Pasta is one of my absolute favorite things and it takes a lot of self-control to not have it several times a week. As I've mentioned in past posts, I use zucchini noodles for many things but there is no substituting real pasta for a dish like this, at least in my opinion.
If you looking for other pasta recipes, I have several.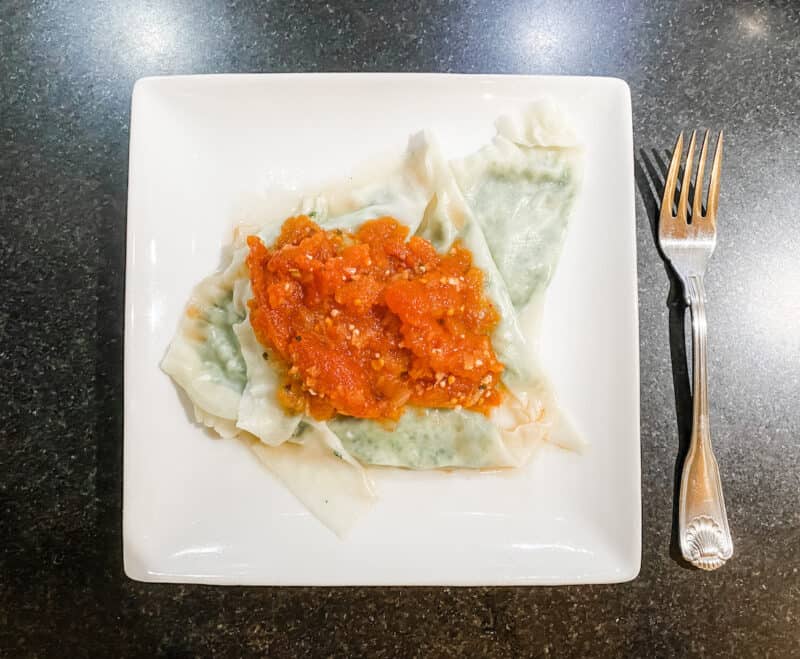 Click on the Titles to take you directly to the pasta post
Enjoy & Bon Appétit!
Peace,