Light Homemade Spinach and Cheese Ravioli with Tomato Sauce
I found this Light Homemade Spinach and Cheese Ravioli with Tomato Sauce recipe that I saved in my recipe box.
It was something I had torn out of Cooking Light Magazine, dated 1995.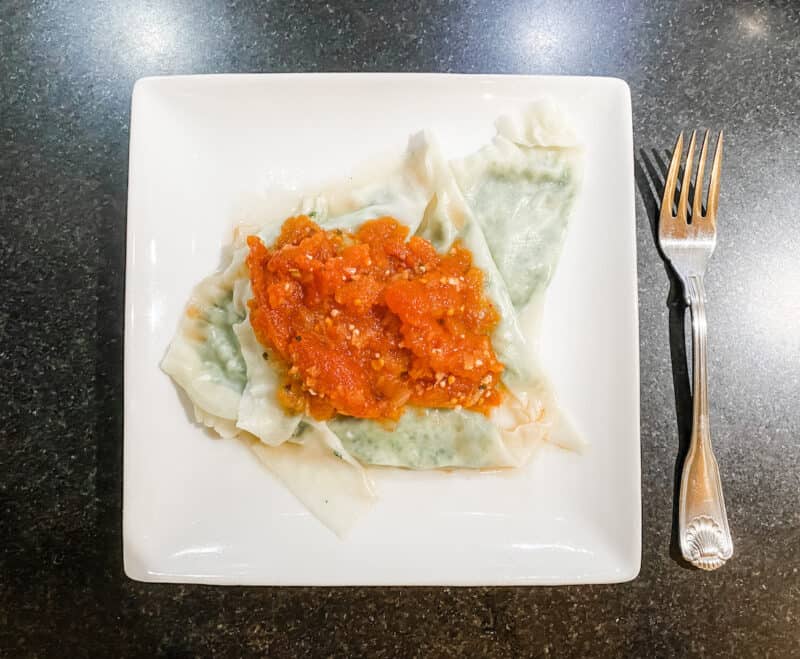 I tweaked it a bit to make it my own and it is especially perfect for something new on the menu. It is also perfect for this time of year when the days are warmer and I've been working outside.
Great Additions to This Pasta Recipe
Because I can my own tomatoes, I used what was in my pantry from last summer to give it that garden-fresh flavor. Are you interested in learning about how to can tomatoes? If so, I would be happy to share that with you. I've been doing it for more years than I can remember.
I'm sure I've mentioned before that my Mom grew up on a farm so we learned how to preserve and bake bread from a very early age. Mom did not, however, teach us how to make sourdough bread. My siblings and I are finally perfecting that art after more than a year of trial and error.
My Sister Laurie has become quite the artist with her bread.
However, if you're not a bread maker, a great crusty French loaf from the grocery store will go well with this meal. Interested in making sourdough bread? Read about Sourdough
The recipe is pretty straightforward forward but I wanted to share a few pictures of the steps if you need a visual.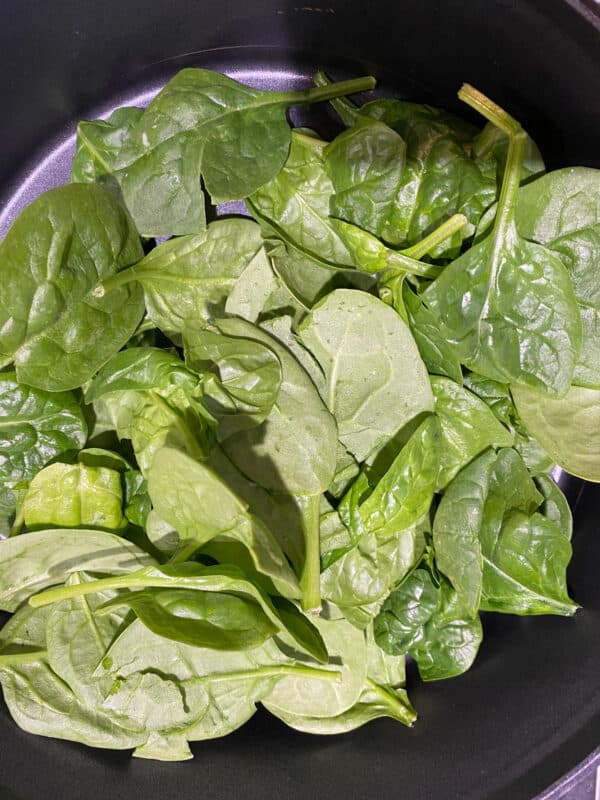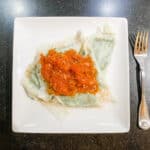 Print Recipe
Yum
Light Spinach & Cheese Ravioli
A lightened up ravioli and tomato sauce dish
Ingredients
3

cups

tomato sauce

See Recipe Below

1

tsp

olive oil

3

cups

fresh baby spinach

1

minced, garlic clove

1

cup

shredded part-skim mozzarella cheese

1/2

cup

shredded Asiago cheese

1/2

cup

1% low-fat cottage cheese

1/4

cup

1% low-fat milk

1/2

tsp

dried oregano

1/4

tsp

ground nutmeg

I like to use whole nutmeg and grate with fine grater

1/4

tsp

pepper

8

sheets of Egg Roll Wrappers (or 32 wonton wraps)

If using egg roll wrappers, cut each sheet into four equal parts

1

egg white, lightly beaten
Instructions
Prepare Tomato Sauce; set aside; and keep warm.

While the tomato sauce is simmering, heat oil in a skillet over medium-high heat. Add spinach and stir continually until wilted. Add the garlic and saute one more minute.

Put cooled spinach/garlic mixture in a food processor, add the next 7 ingredients. Pulse until well blended

Working with one wrapper at a time (cover remaining wrappers with a damp towel to keep them from drying out), spoon about 1 tablespoon spinach mixture into the center of each wrapper. Moisten edges of wrapper with egg white and bring 2 opposite corners together. Press edges together with a fork to seal, forming a triangle. Repeat the process with each remaining won ton wrapper.

Bring 4 quarts of water to a boil in a large pot. Add 12 ravioli to the boiling water (keeping remaining covered with damp towel). Cook for 2 minutes, stirring once. Remove with slotted spoon; set aside; keep warm. Repeat process with remaining ravioli.

Place 6 ravioli in shallow bowls with 1/2 cup of tomato sauce
Notes
If desired, sprinkle with fresh grated parmesan cheese.
Nutrition
Yum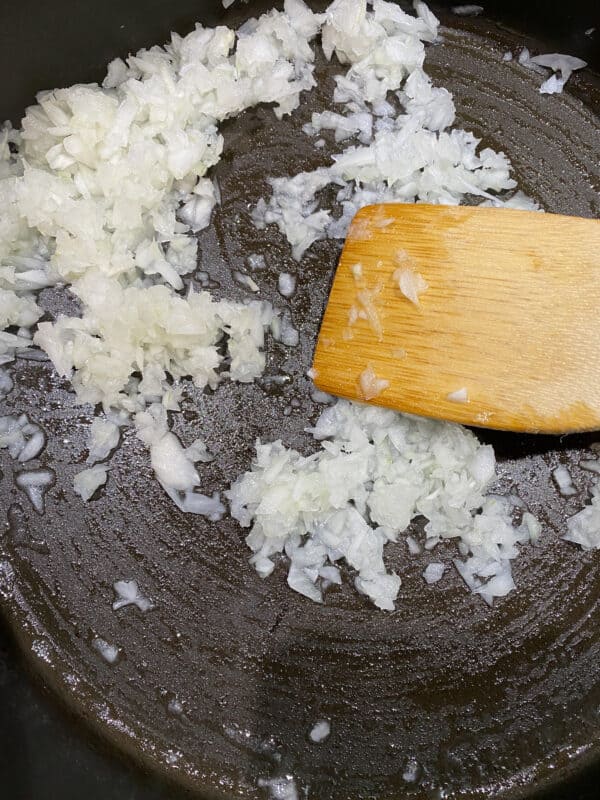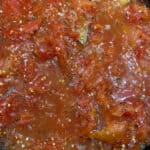 Print Recipe
Yum
Light Tomato Sauce
Ingredients
2

tsp

olive oil

1

cup

finely chopped onions

1

tsp

dried oregano

1

tsp

dried basil

1/2

tsp

crushed red pepper

2

bay leaves

1

glove garlic, minced

1/4

tsp

salt

1/4

tsp

Pepper

2

cans

14.5 oz. no-salt-added, whole tomatoes, undrained and chopped

I use 2 pints of my own canned tomatoes
Instructions
Heat oil in a medium saucepan over medium-high heat. Add onions, saute for 4 minutes, until a little translucent. Add oregano, basil, red pepper, bay leaf, and garlic and saute for 1 minute more. Stir in the remaining ingredients and bring to a boil. (I find that the tomatoes chop up very easily with the side of a wooden spoon once they are heated through) Reduce heat and let simmer for 20 minutes.
Notes
Refrigerate remaining sauce for up to 1 week
Nutrition
Yum
This light homemade spinach and cheese ravioli with tomato sauce is a light refreshing meal, perfect for the warm months. I love pasta so this is a great way to enjoy it without all of the calories. One of my favorite summer pasta recipes can be found HERE.
Coming up next Tuesday is Chicken Ceasar Salad. One of my all-time favorite summer evening meals.
Peace,