What is the Hardest Part of Living in a Small House?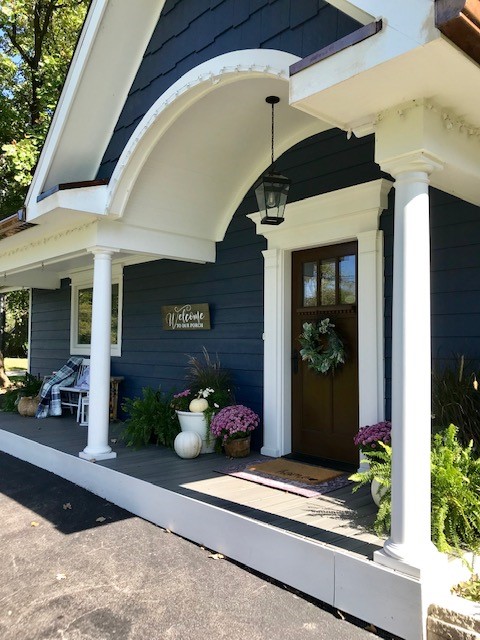 On my blog Living Large in A Small House, I may sometimes use affiliate links, which means a small commission is earned if you make a purchase via the link. The price will be the same whether you use the affiliate link or go directly to the vendor's website using a non-affiliate link. You can find my full Disclosure Policy HERE
When I get asked, "What is the hardest part of living in a small house"? I immediately answer STORAGE!
We not only live in a small house, but we also don't have a basement or a garage. We do have a shed but that is pretty much "Handy's" space. We also have an attic both in our house and above our boathouse. Our attic in the house is where we keep luggage, memories, ski equipment, and extra entertaining items. The boathouse attic has all of our seasonal decorations. Primarily Christmas.
You have to be OK with parting with things you don't love or use when you live in a small space. We are continually purging things. Life would probably be easier if I was a minimalist but no one would ever accuse me of that. So I try to take out something for everything that I bring in. I donate things. Sell items on Facebook Marketplace or give things away. I have a post on best places to donate HERE and how to sell your things on Facebook Marketplace HERE
I also move things around my home so that when I'm looking for a change in my home decor, I start with shopping my house. Sometimes just moving things from one room to another gives both you and the item a new lease on life! Keeping the color palette of my home pretty similar makes this possible. My house is pretty much blue and white with a few shades of cool grey.
Full disclosure: we also have a large storage unit that we pay rent on each month! This is where we keep larger items like furniture that I'm not ready to part with or the kids want it when they eventually have their own homes.
Finding a Place to Get Away
Another thing that has always been tough in a small house is finding a place to getaway. Privacy is difficult and it's hard to have out-of-town guests. However, we have done it more times than I care to mention. Sometimes with lots of people. Marathon weekend 2012 is probably a record for us. I think we had 12 people who slept in our home. There were aero beds everywhere.
Just to give you a perspective, we have a great room (family room, dining room, kitchen in one open space), bathroom, laundry room, and a den/bedroom on our first floor and our second floor is two bedrooms and one bathroom. It's tight even when it's just a few of us here. Luckily we enjoy having company and we hope that our family and friends always feel comfortable at our home.
During normal daily life, I think the reality of the mundane is what makes us get on each other's nerves in our small space. I think "Handy" would say that the answer is to have people over all the time!
Hard to Keep Things Neat and Organized
I consider myself to be a very organized person and you have to be in a small house. However, it is very difficult to keep things neat and organized when your house is tiny. I can have everything clean, with nothing out of place and then someone brings in the mail, a package from Amazon, and drops their shoe by the front door. It seems to snowball from there.
I have a proper home for everything in our house but for some reason, I seem to be the only one who knows where those places are??? I promise it's not for lack of coaching!
I'm a huge fan of Marie Kondo and her book "HERE
Other Ways we Maximize Space in our Small House
We use our outdoor space to the max during the warm months. Our outdoor living room has a fireplace and infrared heaters so we can actually use the space for a good 7-8 months of the year. As I'm writing this at 7:00 on a Friday night, "Handy" is sitting outside watching TV and I'm inside watching my show while I type. Molly (our dog) is running back and forth. When she's outside with Keith she wants to be inside with me and vice versa. She's loyal to all of us…to a fault.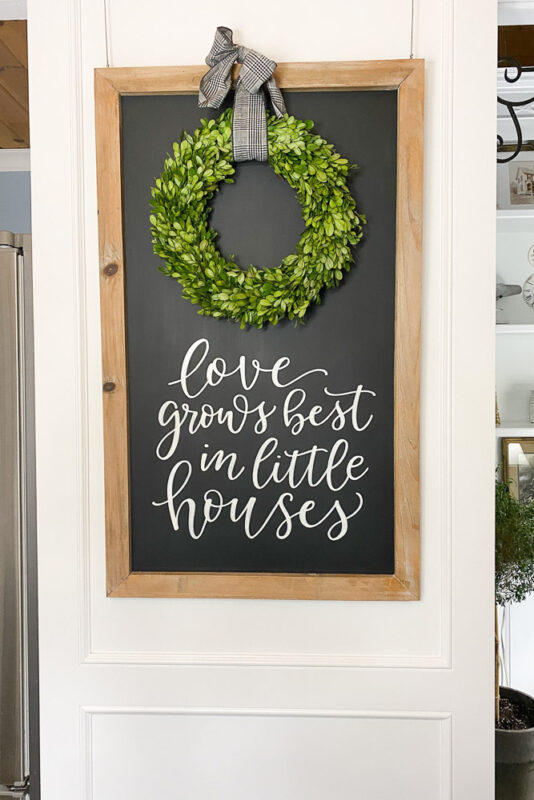 The easiest part of living in a small space is that we can't avoid each other when we might want to the most. We work out our problems and we don't go long without talking if we disagree. We are a family that is very close.
I've lived in big houses and small houses and there are things I don't like about both. There are also things I love about both. The bottom line is that where ever I am with the people that I love, I am HOME!
Peace and Love,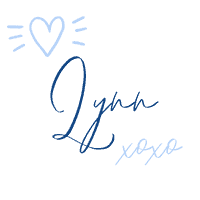 A great way to save these ideas is to save it to your Pinterest boards. You can find the pin button in the top right corner of the photo below. Also, don't forget to follow me on Pinterest