Easy Homemade Alfredo Sauce only Better
I love pasta and I have an easy homemade alfredo sauce recipe. However, I like to play around with this creamy white sauce by adding extra flavor.
These ideas work with both homemade alfredo sauce and also a jar of alfredo sauce found in grocery stores.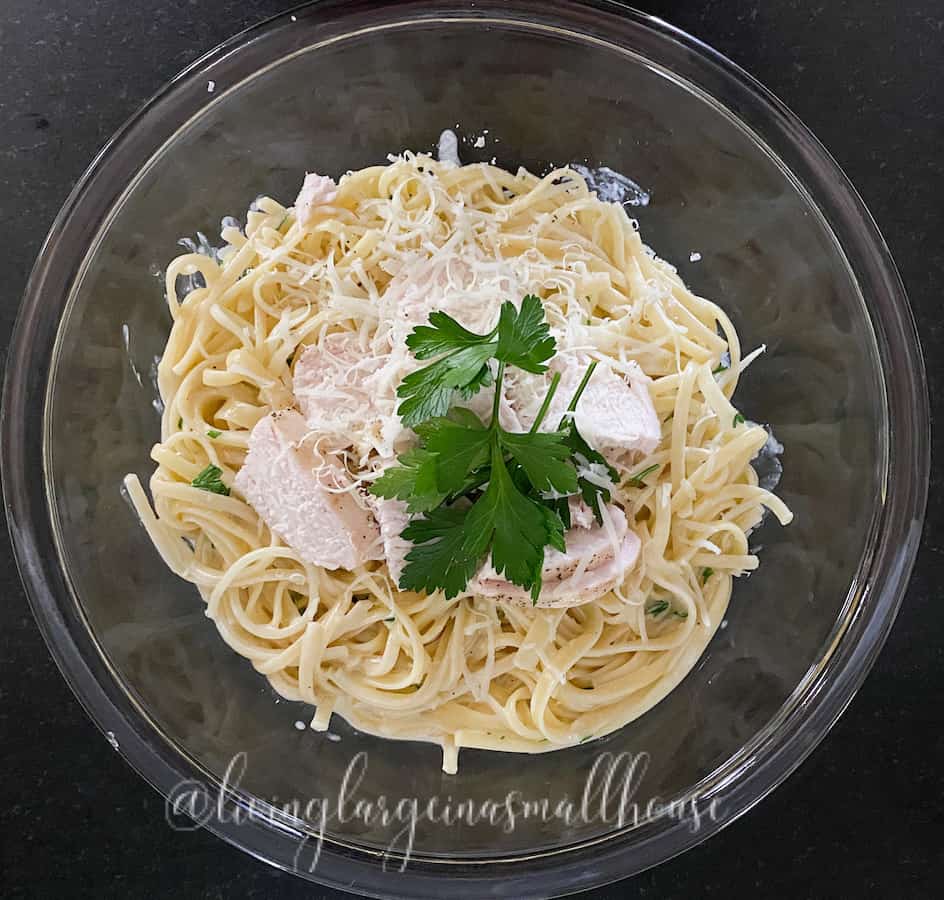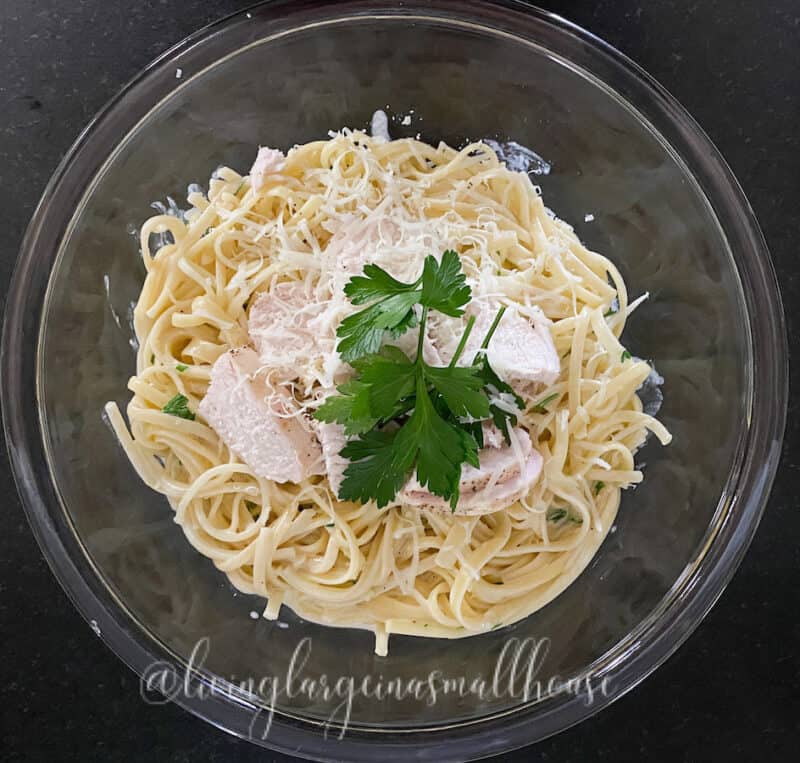 On my blog Living Large in A Small House, I may sometimes use affiliate links, which means a small commission is earned if you make a purchase via the link. The price will be the same whether you use the affiliate link or go directly to the vendor's website using a non-affiliate link. You can find my full Disclosure Policy HERE
What Ingredients are in Alfredo Sauce
A basic alfredo sauce recipe consists of butter, heavy cream, and fresh garlic. To that, you typically add parmesan cheese.
I've also seen recipes that add cream cheese to the recipe to make it a really creamy sauce.
What can I add to my Alfredo Sauce to make it Better?
Adding some simple ingredients to the basic recipes is a great way to add extra flavor and richness to the sauce.
Spices
Salt
Black Pepper or White Pepper
More fresh Garlic or Garlic Powder
Onion Powder
Cayenne Pepper
Red Pepper Flakes
Fresh Herbs

Oregano
Thyme
Rosemary
Sage
Parsley
Cheeses
Cream Cheese – 1/2 cup
Sour Cream – 4 oz.
Cottage Cheese – 1/2 cup
Shredded Pecorino Romano (Romano Cheese)
Shredded Asiago
Shredded Gouda
Protein
Chicken Breast – Bake till done
Shrimp – Saute until pink
Salmon – Bake until done
Ham – Krauks from the Deli (cubed)
Sausage – Cooked through
Vegetables
Fresh Broccoli – Steamed
Peas – Heated
Beans – Steamed
Mushrooms – Sauteed
Spinach – Sauteed until wilted
Actually, the options are endless. You can add pretty much anything that you enjoy to this basic sauce. The beauty of this recipe is that you can add any of these things to the basic recipe without measuring. Just add as much as you want.
The only exception would be the shredded cheeses. Substitute the Parmesan with your favorite variety. You can also combine cheeses to create your own flavor.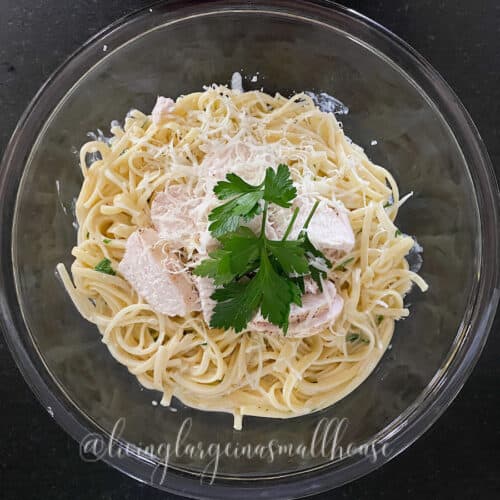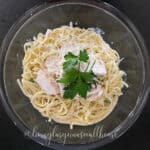 Print Recipe
Yum
Traditional Alfredo Sauce
Creamy white cheesy sauce typically served over pasta
Ingredients
1/4

cup

butter

1

cup

heavy whipping cream

1

clove of crushed garlic

1-1/2

cup

freshly grated parmesan chees

Parmigiano-Reggiano

1/4

cup

chopped fresh parsley
Instructions
Melt butter in a medium saucepan over medium-low heat. Add the cream and simmer for 5 minutes.

Add the garlic and cheese, whisking continuously to get a creamy texture. When heated through add parsley and serve over pasta.
Notes
Add protein and/or vegetables, if so desired. If you are adding additional spices add with the garlic and cheese.
Only use real butter
Store left-over in an airtight container 
Yum
Here is a recipe that is similar that is a family favorite in our house. Ham & Pea Linguini
What Kind of Pasta works with Alfredo Sauce
My favorite pasta with alfredo sauce is fettuccine noodles but again, you can use any kind of pasta that you enjoy.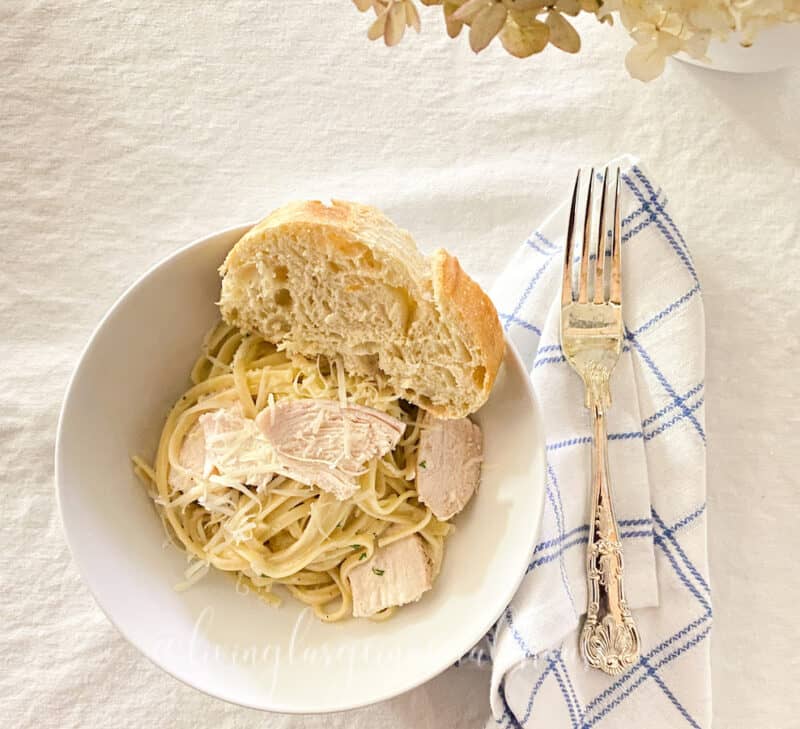 Ravioli or Tortellini that is stuffed with meat or cheeses can also enhance the sauce.
You can also put it over zoodles.
Easy Entertaining Ideas
Some Ideas for Easy Enteraining. Read my Entertain with Ease Series – Start HERE
Pasta Bar
Make-Your-Own-Pizza
Sandwich Bar
Taco Bar
Dessert Bar
Chili Bar

Kitchen Gadget Must-Haves
Make a Pasta Bar
A pasta bar is a relatively simple way to entertain a crowd and give everyone options.
I had a pasta bar when I was feeding a crowd the night before my niece ran in the Chicago Marathon.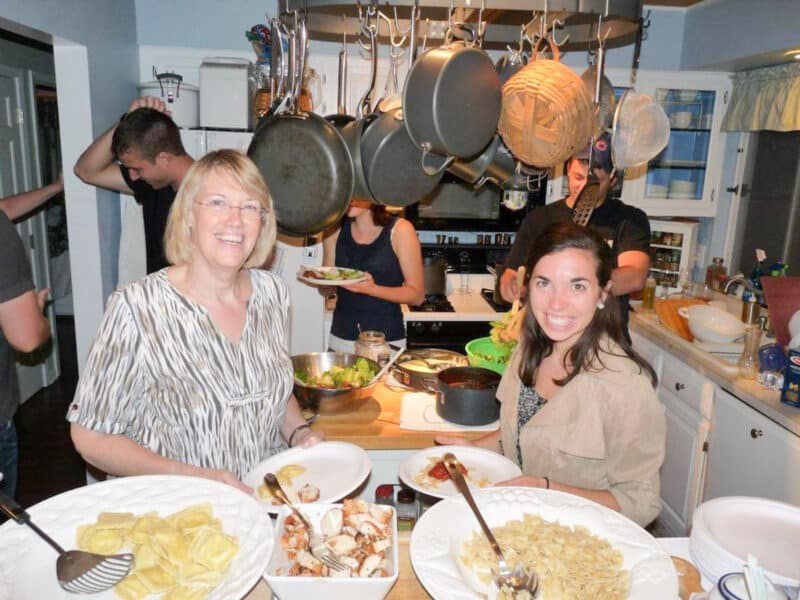 A carb load and hearty meal on a budget
Best Way to Create a Pasta Bar (Just my Suggestions)
Three types of Pasta
Fettuccine
Mostaccioli
Ravioli
Three types of sauces – make this easy by using the store-bought version (and spice them up)
Creamy Alfredo Sauce
Marinara Sauce
Pesto Sauce
Three Proteins
Three Veggies

So whether you are making your own alfredo sauce or buying the store-bought sauce, you can take it to the next level by adding extra seasonings and ingredients.
Peace,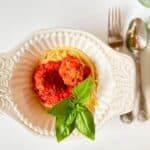 A great way to save this article is to save it to your Pinterest boards. You can find the pin button in the top left corner of the photo below. Also, don't forget to follow me on Pinterest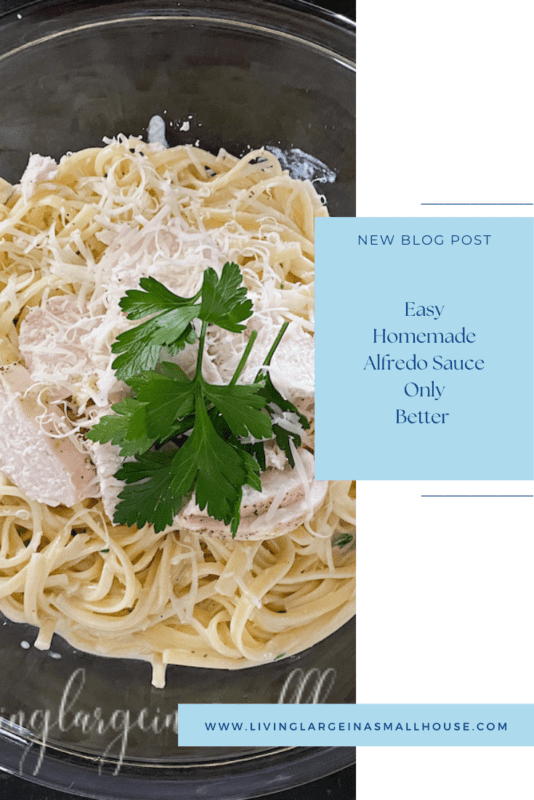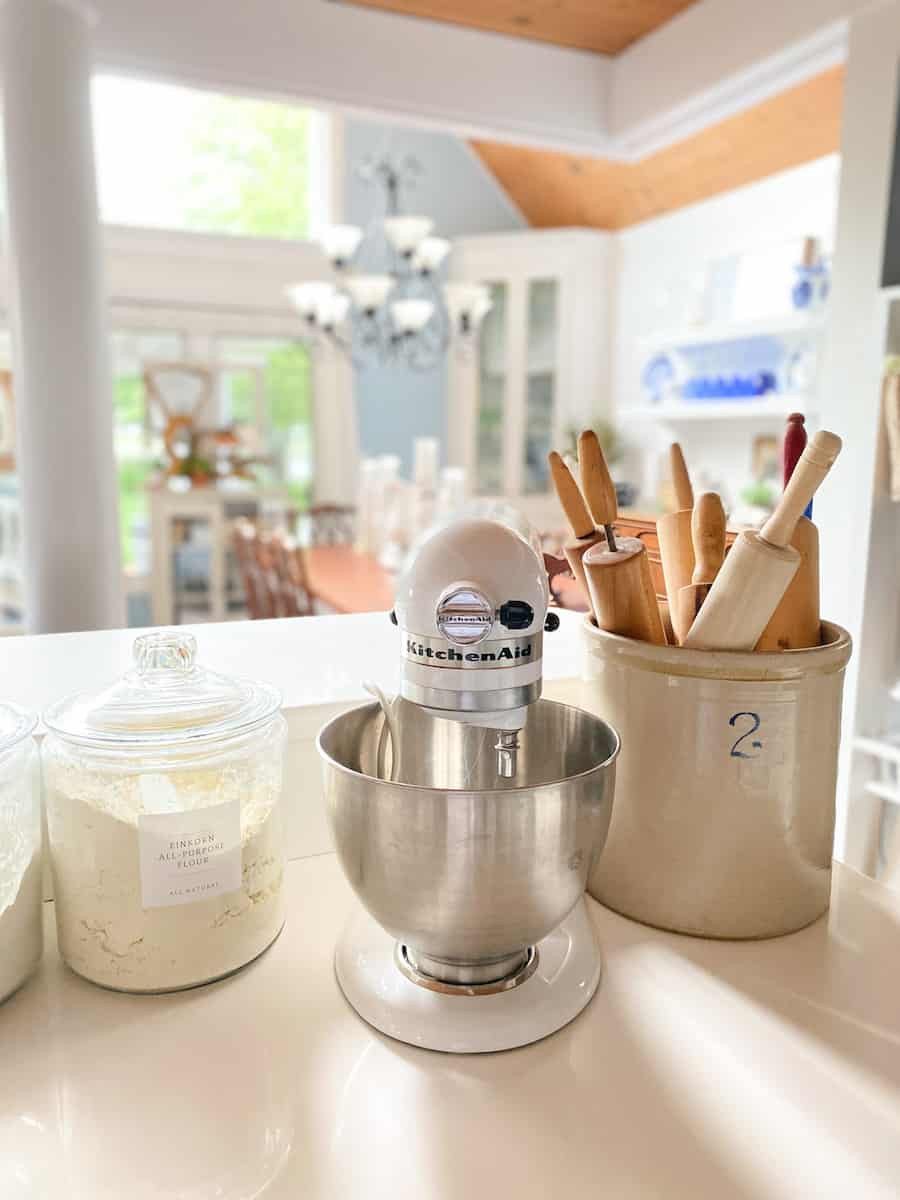 direct access to my amazon store
On Amazon
Did you know that you support my little business by purchasing through my links?? The price to you is the same but I receive a small commission on ALL the purchases you make when you shop through one of my links. I appreciate you helping Living Large in A Small House to grow!

living large podcast
Back by Popular Demand "Handy" is on my Podcast. You can now find the YouTube video of the Podcast in my Podcast Blog Post. You can find that HERE