Why I Make a Garden Journal
There is a great reason why I make a garden journal. It's my way of remembering what went right and what went wrong with my garden each year. I use regular 1/4 inch graph paper, cut it in half, and punch holes for my planner that I create with help from my friends at Etsy. This year I'm using a new garden planner by Whitney Hawkins. (www.thegardenhandbook.com) It's a beautiful garden journal. But I still refer back to all my old notes so both planners are in use during the gardening months.
My Vegetables
It's really important for me to journal everything that happens in my vegetable garden. The vegetables in my garden feed my family, so I need to know what works and what doesn't work. What varieties produce the best and when are they ready for harvest.
I also rotate my crops so I need to know where everything is planted each year. It helps me to know what I should and shouldn't grow in my garden.
I also make notes on what we did to improve the garden each year. When we first started gardening in this house, we planted right into the ground. Now we have raised beds that we add a top layer of new composted soil every year. We then put down our drip irrigation system and cover it all with landscaping fabric to keep down the weeds.
When the season is winding down, I keep track of how many pints and quarts of veggies that I preserved.
My Flowers
When it comes to my flower garden, because it is an always evolving ecosystem, it's especially important for me to journal everything. I have flowers that reseed and I either let them multiply or keep them under control. Interestingly, every year my mind might change depending on where they decide to sow those seeds or run their roots.
I make notes on what I moved in the fall and what needs to be moved in the spring. There are many plants in my garden that need to be divided so I need to take great notes on which plans and where I'm going to put the new additions.
I have many perennials that don't really like our Illinois weather so I have to keep track of those as I treat them like annuals some years or try something new in their spot.
The other thing I keep track of is when everything starts to bloom. It always is a little different, depending on the weather we are having but last year I really wanted to know what was in bloom at the end of June so I could add more for our upcoming wedding. My roses should be stunning on that day as well as the hydrangeas will be starting to flower. I should also have coneflowers, Shasta daisies, and phlox all in bloom around that time. It's going to be gorgeous.
Pots & Planters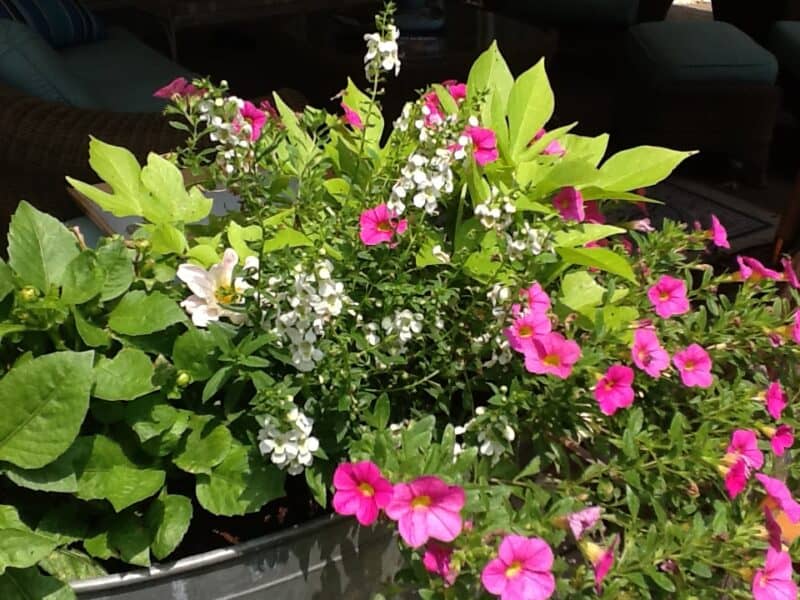 This is an area that I also keep close track and I'm not sure why. Other than my window boxes which are almost always the same, I like to try new things in my pots and planters so even if I really like something, it doesn't always make it into the pots and planters. There are a few however that I always try to tuck into these vessels. Sometimes just in a different color.
Dahlias
Straw Flowers
Petunias
Ivy Vines
Potato Vines
Asparagus Fern
Double Impatiens
Purple Fountain Grass
Just to name a few……..
More Reasons Why I Make a Gardening Journal
The reason that I keep a gardening journal is that it makes things so much easier the next year. I keep track of so many details. How many yards of soil we used. How much mulch was delivered and how much we paid for everything. I also have all of the phone numbers for key suppliers.
I keep track of any different kinds of fertilizer or plant foods that I use. How they perform is also in my notes. I use my erasable markers (Find out about them HERE) for this and they come in handy for color-coding. I also have a plan before I shop for flowers and that typically changes so I can erase it.
If you are just starting out gardening or are a seasoned master gardener, you should be keeping a gardening journal. Happy Journalling!
Peace,