How to Make Pork Chops Juicy & Flavorful
I've talked about this before and it's my sure-fire method of how to make pork chops juicy & flavorful.
The secret weapon is brining the meat. It's the best way to insure that you have juicy pork chops.
On my blog Living Large in A Small House, I may sometimes use affiliate links, which means a small commission is earned if you make a purchase via the link. The price will be the same whether you use the affiliate link or go directly to the vendor's website using a non-affiliate link. You can find my full Disclosure Policy HERE
Once I've brined them, I add a spicy rub to the chops and let that sit for a while at room temperature before baking.
How to Make a Brine
Making a wet brine is a very easy recipe. It just takes a little forethought as you need to let your pork chops sit in the brine for a bit.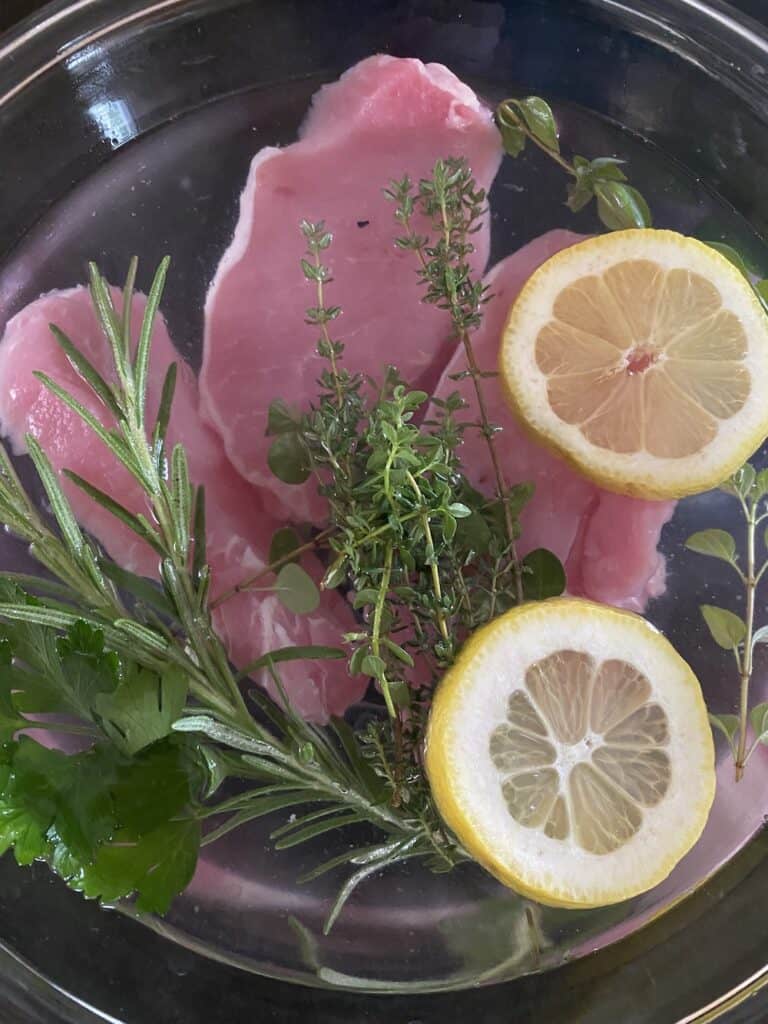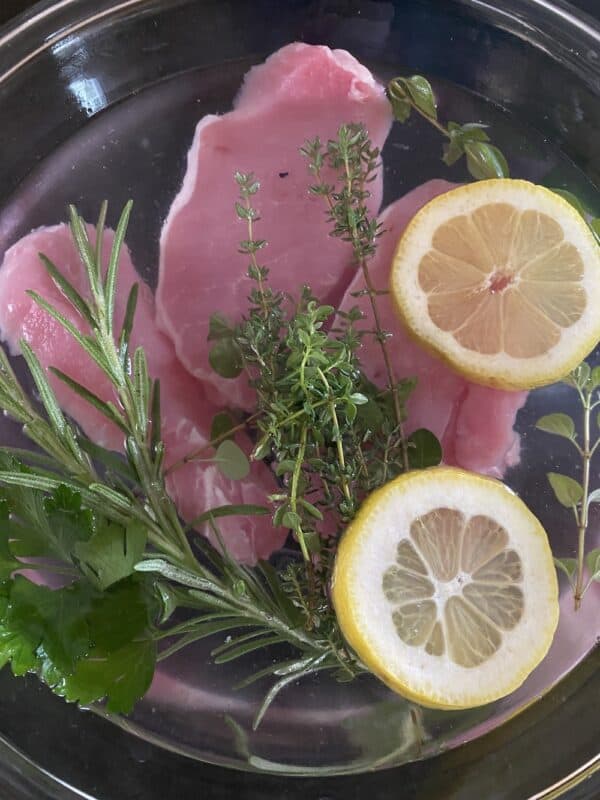 My recipe for basic brine is made up of very simple ingredients:
1/4 cup of kosher salt and 1/4 cup of sugar to 1 quart (4 cups) of water.
You can leave it at that but if I have fresh herbs and lemons around, they go into the brine.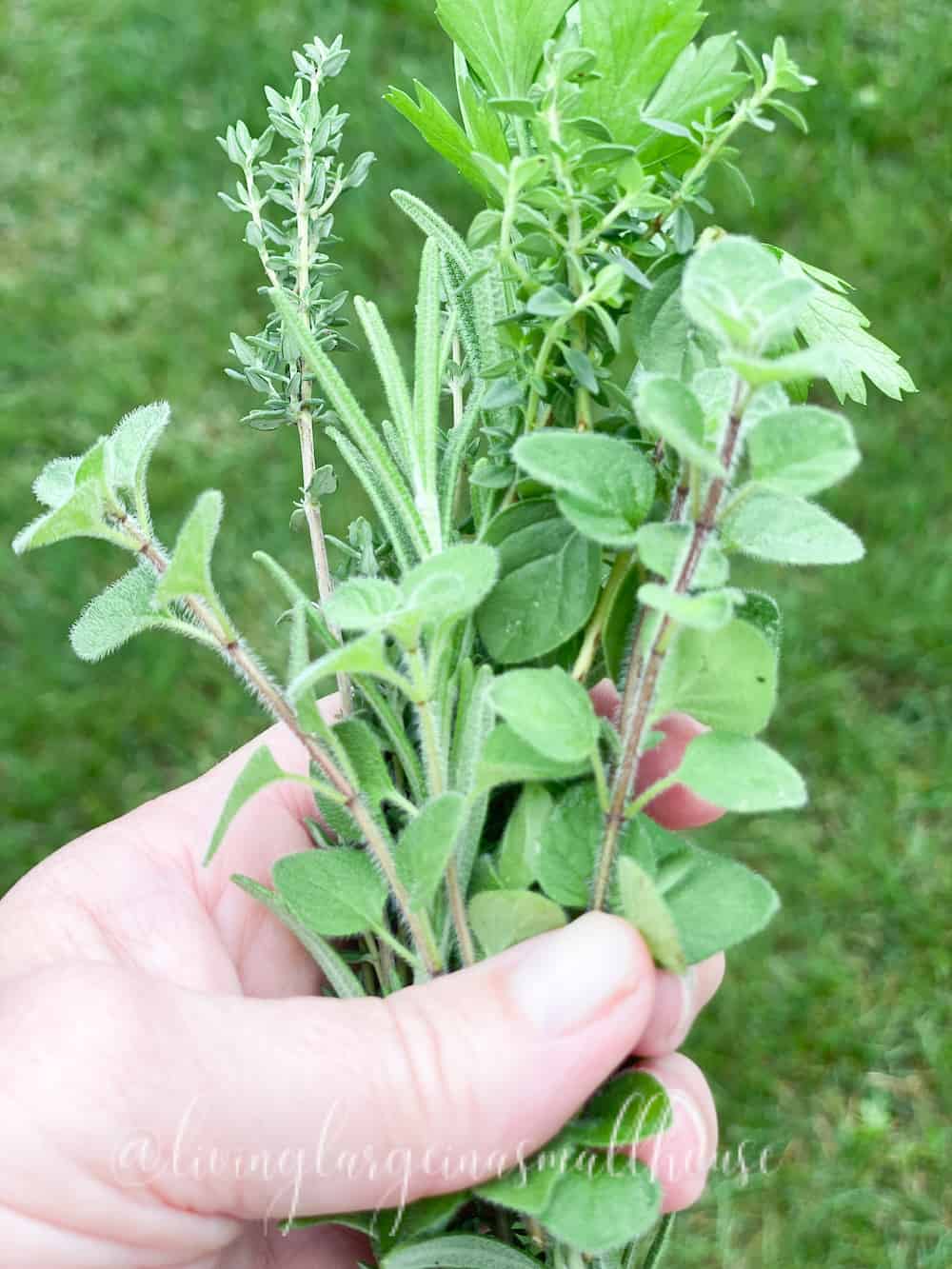 How Long Should you Brine Pork
Pork doesn't need to brine for as long as something like a turkey or whole chicken as it can start to break down the meat.
I brine my chops for as little as 30 minutes and up to two hours.
What do You Do After You Brine?
When I take pork chops out of the brine, I rinse them and then pat them dry with paper towels.
I then place them in a baking pan and coat them with my spicy rub.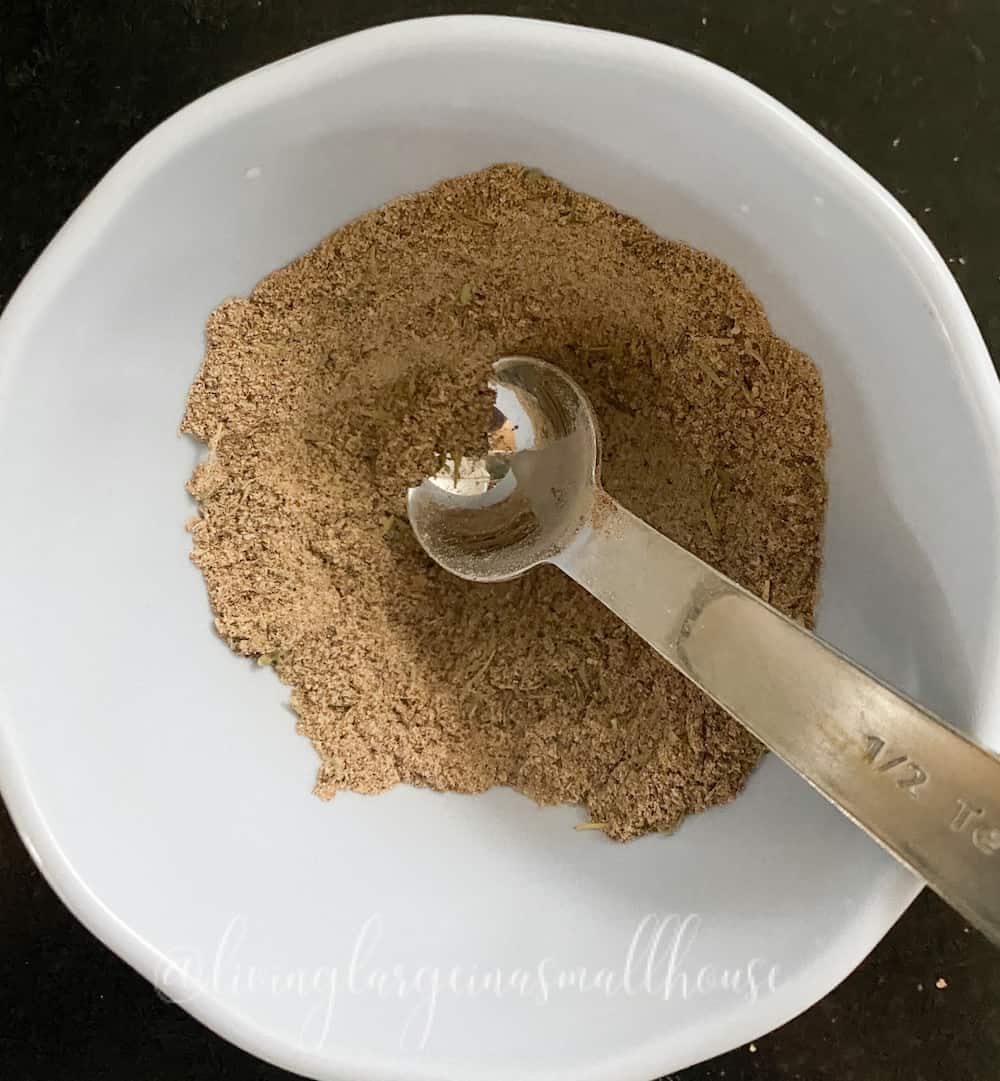 I let them sit for another 30 minutes or so at room temperature so that the rub soaks into the chop and then bake.
Cooking Pork Chops
Place the pork chops in a baking dish that is just large enough to hold them all closer together. When all the chops are nestled together in the pan they bake more evenly and they stay moist.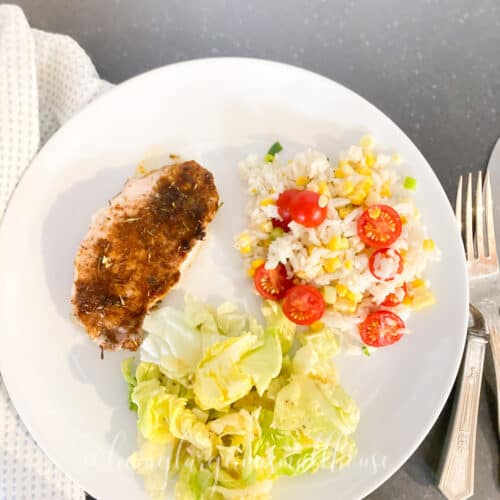 Print Recipe
Yum
Juicy Pork Chops with Brine and Rub
Ingredients
Brine
4

cups

water

1/4

cup

kosher salt

1/4

cup

sugar

fresh herbs (optional)

I used thyme, rosemary, parsley, and oregano

sliced lemon (optional)

garlic cloves (optional)
Rub
2

tsp

chili powder

1

tsp

onion powder

1

tsp

garlic powder

1

tsp

dried thyme

1/2

tsp

cumin

1/2

tsp

salt

1/2

tsp

pepper

1/8

tsp

cayenne pepper

I use 1/4 tsp as I like mine pretty spicy
Pork
4

pork chops

I typically use thick-cut pork chops
Instructions
Brine
Combine water with salt and sugar, and stir until dissolved. Add the pork chops and any optional items.

Let it sit at room temperature for 30 minutes to 2 hours

1/2 hour before you are ready to cook, take the pork chops out of the brine, rinse under water and pat dry with paper towels.
Rub
While chops are brining, combine all the rub ingredients together

When chops are done brining, coat both sides of each pork chop with about 1 tsp of the rub mixture. Let sit either on a plate or in the prepared 9 x 9 baking dish.

Store remaining rub in an air-tight container
Baking
Preheat the oven to 375° – cover the dish with a lid or aluminum foil. Bake for 20 minutes or until you have an internal temperature of 145° using a digital instant-read thermometer.

Let the pork chops rest for 4-5 minutes
Notes
For best results, I typically use thick-cut pork chops for this recipe. You can use either thick boneless pork chops or bone-in pork chops. Bone-in pork chops tend to give the meat even more flavor and will require a longer cooking time. 
You could also cook these on the stovetop over medium-high heat, in a cast iron pan using a few tbsp of olive oil. 
Yum
Is this a Healthy Pork Chop Recipe?
Not only is this a healthy recipe, but it's also an easy pork chop recipe for busy weeknights.
The meat doesn't absorb the sugar and the salt, it changes the structure of the proteins, allowing them to absorb more moisture.
If you are watching your sodium intake, you should probably do more research as I'm not a doctor. You can also eliminate the salt in the rub.

What to Serve with Pork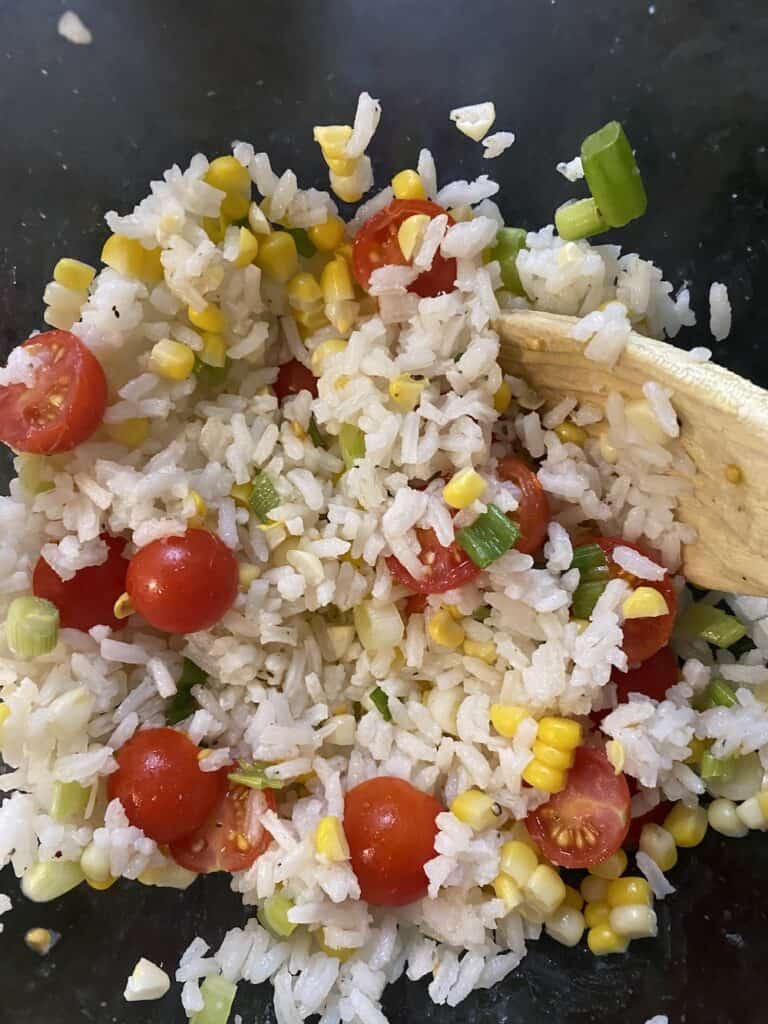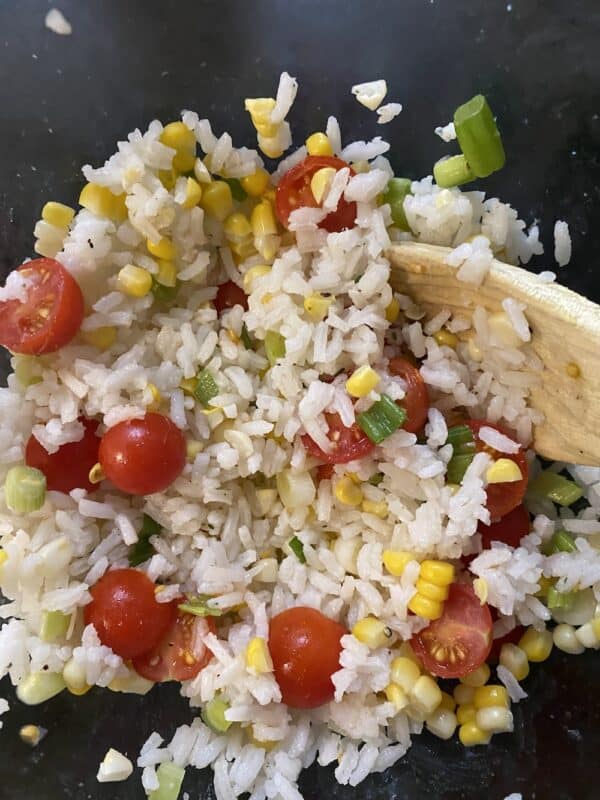 Green Onion – Lime Rice

I made this recipe this week with our pork chops and it was amazing!

Roasted potatoes
Corn on the cob
Side Salad
Potato Pancakes
Some other Brined Recipes
I love whole roasted chicken and I make it at least once a month. That is another recipe that I use brine to enhance the moisture and flavor of the chicken meat. You can find that recipe HERE
How to Make Pork Chops Juicy & Flavorful
I have never been a fan of pork.
But "Handy" loves it!
With this brine and rub recipe, I'm able to enjoy these pork chops that are juicy and flavorful!
Enjoy –
Peace,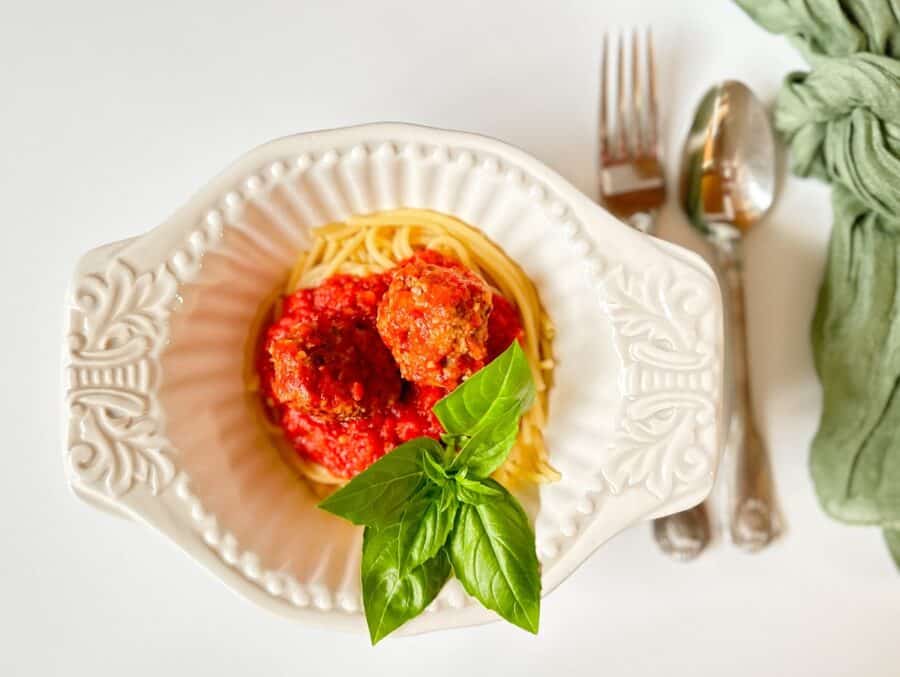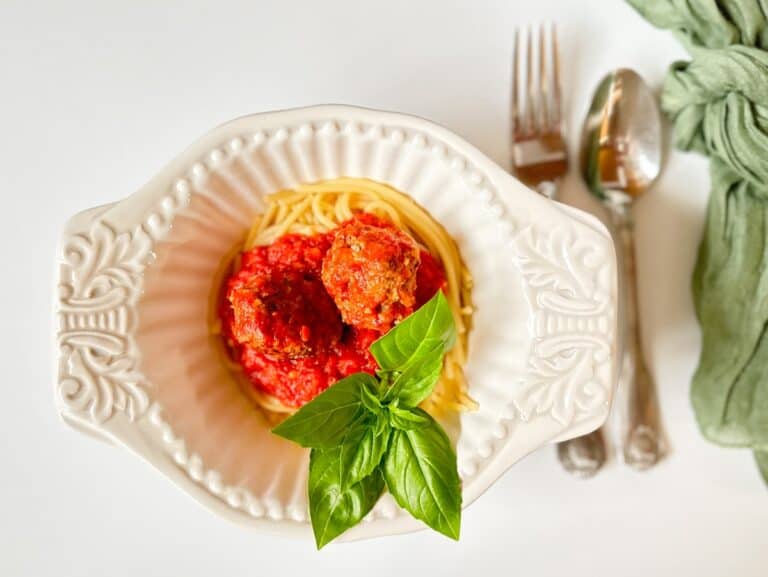 A great way to save this article is to save it to your Pinterest boards. You can find the pin button in the top left corner of the photo below. Also, don't forget to follow me on Pinterest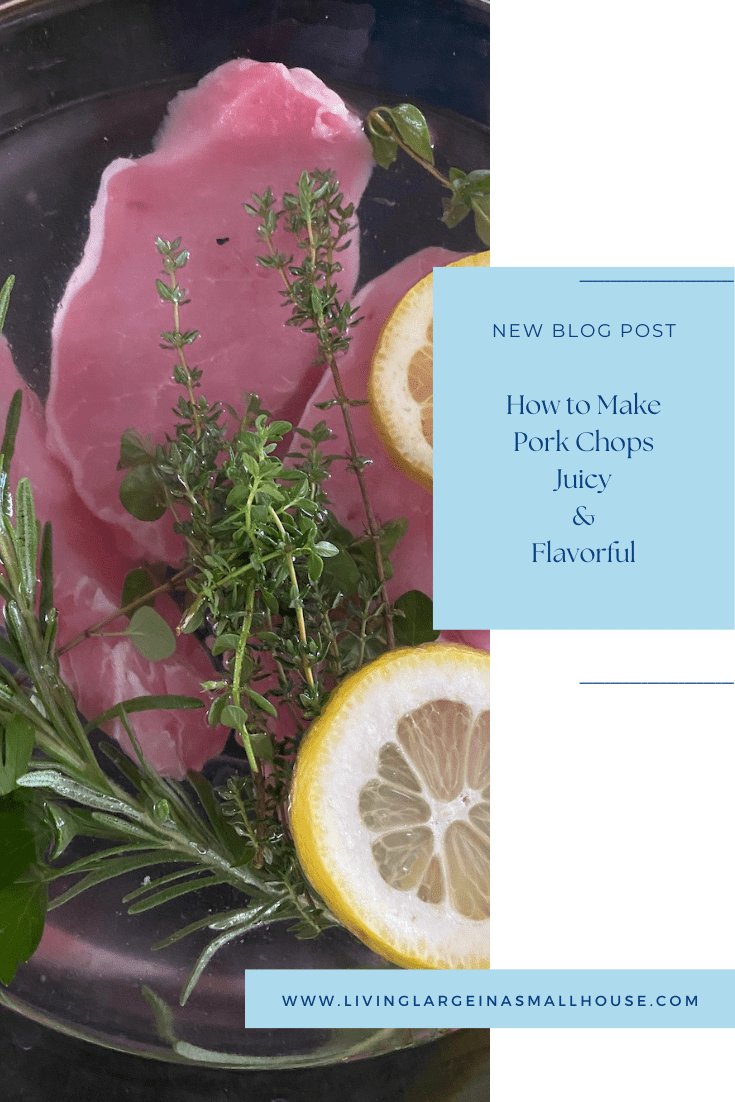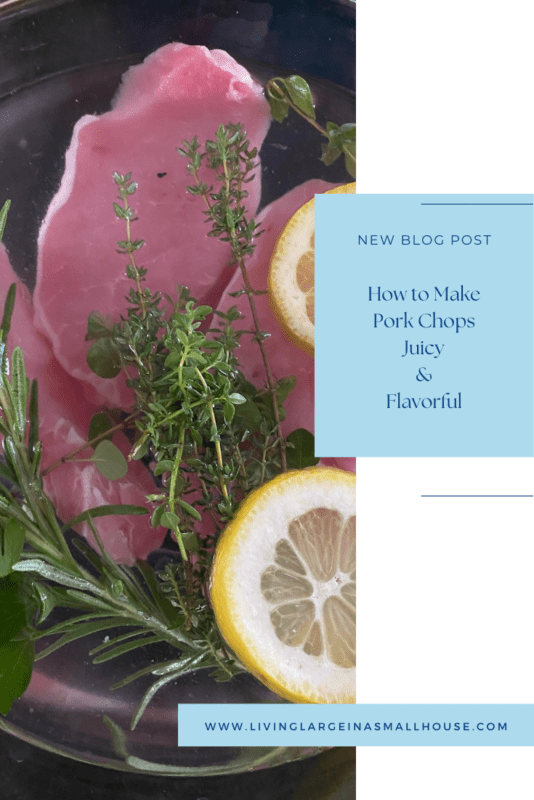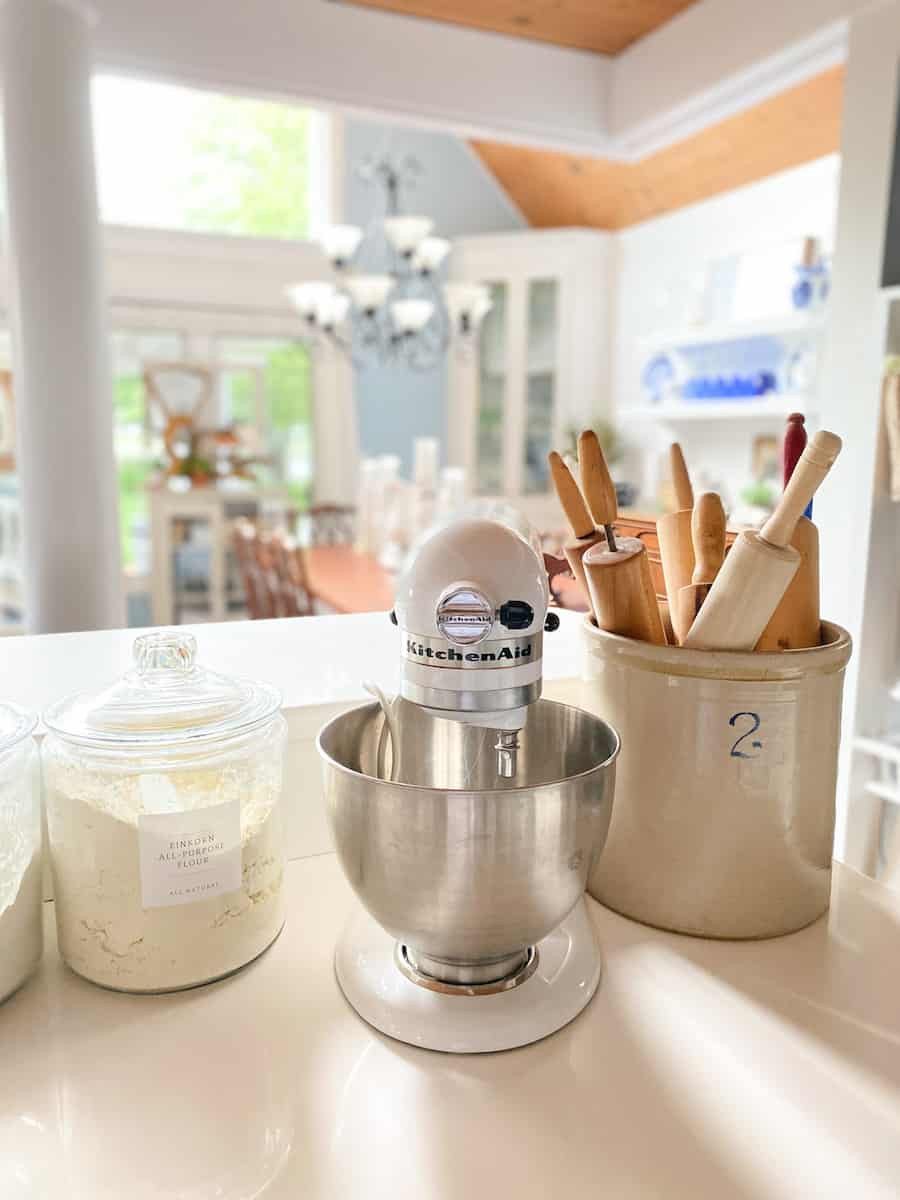 direct access to my amazon store
On Amazon
Did you know that you support my little business by purchasing through my links?? The price to you is the same but I receive a small commission on ALL the purchases you make when you shop through one of my links. I appreciate you helping Living Large in A Small House to grow!

living large podcast
Are you interested in cleaning and organizing your home? I talk about it on the podcast this week. If you're interested in joining the fun, you can find out more about it HERE.