21 Easy Christmas Cookie Recipes for the Non-Baker
I'm not a baker so I've gathered 21 Easy Christmas Cookie Recipes for those who are baking challenged!
Disclaimer: only a few of the recipes are my own 🙂
I don't know if it's because I'm not crazy about sweets or that baking requires precision and as a cook, I do things more by taste than by measurement.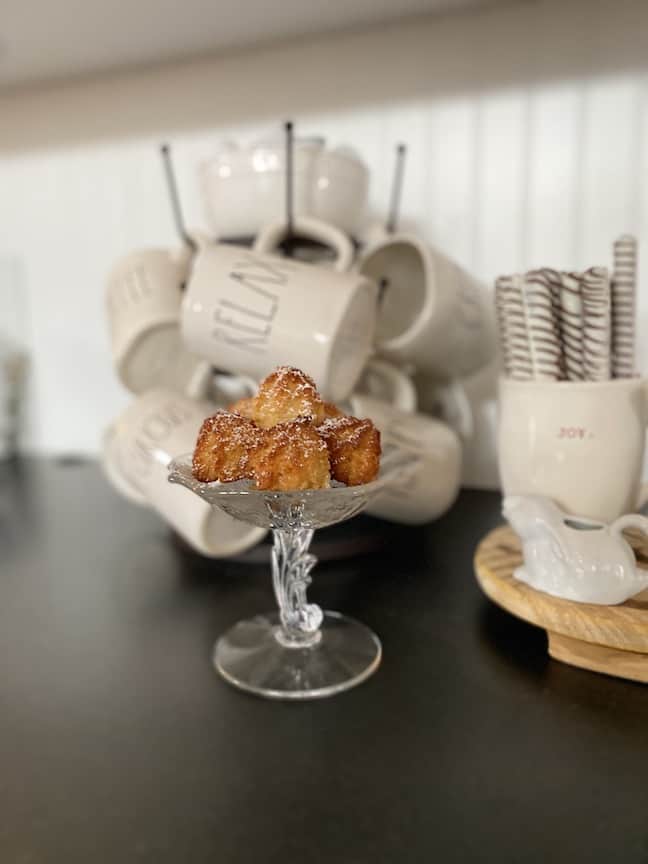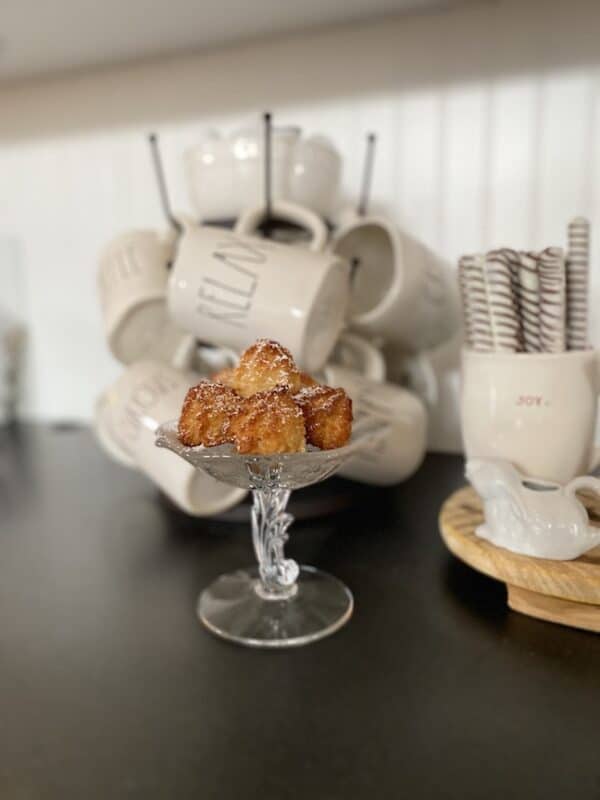 On my blog Living Large in A Small House, I may sometimes use affiliate links, which means a small commission is earned if you make a purchase via the link. The price will be the same whether you use the affiliate link or go directly to the vendor's website using a non-affiliate link. You can find my full Disclosure Policy HERE
This holiday season, we won't be home much but if we were I would like to have some holiday cookies for the cookie jar.
The Easiest Christmas Cookies
The easiest recipes to make are no-bake Christmas cookies.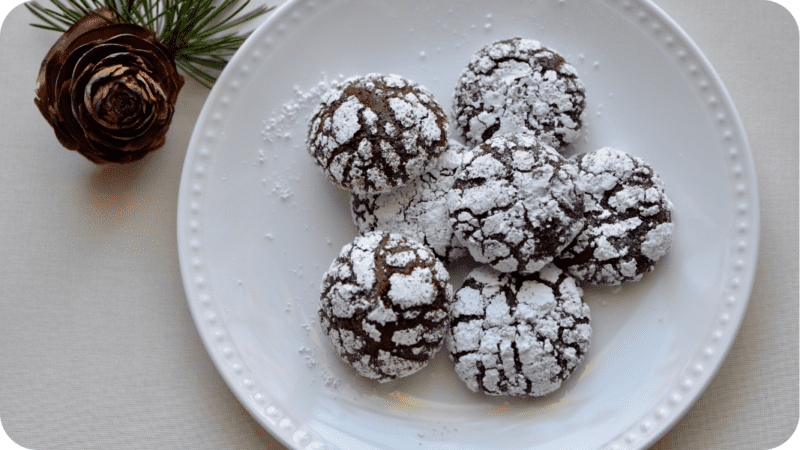 For me, the easiest cookies to make would be melting some white chocolate chips or regular chocolate chips in the microwave and dipping pretzels or oreo cookies into the chocolate, and then topping with some Christmas Sprinkles. White Chocolate thin mints with white chocolate and crushed peppermint candy on the top seem very festive.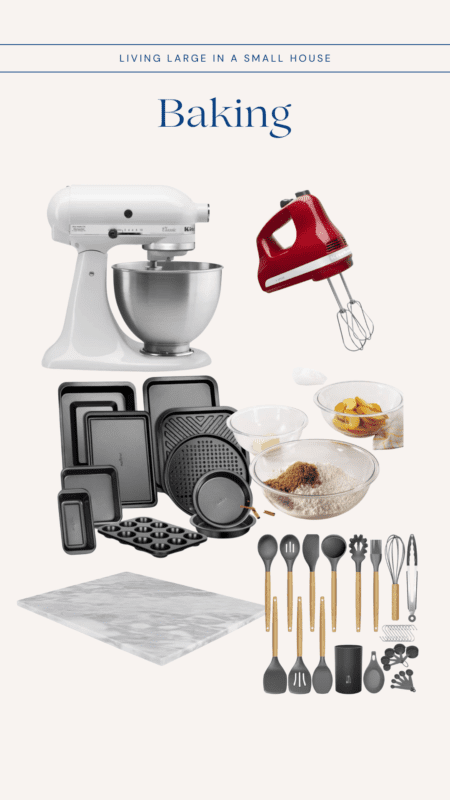 There are hundreds of versions of simple cookies, sweets, and savory snacks dipped in chocolate.
Another easy cookie idea is to buy store-bought cookies and add a chocolate ganache on the top or sprinkle store-bought goodies with powdered sugar.
What could be easier?
There are so many no-bake Christmas Treat recipes.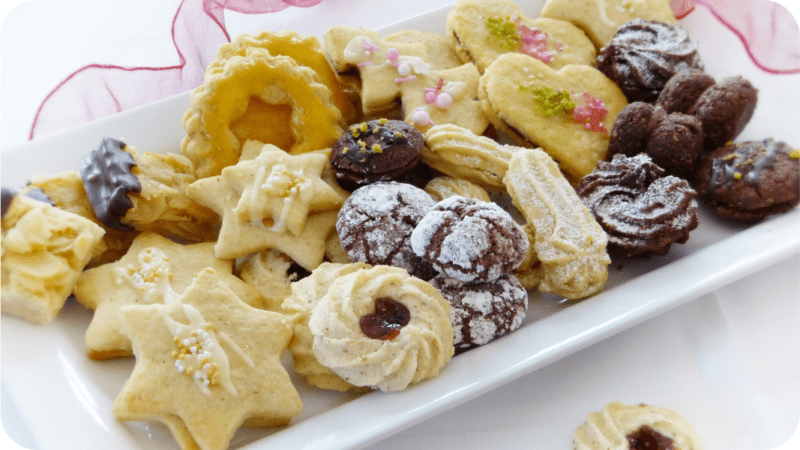 Cookie Swaps or Cookie Exchange
What is a cookie swap? It's a party in which guests each bring a few dozen cookies to share and swap with their friends. This way, you only bake one recipe and get to enjoy lots of different types. It's a delicious way to spend an afternoon or an evening, and it's fun to discover new-to-you cookie recipes, too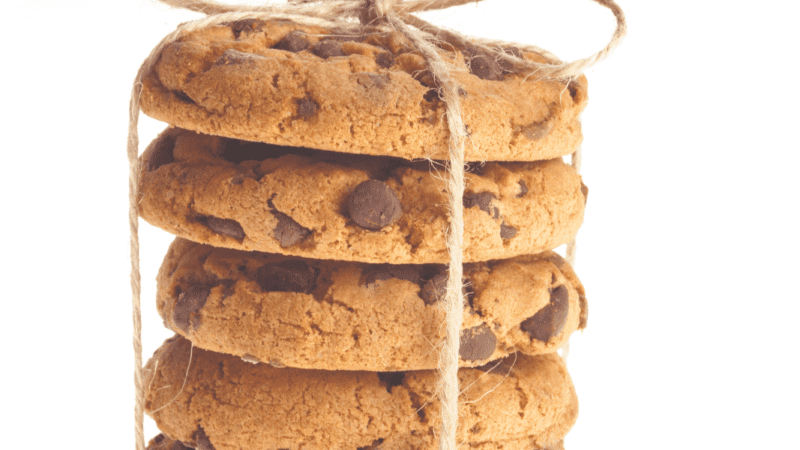 Easy Baked Christmas Cookies
For this category, I chose recipes with easy recipes using basic ingredients.
Spritz Cookies
Classic German Christmas Cookie
Ingredients
2-1/2

cups

flour

1/2

tsp

baking soda

pinch of salt

1/2

pound

butter, softened

1/2

cup

sugar (plus a little more)

3

egg yolks

1

tsp

vanilla
Instructions
Mix the flour, soda and salt together in a mixing bowl and set aside.

Blend the butter, sugar, eggs, and vanilla together with mixer.

Slowly add the flour mixture to the butter mixture until well combined.

Put dough in cookie press and press cookies onto a parchment paper lined baking sheet

Bake for 8-10 minutes until just slightly golden brown
Yum
I have successfully made potato chip cookies and the vanilla crinkle cookies sound wonderful as the ingredients include a cake mix and cool whip. I can handle that!
Potato Chip Cookies
Ingredients
4

sticks

butter, softened

1

cup

sugar

3

cups

flour

2

tsp

vanilla

1

cup

crushed up potato chips

powdered sugar for dusting

chocolate chips for drizzle
Instructions
Cream the butter and sugar. Add the rest of the ingredients

Bake at 350° for 15 minutes. Let cool. Dust with sugar and drizzle with chocolate
Yum
The gingerbread cookies are made with Einkorn flour, my favorite flour however the recipe gives you options to use other flours, make it gluten-free, egg-free and dairy-free.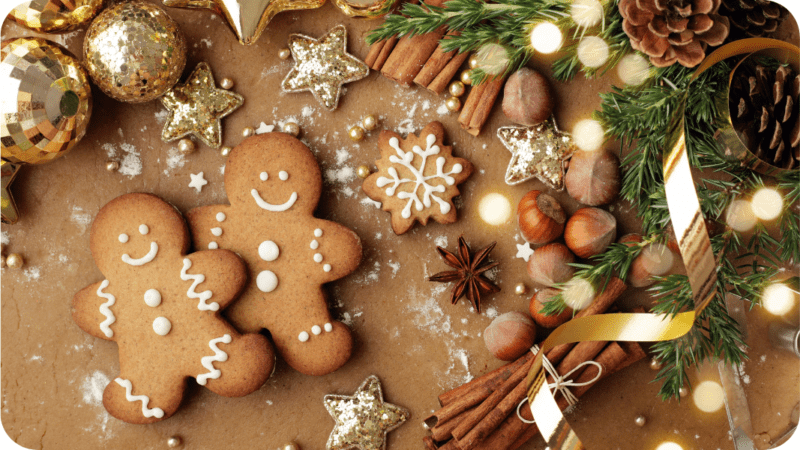 I have always wanted to make Gingerbread Men, not just for a delicious Christmas treat but also to hang on my Christmas Tree.
Other Easy Christmas Desserts
Here are some ideas other than baking cookies.
Cookie Dough
There are many recipes out there for raw cookie dough. What a fun treat in a sundae dish with Christmas sprinkles on top.
When we were kids, my brother Scott and I used to sneak butter, flour, sugar, and chocolate chips from the kitchen and meet in one of our bedrooms, mix it all together and eat it. There was no measuring and it always tasted heavenly. We called it Brother/Sister! It probably tasted so good because it was our little secret.
Naked Cake Hack
I recently saw the best naked cake hack by Kara @littlehouseonchestnut Kara bought a grocery store cake and scraped the frosting off, dusted it with powdered sugar, and topped it with sugared cranberries. Genius!
Easiest fudge ever! I have successfully made this recipe as well.
Fudge
Ingredients
1

pound

powdered sugar

1/2

cup

cocoa

1/4

cup

milk

1/2

cup

butter

1

tsp

vanilla

1/2

cup

chopped nuts, optional
Instructions
Combine cocoa and sugar in a bowl, add milk and butter DO NOT STIR

Cook in microwave on HIGH for 2 minutes. Remove and stir.

Pour into 8" shallow dish and refrigerate until set
Yum

Frequently Asked Questions
How Long Before Christmas Should You Start Baking Cookies?
There are so many recipes that you are able to freeze so if you have the freezer space you should start with those months in advance so you're ahead of the baking game. If you plan to keep them at room temperature, make them within two weeks or less, and be sure to store them in cookie tins or air-tight containers.
Why Do People Bake Christmas Cookies?
At a time when most families were not that well off, people started making cookies and sweets as a way to share gifts during the medieval Christmas season. Christmas in many cultures was a time of visiting friends and family. Since it was cold outside and the ground was hard and frozen solid, farming was not an option
What is the Least Favorite Christmas Cookie?
On the naughty list of cookies, Americans gave the lowest win records to anise cookies, which only won 29%.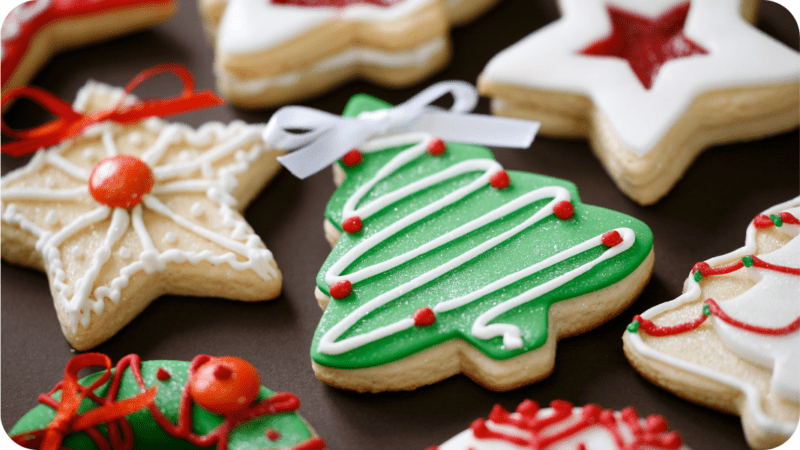 If you are like me and aren't a very good baker, I hope I've given you a few options to try this holiday season.
I'm going to give the Chocolate Carmel Wafers a try!
Peace and Love,

A great way to save this article is to save it to your Pinterest boards. You can find the pin button in the top right corner of the photo below. Also, don't forget to follow me on Pinterest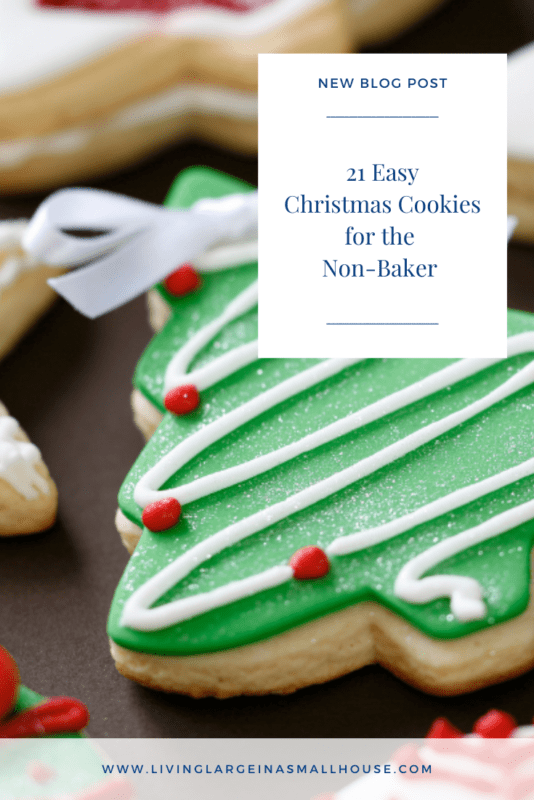 living large podcast
One the Podcast this week I talk about stress during the holidays. Next week I'm going to have a professional on the show to dig deeper into the subject.