5 Ways to Celebrate Christmas on a Budget
Today I want to share with you 5 ways to celebrate Christmas on a budget and have a great time doing it!
Christmas Wish
The best Christmas present is showing kindness to other and giving help to people in need. The real spirit of Christmas is being with those we love, Celebrating the birth of our Lord and all of the blessing that brings to our lives.
I know it's easy to lose sight of the real meaning of Christmas. We all can get hung up in the business of the season and forget why we are celebrating in the first place. However, the season is also meant to bring us joy and happiness, and all the things that go along with Christmas; gift-giving, celebrating with friends and family, decorating my home, and wrapping those gifts. It all gives me joy!
I hope that you had a chance to see my Christmas Home Tour. It's taken me time but I really enjoyed decorating this year. I didn't go overboard and I only bought some ribbon to change my whole theme. After all, we are celebrating a very quiet Christmas this year.
You don't have to go crazy to make Christmas special. It's been two years since my job was eliminated and I chose to take an early retirement to pursue my dream of blogging. That means that we had to tighten our belts here at this small house. One of my favorite blog posts is about my new quiet little life. You can read more about ME on this POST!
1. Gift Giving on a Budget
We do something different now that our kids are older but you could certainly implement it with littles.
Something You Want
Something You Need
Something To Wear
Something to Read
It really helps to keep our spending in check and I don't buy big gifts. Since they are all grown adults with their own money, they don't need things from us. It's more of a token.
Keith and I quit giving each other gifts a long time ago. We typically just buy a gift for ourselves that we want for the house. This year not only was it our Frame TV (I know you're tired of hearing about it but it's pretty cool) but our furnace quit one cold morning and after 28 years of service, she had to be replaced. Now it looks like a washer and dryer might also be in our near future. When it rains it pours.
2. What to Buy for the Family on a Budget
Have you thought about buying gifts that are for the whole family? Experience gifts are a great idea for this year since kids have been cooped up at home for so long. Passes to the Zoo, Museums, Water Parks, etc., are such a thoughtful gift. In years past we have given the whole family a vacation as their Christmas present. These gifts are making memories long after the wrapping paper is thrown away.
Games and puzzles are great gifts that the whole family can enjoy. What if you also added a popcorn machine for the family room. Again, you would be making memories and it's something that everyone can have fun doing.
3. Inexpensive Gift Wrapping
I have been a fan of Kraft paper for a very long time. I have been using brown and white Kraft paper for wrapping gifts for a very long time. You can get hundreds of feet of paper for under $30. It lasts me for several years and I don't just use it for the holidays. I change up the ribbon that I use to make it special, no matter what the occasion. I'm a big fan of twine which is also an inexpensive option. I've been able to find some really nice twine options at the Dollar Tree. I also use ribbon that I can buy in bulk that again can be used for any occasion. This year I found some skinny ribbon in a blue and white check that was inexpensive and matched the ribbon I'm using on my trees.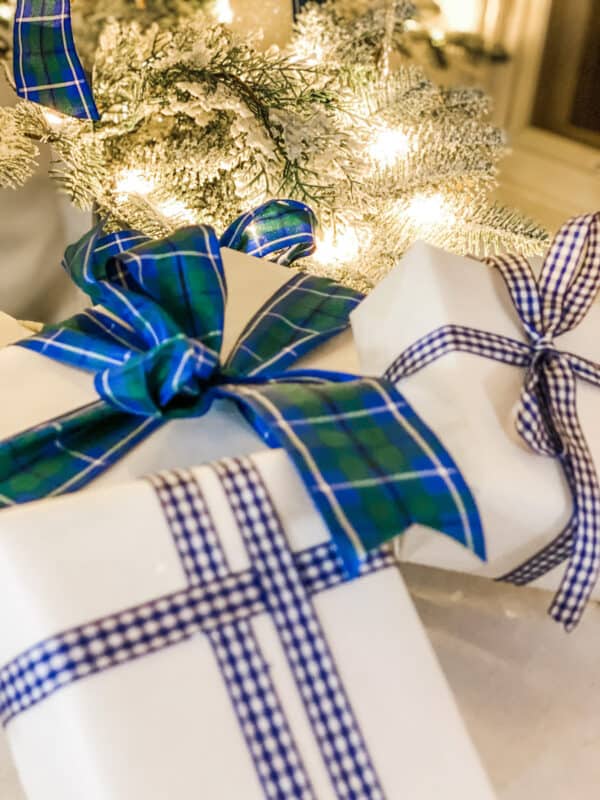 I recently found out that you can get Kraft paper in different colors! Well, color me happy! I will definitely be buying some of that.
I don't just use Kraft paper for wrapping. When our kids were younger I used to cover the kid's table for special occasions and then provide a big basket of Crayons. The big kids never wanted to move from the kid's table because they had just as much fun coloring on the table as the littles. I will definitely be bringing that back when I have some grandbabies of my own. (No Pressure Annie 🙂 )
4. Budget Friendly Christmas Decor
I've talked about this before and while I like to switch things up at Christmas, I don't spend a lot of money. The base of most of my Christmas Tree decor is white plastic snowflakes that I bought from Dollar Tree years ago.
This year I just bought two spools of pretty blue and green tartan plaid ribbon that I've used as bows on my tree, ribbon around my dinner napkins, and woven it through my garland on my mantel. I'm also dressing up the presents that are wrapped in white Kraft paper with this ribbon.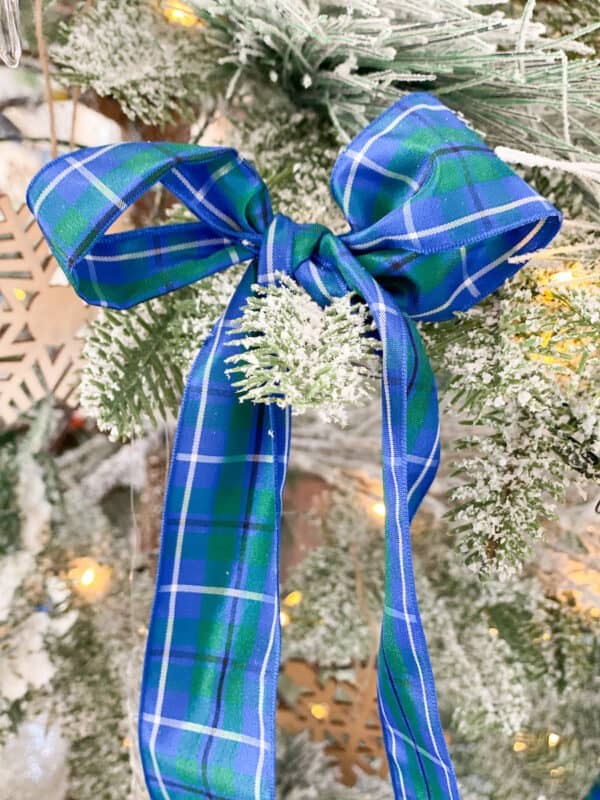 5. Holiday Entertaining on a Budget
To keep the cost down on holiday entertaining here are some fun ways to enjoy company with a minimal investment.
Potluck Dinner – You could provide the main course and everyone else brings a dish to pass. You could even make it a heavy hors d'oeuvre event. Also make it BYOB (Bring Your Own Beverage)
Casual Meals

Chili & Hot Dogs
Taco Bar
Pasta Bar
Salad Bar
Sandwich Bar

Cookies & Cocoa – Host a little afternoon get together and keep it really simple (everyone could bring cookies to share)
Game Night – Get together with friends or family and play some great games.
Movie Night – Watch some classic Christmas Movies and serve popcorn and warm cider.
A couple of weeks ago I shared a casual Sunday Football Party with you. You can read about that HERE.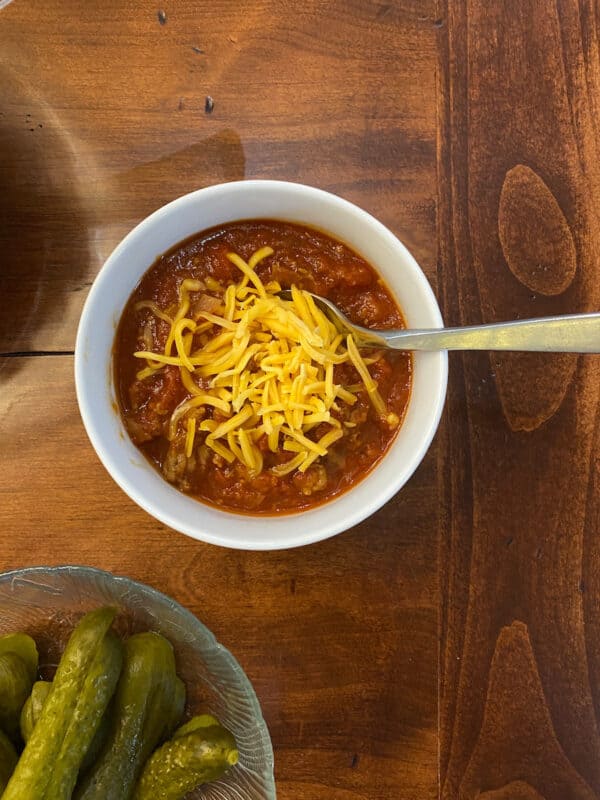 If we try to keep the reason for the season foremost in our thoughts, it makes it easier to stress less and spend less. It really shouldn't be about the gifts. It should be about the people that you are with even if it is just your immediate family or close friends.
If you're friends of Living Large in a Small House Blog, you have access to my FREE Printable Christmas guide which includes a budget tracker. That's another thing that really keeps me in line. I set a budget and keep track of everything I've purchased. Knowing what I can spend keeps me in check.
I hope these 5 ways to celebrate Christmas on a budget will help you have a very festive time; without as much financial stress.
In the new year, I'm going to share with you my trick to saving for the Holidays and other special events/occasions.
direct access to all of the Christmas decor i love
On Amazon
Did you know that you support my little business by purchasing through my links?? The price to you is the same but I receive a small commission on ALL the purchases you make when you shop through one of my links. I appreciate you helping Living Large in A Small House to grow!
Emma and I are going to chat with some guests on the Podcast on Monday about celebrating Christmas without family and what that looks like. Hope you're able to listen.
Thanks for tagging along!
Peace,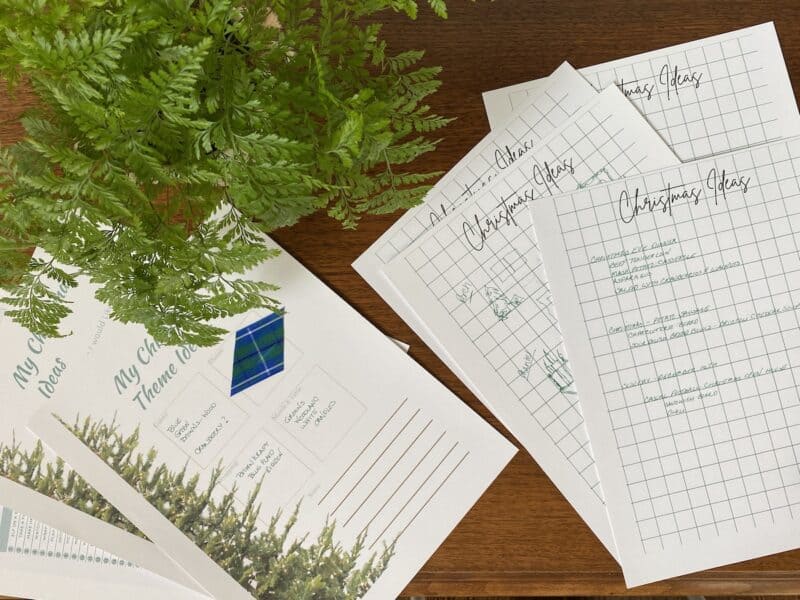 Get my free christmas guide
When you join my newsletter


Pin this to Your Favorite Pinterest Board