We Love our 55″ Samsung Frame TV
We love our 55″ Samsung Frame TV!!!!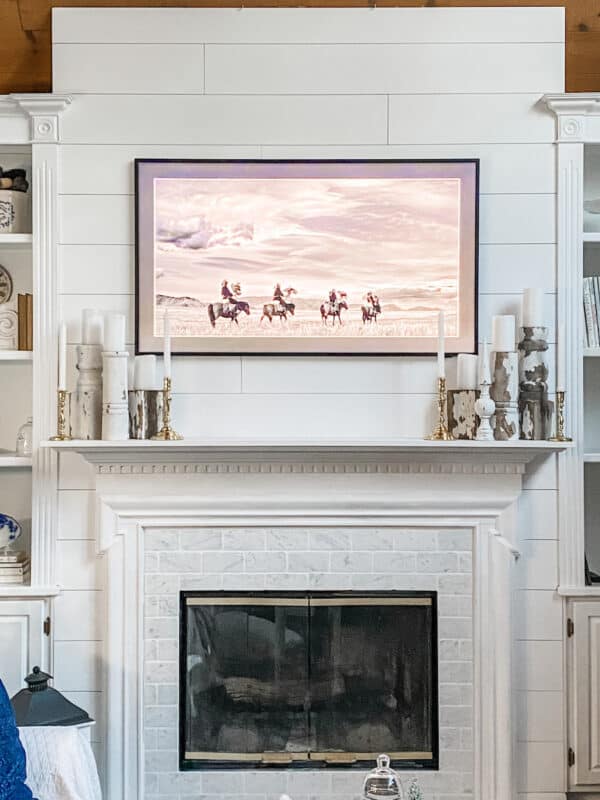 On my blog Living Large in A Small House, I may sometimes use affiliate links, which means a small commission is earned if you make a purchase via the link. The price will be the same whether you use the affiliate link or go directly to the vendor's website using a non-affiliate link. You can find my full Disclosure Policy HERE
As with everything in our house, one little project always snowballs into so many other things.
When I bought a new rug for our living room, I never dreamed it would morph into so many new projects 🙂
Once I had the new rug, I REALLY didn't like the green marble fireplace surround. I put up some peel-and-stick wallpaper to give "Handy" a vision of what it would look like updated. In less than a week he was replacing the hearth with a beautiful porcelain piece and putting up marble tile over the green. I absolutely love the new look.
I moved all the furniture around to a configuration that we have never tried in this room before and it not only gives the room a very cozy feel, it photographs beautifully. That is something that is very important in the life of a blogger.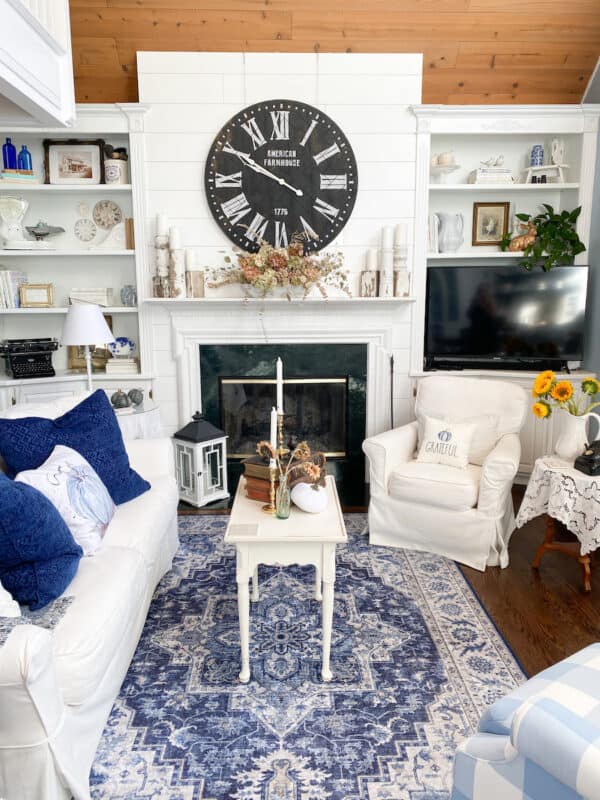 12 Days of Christmas
Before I go any further, I want to welcome you back if you're coming from Diane's Blog South House Designs. She shared more Christmas DIY over on her blog yesterday and I can't wait to see what she is sharing with us tomorrow.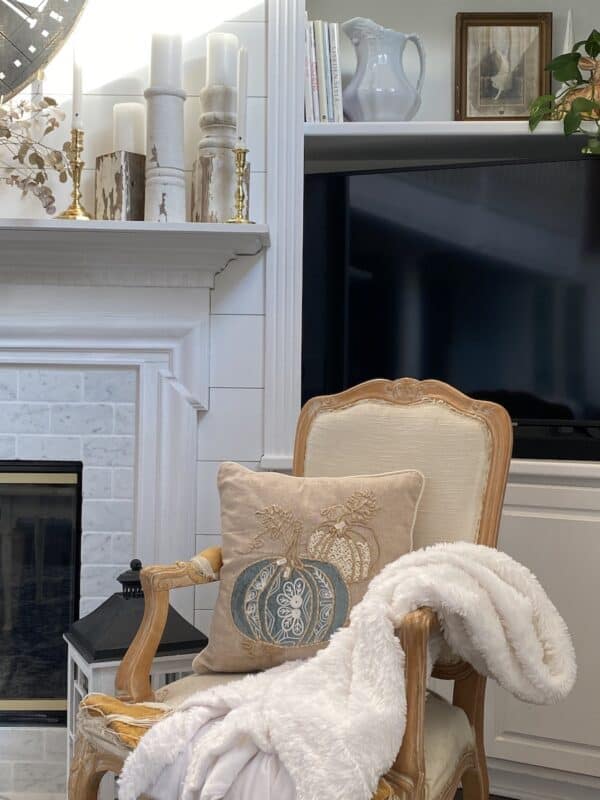 You're probably also thinking, what does a Frame TV have to do with Christmas?
Well, the new arrangement of the furniture got us thinking about a completely different placement for our Christmas Tree. The whole setup is lovely BUT!!!!!
We are having a hard time seeing the TV which is stuck in the corner. This led to the purchase of a NEW Samsung 55″ Frame TV! An early Christmas present to each other.
I absolutely love my clock over the mantel but I do take it down for the Holiday Season and add holiday decor. Yesterday Diane at South House Designs created a very festive sign above her fireplace mantel.
The idea of a TV that could be a picture when not in use is appealing. Putting our TV over our fireplace actually makes very good sense for the shape and size of our great room.
We were a bit concerned about the sun because our living room has a southern exposure with a wall 20 ft high of windows. We were pleasantly surprised that the TV doesn't create any glare issues. NEW Technology – it's amazing!
We will be putting a gold frame around the TV, but the frames available for the TV have a steep price tag. We don't call Keith "Handy" for nothing! He will be making us a beautiful frame for the TV at a fraction of the price.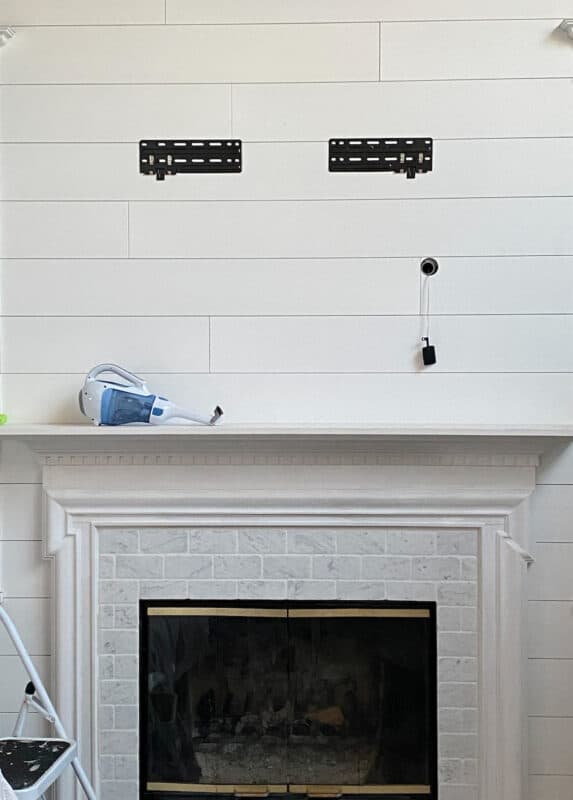 Enjoying our Samsung TV to Watch Holiday Movies
We've already started watching some Christmas movies and we can't wait to watch some classics. "Christmas Vacation" always gets watched during our Potato Sausage Making Party and also on Christmas Eve.
The placement of the TV will also be perfect for my Christmas Casual Football Party that I'm planning for December. I'm going to share all of my plans on Thursday.
Did I mention that we love our 55″ Samsung Frame TV!!!! It was the perfect early Christmas present for us. I know we will enjoy it not only through the holidays but long after. (I do miss my clock)
P.S. I'm sure that there will be new paint on the wall in the near future. (Don't tell "Handy")
Peace,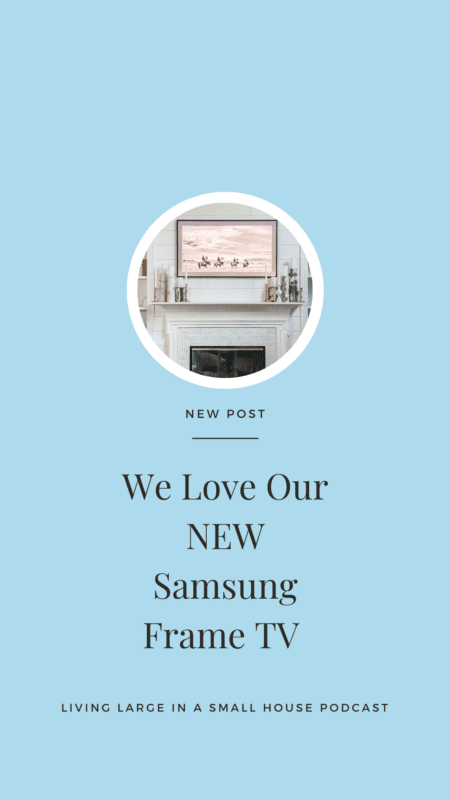 Did you know that I have a Podcast? It's a 1/2 hour of Emma (my 22 year old daughter) and me laughing and having fun talking about our life in this small house.
We have a new episode available for you every Monday morning.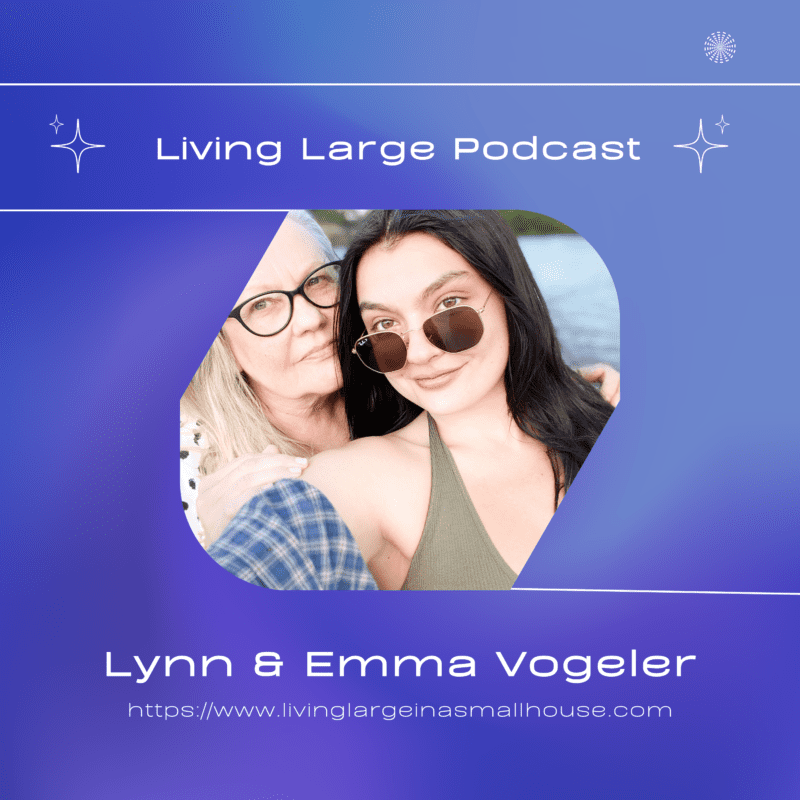 12 Days of Christmas Making Recap
Day 1 – DIY Vintage Lanterns for Mantel Christmas Decor
Day 2 – Christmas Lists & Holiday Organizing Made Simple
Day 3 – How to Hang Christmas Stockings from a Birch Branch
Day 4 – Swedish Potato Sausage – Our Family Christmas Tradition
Day 5 – Best Way to Add Fake Snow to Brighten Your Decor
Day 6 – How to Make the Perfect Holiday Cocktail
Day 7 – How to make a Christmas Sign out of Reclaimed Wood
Day 8 – We Love Our Frame TV
Day 9 – Charming Holiday Decor with Vintage Ice Skates
Day 10 – Casual Holiday Entertaining
Day 11 – Wood Holiday Buoys add Coastal Christmas Decor
Day 12 – Christmas Eve at Our House