Easy Transformation of Wood Shelves with Dixie Belle Paint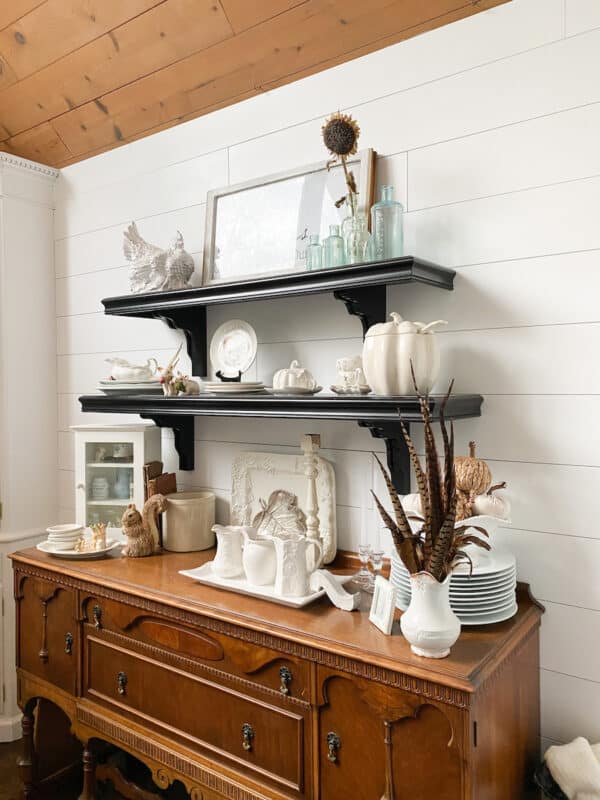 I made an easy transformation of wood shelves with Dixie Belle Paint. The color I used was named "Cotton".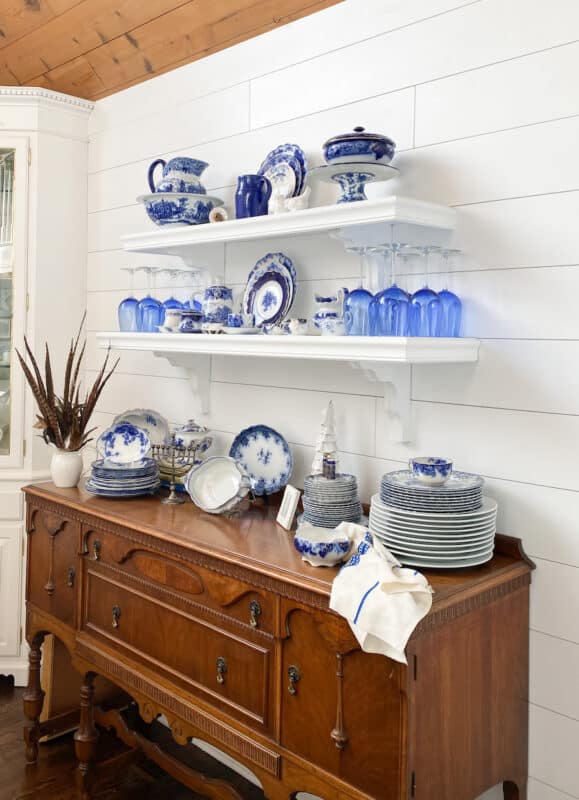 I have been slowly updating my dining room which had a lot of black accent wood pieces. Once "Handy" had made me a new farmhouse table and we found a beautiful antique sideboard, the black shelves just didn't look right with the rich wood tones of this new to us furniture.
Introducing Dixie Belle Paint
When I had the opportunity to work with Dixie Belle Paint Company to try out their paint, I jumped at the chance. I've used many other brands of chalk paint and Dixie Belle Chalk Paint is far superior to the one's I've used in the past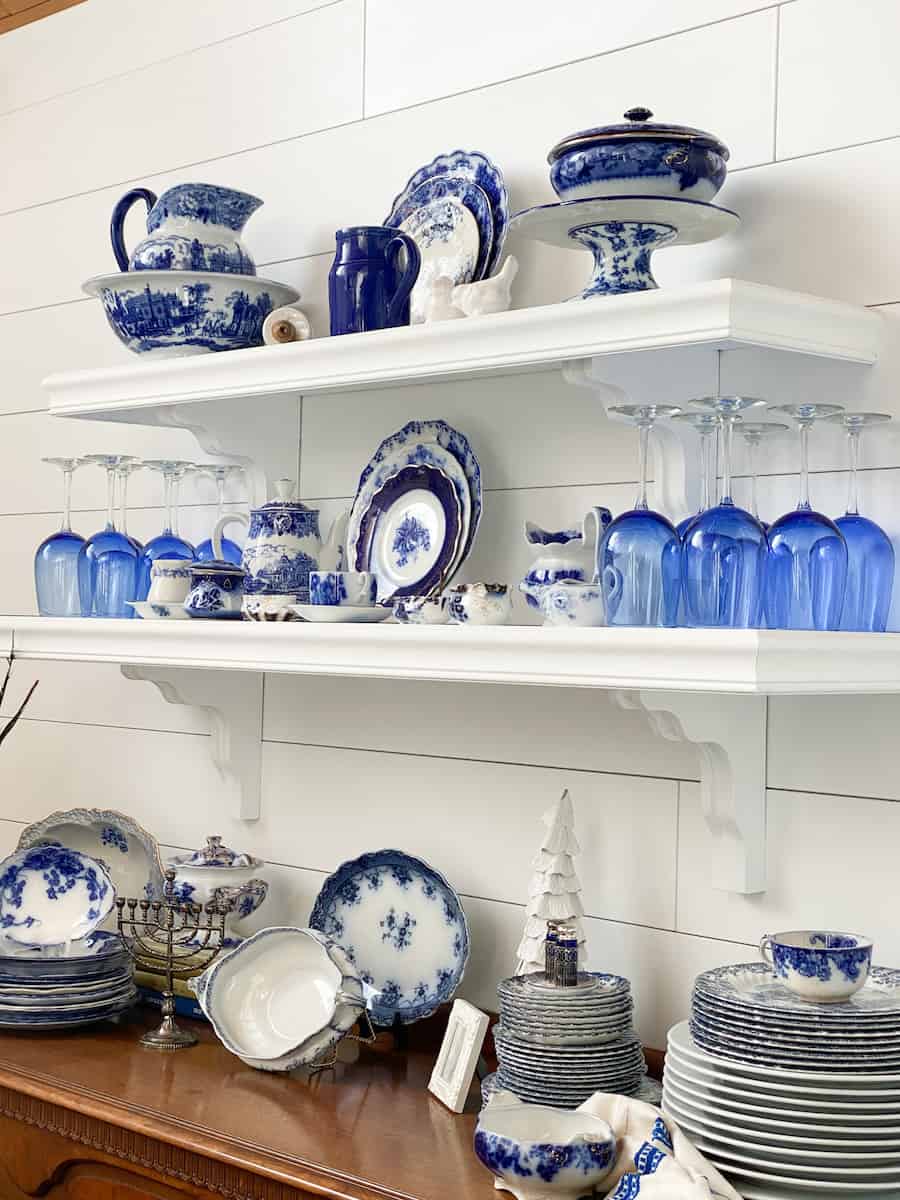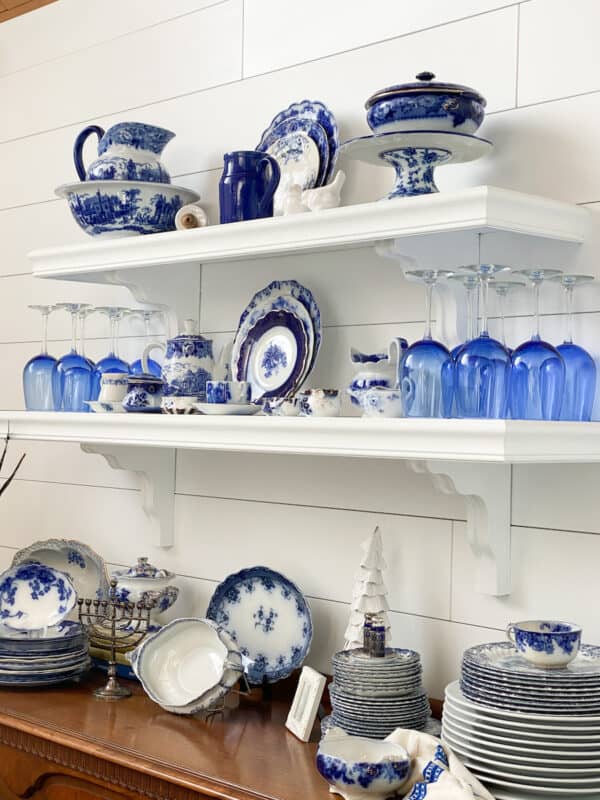 I was concerned about the coverage as my shelves were painted by a professional cabinet maker with a beautiful sprayed finish. It did take me three coats of Dixie Belle Paint to cover them but I was actually impressed that was all it took. After all I was covering black with a white paint.
My prep was pretty straight forward. I washed the shelves and dried them with simple soap and water. I then scuffed them up with a sanding block. Once I wiped them down again, they were ready for paint. The paint went on like silk and the Dixie Belle Paint brushes are amazing. I let them dry about an hour in-between coats and the whole project took me one afternoon.
Once the shelves were white against my white shiplap walls, they were just screaming for me to display my collection of flow blue china. I honestly love it so much and I can't stop staring at it.
My next project is to paint a coffee table that I paid $10 for and then an end table which was another inexpensive find. It's truly amazing the transformations that can happen with a can of Dixie Belle Chalk Paint. Any it's so easy!
Let's Be Friends!
Become a friend of Living Large in A Small House and you will have access to my FREE Resource Library which contains my Christmas Guide.
I was so happy to share the easy transformation of my wood shelves with Dixie Belle Paint. Next time you have a paint project, I promise you will be so happy with this paint. It comes in so many amazing colors, it's actually hard to pick. They also have paint that is suitable for outdoor projects.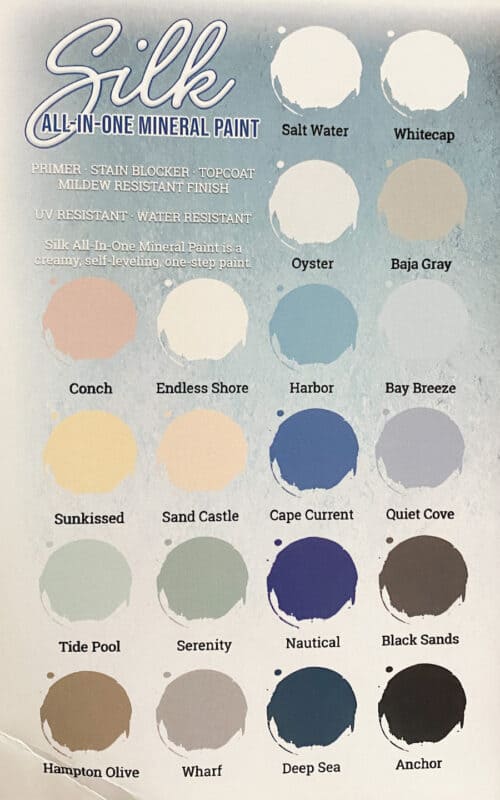 Happy Painting!
Peace,
P.S.
I know many of you will be decorating after Christmas, if you want to read about my many different Christmas Trees, you can find that HERE
You can find my Christmas Cocktail ideas HERE
My Christmas Lists and Holiday Organizing Made Simple is right HERE
Find out How to Host a Casual Holiday Party HERE




Living Large Podcast
This week we have special guests Nathan & Philip Etter of @happilyeveretter on our Podcast. We had so much fun with them. Don't forget to listen!