Do You Want Different Christmas Tree Ideas?
Do you want different Christmas Tree ideas?
It's Christmas in July and I'm going to share with you some of my tree decorating ideas!
I change up my tree every year and while some of my base decorating are basically the same, I always have a different focal point.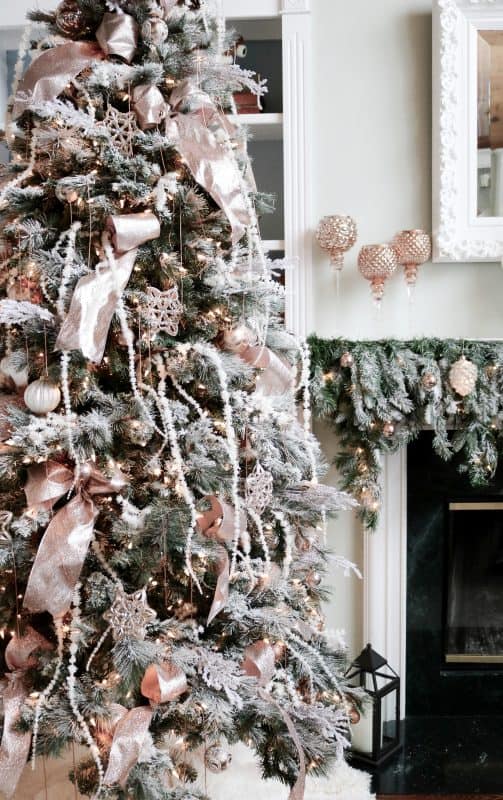 The basics on this tree were white snowflakes, white glass ornaments, and flocked evergreen sticks. I added rose gold ribbon, rose gold ornaments, and some long white dangly picks that I got at Michaels. To me, the style of this tree is "glamorous". I carried the rose gold throughout the house, including my table.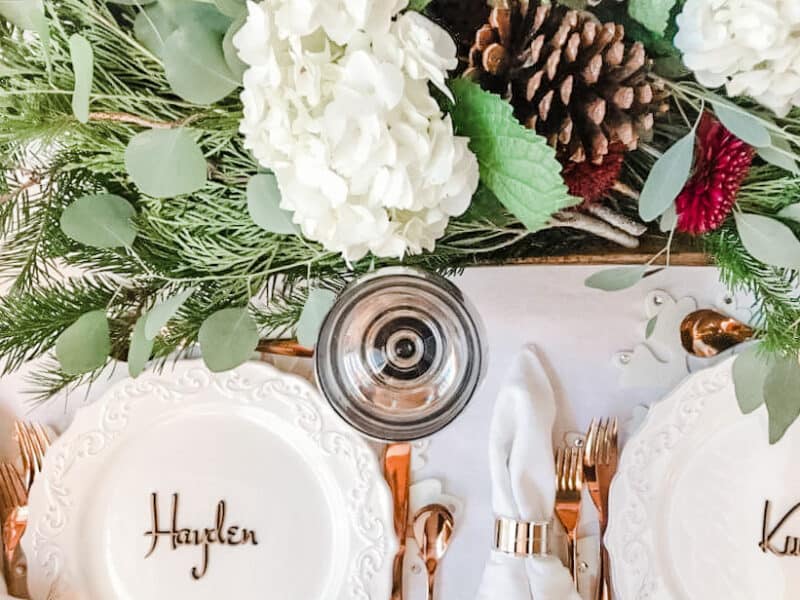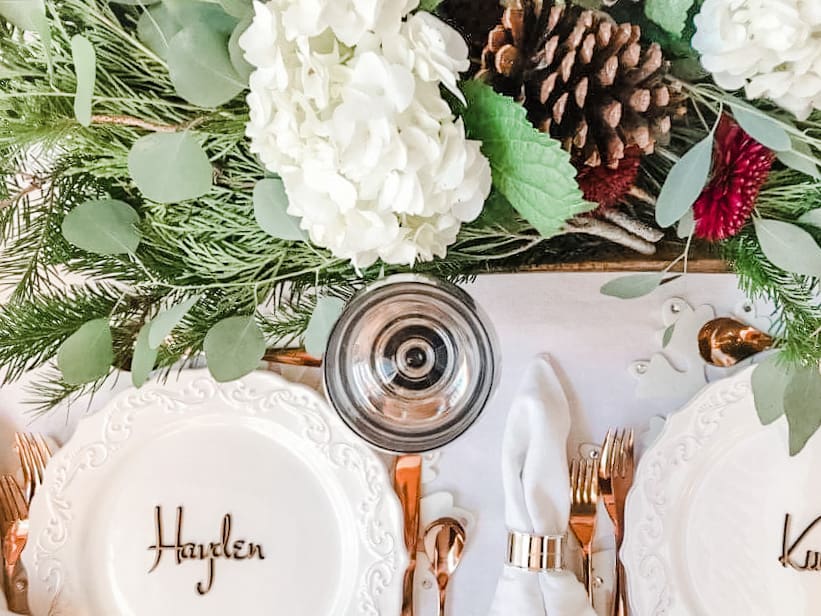 One of my favorite trees had a base of blue and white checked ribbon. The fact that my tree matched my walls was very cool.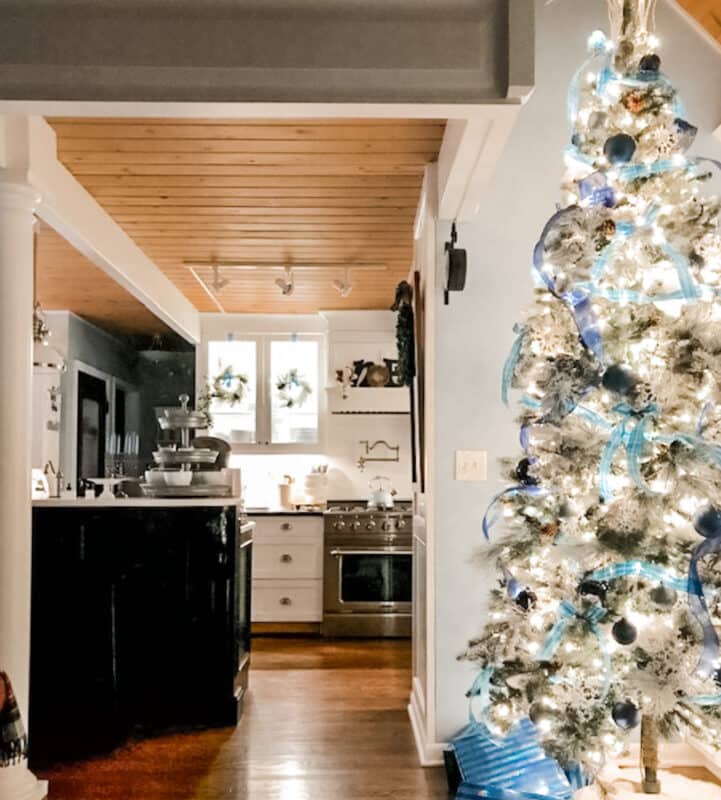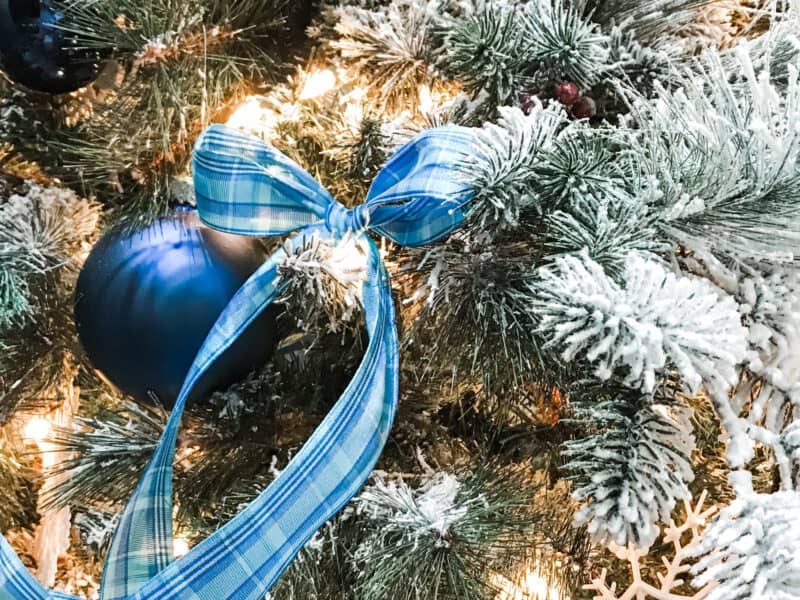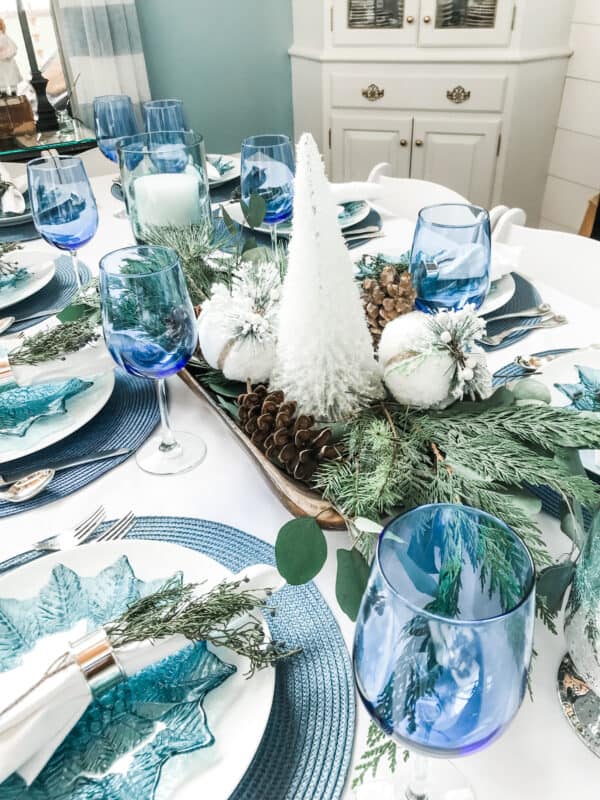 Because I loved the blue of the last year's tree so much I keep the blue the next year. I just switched out the plaid ribbon with natural burlap ribbon. I wanted to take the formality down a bit to match with the vintage candlesticks that I wanted to use on my mantle.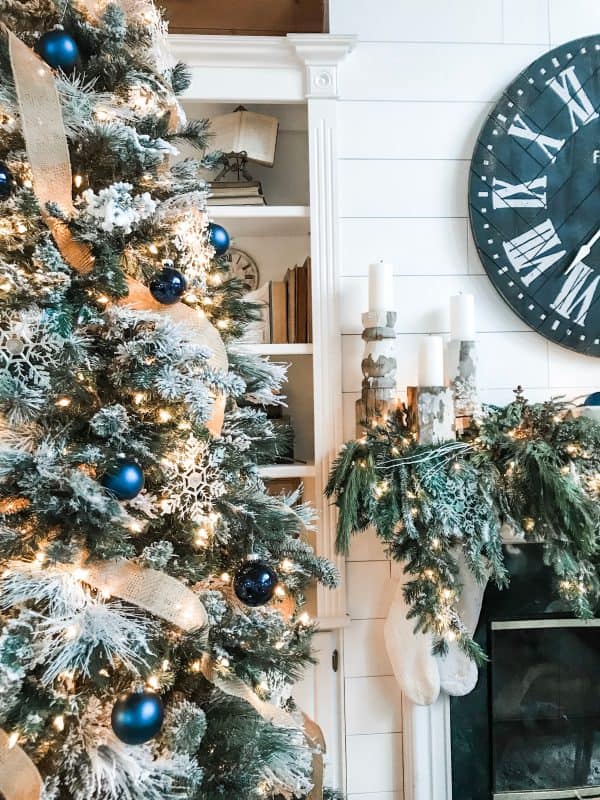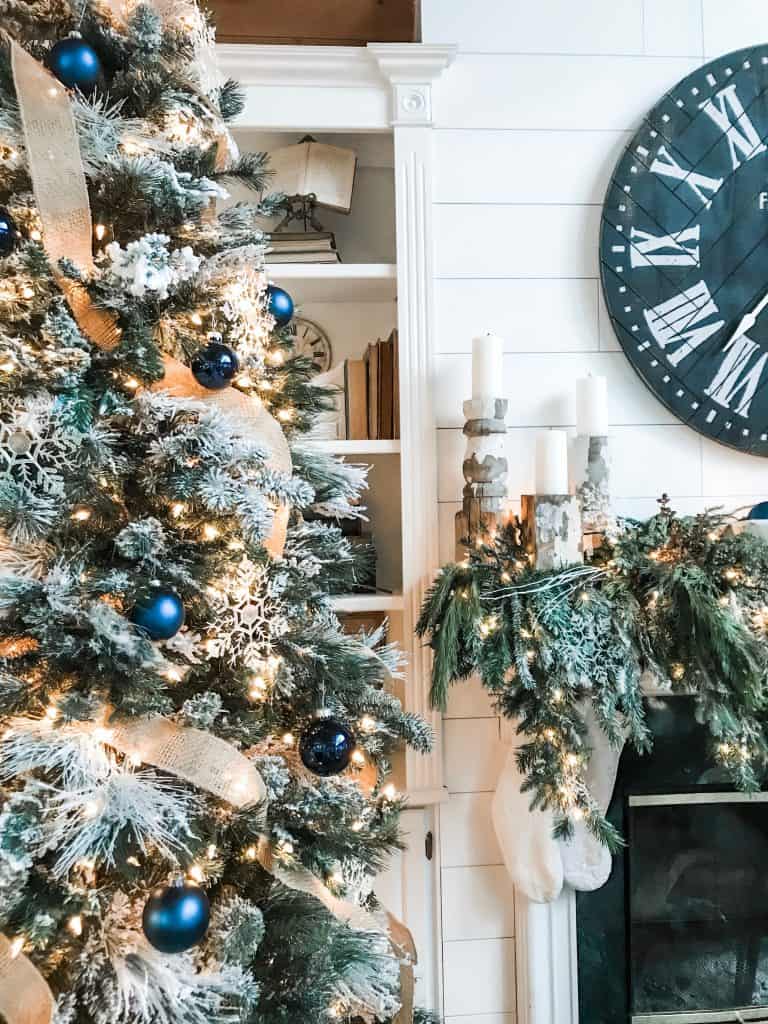 The common thread in all my trees is the white snowflakes, white ornaments, and evergreen sticks that add so much dimension to a tree. This keeps the cost of changing my theme very budget-friendly. I buy things on sale or Facebook Marketplace. With my tree pretty filled with my base decor, I don't need much to give the tree a new pop. If I love my tree, I will do a repeat and just switch out one thing; typically my ribbon. I also use old decor on the trees that I put up in our bedrooms. Basically, I'm cycling it through the house.

This tree is the most basic tree that I think I've ever done. It was just white. I had found the snowflakes at the Dollar Tree and now they are the base for all my trees. This is also before we flocked our tree (another post). I stuck cotton batting into the tree to give it that snow look.
This is a very interesting picture because it's my room back when my bookshelves were truly bookshelves. Not vignettes for my vintage finds like they are now 🙂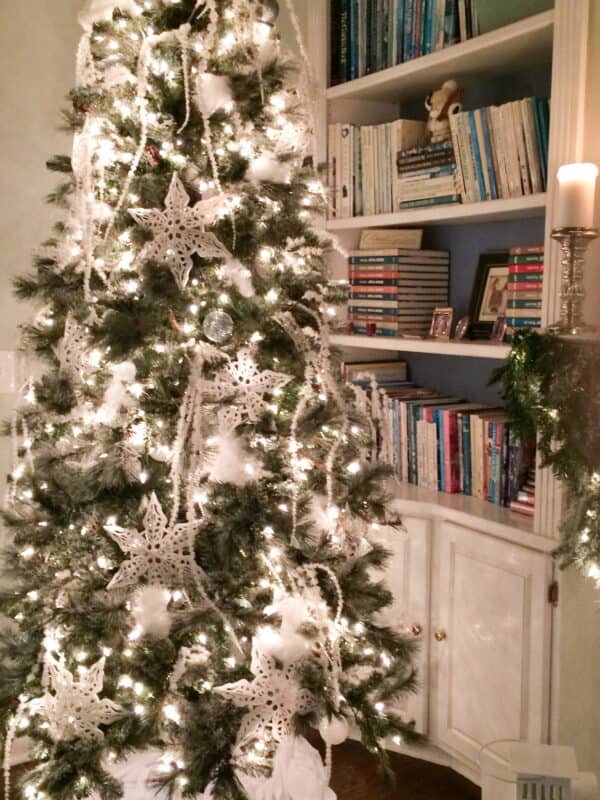 My entry tree stays pretty much the same and I tie it together with the rest of the trees by adding the white snowflakes.
This tree has my Santa ornaments on it that I've had for many, many years. This is actually a very small, skinny tree that I bought at Hobby Lobby. It's lifted on a box to give it more height and it's just filled with ornaments and big round lights to make it look much fuller than it really is. I also use a very large Christmas garland with huge pine cones on it that I wrap around the tree. Tieing strips of tulle into a bow at each light gives the tree a wispy, fairy-like vibe. I tied the tree skirt at the very top of the base so that it covered the riser box.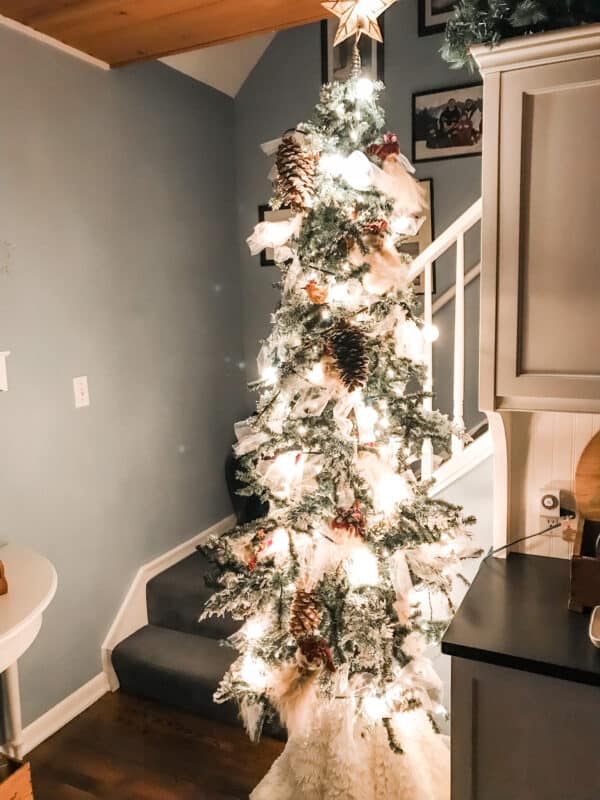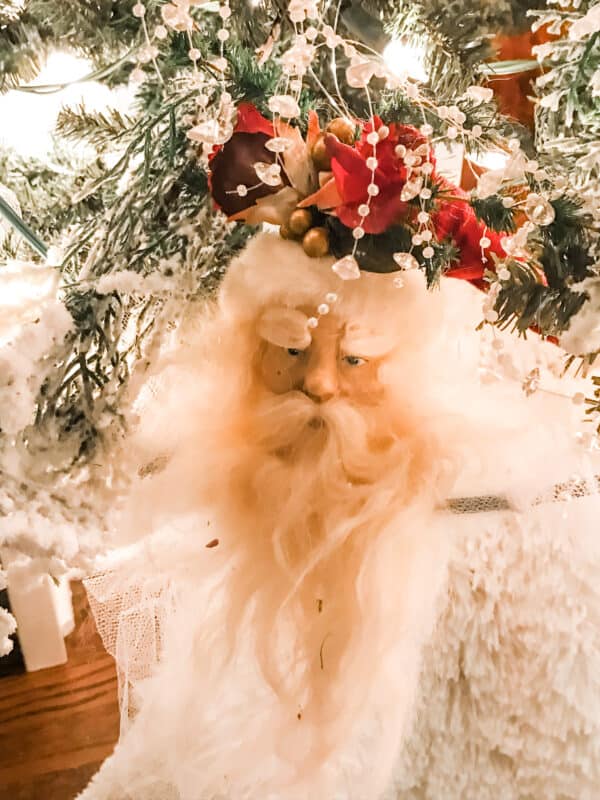 By far my favorite tree is the one that was in my living room this past year. Mostly because it is a new tree that I had been wanting for a very long. The simplicity of this tree appeals to me and is really reflective of my home decor. As you can see, I still used my white round glass ornaments. What I added to it were simple wood snowflakes and bows made out of twine.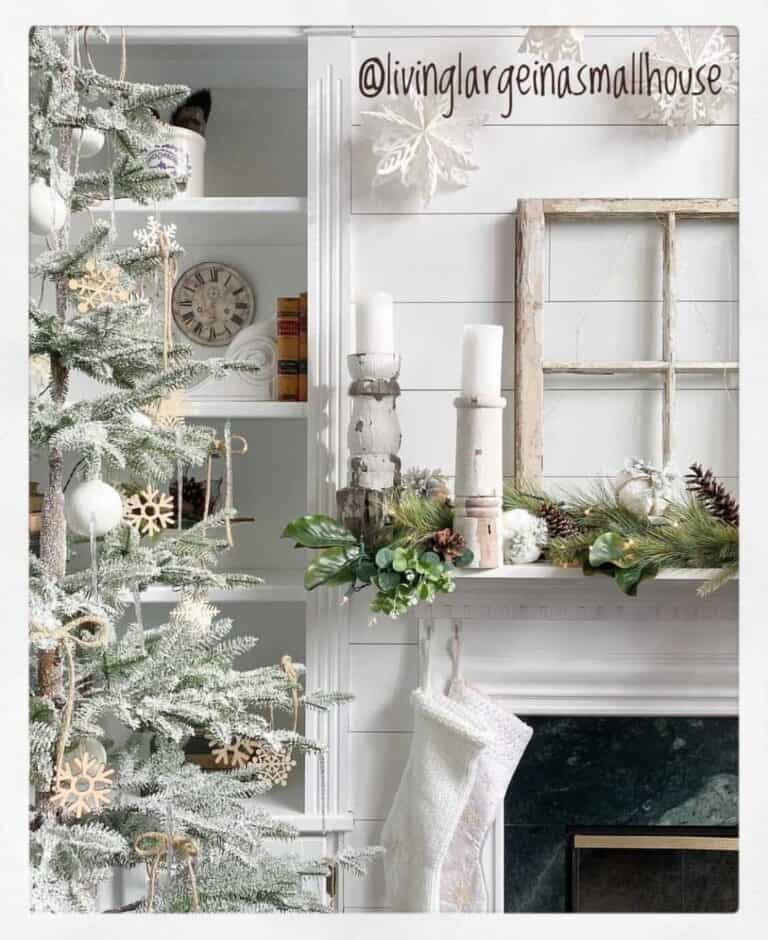 I hope that this gives you some ways to switch up your tree if you are so inclined. If you don't want to change the traditional tree that you always have in your home, maybe you might try a small tree in your bedroom.
I love the glow of the tree lights in our bedroom.
Peace,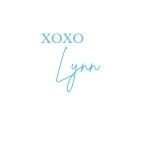 If you enjoyed this post, you might also want to check out another similar Christmas post HERE and HERE