Subtle and Elegant Valentine's Day Decor
Are you looking for a great way to decorate your living room for Valentine's Day? I want to share some subtle and elegant Valentine's Day Decor.
For me adding some subtle Valentine's Day decorations to our winter cozy home decor, typically includes some pink throw pillows, pink hearts, and fresh flowers.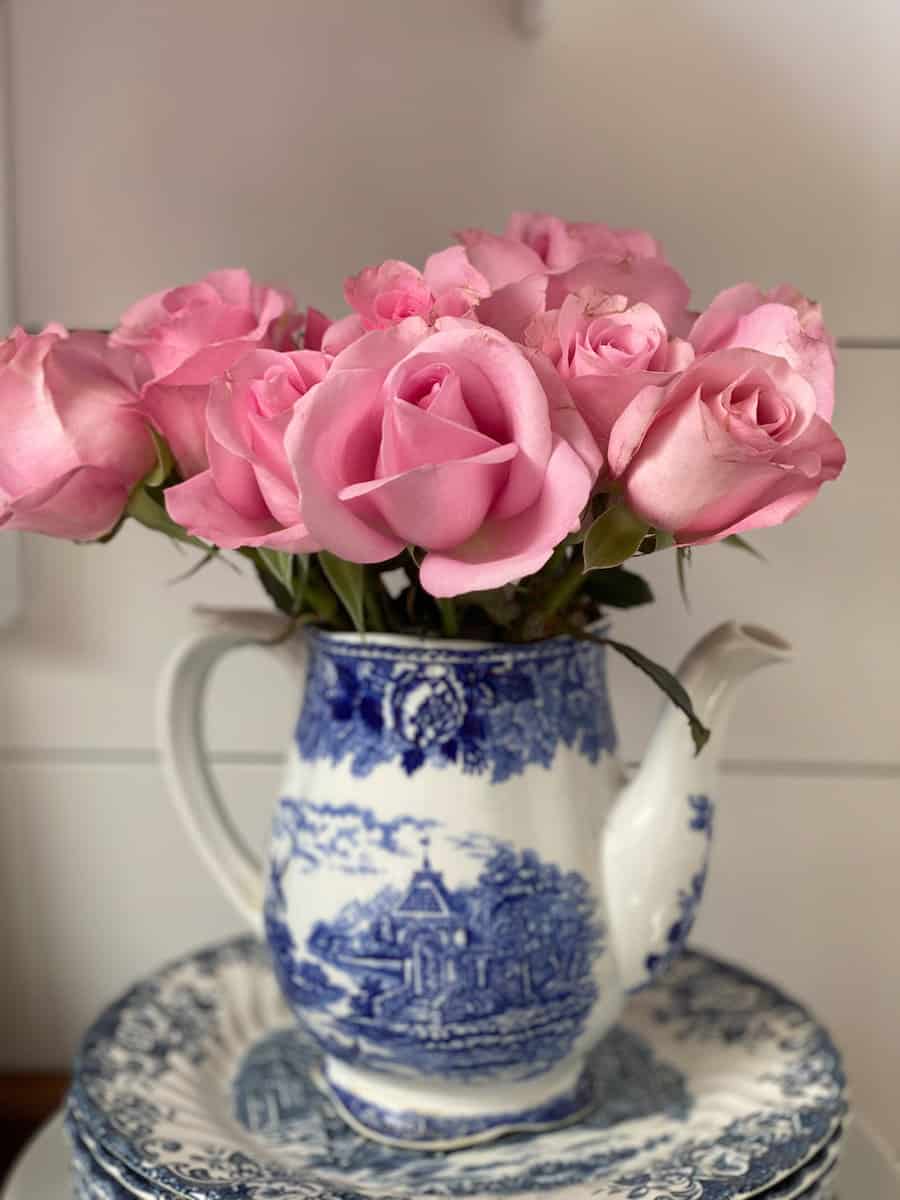 On my blog Living Large in A Small House, I may sometimes use affiliate links, which means a small commission is earned if you make a purchase via the link. The price will be the same whether you use the affiliate link or go directly to the vendor's website using a non-affiliate link. You can find my full Disclosure Policy HERE
Subtle and Elegant Valentine's Day Decor
Some of the Valentine's Decor that I've found is just a bit too cheesy for my taste so while I'm not much of a DIY gal anymore, this is a time when I make a few cute things to celebrate the day of love.
When our kids were young there was plenty going on before Valentine's Day and of course, the excitement of valentine's making happening at our kitchen table.
Yes, I was that Mom who make homemade Valentine's Cards and always included some kind of special treat. After all, isn't that what room moms are supposed to do?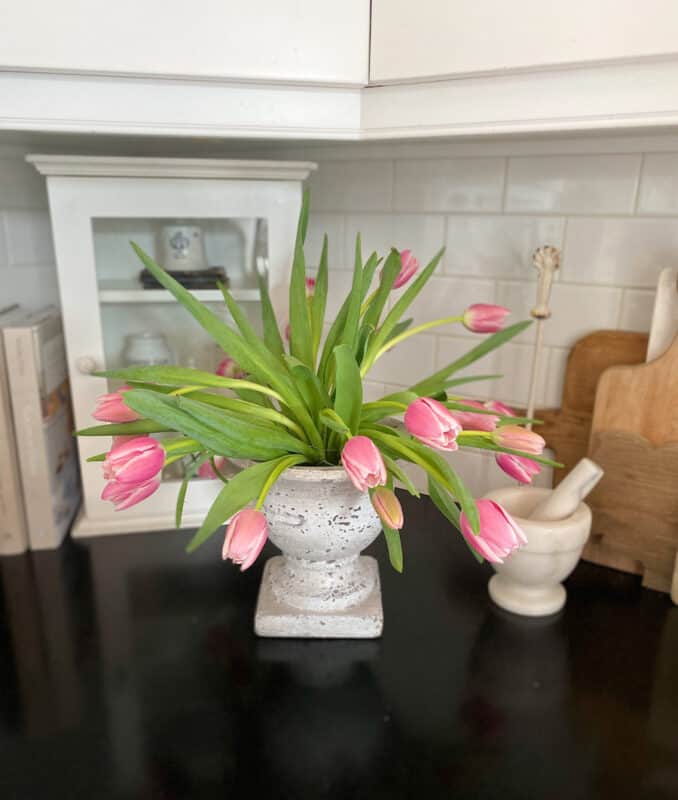 If "Handy" had his way it would just be another day. I however really like adding a pop of color to our home through lots of flowers to make it special.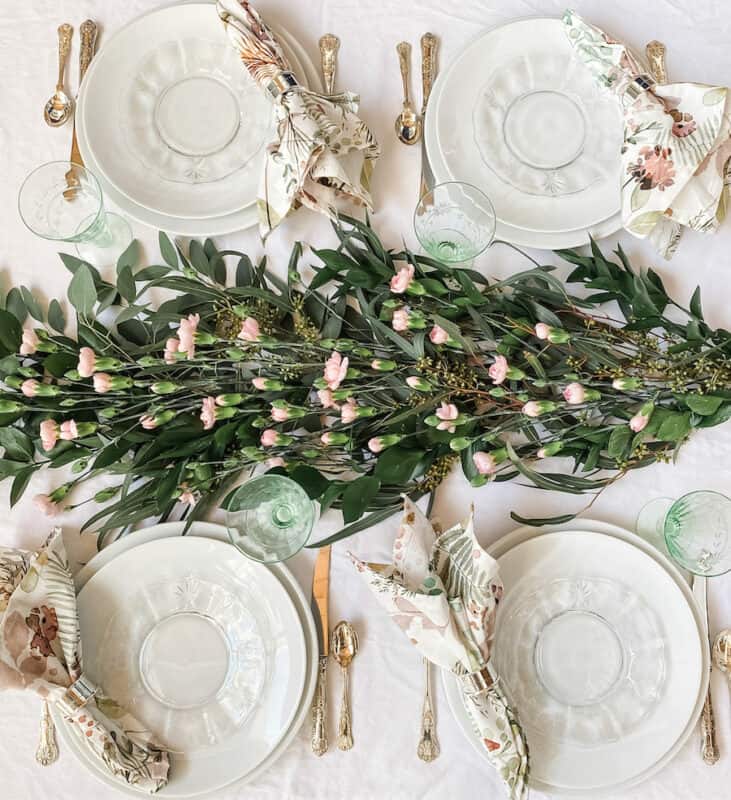 Valentine's Day Tablescapes
Creating a pretty holiday table in the dining room for Valentine's Day is something that I enjoy doing.
Making a lovely meal is also a simple way to say I love you to your Valentine(s)
My friend Leslie from "My 100 Year Old Home" is the best at creating beautiful tablescapes. She also has amazing simple Valentine's Day decor ideas. If you don't already have a copy, be sure to get her book "A Home to Share".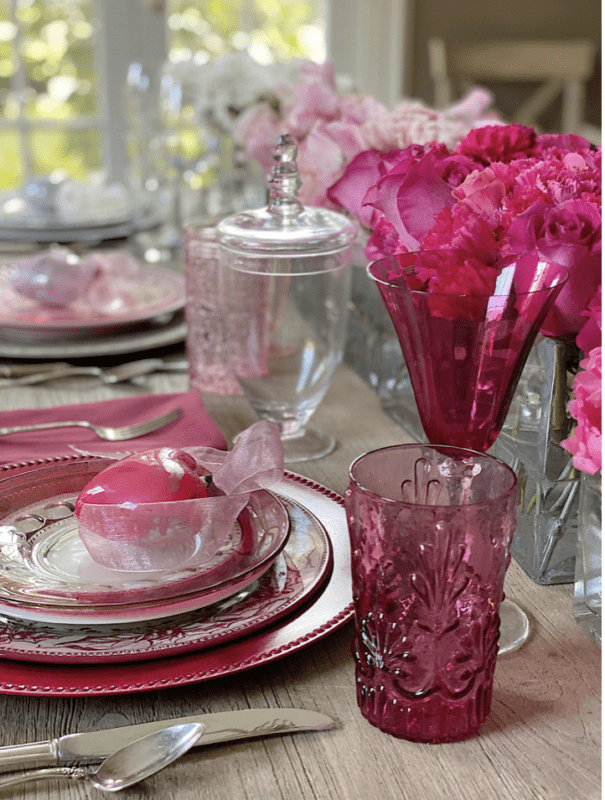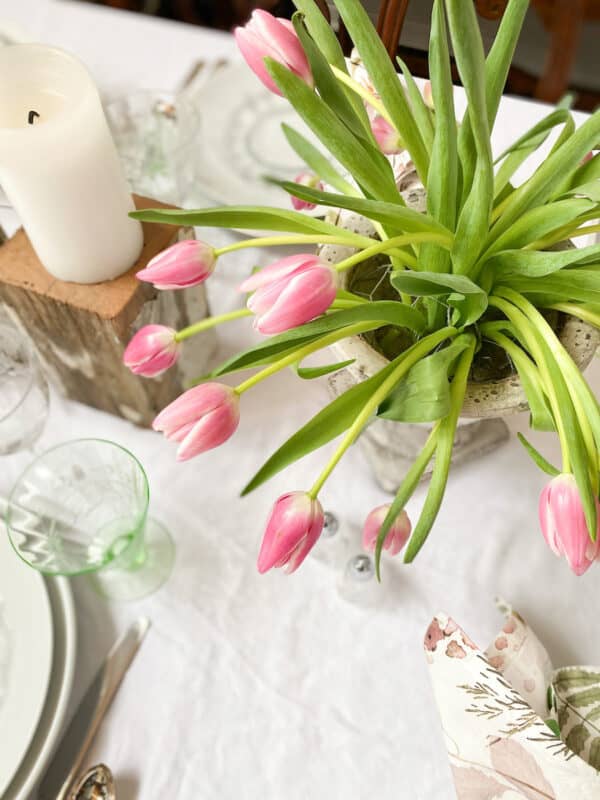 Valentine's Day Garland
Making garland to hang from your mantel, shelves, or curtain rods is a very simple way to add some Valentine's Day spirit to your home.
You can make heart shape cut-outs (I use small heart-shaped cookie cutters to trace) from vintage sheet music, vintage valentine's day card, vintage book pages, or old love letters. I find all of these items at our local vintage stores.
Once you have all your hearts cut out, punch holes in the top portions of the hearts and then use twine to gently tie each heart to the strand. I use double the lengths of twine I need for the garland so that I have plenty for tieing. You can always trim off the ends.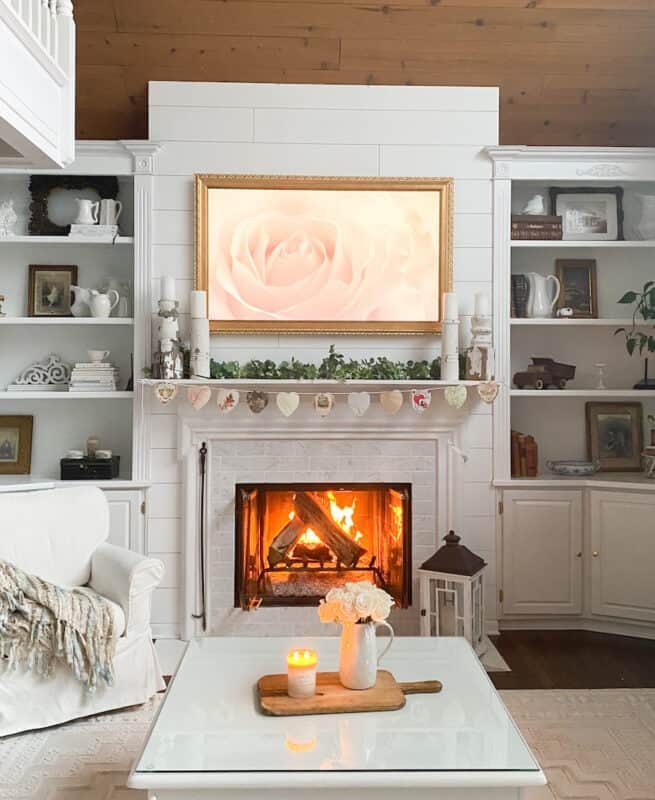 More Simple Valentine's Day Decor Ideas
My sweet friend Diane at South House Designs has made the sweetest pillow covers out of IKEA Pillow Covers and chunky thick yard. Aren't these just perfect for February decor?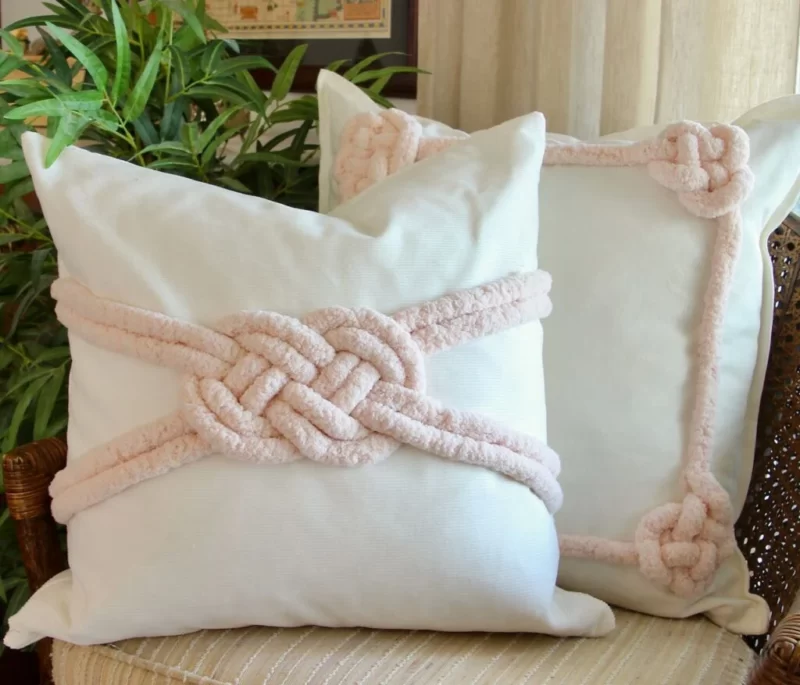 For those of you who still have your Christmas Tree up, have you ever thought of taking the Christmas decorations off the tree and adding simple Valentine's decorations against the twinkly lights?
Don't forget to add a little romance to your bedroom. Flowers and a candle can make a huge difference. If you missed my recent post on a cozy bedroom. You can find it HERE.
Galentine's Day
Do you want to celebrate with your close friends? The middle of winter is a great time to entertain.
Make it simple with appetizers and some rose petals sprinkled on your table. Or be more extravagant with an after-work sweets and champagne buffet.
Don't forget to watch "Valentine's Day"
Frequently Asked Questions
What is the True Meaning of Valentine's Day?
It originated as a Christian feast day honoring one or two early Christian martyrs named Saint Valentine and, through later folk traditions, has become a significant cultural, religious, and commercial celebration of romance and love in many regions of the world.
Why is Valentine's Day about Love?
Valentine defied the emperor's orders and secretly married couples to spare their husbands from war. It is for this reason that his feast day is associated with love.
Why is February 14th Valentine's Day?
According to Encyclopedia Britannica, Pope Gelasius I decided to replace Lupercalia with the Feast of the Purification. He changed the date to February 14 and named the day in honor of St. Valentine, the patron saint of lovers, people with epilepsy, and beekeepers.
Who Knew?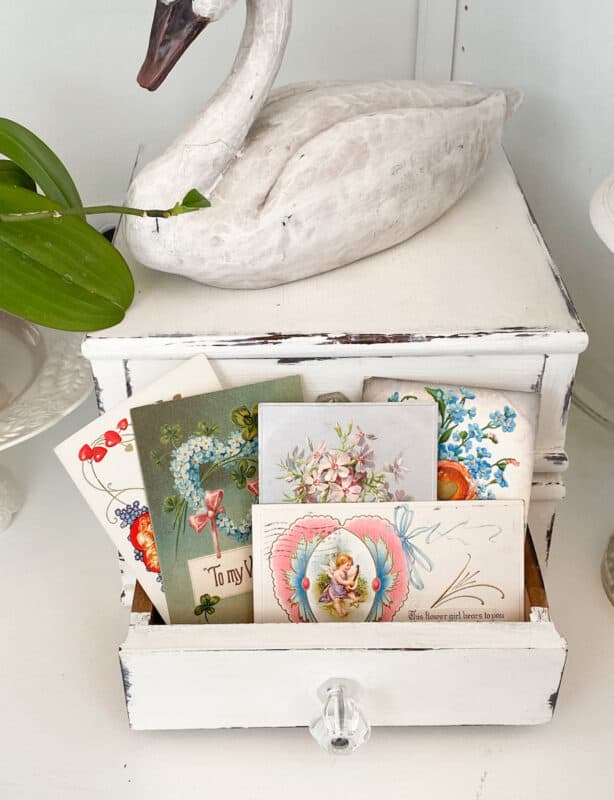 And "Handy" keeps trying to tell me it's a holiday made up by Hallmark!
I hope you all have an Elegant Valentine's Day.
A great way to save these Valentine's Day Ideas is to save it to your Pinterest boards. You can find the pin button in the top right corner of the photo below. Also, don't forget to follow me on Pinterest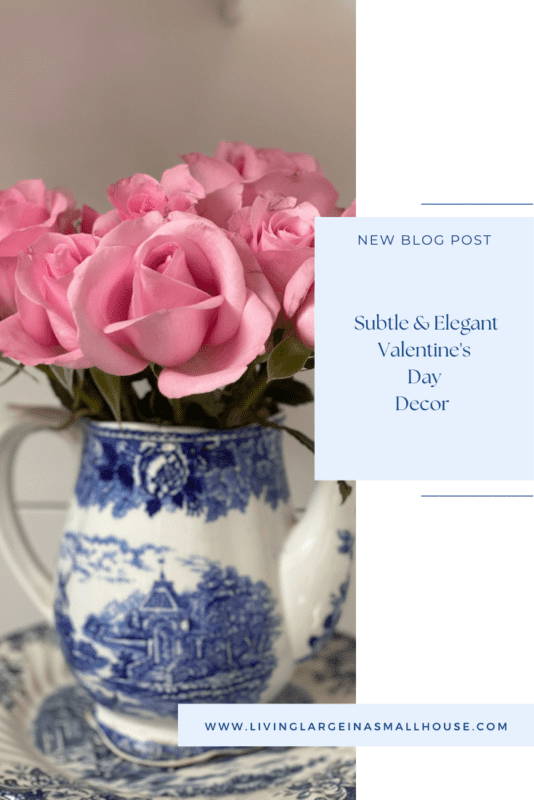 Peace and Love,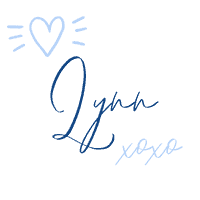 You don't want to miss the blog next week!
I'm starting an exciting collaboration with Cindy from Reinvented Delaware, Crystal from Sweet Valley Acres, and Erin from Erin Evolving.
We have formed a Virtual Book Club. Each month we are going to bring you a home-inspired post on the 4th Thursday of the Month. On the following Saturday, we will have a Culinary inspired post. All will be based on our interpretation of the book.
This months book is "Murder on the Orient Express" by Agatha Christie.





Living Large Podcast
Meet my new friend, Erin Harman and hear about why her blog is called "Erin Evolving" and what we are collaborating on that is starting next week.