How to Create a Cozy Bedroom
I'm sharing with you how to create a cozy bedroom in a cozy home.
I always love cozy but I especially crave it in the fall and winter months. When you see "Cozy" in the description of a home for sale, it typically means small space, small bedroom, or small living space.
Well, we are the definitive cozy home!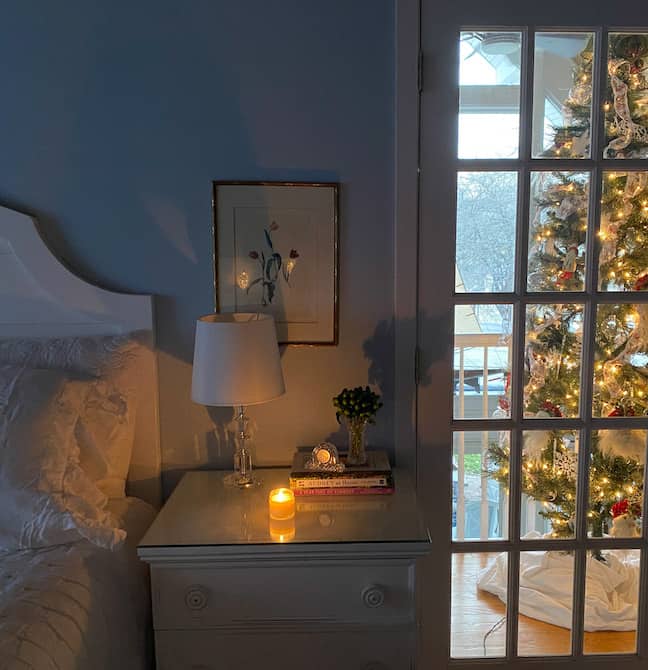 On my blog Living Large in A Small House, I may sometimes use affiliate links, which means a small commission is earned if you make a purchase via the link. The price will be the same whether you use the affiliate link or go directly to the vendor's website using a non-affiliate link. You can find my full Disclosure Policy HERE
Even though our home is small, we actually make some decorative moves to make our home even more "cozy". In my living room, I move the sofa so it is facing the fireplace.
It does cut off the flow of the room a bit but definitely makes it a more cozy space. Who doesn't love sitting close to the fireplace when it's cold outside?
Cozy Up the Bedroom
After a long day, there is nothing better than an inviting bedroom that is a cozy oasis.
We have a soothing tone to our bedroom with a white & blue color palette. The blue walls and the white bedding work well with the warm wood-colored ceiling. In the summer/spring, the wood ceiling adds a nautical feel to the house and in the fall/winter, it gives it that cozy cabin vibe.
To make our bedroom more welcoming and warm in the colder months I use a thick, comfy down comforter, covered with a white duvet.
I fold my summer coverlet at the bottom of the bed to add another layer of bedding. I also bring more throw pillows and throw blankets which I add to both the bed and the chair.
Clean & Crisp Sheets
I would love to have the time or money to have my sheets changed and cleaned every single day. There is nothing like climbing into clean, crisp sheets. Occasionally I treat myself to taking my sheets to the cleaners to be pressed. For me, this is such a luxurious present.
For us, spending a bit more on good sheets is worth the investment. When I have bought cheaper sheets, they don't last very long. "Handy" for some reason shreds the sheets by his feet. I think it's a combination of the fact that he needs a pedicure LOL and he has restless leg syndrome so he rubs his feet against the sheets all night. Spending more on quality cotton sheets has solved that problem.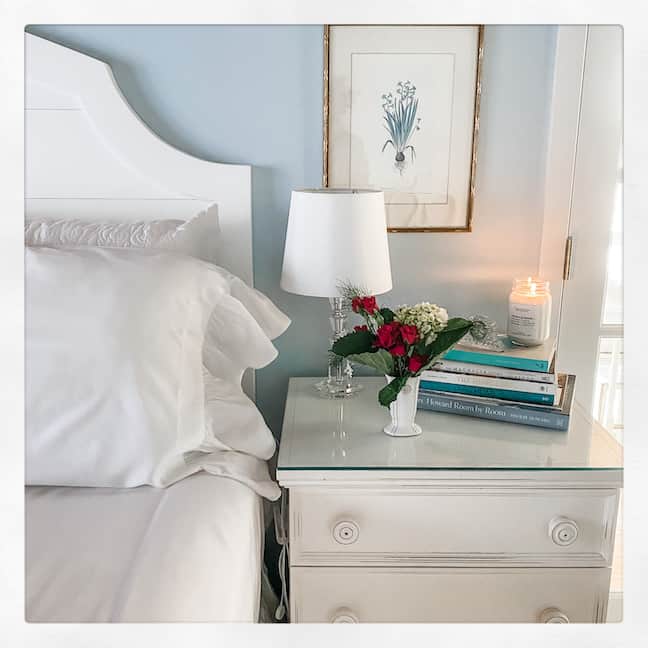 I used to buy Wamsutta Pima Cotton 1000-Count Sheets and they weren't cheap sheets. Unfortunately, they didn't hold up to the wear on "Handy's" side of the bed. I really do love their sheets and use them on all of our other beds. They had a good quality, crisp feel and they have a nice deep pocket for a pillow top mattress. They were long enough on the sides but not very long at the end of the bed. If you don't have a foot problem partner, these are a good option.
I now switch between two different sets. My Pottery Barn Organic Percale Sheets are one set that has worked well for us. I love them because they also have that crisp feel that we like, they have plenty of length at the ends ("Handy" also pulls the sheets out at the ends at night) but they are skimpy on the sides. They also are a little wrinkly.
My absolute favorites, even though they are quite pricey, (even with the 20% off that I'm usually able to find) are CuddleDown Hotel Sateen Sheets. They have a beautiful feel to them, they are pretty resistant to wrinkles. They have a very long end to them so they stay tucked in and have adequate length on the sides. I use them the most and they have (knock on wood) held up for us.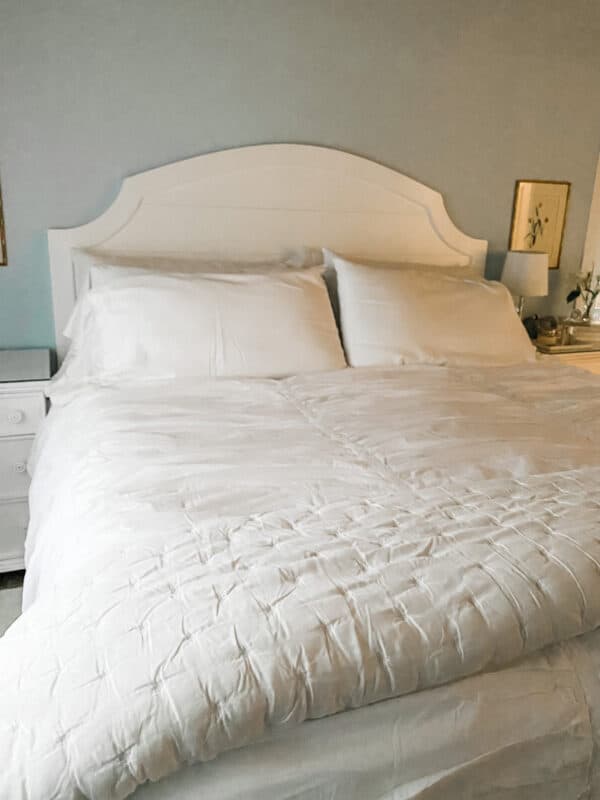 Layered Bedding
As I already described, I added layers to the bed for fall and winter. It's more of a look than a necessity. I typically only have a sheet over me all year long. Handy on the other hand, loves the feel of the heavy blankets in the colder months.
We let it get pretty cold in the house in the winter. I personally could live with the windows open all winter.
Sleep
Sleep plays a vital role in good health and well-being throughout your life. The way you feel while you are awake depends in part on what happens while you are sleeping. During sleep, your body is working to support healthy brain function and maintain your physical health.
A Good Mattress
A good night's sleep is so important for our health and well-being and we have prioritized getting a new mattress (as suggested) at least every 10 years.
The mattress we bought a couple of years ago is a Nest Mattress. We have a hybrid mattress that is a combination of both wrapped coils and memory foam.
It's made a huge difference in our sleep quality.
Lighting for a Cozy Room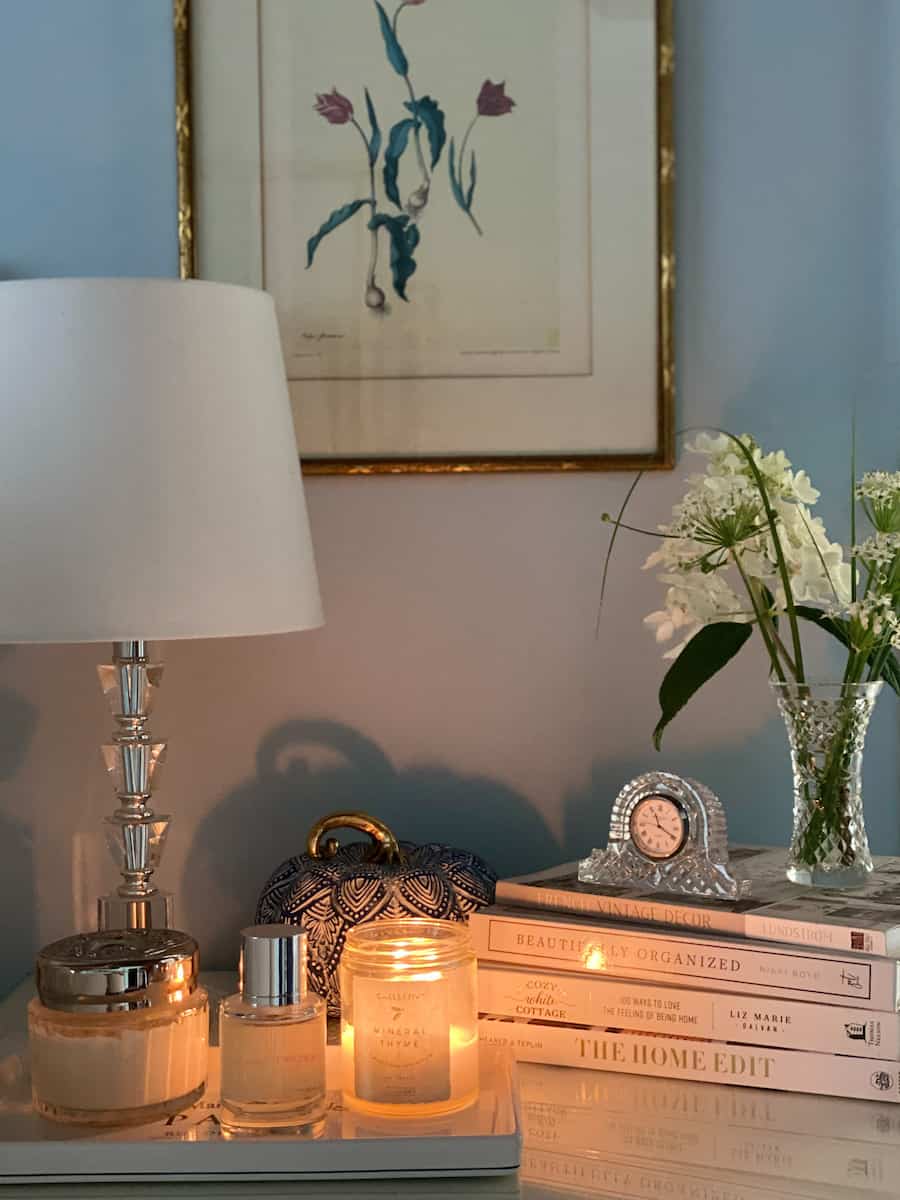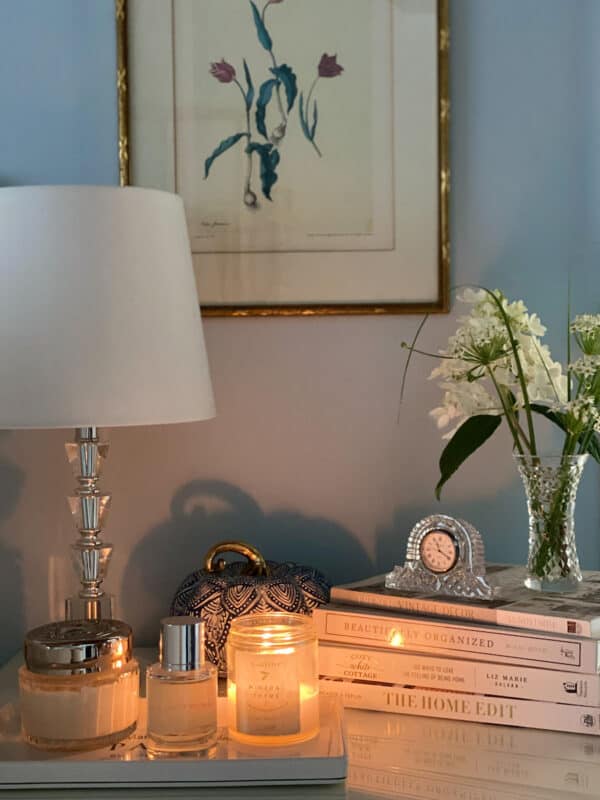 We have overhead lighting that is very harsh to me so I only use it when I'm doing something like cleaning or putting clothes away.
The rest of the time we use low lighting with small table lamps. I actually have 5 in our primary bedroom.
Lamps in the right place are a great way to give visual interest to a small space.
I always opt for light bulbs that create warm lighting. Soft white bulbs are the ones that give off that soft warm glow.
Check out Facebook Marketplace or Goodwill for lamps before you buy new ones. Walking through Goodwill can give you so many budget-friendly ideas.
I have found lots of little lamps that I'm able to either chalk paint or put a coat of Rub N' Buff to make them match my decor. If the shade doesn't work with your decor, you can replace it. You can even paint it or cover it with fabric. Creating a new lamp is such an easy DIY project.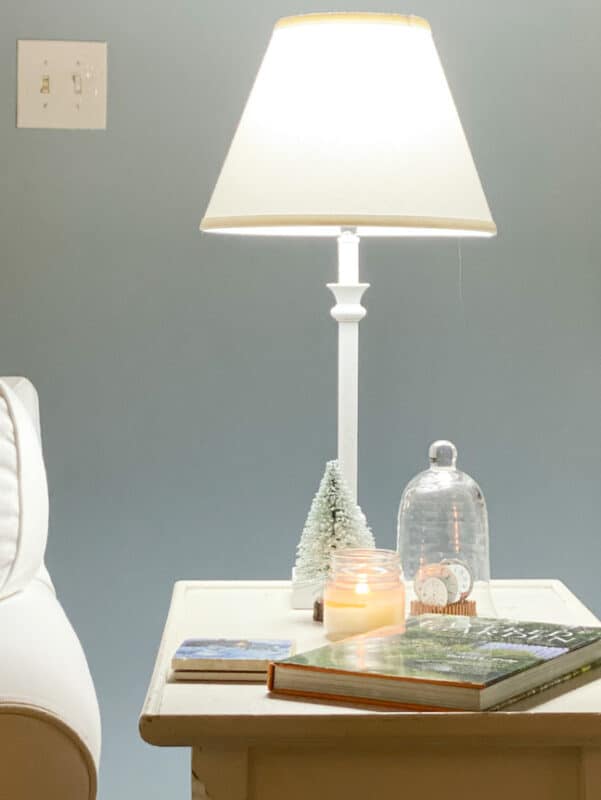 My friend Stephanie from Gathered in the Kitchen turned me on to Rub N' Buff with THIS lamp project.
More Cozy Bedroom Ideas
You can also never have enough candles. My absolute favorite candle is no longer available so I've bought wax and all the scented oils that I love. I had so much fun making my own candles. You can find that post HERE.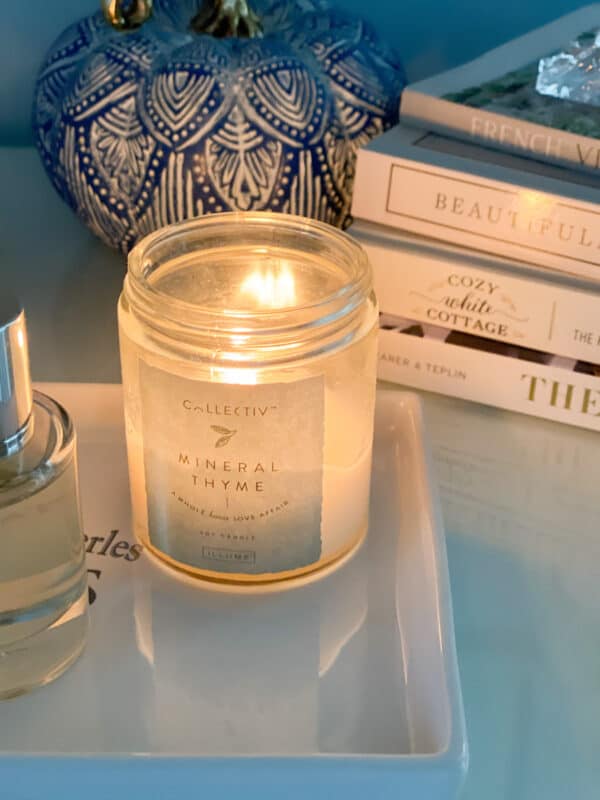 We have a white wood headboard but I've always dreamed of a four-poster bed. We can't do it because our ceilings are slopped and I don't think it would look right. I would however like to have a tufted headboard made of a rich velvet that I could switch out in the winter.
I've created a bit of a reading nook next to my faux fireplace. A chair with a table that is just big enough to put a book, a small lamp for some soft lighting, and a cup of coffee.
Filling a basket with more throws adds soft textures and is the perfect way to add more natural materials to the space.
A soft rug on our wooden floors is an easy way to make both a small room and a large room cozier. It's also a perk for bare feet on a cold winter night.
Maybe a project for this upcoming year!
A Clean & Organized Space
When I washed all my bedding to add more layers to the bed, I also gave our room a thorough deep cleaning.
Even if you do nothing more than clean and organize your sleeping space, I guarantee you will feel great about your room.
Flowers Make a Space Cozy
Every season deserves flowers! Truth be told, in my world, every week and every day deserves flowers. It's such a nice personal touch.
On a dark gray day, there is nothing better to me than fresh flowers and a candle burning next to my bed and also on an end table in our living space. Then it's time to snuggle up with a good book and enjoy my inviting bedroom.
Peace and Love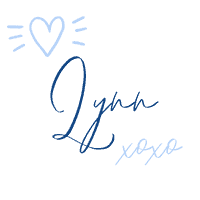 A great way to remember this article is to save it on one of your Pinterest boards. You can find the pin button in the top right corner of the photo below. Also, don't forget to follow me on Pinterest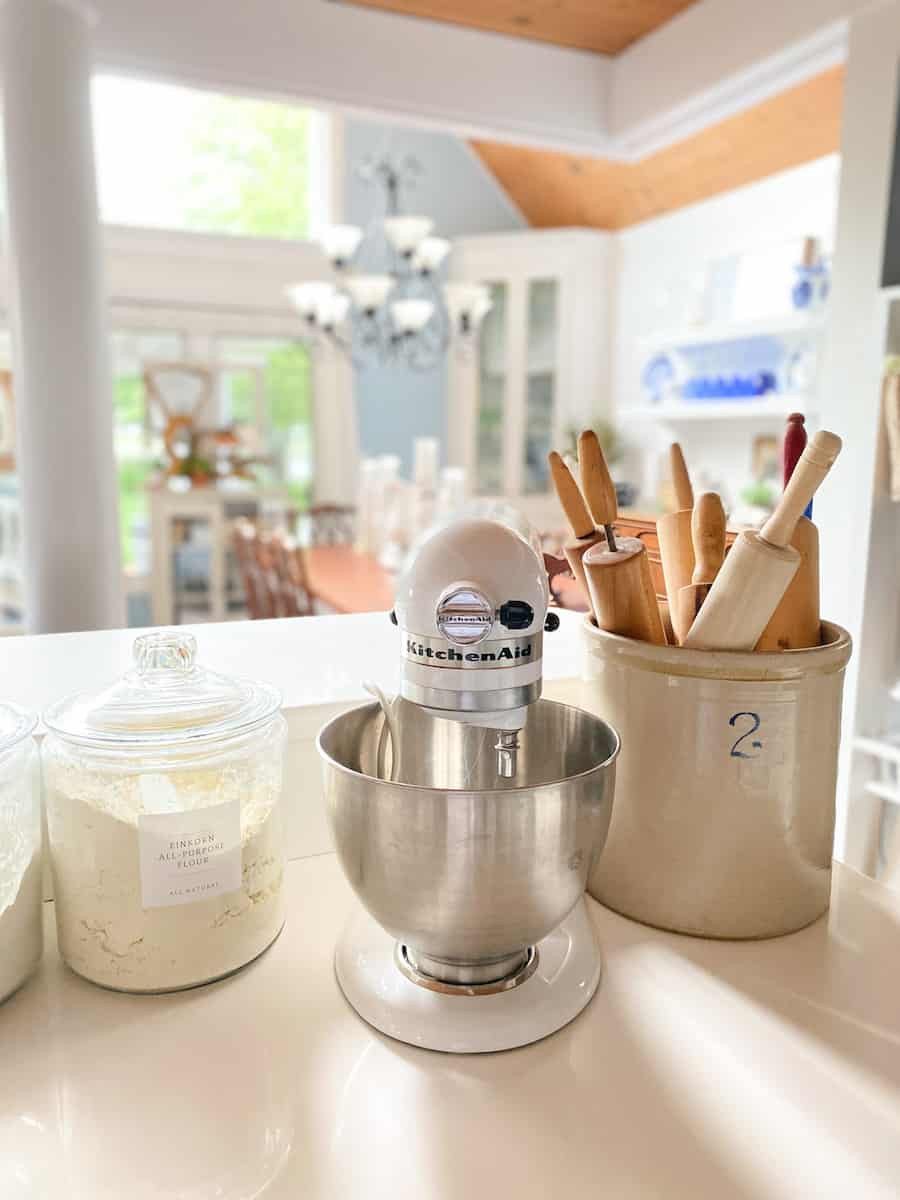 direct access to my amazon store
On Amazon
Did you know that you support my little business by purchasing through my links?? The price to you is the same but I receive a small commission on ALL the purchases you make when you shop through one of my links. I appreciate you helping Living Large in A Small House to grow!

On my podcast this week my guest is Crystal Ratzlaff from Sweet Valley Acres. Listen to us chat about the new blogging adventure that we are doing together.