How to Create a Cozy Bedroom in A Cozy Home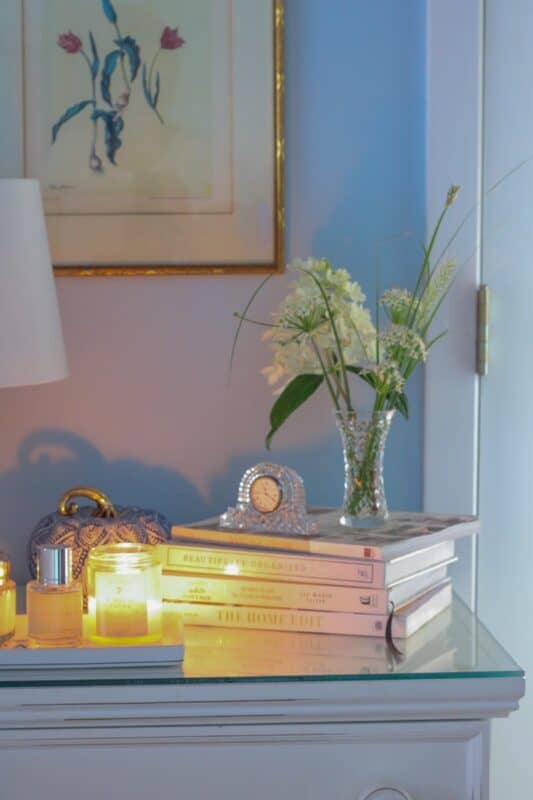 As the nights are getting cooler, I'm sharing how to create a cozy bedroom in a cozy home.
Early September is always the time when I bring in the cozy for the fall and winter seasons. When you see "Cozy" in the description of a home for sale, it typically means small. Well, we are the definitive cozy home!
Even though we are small, we actually make some decorative moves to make our home even more "cozy". In my living room, I move the sofa so it is facing the fireplace. It does cut off the flow of the room a bit and definitely makes it cozier. But who doesn't love sitting close to the fireplace when it's cold outside?
Our bedrooms are no different. Our main bedroom which has a white & blue palate remains those same colors but what I do to make it more welcoming and warm is to replace my summer coverlet with a thick, comfy down comforter, covered with a white duvet. I fold the summer coverlet at the bottom of the bed to add another layer of bedding. I also bring out all the pillows. Basically, I'm filling up the space with all the stuff that makes it cozy. I put more pillows on the bed & pillows on the chair in our room. I also add a soft throw to the bed and the chair. Filling a basket with even more throws just warms up any space.
Recently I've been on the hunt for a blue nubby, knit rectangular pillow for our bed but so far I haven't been successful. Knit, nubby pillows are a texture that I love for fall and winter. But I don't really bring orange, yellow or beige into my decorating, so my options are typically somewhat limited.
I also layer the fireplace mantel with the fall-inspired decor! Putting some greenery and pumpkins (blue or white) on the mantel adds that little bit more that we need when we think about hunkering down for the next 6 months.
Other Items that Cozy Up the Room
In the fall and winter when my gardens aren't a priority, I'm able to spend more time inside. I love to read, so a nice stack of creativity-inspiring books is next to my bed.
You can also never have enough candles. My absolute favorite candle is no longer available so I've bought wax and all the scented oils that I love. I'm going to try to recreate it. This is one of the fall/winter DIY projects that I'm going to attempt.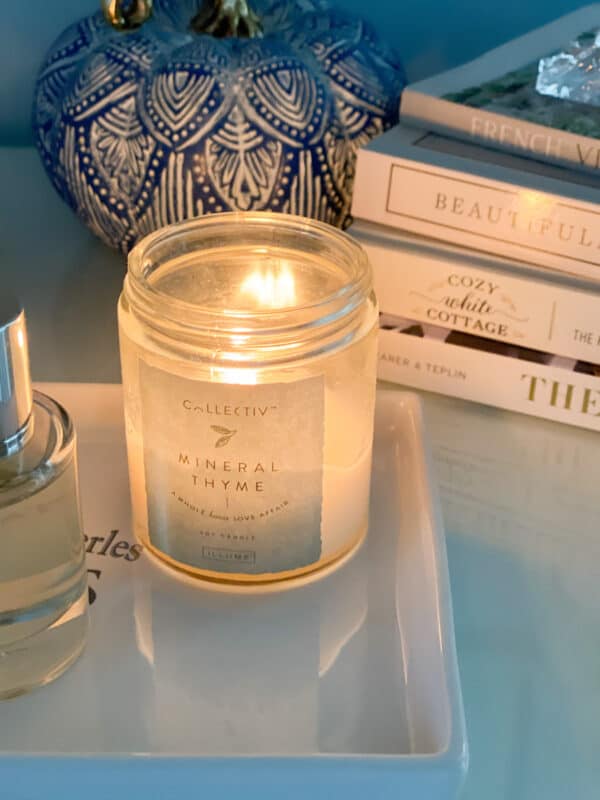 When days are darker earlier and sometimes all day, I love to add little lamps in each room of the house. It creates a moody look to any room in the fall and winter. Check out Facebook Marketplace or Goodwill for lamps before you buy new ones. I have found lots of little lamps that I'm able to either chalk paint or put a coat of Rub N' Buff to make them match my decor. If the shade doesn't work with your decor, you can replace it. You can even paint it or cover it with fabric. Creating a new lamp is such an easy DIY project.
My friend Stephanie from Gathered in the Kitchen turned me on to Rub N' Buff with THIS lamp project.
Flowers Make a Space Cozy
Every season deserves flowers! Actually, in my world, every week and every day deserves flowers. What I love about fall is that I find the most interesting flowers and foliage on the side of the road that make the most amazing floral arrangements. I haven't bought flowers in several weeks and yet my house has had fresh flowers to enjoy every day. This is truly one of my favorite times of year
Clean & Crisp Sheets
Getting back to the Bedroom!
I would love to have the time or money to have my sheets changed and cleaned every single day. There is nothing like climbing into clean, crisp sheets. Occasionally I treat myself to taking my sheets to the cleaners to be pressed. For me, this is such a luxurious present.
For us, spending a bit more on sheets is worth the investment. When I have bought cheaper sheets, they don't last very long. "Handy" for some reason shreds the sheets by his feet. I think it's a combination of the fact that he needs a pedicure LOL and he has restless leg syndrome so he rubs his feet against the sheets all night. Spending more on quality sheets has solved that problem.
I used to buy Wamsutta Pima Cotton 1000-Count Sheets from Bed, Bath & Beyond and they weren't cheap sheets. Unfortunately, they didn't hold up to the wear on "Handy's" side of the bed. I really do love their sheets and use them on all of our other beds. They had a good quality, crisp feel and they have a nice deep pocket for a pillow top mattress. They were long enough on the sides but not very long at the end of the bed. If you don't have a foot problem partner, these might be a good option.
I now switch between two different sets. My Pottery Barn Organic Percale Sheets are one set that has worked well for us. I love them because they also have that crisp feel that we like, they have plenty of length at the ends ("Handy" also pulls the sheets out at the ends at night) but they are skimpy on the sides. They also are a little wrinkly.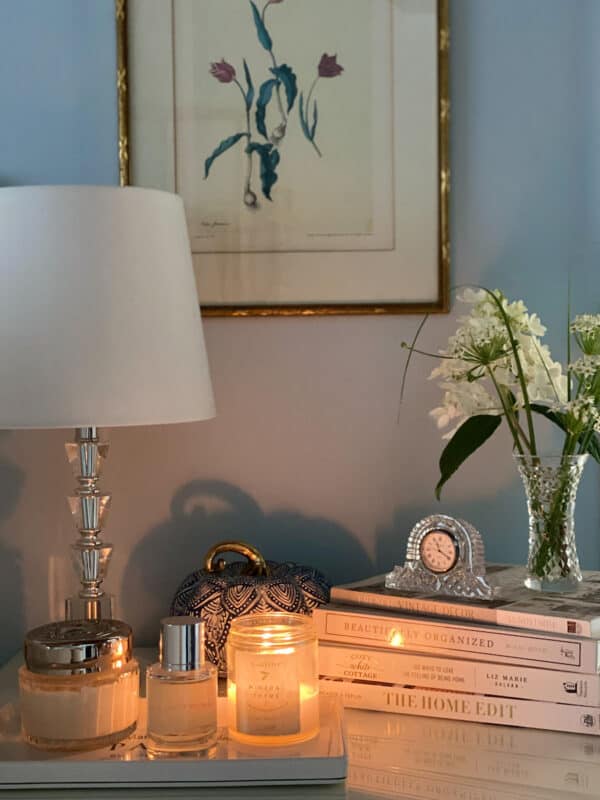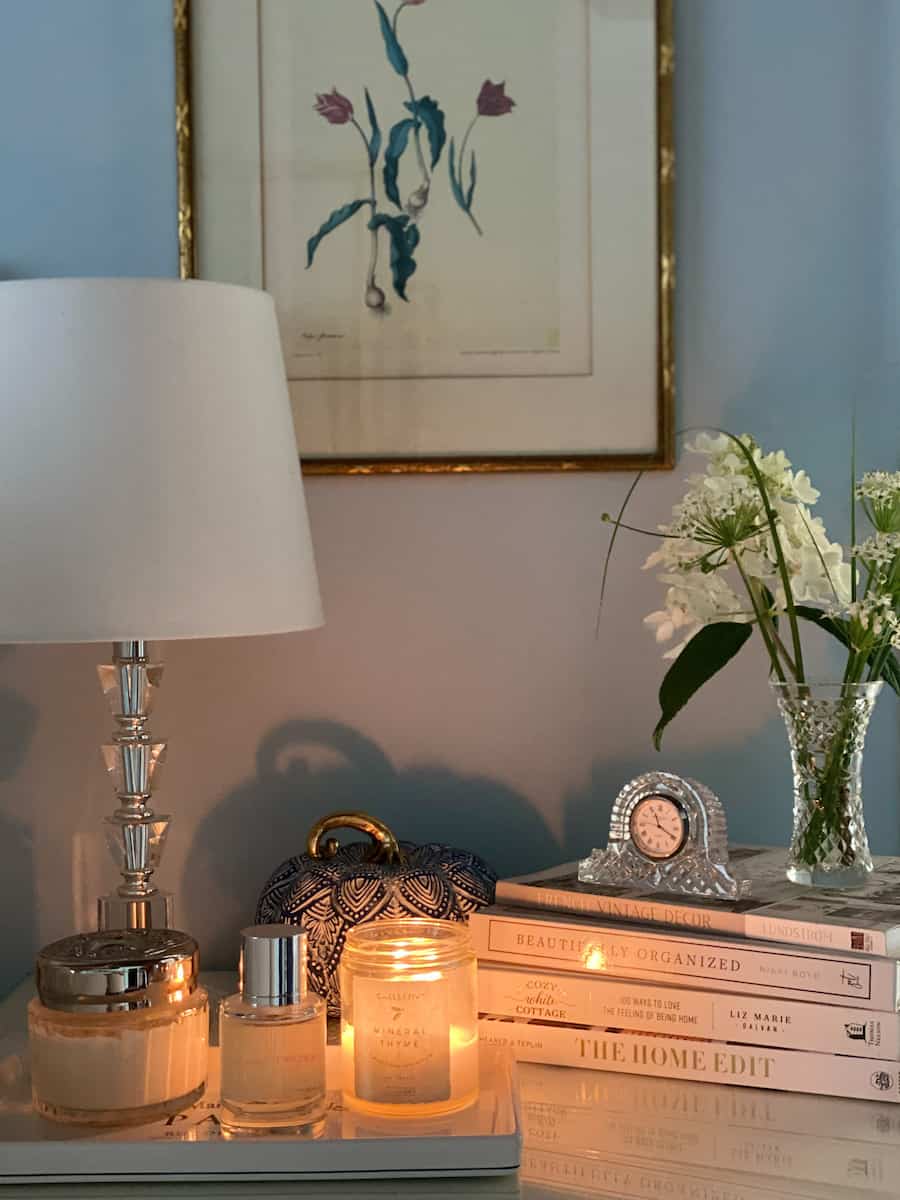 My absolute favorites, even though they are quite pricey, (even with the 20% off that I'm usually able to find) are CuddleDown Hotel Sateen Sheets. They have a beautiful feel to them, they are pretty resistant to wrinkles. They have a very long end to them so they stay tucked in and adequate length on the sides. I use them the most and they have (knock on wood) held up for us.
Layered Bedding
As I already described, I add layers to the bed for fall and winter. It's more of a look than a necessity. I typically only have a sheet over me all year long. Handy on the other hand, loves the feel of the heavy blankets in the colder months. We let it get pretty cold in the house in the winter. I personally could live with the windows open all winter. All of you older or pregnant ladies, know what I'm talking about! Women sure do carry a lot of burdens!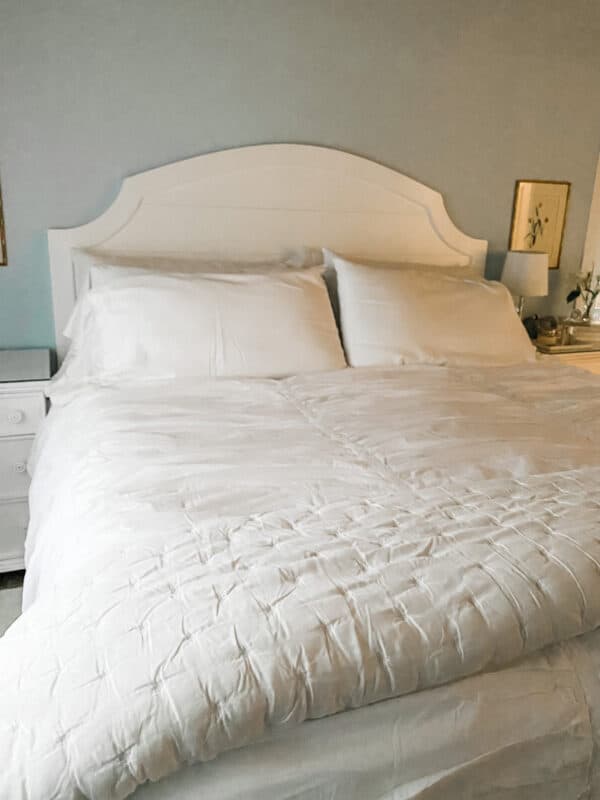 When I washed all my bedding to add more layers to the bed, I also gave our room a thorough deep cleaning. Even if you do nothing more than clean and organizing your sleeping space, I guarantee you will feel great about your room.
The temperature is dipping into the 50's tonight and I can't wait to slip into my clean, cozy bed.
Peace,
While you're reading about our main bedroom you might also be interested in my post on how we made a dresser in the wall of our cozy room. All the details are HERE
We also recently did a refresh of Emma's bedroom. You can read about that HERE.
All of the items below are available from Target. Click the photo will take you directly to the item.