Guide for A One-Day Trip to Round Top Antiques Show
Round Top Texas with a population of only 90 people fills to the brim two times a year (spring and fall) when they hold their famous Round Top antique show.
Round Top was made famous for me, by Joanna Gaines of HGTV Fixer Upper who shopped there to find vintage pieces for the homes they renovated on their TV show.
It's been on my bucket list to visit for many years, even before my daughter Annie moved to Texas. The trip we just took happened to coincide with the Round Top Antiques Week Fall Show so I had to go.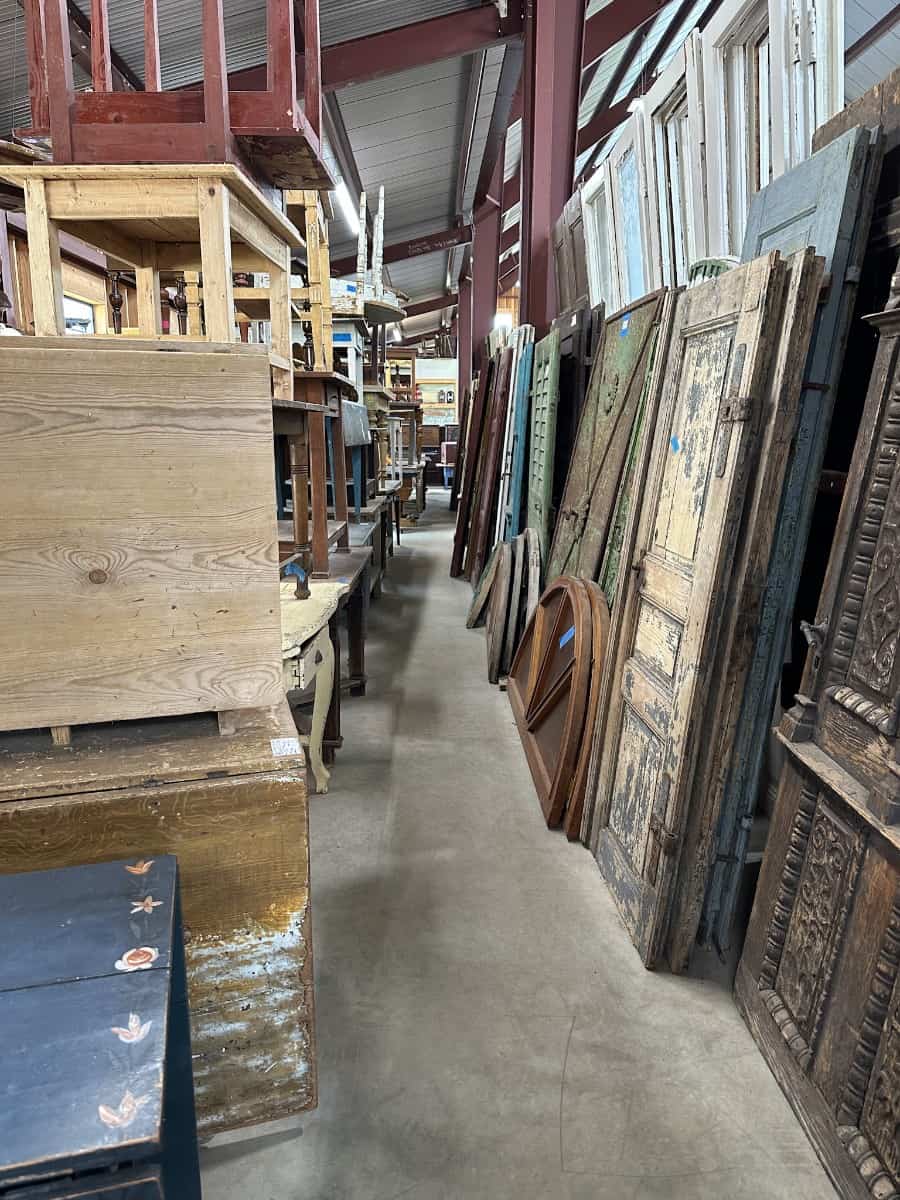 On my blog Living Large in A Small House, I may sometimes use affiliate links, which means a small commission is earned if you make a purchase via the link. The price will be the same whether you use the affiliate link or go directly to the vendor's website using a non-affiliate link. You can find my full Disclosure Policy HERE
Getting to Vintage Round Top
My daughter Annie lives in Dallas and it's about a 3 1/2-hour drive (230 miles) to Round Top. For our first trip, our plan was to get up early and drive there and back in one day. I spoke with some friends who had been before and their suggestion was to start in the fields of Warrenton. We set our GPS for Warrenton and hit the road.
Our drive was uneventful and once we got out of Dallas it was smooth sailing. We were there on opening day and didn't encounter much traffic at all. When we got to Warrenton, we pulled into the first area where the open fields were filled with tents. Paid our $5 for parking and started our adventure.
If you are flying to visit the show, Houston which is about 100 miles away or Austin which is about 80 miles away would be the closest major airports to fly into. You obviously would need to rent a car to make the journey.
If your plan is to buy big, rest assured that there are plenty of options available to ship your purchases home.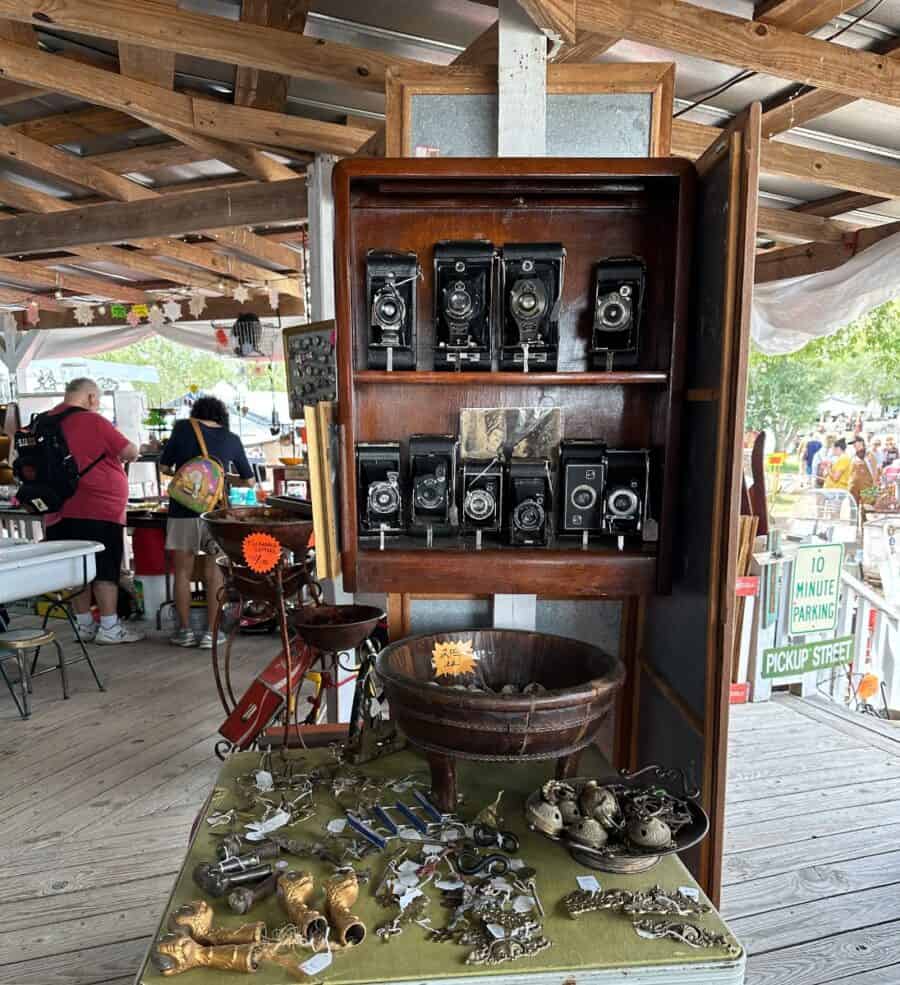 Exploring the Fair
While we started at the first field in Warrenton what we weren't aware of was that there were field after field of tents plus buildings also filled with vendor booths. It honestly was a bit overwhelming. I think you could spend two weeks in Round Top and not see everything.
Our first stop as I mentioned was the fields in Warrenton. Once we parked we started walking around to all of the white-tented vendors. There was everything from apple cider to vintage cowboy boots and everything in between. It was a combination of a flea market, garage sale, thrift shop, and retail shops. The only purchase I made there were antlers for $10 each.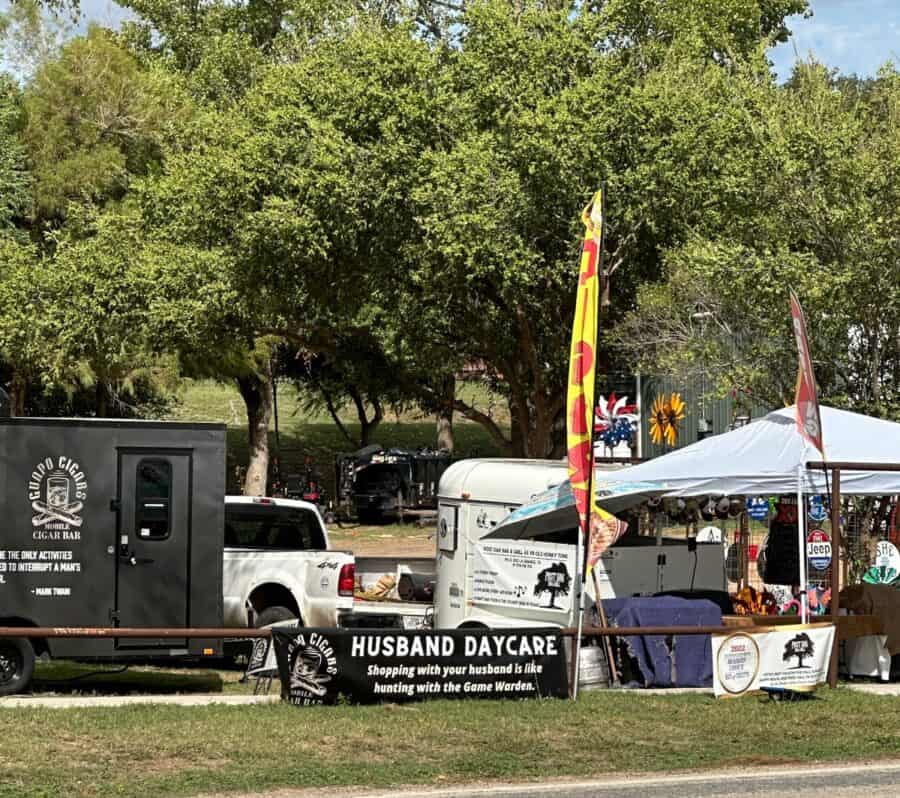 Once we left the first field in our car, we realized that heading towards the actual town of Round Top there were field upon field of white tents. Since we didn't find much of anything in the first field we decided to head towards the Big Red Barn where we had pre-purchased admission tickets.
Along the way, we stopped at the Round Top Ranch. This is where I made my first large purchase. I bought an old dough bowl from Hungary and compared to the dough bowls that I find at home, I think I got a great deal. We also really enjoyed the European antique furniture in their three buildings.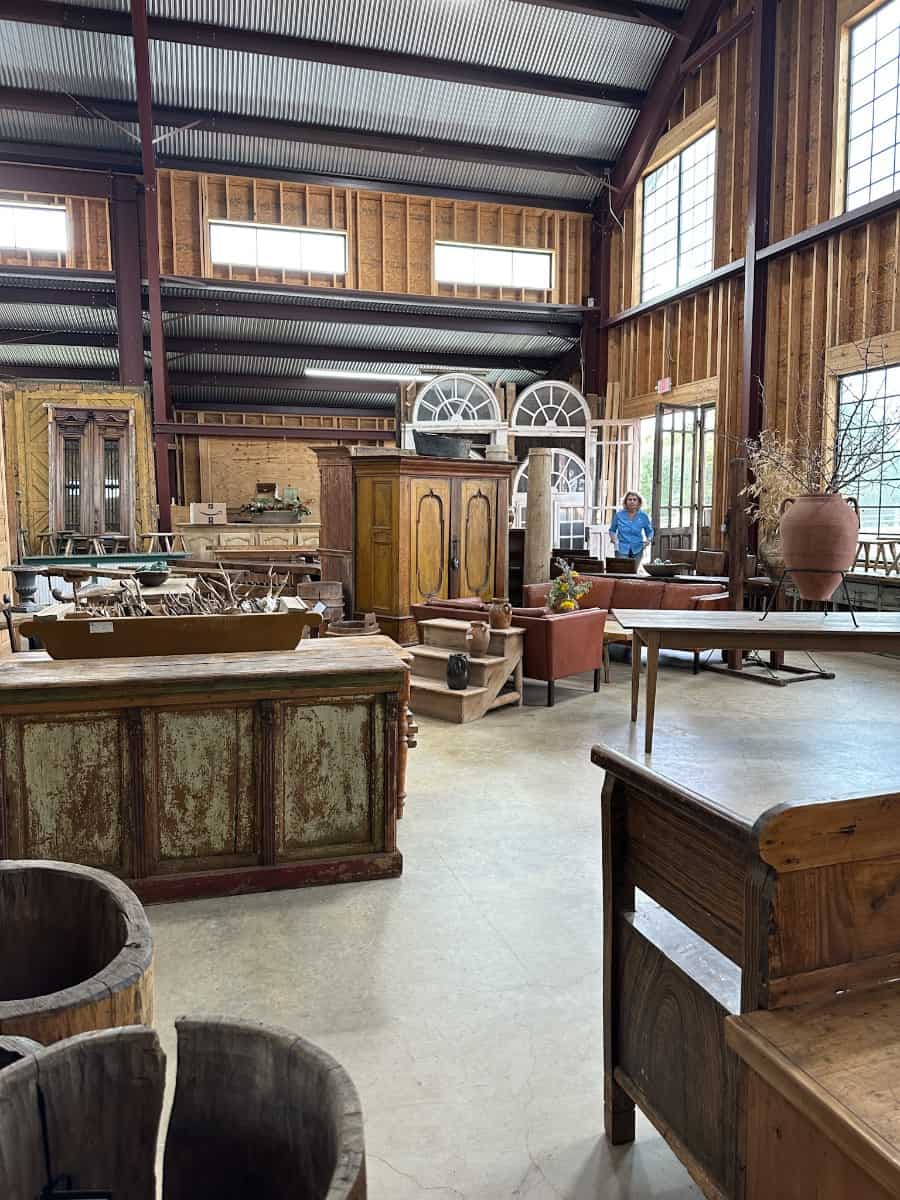 Then we crossed the street and strolled through The White Barn at the Compound and the rest of the Compound Buildings. We had lunch that was behind The White Barn. The "Zydeco Creole" Food Truck had an amazing chicken salad that both Annie and I enjoyed. It was a great spot for lunch and you could even enjoy a glass of wine if you were so inclined.
As we made our way through the actual small town of Round Top, we passed by many restaurants. We didn't stop but if you are looking for a great place to eat, this would have been the spot. I've heard from friends that there is everything from a place for a great burger to fine dining.
We drove through the sweet little Henkel Square area and our GPS took us off the main road. I'm not sure exactly what we missed but after looking at a map it appeared to be more fields of tents. GPS took us onto a gravel road. We stopped to admire the beauty of the back side of Round Top until it brought us back to the main road.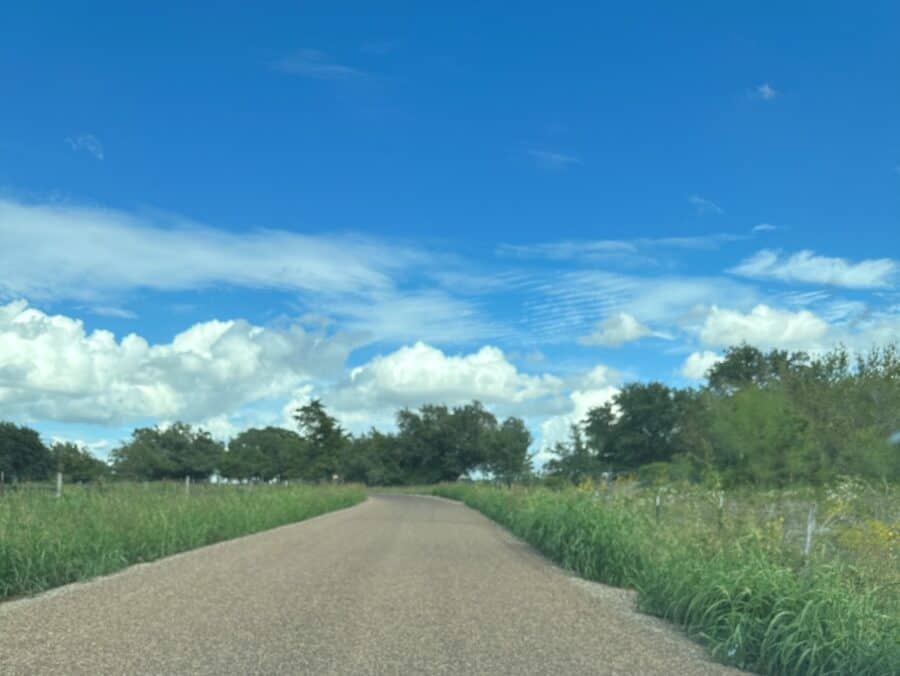 We then made our way to The Big Red Barn. This was well worth the $10 admission price and one of our favorite places. The building was filled with vendors and I would say where we found our favorite vendors. My only regret was that I didn't spend more time and money in the booth that was selling amazing amounts of Flow Blue. Annie found a few things for the nursery as well as a vintage 20's purse that she is very excited about.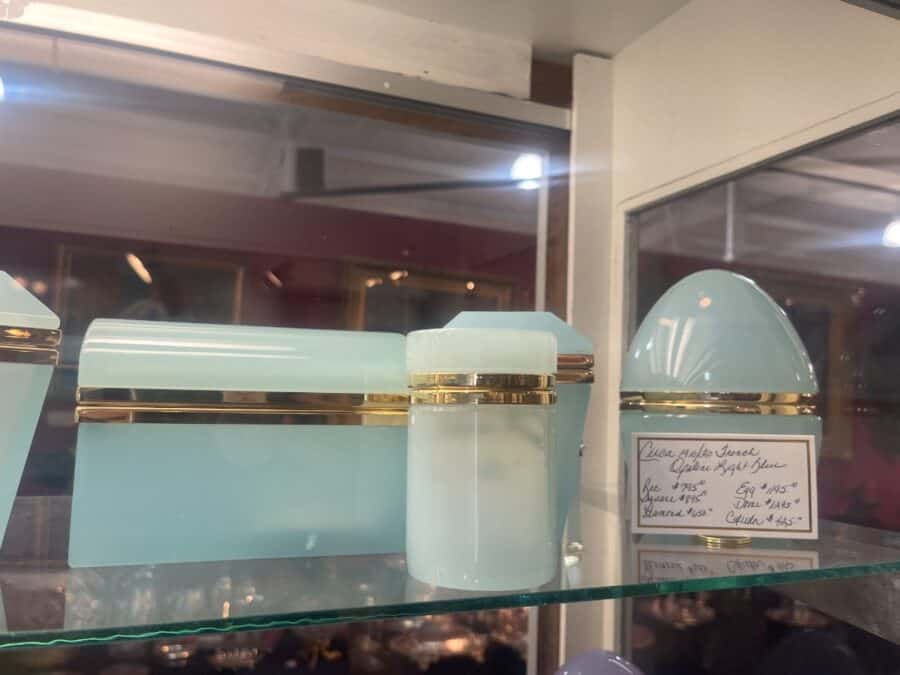 What We Missed
We missed Blue Hills but I understand that it is also a great place to visit. It is part of the Original Round Top Antiques Fair.
We also missed Junk Gypsy. I didn't realize until we got home and saw on an IG post that one of my favorites Courtney Allison from French Country Cottage was there when we were there. She was signing her new book "French Country Cottage Christmas". So bummed I didn't know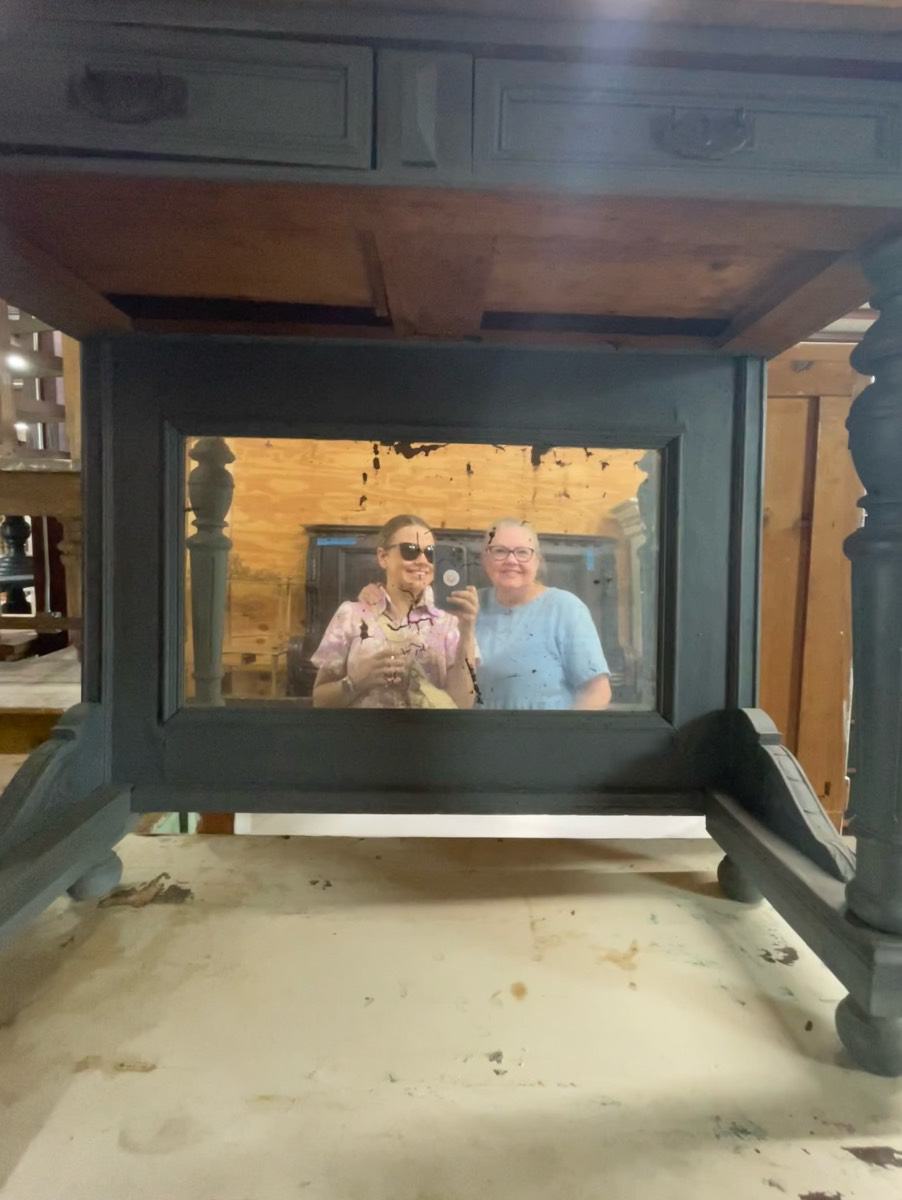 Tips for First Time Visitors
Wear comfortable shoes
Dress in layers and appropriately for the weather.
Bring a small umbrella
Bring a water bottle filled with water
Most vendors take credit cards but cash is better if you want to negotiate the price
Bring a large tote to carry your small items

Most vendors will hold large items – Make sure you write down the name and location for pick-up later

Bring a tape measure, especially if you're buying furniture
Our Observations
To be fair we didn't touch even 1/10th of what was available to see but we felt that for the most part, things had a pretty high price point at the places that we did visit. Many things would have been a better price here in Illinois.
What we learned is that the seasoned flea market shoppers, shop owners, and interior designers who shop at the Round Top Vintage Market, come the week before. While not everything is open there is more than enough for them to get what they are looking for.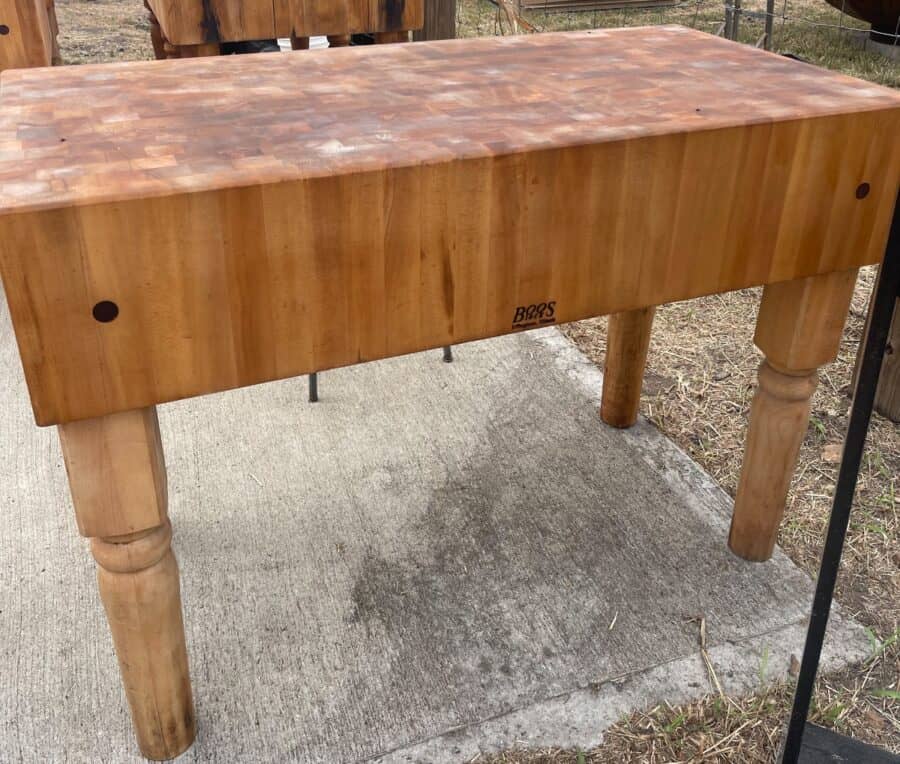 One day was plenty for a soon-to-be grandma and her pregnant daughter. I could see how a girls trip to Round Top could be so much fun. I know there are many Airbnb options in the area and there is a boutique hotel called the Rancho Pillow. I'm sure all the available places to stay have to be booked far in advance. We passed the Lone Star Glamp Inn which seemed like it would be a whole lot of fun too.
Final Thoughts
This was a bucket list visit for me and now I can say that I've been. There is a good chance that I will never go back but never say never. I've also heard that the town itself has plenty to do when it isn't a big show. The town of Round Top has restaurants and stores that are open year-round. It would be a great weekend getaway when it's not so crazy. That might be a better option for me who isn't really a fan of crowds.
I wish I had taken more pictures because it's definitely something that you can't imagine until you get there. I had no idea what to expect and it was much different than I had thought. It's much bigger and actually encompasses four small towns on TX 237.
If you'd like to go, start planning now. Future dates for 2024 are Spring, March 14-March 31, and Fall, October 10 – October 27, 2024.
Peace and Love,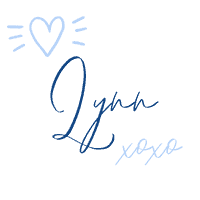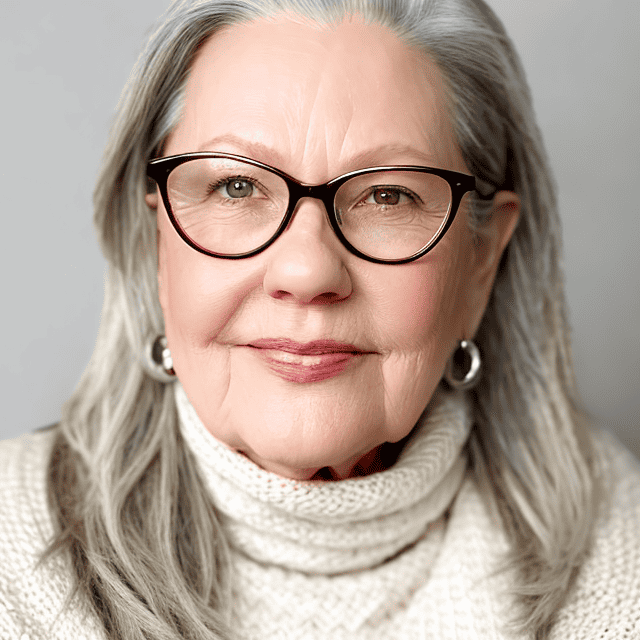 Meet Me
I'm an Interior Designer, Professional Organizer, and Party Planner who lives in the suburbs of Chicago in a 1,300 sq., ft., home with my "Handy" husband, Keith.
I'm an open book about my life on my blog. Find out more about me by tapping the button below.

Thanks for Following Along
If you enjoyed this post I hope you sign up to be a friend of Living Large in A Small House! Then you won't miss any of the inspiration that is shared with you each week! You can also follow me on Instagram, Facebook, and YouTube. I share even more inspiration on Pinterest! You can listen to me chat on my Podcast.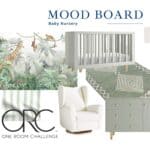 A great way to save this article is to save it to your Pinterest boards. You can find the pin button in the top right corner of the photo below. Also, don't forget to follow me on Pinterest