Living Large Podcast with Megan Moore
Living Large Podcast with Megan Moore
Today on the Podcast I had a great conversation with Megan Moore.
Megan lives in a Tiny House on 40 acres in the town of Golden, British Columbia. Along with her partner, two children, and two dogs, they navigate life in a 414 sq., ft., tiny home.
She shares how her life is more simplified and less stressful in the tiny house.
You can find Megan Moore on Instagram @meganmooremarketing and visit her blog The Tiny Rosehip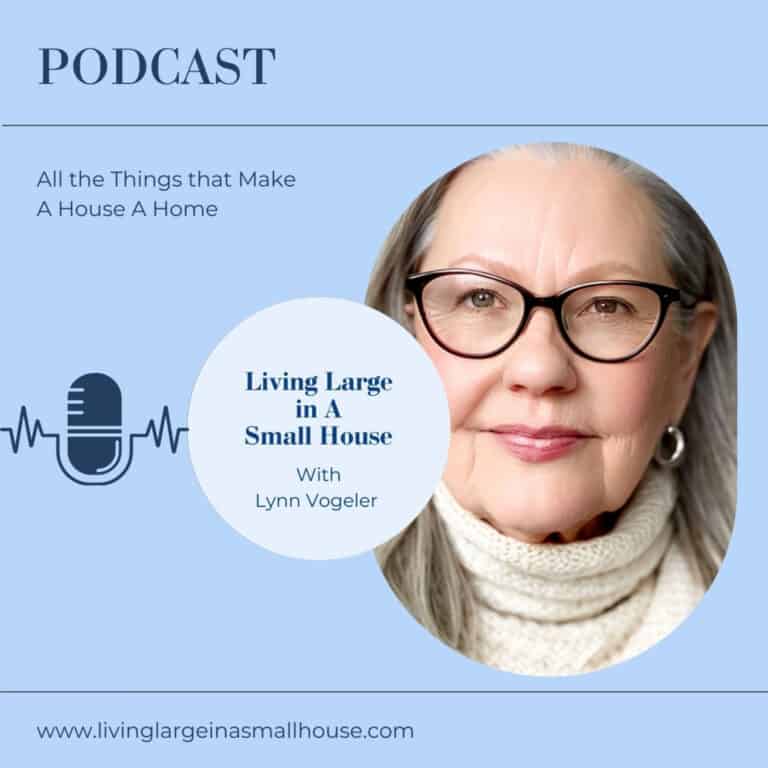 Living Large in A Small House Podcast
I'm Lynn the creator of the blog "Living Large in A Small House". I'm passionate about decorating, cooking, entertaining, organizing, and gardening. I live in a 1,300 sq., ft., home with my husband who I call "Handy" on my blog. I'm Mom to three grown kids, Kenny who lives in LA, Annie who lives with her husband Tommy in Dallas, and Emma who lives in Chicago. We also have a 15-year-old Shih Tzu named Molly and 5 beautiful hens who provide us with organic, fresh eggs daily.
I'm pretty transparent about my life and what goes on at this small house!
What's Going on at This Small House – October
What's Going on at This Small House
Season 9 – Episode 9
If you watch on YouTube, I promise not to use my circle light anymore – How distracting to see that shining in my glasses
WHAT YOU WILL HEAR ABOUT IN THIS EPISODE:
Organizing with some of my blog followers
What I still need to get organized
Our trip to Dallas – My grand plans
Lynn's Recollections & Reflections has turned into something so much more
RESOURCES/LINKS MENTIONED:
https://livinglargeinasmallhouse.com/30-day-organizing-challenge/
The Introduction – The first in Lynn's Recollections & Reflection Series
National Domestic Violence Hotline
CONNECT WITH ME:
There are affiliate links in these notes. I may receive a small commission at no cost to you if you choose to use them. You can find my full disclosure policy HERE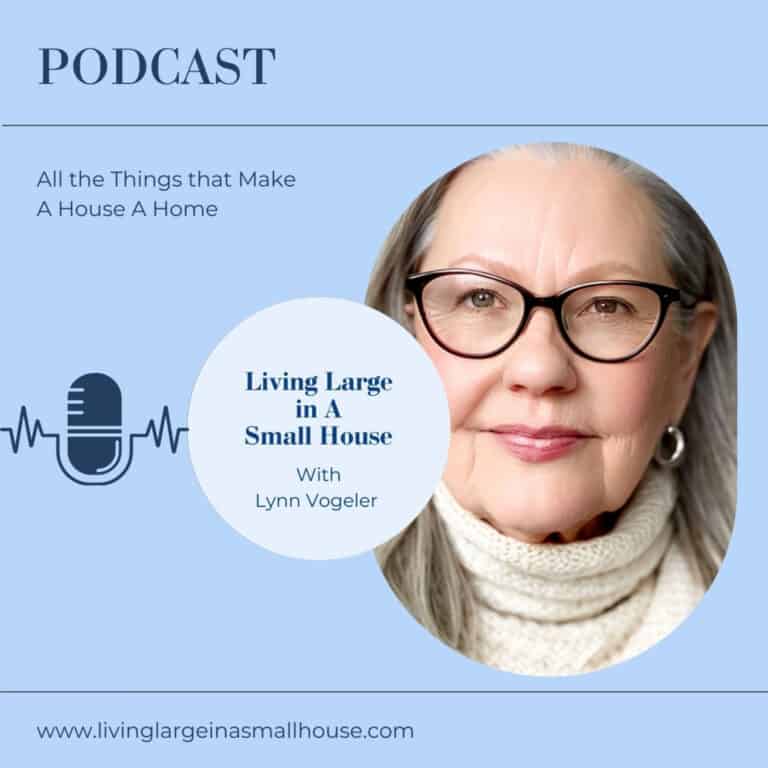 Search Results placeholder

Read about how the Podcast came to be HERE