How to Host a Virtual Shower?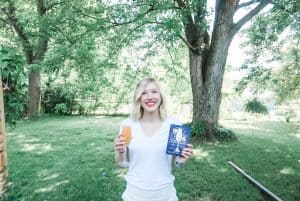 Are you wondering how to host a virtual shower? My niece Danika and her fiancé Mark are supposed to get married on October 10, 2020. They are planning to actually tie the knot that day but will be postponing their celebratory party until 2021. There is so much that is getting postponed, rescheduled, canceled or modified during these challenging times. Babies are being born, Graduations and Anniversaries are happening. No matter the occasion, you can still host a virtual celebration.
Not wanting to take away any of the fun for our niece; My SIL, Sister and me still wanted to acknowledge the upcoming event. We wanted to make sure that Danika experienced the age old tradition. Hence the virtual Bridal Shower! It took a little creativity as it's a relatively new concept but we think we did a pretty good job.
Since we were doing everything virtually, we opted out of the "new" evite option and send good old fashioned paper invitations in the mail with a handwritten envelope and a stamp! We did have everyone RSVP by email as we needed that information to send them the Zoom invite and instructions on how to prepare ahead of time for the big day. Since we weren't hosting a luncheon at our originally planned location; we sent a Panera gift card to everyone along with their invitation. This way we could all enjoy our virtual event with lunch for everyone! We thought this was a really creative idea and it was much appreciated by all of our guests.
We did opt for a one-time paid Zoom event because we didn't want to worry about the 40 minute limit that comes with a free package. It was set up well in advance so were able to send the Zoom link when our guests RSVP'd. I also sent out an email the day before the event with FAQ's and again, the Zoom meeting invite link.
FAQ's
Make sure to download the Zoom App to your phone, iPad or Computer
Log-in 10 to 15 minutes before to make sure everything is working
Please play around with how to mute and unmute yourself as the party will run more smoothly if everyone is on mute unless they want to talk
Be prepared with an introduction, some helpful hints or good wishes for the bride (and groom) and share what you're enjoying for lunch
We also gave a phone number to call if they were having issues – Our husbands were our IT crew and handled any problems. Always the good sports!
Setting the Stage for the Event
Because we live in Chicago and Tennessee and the Bride to be is in Iowa, we needed a few partners in crime to help us. We contacted two of her friends who lived nearby and they agreed to do the leg work on the ground to provide a few surprises. They picked up lunch from one of their favorite Thai Restaurants and delivered that with Champagne. They also brought some balloons with them for decorations. It was a beautiful day so they were able to be outside and enjoy a nice socially distanced afternoon.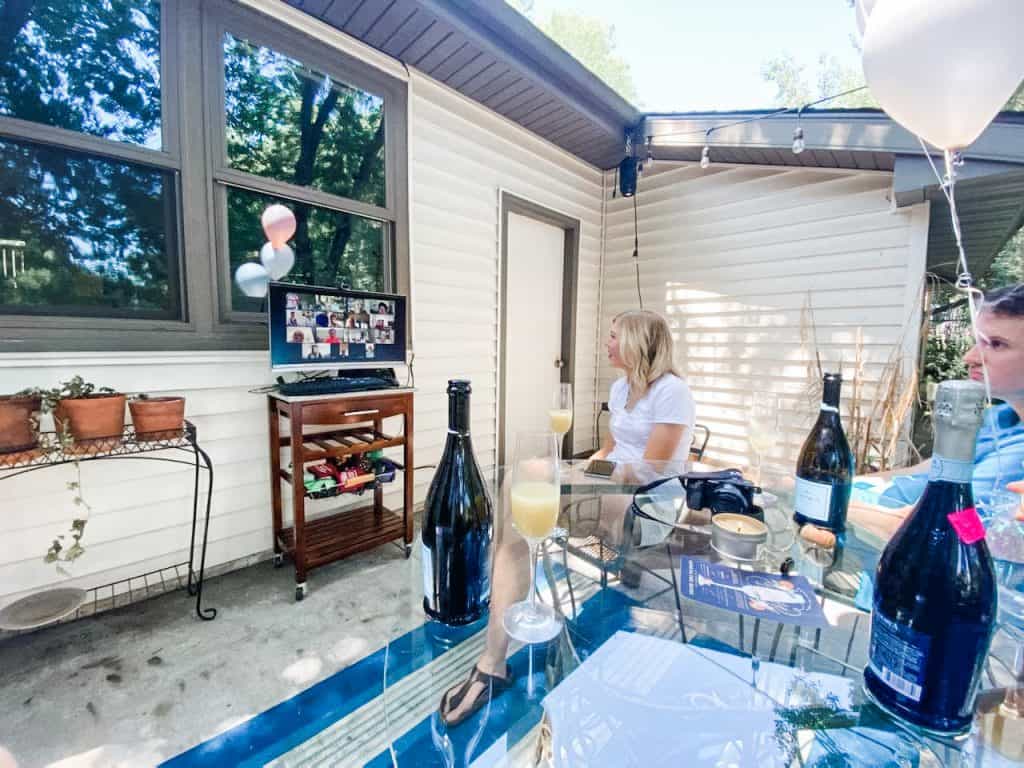 Right when the decision was make to postpone the October event; Danika was planning to schedule a tasting for wedding cake. We made arrangements to have all the flavors delivered that day in the form of cupcakes! What a fun treat!
We also had a wedding bouquet of flowers scheduled for delivery. That unfortunately didn't happen. With everyone's lives turned upside down right now you just have to roll with the punches. We are just so lucky we have our health and we were able to get together via Zoom.
We wanted our guests to feel involved and enjoy themselves. After we did our introductions and words of wisdom; Danika opened up her presents. It was so fun to be able to see what everyone sent to her. There was quite a bit of conversation and everyone handled Zoom etiquette like a pro. I think that it helped to make sure that we informed them in advance to be on mute unless they wanted to interject something to the conversation.
Short of being together, our virtual shower was a fun afternoon and we all had a good time! If you're wondering whether or not to host an event, we strongly encourage you to do it. It just takes a little creativity and makes the best of a bad situation. We did and it was actually an easy event.
It was more economical for all
No one had to travel
We were able to stay in our own homes and feel safe
A few of us gathered but we practiced social distancing as best as we could
Planning is the key and letting everyone know in advance so they have enough time to send gifts
If you've been wondering how to host a virtual shower or entertain during this new normal, I hope I've given you some ideas and suggestions. We all are trying to figure out ways to maintain some sense of normalcy in this crazy world.
For some more entertaining ideas you can also check out these two blogs posts; Fall Entertaining & 5 Reasons to Host an Event. I think the key is to be flexible and be smart. I follow Leslie over at www.my100yearoldhome.com. She has some amazing entertaining ideas on her blog. Be prepared to be amazed! When I grow up I want to be her 🙂
Peace & Love,