Gluten-Free Cheese-Crusted Pork Chops
You are going to love these gluten-free cheese-crusted pork chops even if you're not on a gluten-free diet.
Eating gluten-free helps eliminate inflammation. Did you know that?
On my blog Living Large in A Small House, I may sometimes use affiliate links, which means a small commission is earned if you make a purchase via the link. The price will be the same whether you use the affiliate link or go directly to the vendor's website using a non-affiliate link. You can find my full Disclosure Policy HERE
I along with two of my kids have an HLA-B27 gene and it can cause a large variety of auto-immune issues. Both my kids have ankylosing spondylitis which affects their spine. Eating gluten-free can greatly reduce the pain associated with this condition.
Gluten-Free Cheese-Crusted Pork Chops
This recipe is just one of many GF recipes that I make. The original recipe used panko bread crumbs but those have wheat flour in them so I just substituted that for GF Flour. You can however find GF Panko
You can switch out GF Flour for most recipes that call for a breading or coating on your protein.
The recipe also calls for lemons and thyme. These two flavors pair so well with pork.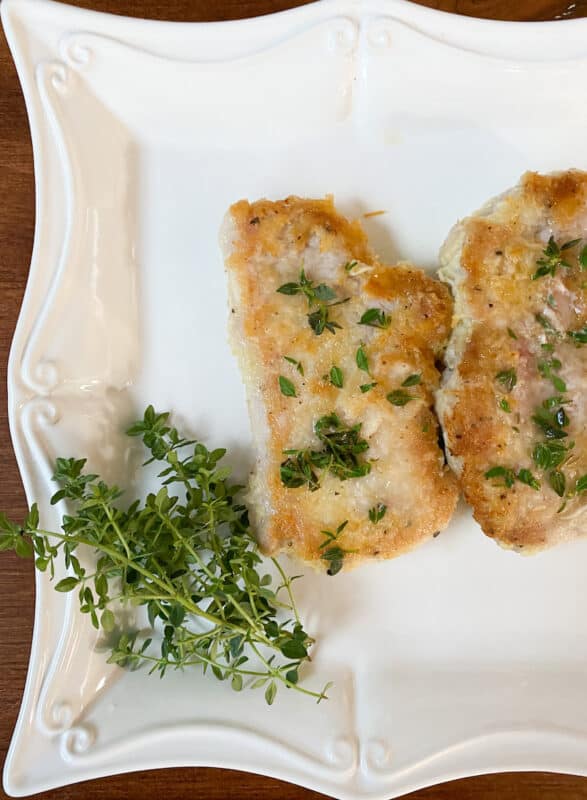 The Secret to a Juicy Pork Chop
The secret to a juicy pork chop is to not overcook. You can also use bone-in chops which tend to be juicier and more flavorful because of the bone.
If you are baking pork chops, put them in a baking dish that keeps them close together, this also helps keep the moisture in a chop.
Another secret is to brine your pork. If you're interested in learning more about that, stop over HERE.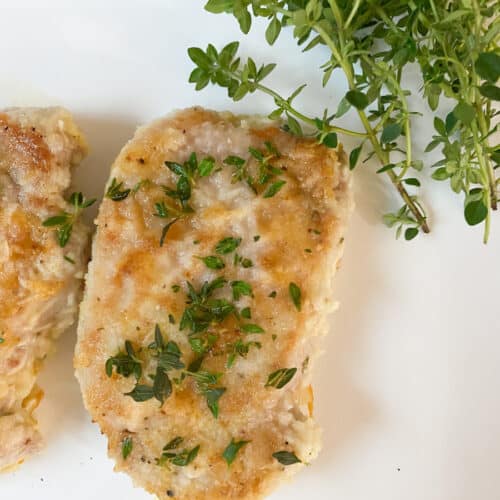 Ingredients
4

boneless center-cut loin pork chops

1/4

cup

gluten-free flour

You can use regular all-purpose flour

1/2

cup

asiago cheese, grated

1/2

tsp

salt

1/4

tsp

pepper

1

egg

1

large lemon

1/4

cup

chicken broth

1

tbsp

grapeseed oil

1

tbsp

fresh thyme finely chopped

Can substitute 1 tsp dried
Instructions
Prep Pork Chops
Place pork chops between pieces of parchment paper and pound (I use my rolling pin) to 1/4" thickness.

Place lightly beaten egg and the juice of 1/2 a lemon in a shallow bowl. Whisk until combined.

Place flour, cheese, salt, and pepper in another shallow dish and combine well.

Dip the pork chop in the egg mixture, coating both sides, and then into the cheese/flour mixture to coat both sides
Cooking
Heat the oil in a large skillet over medium heat. Add the coated pork chops and cook for 3 minutes on both sides until lightly browned. Add the chicken broth to the pan and squeeze the juice of the remaining lemons evenly over all pork chops. Sprinkle each chop with the thyme. Lower the heat to simmer and cook with the lid on for 5 more minutes.

Carefully lift each pork chop out of the skillet with a spatula so you don't disturb the crust. Serve immediately
Notes
"Handy" loves potato pancakes with pork chops. We also enjoy a nice side salad with this dish.

Block Cheese vs. Pre-Shredded
Let's forget about the fact that freshly grated cheese tastes better and melts better than its pre-shredded counterpart and skip right to the part about the added anti-caking and mold-inhibitor agents that are added to pre-shredded cheese.
It's also cheaper to shred your own and a block has a longer shelf life. I don't ever buy the bags of shredded cheese anymore. It's so easy to grate yourself and it's better for you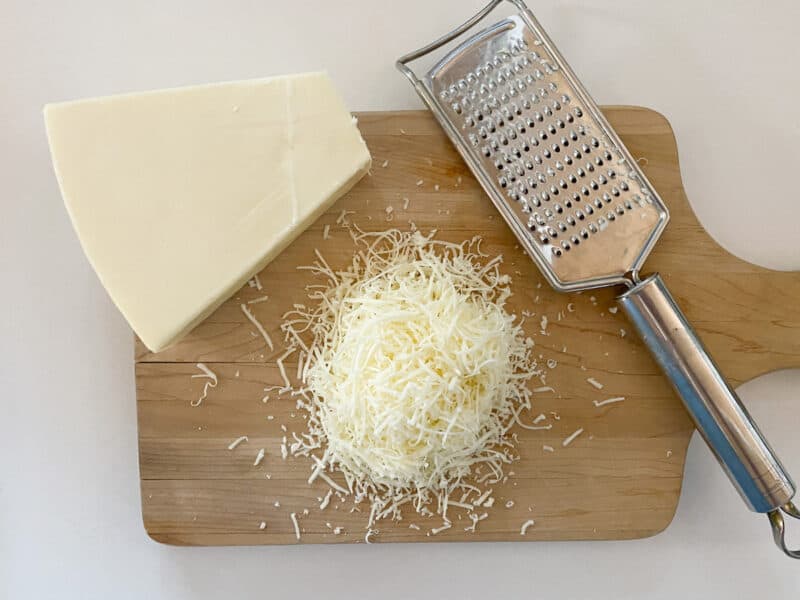 Bone-In vs. Boneless Pork Chops
Bone-In Pork chops tend to be juicier and more flavorful than boneless. However, a recipe like this one would be prepared a little differently if you used bone-in.
You wouldn't pound them flat and you would up the simmer time after you've browned the crust on the chop.
You would want to cook until the internal temperature of the pork chop is 145 degrees. It would add approximately 10 more minutes to the cooking time.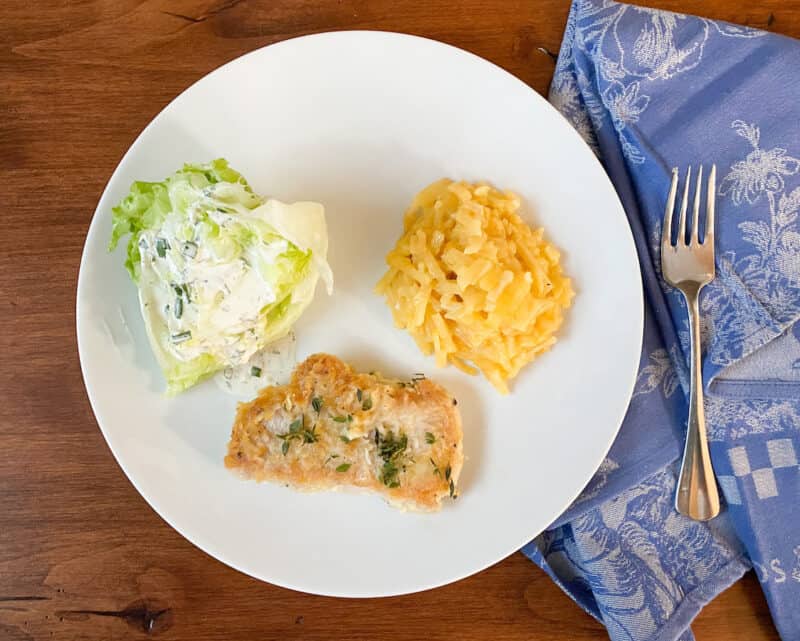 Enjoy this recipe which is another scratch-cooking meal that can also be on the table in under 30 minutes.
Peace,
You can find my homemade Ranch Dressing HERE
These recipes are also gluten-free

To save this recipe pin it to your favorite board and don't forget to follow me on Pinterest