ButcherBox Beef Sirloin Tips with Onion Gravy
"Handy's" new favorite recipe is Beef Sirloin Tips with Onion Gravy.
We have really been enjoying the meat that we got in our ButcherBox.
On my blog Living Large in A Small House, I may sometimes use affiliate links, which means a small commission is earned if you make a purchase via the link. The price will be the same whether you use the affiliate link or go directly to the vendor's website using a non-affiliate link. You can find my full Disclosure Policy HERE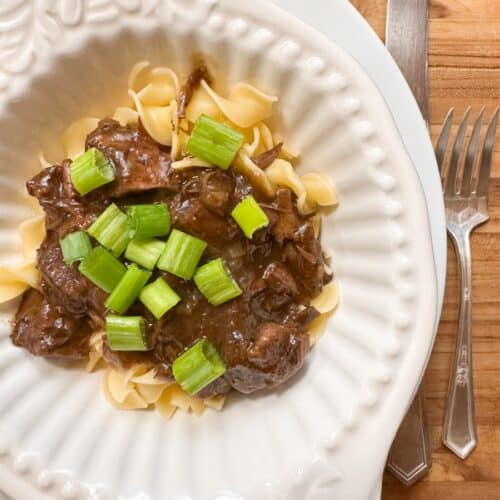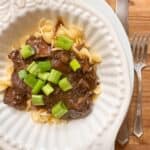 Print Recipe
Yum
Beef Sirloin Tips with Onion Gravy
Cooking this for several hours makes the meat so tender. The brown gravy is rich and flavorful.
Ingredients
2

tbsp

olive oil or avocado oil, divided

1

tbsp

butter

1

large onion, sliced (about 3-4 cups)

dash of salt

2

tsp

sugar

1

lb

beef sirloin, cubed

32

oz.

beef broth or beef stock (reserve 1/2 cup for gravy)

1

tbsp

Worcestershire Sauce

2

bay leaves

2

tsp

thyme

2

tsp

salt

1/2

tsp

black pepper
Gravy
2

tbsp

cornstarch or tapioca starch

1/2

cup

beef broth
Instructions
Cut beef into 1-inch bite sized pieces

Slice a large onion into rings

Heat a Dutch oven over medium-high heat and add 1 tablespoon of oil and butter. When melted add the beef and brown in small batches. Remove beef and set aside.

Add the other tablespoon of oil to the pan. Then add the onions.

Add a dash of salt to the onions to help them sweat, stir the onions continually until they are soft and translucent

Add the sugar to the onions, and continue to stir until a golden brown color (caramelized)

Add the broth, the beef, the seasonings, and the Worcestershire sauce. Bring to a boil over medium-high heat. Once it's boiling turn it down to simmer and cover. Cook for 1-1/2 to 2 hours until beef is fork tender.
Gravy
Add the cornstarch to the broth. If it sits for any amount of time, you will need to stir as the cornstarch will settle to the bottom.

Bring the meat mixture back to a boil and slowly add the starch mixture to thicken.
Notes
If you are using leftover meat from a roast, you can skip the browning of the meat and just add 1 tbsp., of oil and 1 tbsp., butter to the pan and then add the onions.
Garnish with green onions
Serve over mashed potatoes, egg noodles or rice. 
Yum
If you haven't tried out ButcherBox, now is the time.
No matter when you join they always have a special going on.
ButcherBox
Special Offer
Being a fan of good for my family food, a great deal, and FREE delivery right to my door, I immediately asked where can I sign-up?
With ButcherBox I get 100% grass-fed and finished, pasture-raised beef, crate-free and humanely raised pork, free-range USDA-certified organic chicken, bacon that is sourced from heritage breed pigs and is uncured, nitrate-free and sugar-free as well as wild-caught seafood.
There is always a special going on at ButcherBox.
The first time I made this recipe, I used the sirloin beef tips from ButcherBox and it was amazing!
Some other cuts of meat that work well in this recipe are stew meat, cut-up top sirloin steaks, or sirloin roast.
Our favorite and in our opinion the most tender cut of meat is beef tenderloin (filet mignon) but the only way I would use that in this recipe is if it's left over.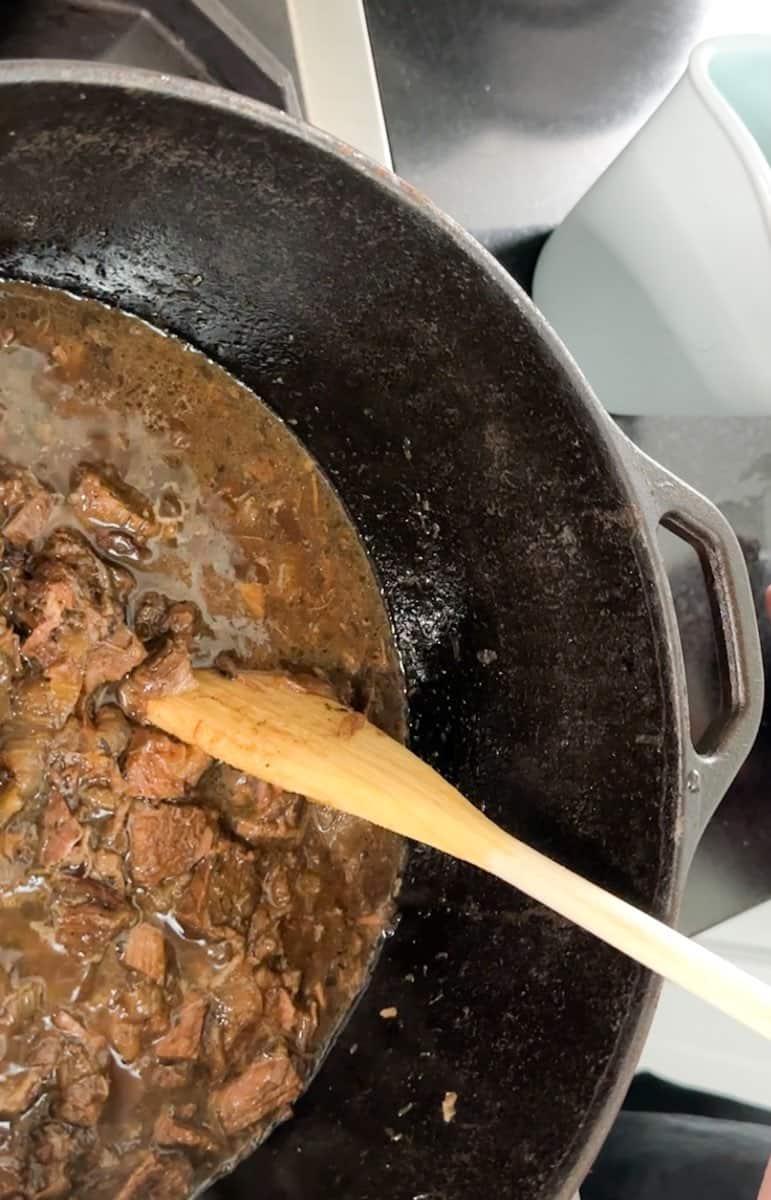 Onions and Rich Gravy Recipe
"Handy" is a meat and potatoes guy and he typically doesn't like his food to touch but this he enjoyed because it has onions and a rich brown gravy.
The last time I made it we served it over mashed potatoes but tonight we are having it over egg noodles.
Cook Low and Slow
This isn't a 30-minute meal recipe and one that I save for a Saturday or Sunday meal.
There are minimal ingredients but the onions need to saute for about 20 minutes or more until they caramelize.
Once you assemble everything in a Dutch oven or large skillet then it simmers for 2 hours. The long, slow cooking is what guarantees maximum tenderness.

Other Ingredients
Tonight I am using the left-over meat from the prime rib roast that we had for Easter. I cut it into 1-inch bite-size pieces to add to the recipe.
In my recipe, I use Worcestershire sauce but you can substitute that for soy sauce or coconut aminos.
If you wanted to add garlic to this recipe, you absolutely could. Once your onions are caramelized, you can add minced garlic and let it cook for 1-2 minutes before you add the beef broth or beef stock.
Another great option that I would love is to add mushrooms but "Handy" not so much.
You could also add some sour cream at the end to make it more like a stroganoff (one of my favorites).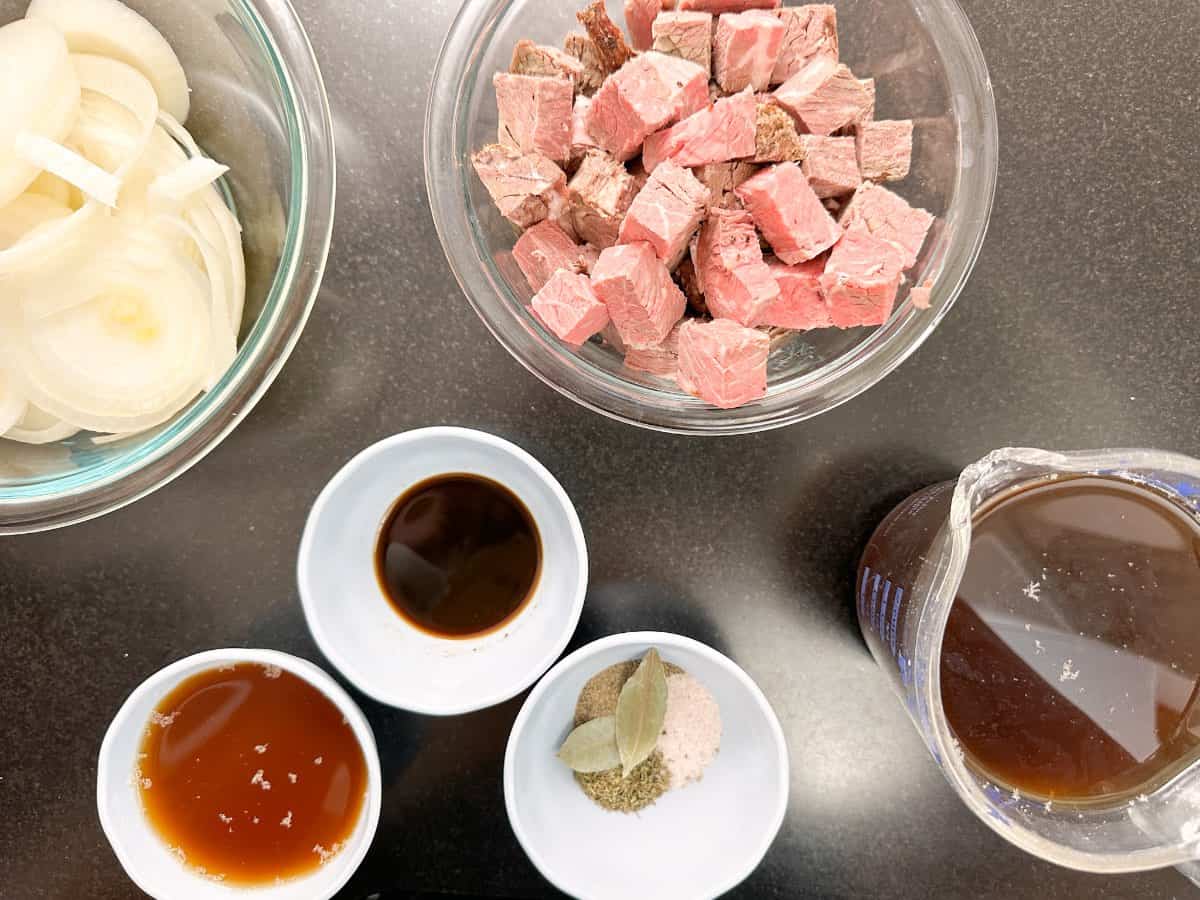 Adding some red wine to this recipe would give it more of a beef bourguignon flavor. Another one of my favorites.
There is nothing stopping you from adding potatoes, carrots, and/or green peas for the last hour of cooking and turning this into an onion stew.
Caramelizing Onions
The key to caramelizing onions is to add a little salt when you first start to sauté them. This helps them to sweat and soften faster. Once they are softened, add sugar to help them brown and caramelize perfectly. Don't forget to stir continually or the onions will burn.
Cooking
I don't own an air fryer or instant pot but I'm guessing this recipe could be adapted for both and might speed up the cooking process.
I do have a slow cooker and I imagine I could make the onions the night before and then add all the ingredients to a slow cooker in the morning and have a delicious meal ready at dinnertime
Left-overs
xIt's meals like this that I don't mind taking the time to make because there are always leftovers and I put them in air-tight containers and freeze them for an easy weeknight meal.
At this Small House, we call it freezer meal night!
I hope you enjoyed this delicious recipe and if you like me want to make sure you are eating the best products, at an affordable price, consider ButcherBox
Peace and Love,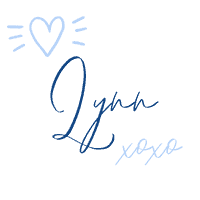 Thanks for Following Along
If you enjoyed this post I hope you sign up to be a friend of Living Large in A Small House! Then you won't miss any of the inspiration that is shared with you each week! You can also follow me on  Instagram, Facebook, and YouTube. I share even more inspiration on Pinterest! You can listen to me chat on my Podcast

A great way to save this recipe is to save it to your Pinterest boards. You can find the pin button in the top left corner of the photo below. Also, don't forget to follow me on Pinterest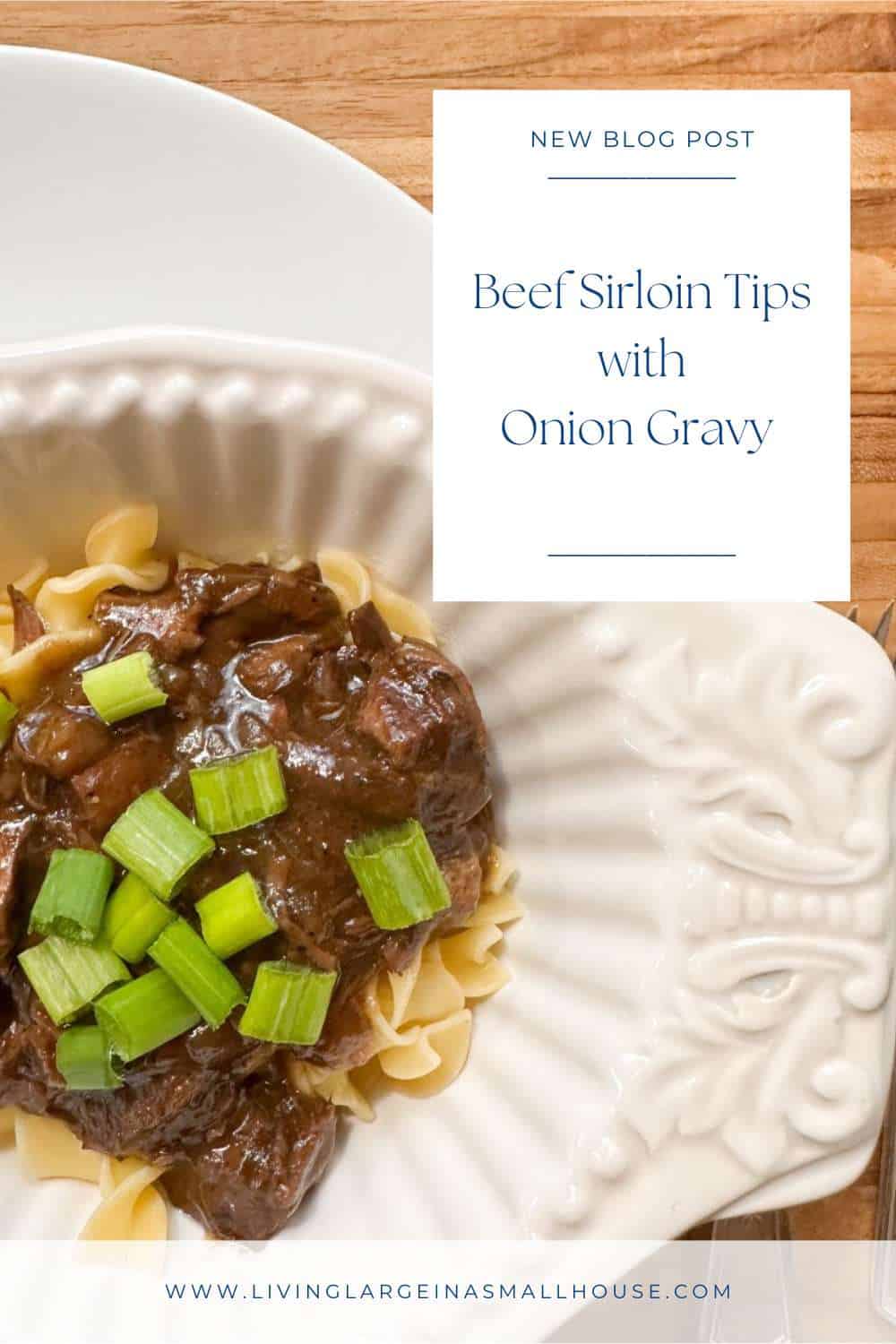 Living Large Podcast
This week I had Lisa from Oak & Linen Home on my Podcast. If you love French Country, you'll want to listen.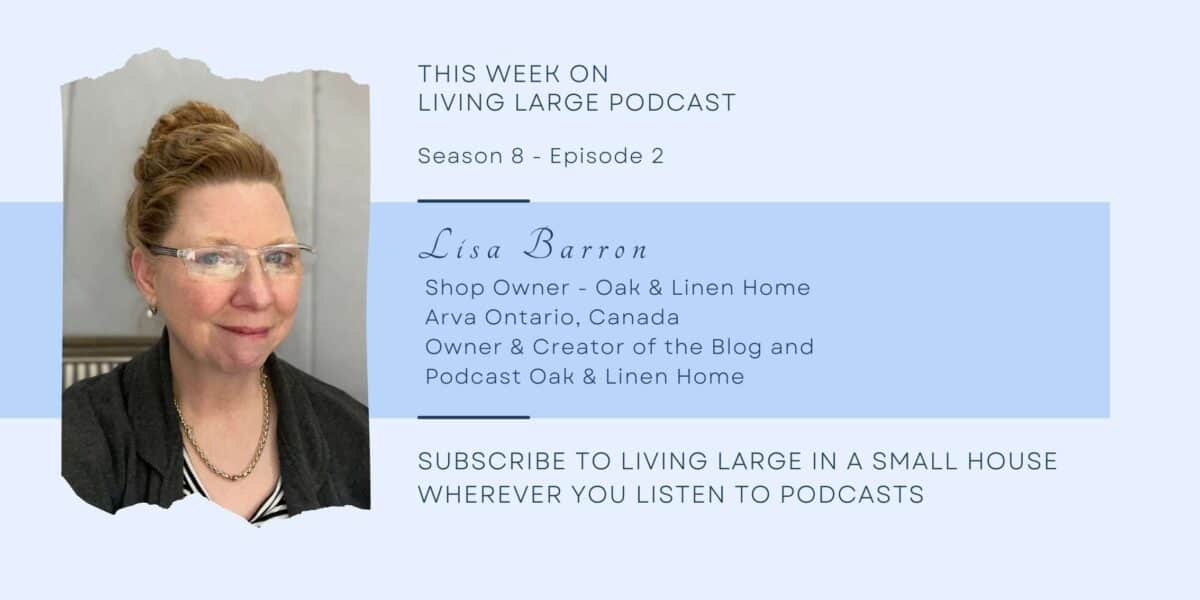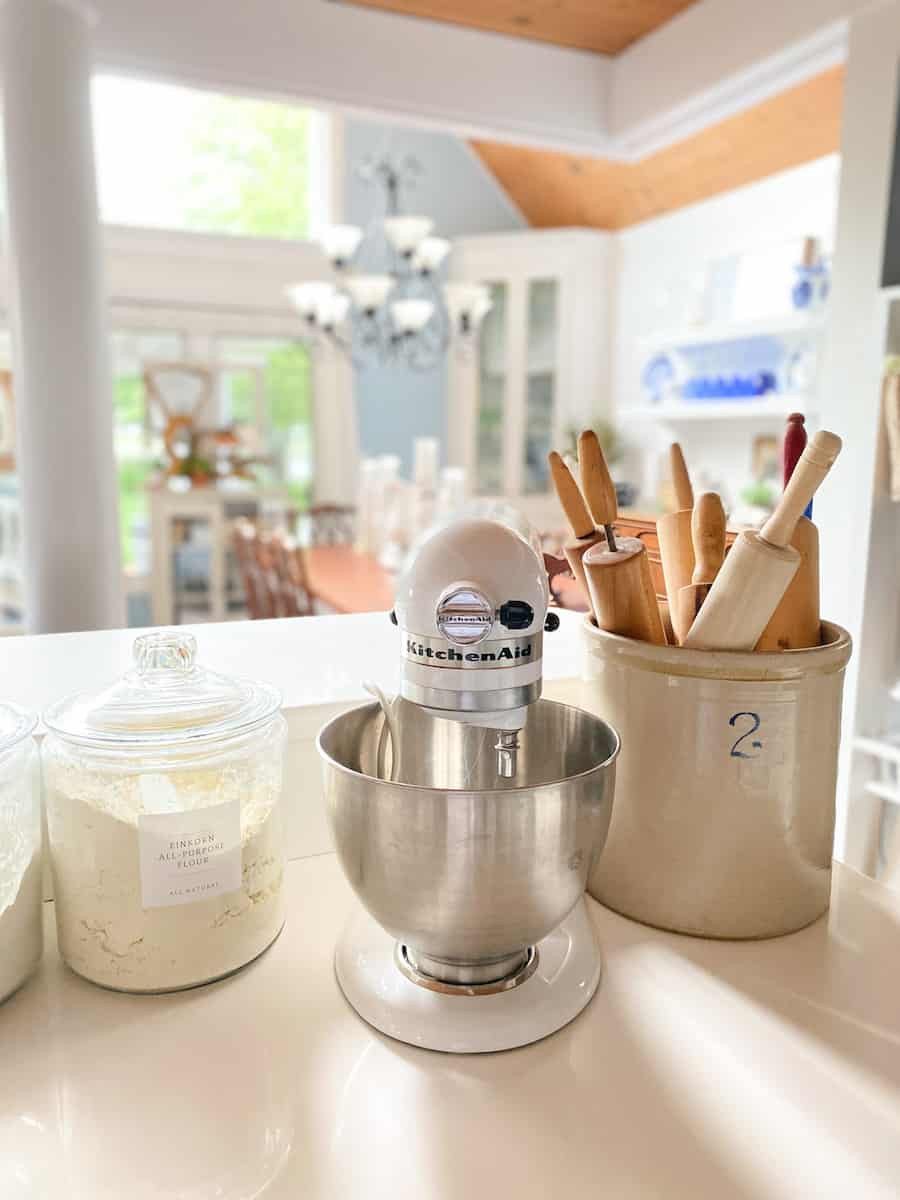 direct access to my amazon store
On Amazon
Did you know that you support my little business by purchasing through my links?? The price to you is the same but I receive a small commission on ALL the purchases you make when you shop through one of my links. I appreciate you helping Living Large in A Small House to grow!