5 Tips from the Gardening Bench #2
Welcome to another Segment of 5 Tips from the Gardening Bench. I have 5 new tips that are relevant to our late summer gardens.
This time of year can be glorious in the garden. Vegetables are ripening, hydrangeas are starting to bloom. Zinnias are looking beautiful! I could go on and on. So much glory in my gardens right now!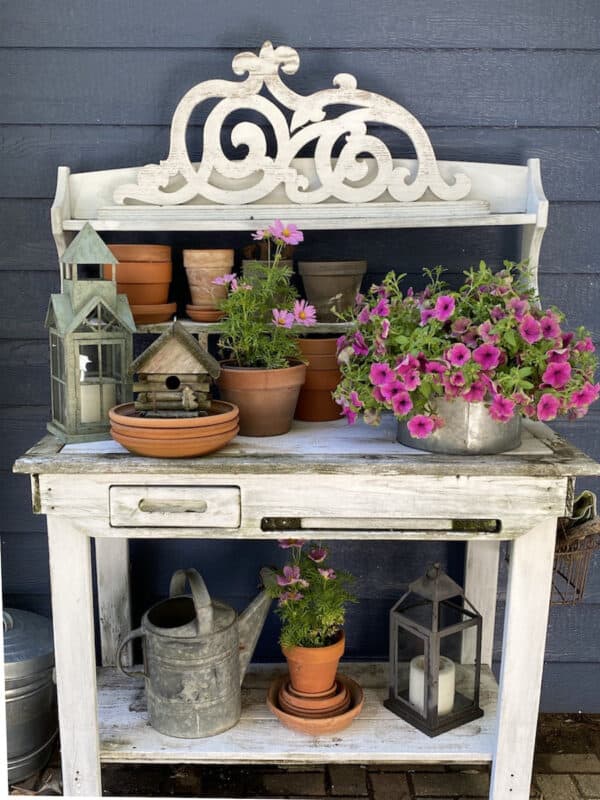 On my blog Living Large in A Small House, I may sometimes use affiliate links, which means a small commission is earned if you make a purchase via the link. The price will be the same whether you use the affiliate link or go directly to the vendor's website using a non-affiliate link. You can find my full Disclosure Policy HERE
5 Tips From the Gardening Bench
As beautiful as things are in the garden, there are some things that I'm having issues with so let's jump right into the first one! It's a big one for me because I love my tomatoes
1. Tomato Blight
Tomato blight can quickly wipe out your crop if you don't take care of it right away. I've been treating it as soon as I found it but during my week away from home it got out of control.
Consequently, I probably won't have a very good crop this year!
What is Tomato Blight?
It's actually a fungal infection that attacks the leaves at the base of the plant and eventually the blight spreads to the entire plant, if not treated. It's aggressive so you have to treat it immediately when you see it.
The common symptoms are yellow/brown spots that start on the lower leave and can eventually cover the entire crop.
Wet weather or overly wet conditions contribute to the fungal spores spreading.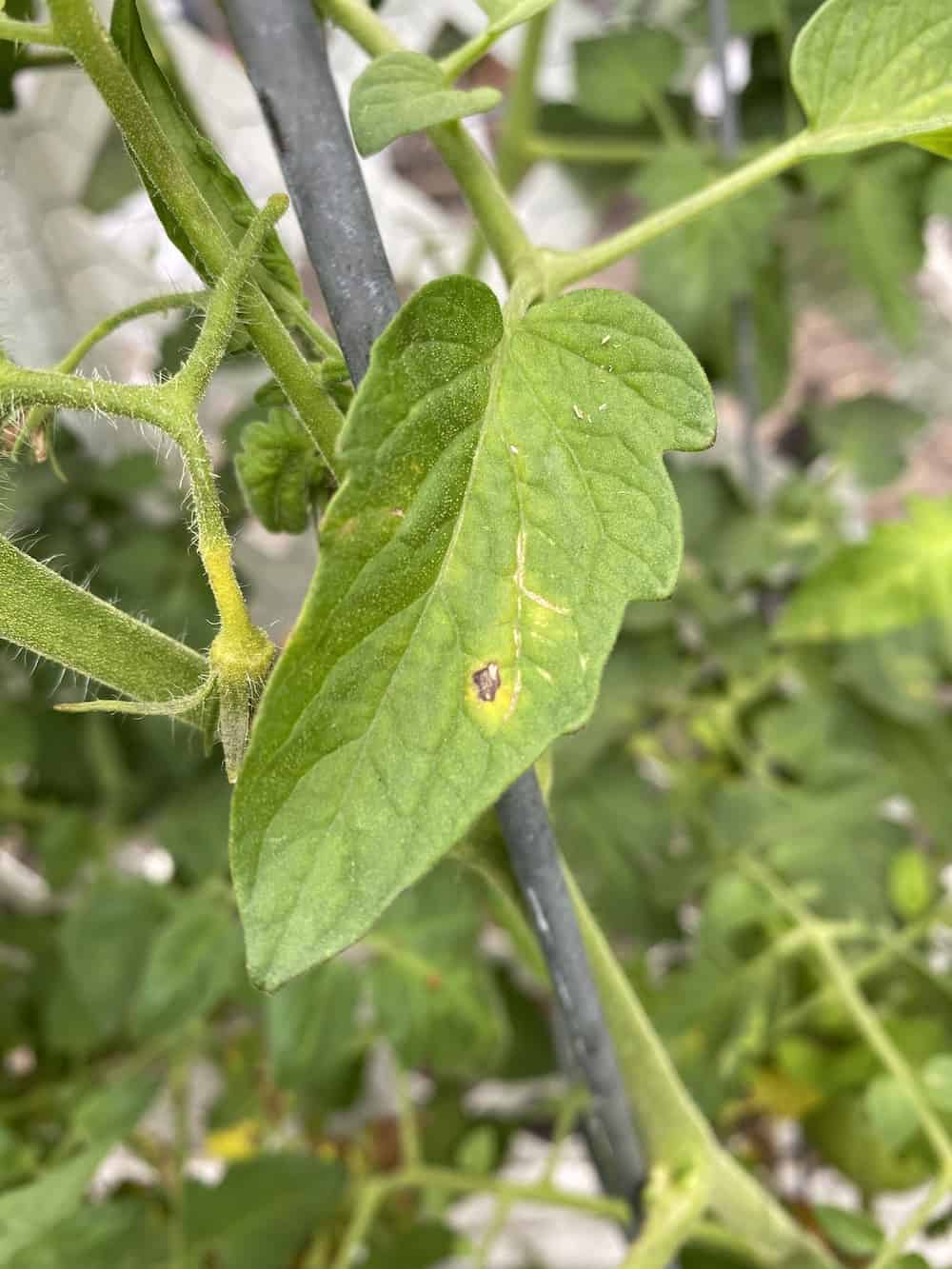 Tomato Blight Treatment
Remove the affected stems and dispose of the plant debris in the garbage. DO NOT PUT IT INTO THE COMPOST PILE
Sterilize the tool you used after you're done so you don't recontaminate
Use a treatment. You can get organic fungicides but I prefer to try my homemade recipe first to try to control the blight
Only water in the morning and if your watering system is on a timer, turn it off for a while if you've had a lot of rain. Keep an eye on weather conditions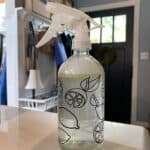 Print Recipe
Yum
Homemade Tomato Fungicide
Equipment
large pitcher

spray bottle
Ingredients
1/2

tsp

baking soda (heaping)

1

tbsp

vegetable oil

a few drops of liquid dishwashing soap

1

quart

water
Instructions
Mix all ingredients together, put into spray bottle and spray plants
Yum
Prevention for New Year
Crop Rotation
Use drip irrigation or soaker hose watering systems
Mulch your plants with wood chips
Buy resistant varieties of plants and/or seeds
Use cages for vertical growth and give the plants space to breath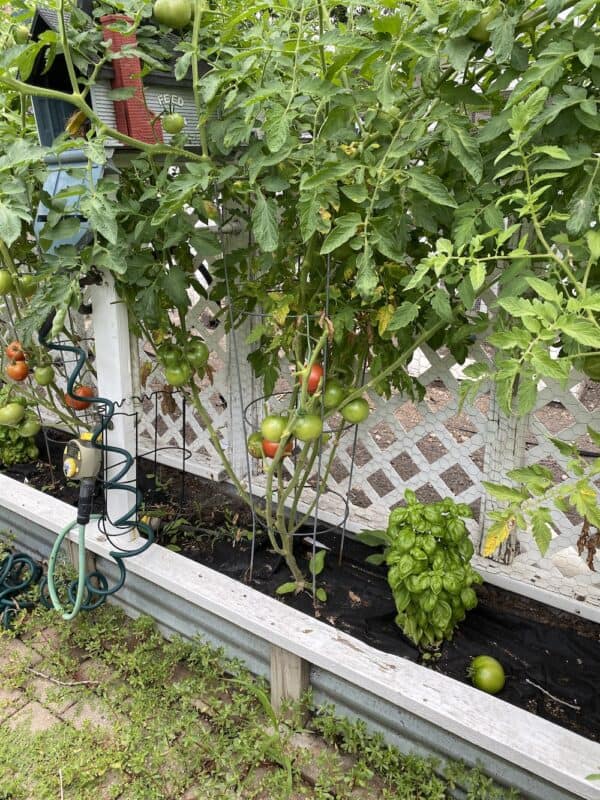 2. Weeding
Now is the time to get on top of the garden weeding!
I know – I know you're tired of gardening but from the picture above you can see what one week away from my gardens did to the path. Being proactive will help keep the weeds in the spring down.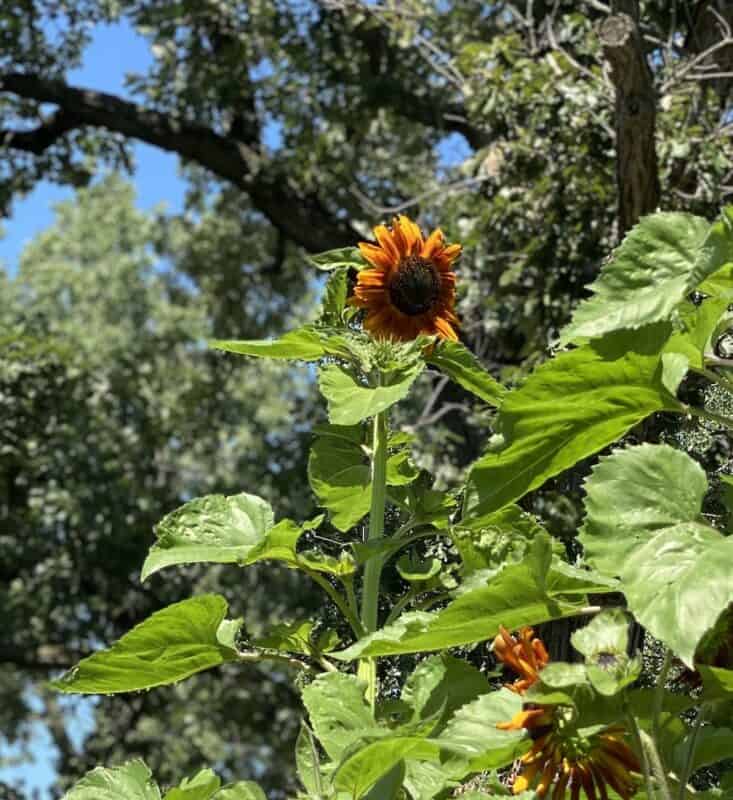 It is so worth the effort now!
I set my alarm for one hour every day to go out and weed. It works!
3. Great Deals on Perennials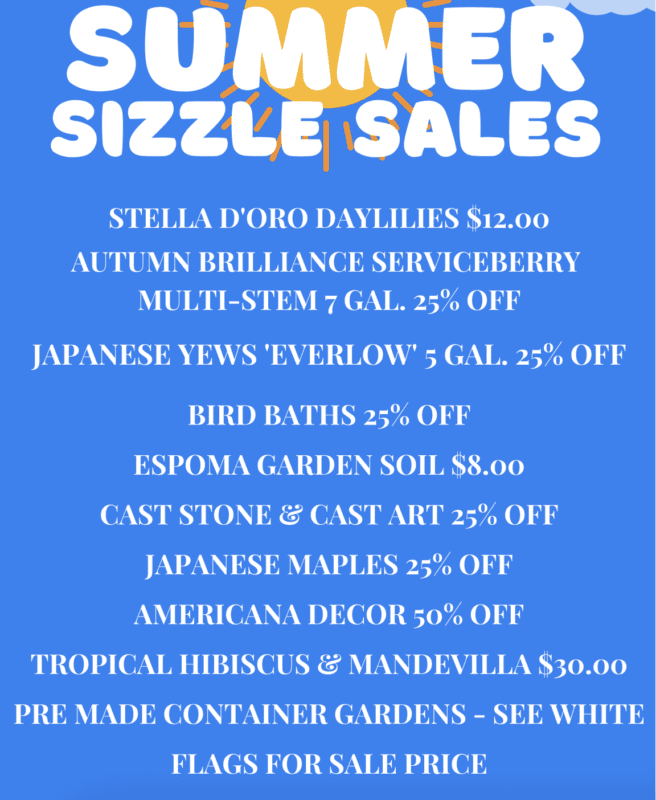 Now is the time when nurseries are starting to have great deals on perennials, shrubs, and trees.
There are some obvious holes in my perennial beds that need some filling so I keep my eye open for sales. I typically can get what I'm looking for at 50% or more off in the next two months. They still have lots of time to establish a sound root system before the winter.
Make sure you're choosing the right plant for the right location (considerations: sun, shade, soil conditions, etc)
Don't forget to water these new plantings. Give them a good soak every day if it's been dry and hot. Every other day if we've had some rain.
Make sure you read this article about what to plant in the fall so that when you are out shopping you can also add these things to your list.
4. Divide Plants for Free
I have some plants that can be divided now and have time to establish new roots and fill in some of my bare areas. Plants you can divide now are typically spring-blooming plants
You should only divide plants that are 3-5 years old or are starting to show some bald areas in the center.
Some of the plants I will divide in the next few weeks are:
Peonies – Late July and into August is a great time to divide peonies.
Irises – My Irises have created circles with nothing growing in the center – it's time to divide.
Hostas – Many would argue that hostas should be divided in the spring but I find that I can divide them just about anytime with little to no harm to the plant.
5. It's time to start preserving my garden harvest
I will be starting to can tomatoes this upcoming weekend. Check out this blog post if you want to learn how to have garden fresh tomato flavor all year long!
My onions will come up this week and form a beautiful braid to be hung in my pantry.
I have one cabbage that I'm going to learn how to ferment! That should be interesting. I will use the method, Lisa, from Farmhouse on Boone uses. You can find it HERE.
I have a huge zucchini that didn't get seen while I was away so I'm going to grate that up and freeze it for use during the winter.
I'll be making pesto soon and freezing what I don't use into cubes. Read about that HERE
My cucumbers were late in starting but I might be able to squeeze a few jars of pickles out in the next few weeks.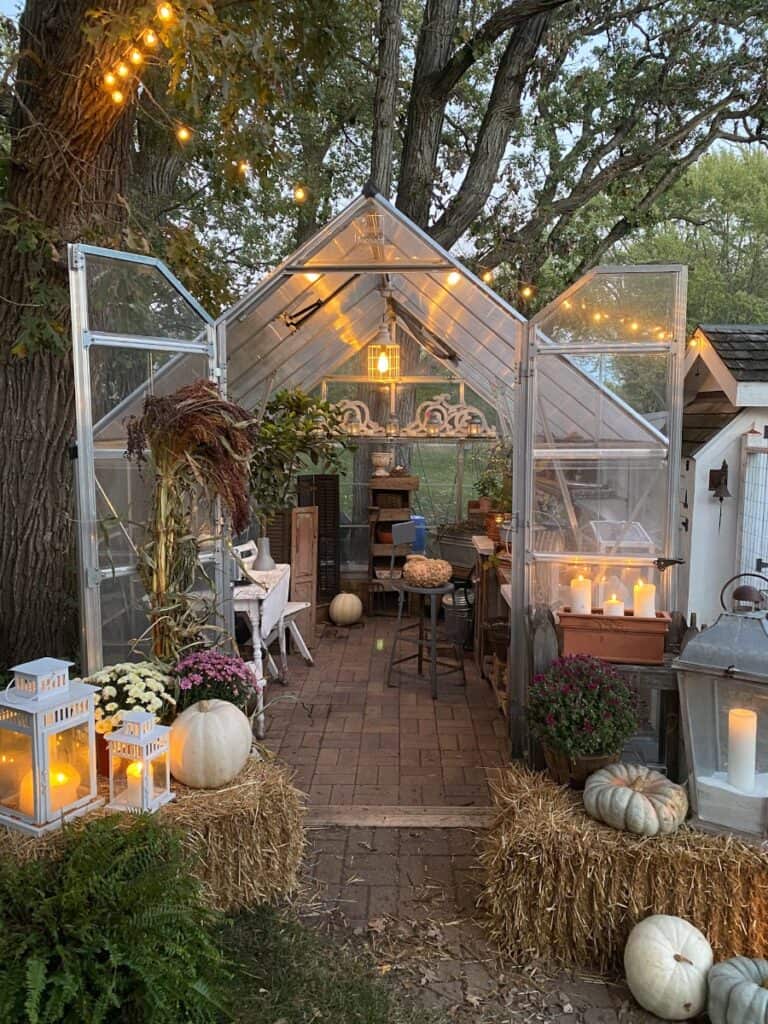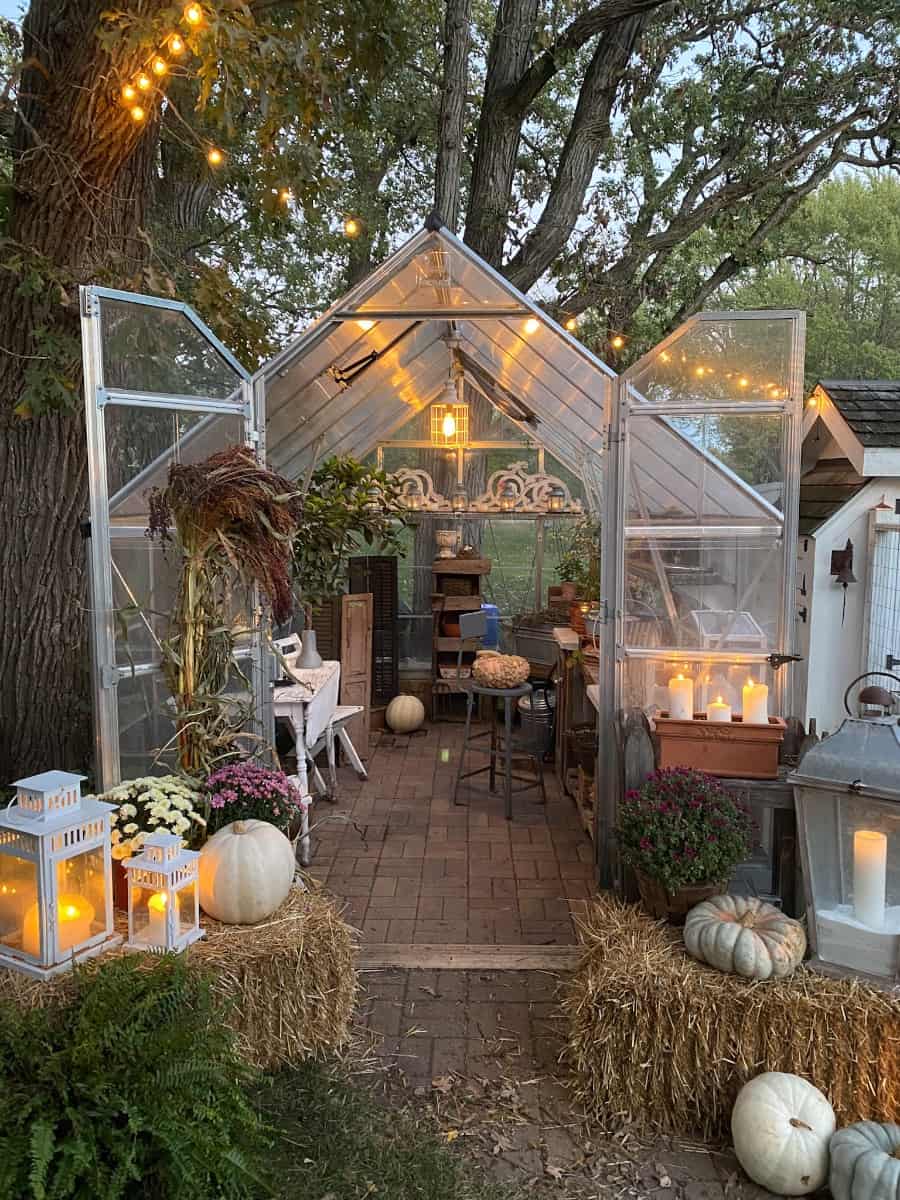 In my last "5 Tips from the Garden Bench" series, I talked about the Raspberry bush that I planted last year. Well, turns out it's a blackberry and it is growing like crazy but it hasn't produced hardly any fruit. Either that or the birds are getting to it before me. Maybe it needs another year to grow before it starts giving any significant amount of berries.
I hope you find these 5 Tips from The Garden Bench helpful. If you have a great tip that you use, please share them in the comments below.
Happy Gardening!
Peace and Love,
Are you looking for ideas to refresh your porch for fall? You can find them HERE

A great way to save this article is to save it to your Pinterest boards. You can find the pin button in the top left corner of the photo below. Also, don't forget to follow me on Pinterest