Easy Woodland Christmas Tablescape
Every year I have a new theme for Christmas in my great room so today, I'm going to share with you my Easy Woodland Christmas Tablescape.
Today you are going to see 5 unique and beautiful Christmas tablescape ideas from my blogger friends as we celebrate day 2 of Christmas inspiration with you.
On my blog Living Large in A Small House, I may sometimes use affiliate links, which means a small commission is earned if you make a purchase via the link. The price will be the same whether you use the affiliate link or go directly to the vendor's website using a non-affiliate link. You can find my full Disclosure Policy HERE
Woodland Christmas
When I think of a woodland theme Christmas I think of the following things
Greenery
Birds
Snow
Spruce Branches
Christmas Trees
Feathers
Pinecones
Wooden Items
Twigs
Berries
Deer
Dried Flowers
I will have all of these woodland touches in mind when I'm decorating my Christmas trees, my mantel, and my tablescape.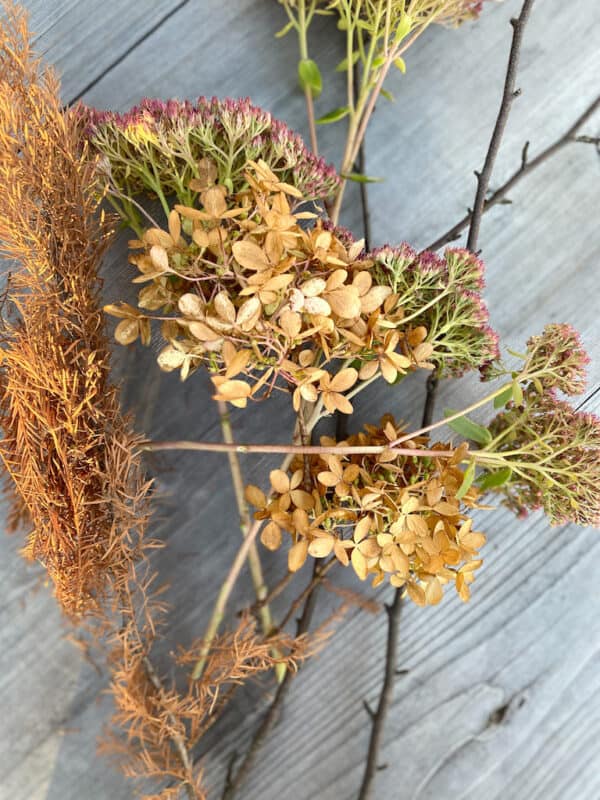 Sometimes I have a clear picture of what things are going to look like but this theme will be more organic. The one thing I am sure of is that my color scheme will be brown, white, and green.
What I find outside and available this early in the season will guide my design. I was very surprised to find a small assortment of Christmas greenery at my local HomeDepot. I'm so excited that I have some of the real thing to add to the table.
There are already pine needles on my floor. Tis the Season!
Since I'm starting this so early and using a woodland, rustic theme, I think this could easily be our Thanksgiving Tablescape that I change up a bit with more Christmas decor.

Preparing the Table
I typically start with a white tablecloth but I'm leaning towards a runner so that the beautiful wood of the table is exposed.
Maybe my beautiful white gauze runner that has a kind of snowy look or my natural linen runner from my friend Diane at South House Designs. It adds texture and natural elements.
After playing around with it a bit, I added both. I put the linen runner down first and then laid the gauze runner on top of that.
Then came the placemats. I played around with a few. A traditional white placemat, one that is just green leaves, a natural woven placemat, and some snowflake placemats. In the end, the snowflakes won out.
Tablescape
Table-setting, or tablescaping, is an activity involving the setting of themed dining tables in artful, decorative ways for social events, and in a variety of categories for competitions. Tablescaping is a portmanteau of table and landscaping; it was coined by television chef Sandra Lee in 2003.
Table Setting
There are certain elements of a dining table place setting that are essential and then there are parts of place settings that are just extra.
We are all about the extra here. It doesn't have to be expensive to have a beautiful tablescape. I use chargers from Dollar Tree all the time and I find 60% off Christmas at Hobby Lobby for most of the season.
These are the things that I like to have on my table once I've decided on a tablecloth or table runner.
Chargers
White plates
Napkins & Napkin Ring
Utensils
Wine glasses & Water glasses
Floral Arrangement
Candle Holders with taper candles
Place Cards

What I Ended Up Using on My Table
This would have been the perfect tablescape for wood slice chargers but since I don't have any (I need to get "Handy" on that) I used my white ceramic chargers, a plain white plate, and some winter forest salad plates that I found at World Market.
I used my green gauze napkins that I'm just in love with and a simple knot instead of a napkin ring works really well. The casual drop-on-the-table look is exactly what I'm going for
I used my fancy silver since it wasn't too long ago that it had been polished.
I chose to use some inexpensive large red wine glasses. This will allow for a generous glass of wine to last through dinner.
The Centerpiece
I started by layering some fresh sprigs of greenery. I used Balsam, as well as two different kinds of Cedar Branches. At Trader Joe's I picked up some Country White Roses and cut them very short and arranged them in a white ironstone casserole. Using a few sprigs of eucalyptus leaves adds a little flowyness to the arrangement.
I set this at the very center of the table. Keeping the flower arrangement low is important so that your guests can easily have a conversation across the table.
I tucked two different glass candle holders into the sprigs. Cape Candle gifted me some of my favorite Colonial Classic White Candles which I also added to the candle holders.
Finally, I laid some fun textures on the greenery; pine cones, dried artichokes, dried seeds, and yarn balls.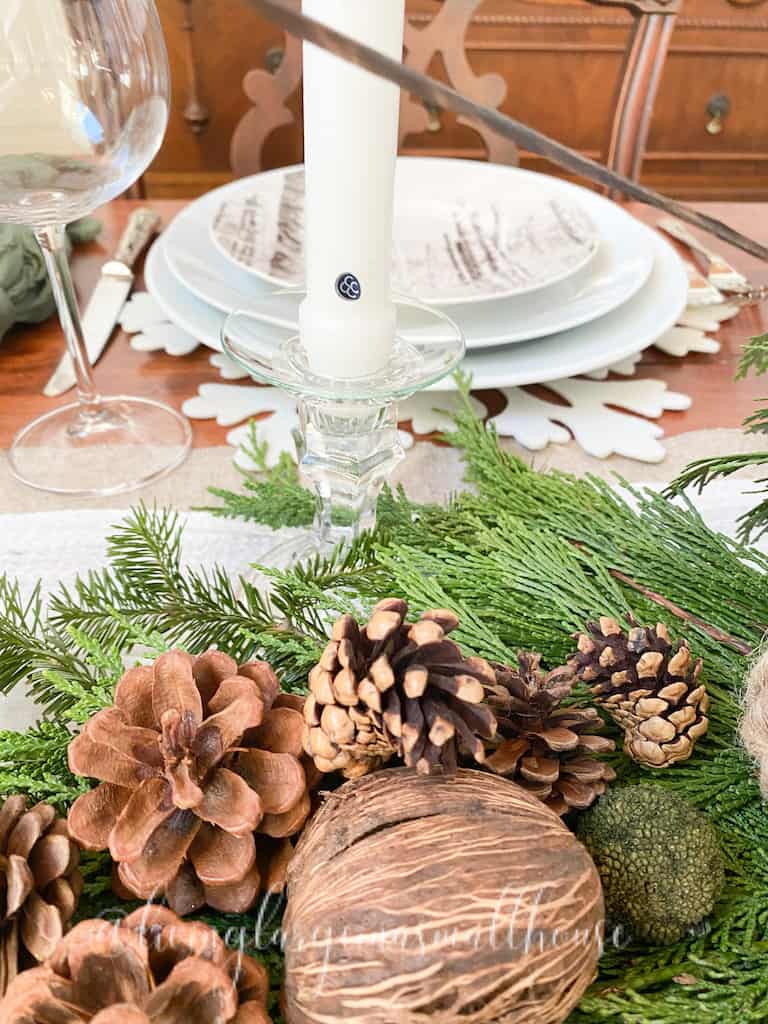 Frequently Asked Questions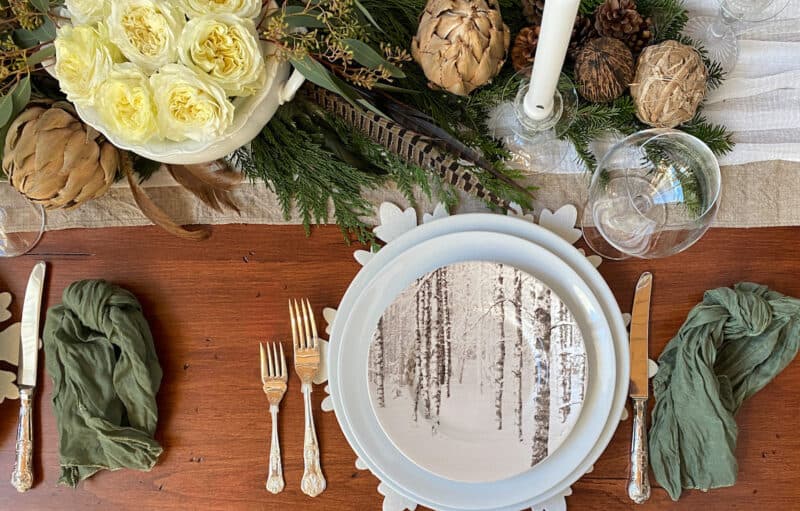 How Do You Make a Tablescape Beautiful?
The thing that makes a tablescape beautiful is using the things that you love.
Maybe it's Grandma's Dishes or a favorite casserole that you bought at Goodwill.
Lastly, add some pretty flowers. Trader Joe's is my absolute favorite store to get my flowers from.
How Do You Make a Simple Christmas Centerpiece?
You can make a simple centerpiece with just a bundle of flowers from your local store. You can find the best way to keep fresh flowers fresh HERE.
I'm a big fan of using unusual vessels for flowers. Crocks, pitchers, casserole dishes, footed bowls, and garden pots all make great vases.
I like to use either a ball of chicken wire or a grid of tape across the top along with a wet floral block. It makes creating a floral centerpiece easy even for a beginner.
How Do You Set an Informal Christmas Table?
While I tend to have a rather formal-looking table, I'm actually a very informal entertainer when it comes to serving food.
I don't bring much to the table besides salt & pepper, butter, and rolls.
Everyone has to grab their plate and head to the kitchen to get their food.
To set an informal table, you could just put out placemats, napkins, and a centerpiece. The easiest way is to serve your food buffet-style in your kitchen. Your line starts with your plates and ends with utensils in a caddy.
My Woodland Christmas Tablescape
The look of the table is going to set the tone for the rest of our great room. As I finish decorating my shelves and my Christmas Tree, I will also be using all of these same natural elements in our home.
Lastly, don't forget to check in on my blogging besties and see all of their beautiful tablescapes in our 5 Days of Christmas Blog Hop.
You can find the link for all of them below. I hope we can be inspirations for the upcoming holiday season with their Christmas table decoration ideas.
Peace,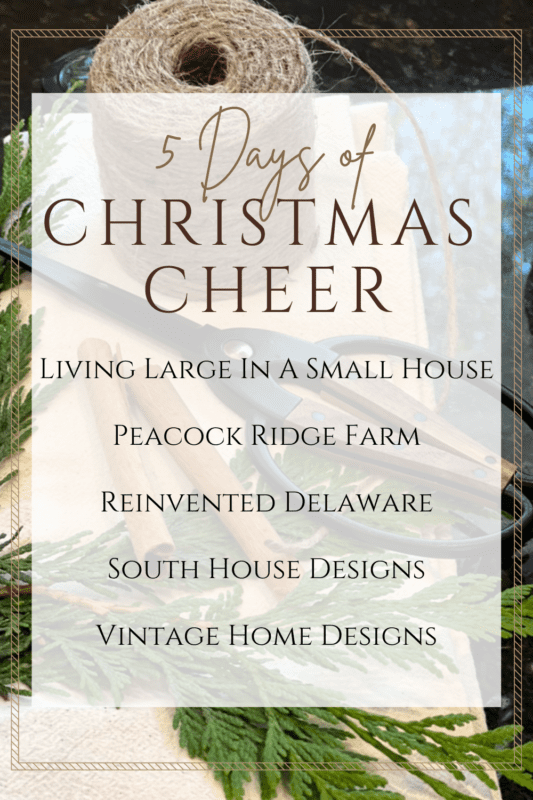 Cindy from Reinvented Delaware
A festive vintage buffet tablescape featuring gold and silver pieces to accent the ironstone dishes that hold your food items for your holiday gatherings. Your guests will enjoy the vintage vibe of this buffet tablescape!

Diane from South House Designs
Want to wow your guests, but make it easy on you? Follow these 17 tips for setting a beautiful looking holiday buffet table that also functions beautifully. It lets your guests know you have been thinking of them while planning a great evening together.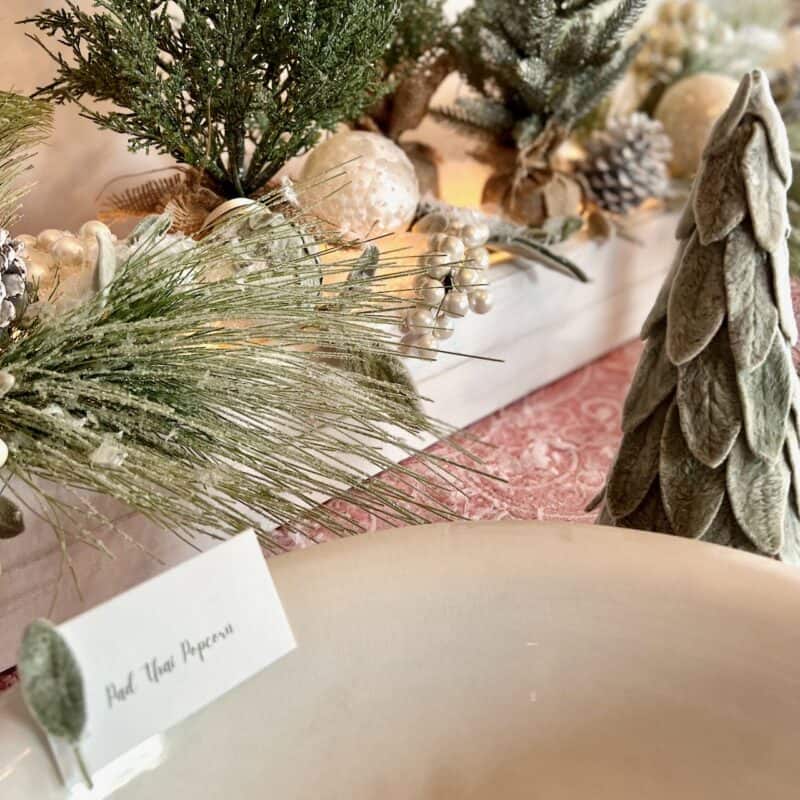 Michele from Vintage Home Designs
The holidays are the perfect time for entertaining. I love hosting dinner parties and wanted to create a Christmas tablescape this year that was simple and beautiful. By pairing the natural look of greenery with the elegance of gold bells and brass candlesticks I was able to create a classic and unique table.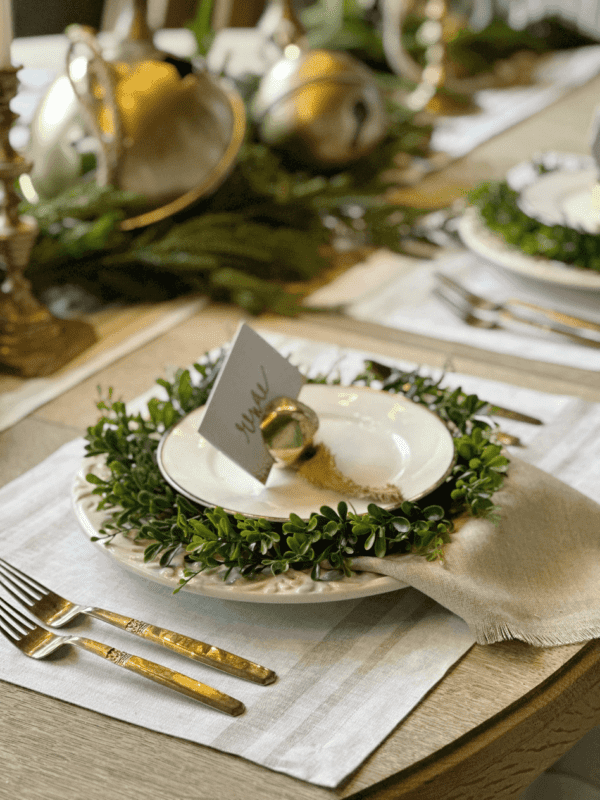 Renae from Peacock Ridge Farm
It's the most wonderful time of the year! And what better way to enjoy the holidays than by hosting a festive feast with your loved ones? This year, wow your guests with a beautiful Christmas tablescape. With just a few simple steps, you can create a gorgeous setting that will make your holiday dinner extra special. So get creative and start planning your perfect Christmas table today!

A great way to save this article is to save it to your Pinterest boards. You can find the pin button in the top left corner of the photo below. Also, don't forget to follow me on Pinterest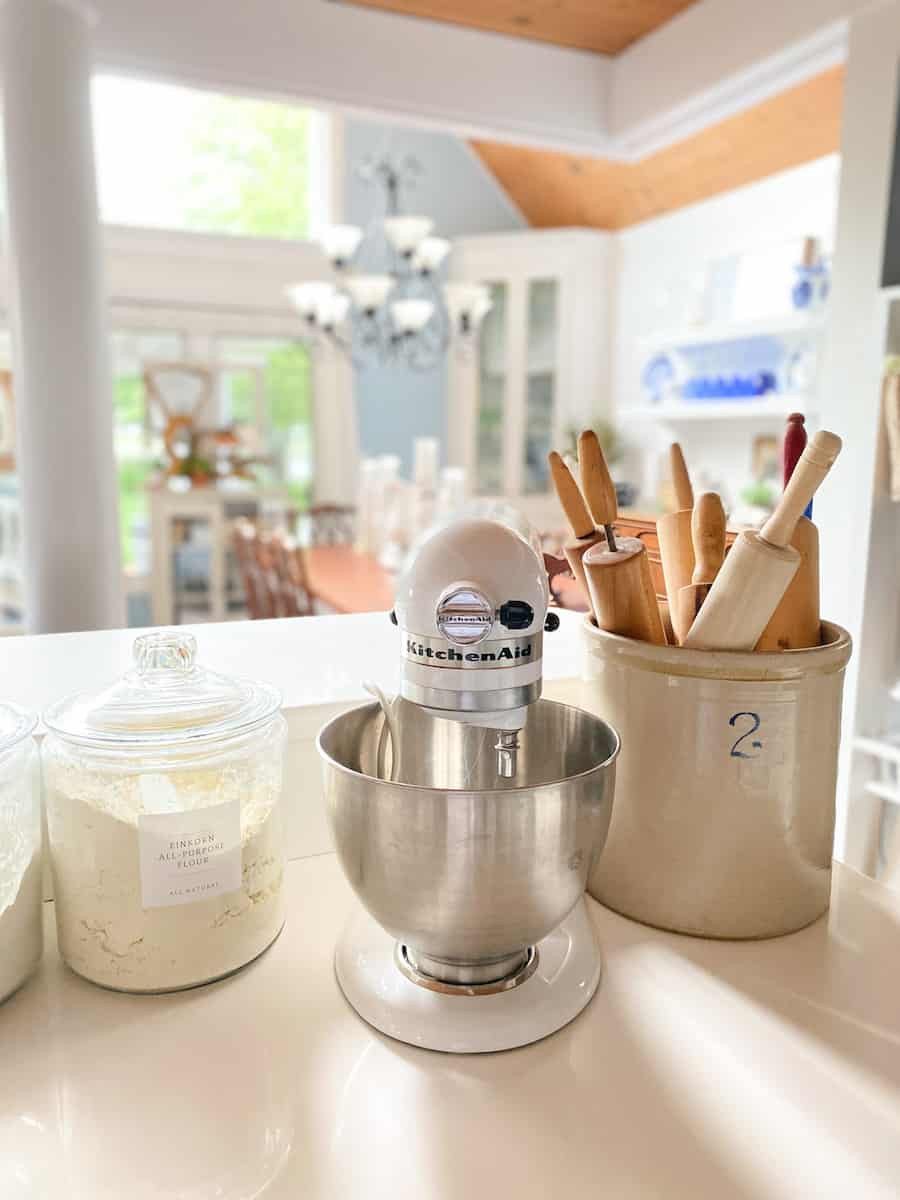 direct access to my amazon store
On Amazon
Did you know that you support my little business by purchasing through my links?? The price to you is the same but I receive a small commission on ALL the purchases you make when you shop through one of my links. I appreciate you helping Living Large in A Small House to grow!