Creamy Potato, Broccoli, and Leek Soup without the Cream
Yes, you can have creamy potato, broccoli, and leek soup without adding cream. It's a hearty and healthy soup.
I could eat soup every single day and I especially love potato, broccoli, and leek soup. However, I like it creamy but don't like the added calories of the cream.
I'll show you how to have both a creamy soup and fewer calories with no cream added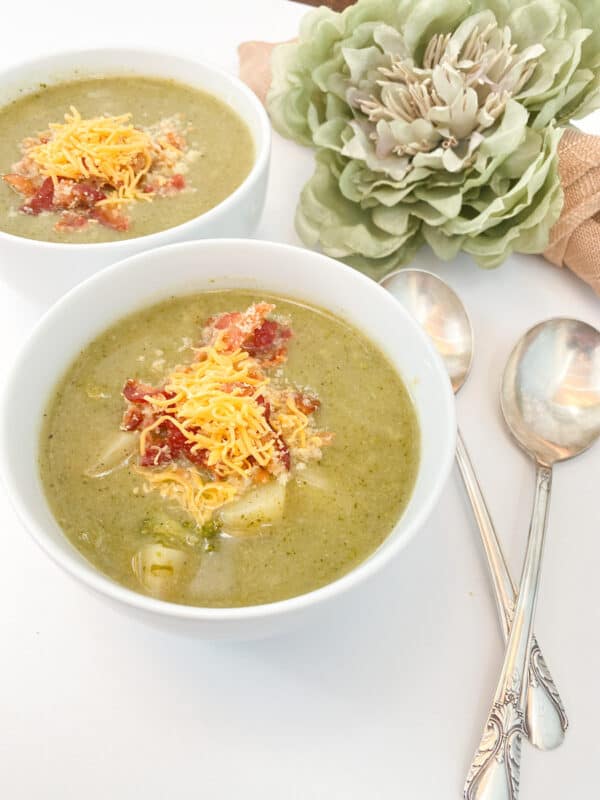 On my blog Living Large in A Small House, I may sometimes use affiliate links, which means a small commission is earned if you make a purchase via the link. The price will be the same whether you use the affiliate link or go directly to the vendor's website using a non-affiliate link. You can find my full Disclosure Policy HERE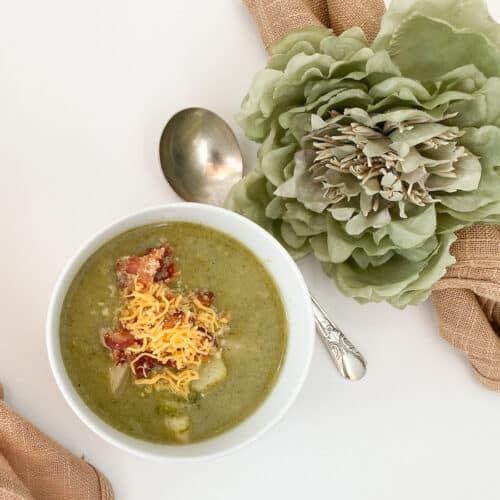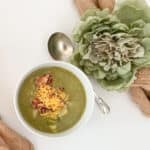 Print Recipe
Yum
Creamy Potato, Broccoli, and Leek Soup
Ingredients
2

pounds

potatoes, peeled and diced

2-3

leeks

2

cups

broccoli

1

tbsp.

olive oil

28

oz.

chicken broth

2

tsp

salt

1

tsp

thyme

1/2

tsp

black pepper

1/2

tsp

celery salt

1

bay leaf

dash of cayenne pepper, optional
topping (optional)
6

slices

bacon

1/2

cup

bread crumbs

shredded cheddar
Instructions
Prep
Peel potatoes and dice them into 1-inch pieces

Remove the tough outer layer of the leek. Cut the ends off the leek and most of the green stalk then cut the leeks in half and rinse. Then slice them into 1/4" pieces.

Separate the broccoli florets from the stalks and break up into small pieces
Soup
On medium heat add the olive oil to the stock pot or dutch oven. Add 2/3 of the chopped leeks and sauté for about 3 minutes. Add the chicken broth. Then add 2/3 of both the potatoes, broccoli, and all of the spices. Bring to a boil and simmer for 15-20 minutes or until everything is fork-tender.

Let the soup cool down a bit. Remove the bay leaf with a slotted spoon. Then blend the mixture with an immersion blender or in a blender.

Once it's a smooth soup put your pot back on the stove on medium-high heat and then add the remaining potatoes, broccoli, and leeks. Bring to a boil and then let simmer for 15-20 minutes until done.
Topping
While the soup is cooking, cook the bacon in a frying pan until crispy, then transfer it to a plate with a paper towel. Reserve 1 tbsp., of bacon grease. When the bacon is cooled, crumble it up.

Combine the bacon bits, 1 tbsp grease, and 1/2 cup of bread crumbs.

Serve the soup with the bacon topping and some grated cheddar cheese, if desired.
Yum
Leeks
Leeks are alliums, a relative of onions, garlic, chives, and shallots. I love how they add the onion flavor without the bite of onion.
What most people don't know about leeks is that the white part is the part you want to eat and cook with.
The green part however is rather tough. The greens of a leek are full of vitamin C and I chop them up, put them in the freezer, and then add them to my pot when I make chicken broth. I give the reserved stems of the broccoli to the chickens.
Potatoes

There are all different kinds of potatoes, russet, golden potatoes, red potatoes, new potatoes, and fingerling potatoes.
Russett potatoes are also called Idaho potatoes or baking potatoes. They have brown skin and are the largest in the potato families. Because of their high starch content, they are good for baking or mashing. As a rule, they are my potato of choice. However golden potatoes are also a great option instead of russet.
Red potatoes, new potatoes, and fingerlings are great for roasting, potato salads, and scalloped potatoes. They have less starch so they hold their shape better.
For this recipe at this time of year, there is an abundance of sweet potatoes at the store, you could definitely use sweet potato for this recipe if you prefer.
As far as peeling potatoes. Some people prefer to use a vegetable peeler to peel them. I'm a paring knife girl. I like the control of a knife and the ability to get a cleaner potato, in my opinion.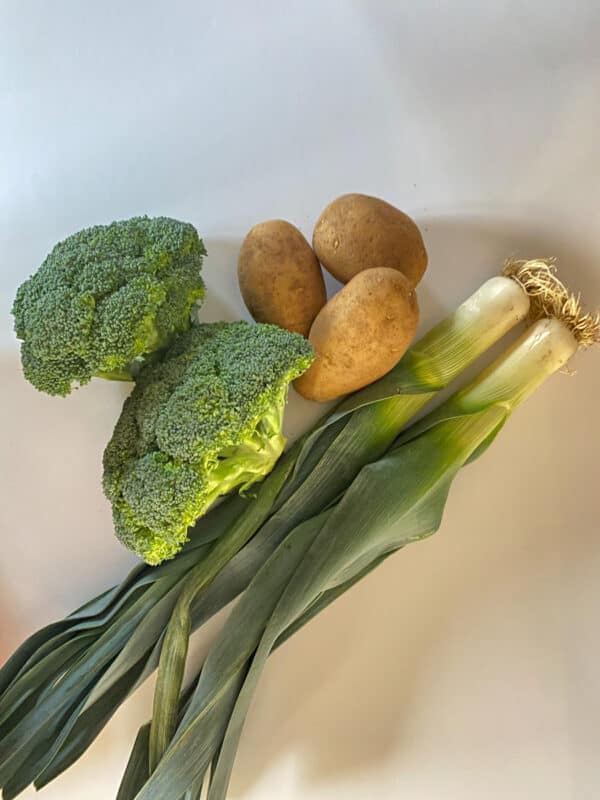 How to make this Soup Creamy
The method that I use for many potato soups is to cook some of the potatoes and in this case some of the leeks and broccoli too. If you want the whole soup creamy then add all of your vegetables.
Then the veggies are all fork tender, I let it cool and I cream the mixture with my immersion blender.
If you don't have an immersion blender, you can do it in batches in your blender but I would suggest buying an immersion blender.
They aren't very expensive and they do the job right in the large pot. You can also use it for smoothies, adding flavors to water or milk, baby food, homemade mayo and so much more. It's a handy little tool to have in the kitchen.
Once I've creamed most of my veggies then I put the creamed soup back on the stove, add the remaining veggies and simmer then for 15-20 minutes. I like my soups with some chunks of vegetables in them.


Other options for this soup
To make this soup vegetarian, you can use vegetable broth instead of chicken broth.
If you like a more oniony flavor you can chop up a large onion and add all or some to the leeks when you sauté them. You could also mince some cloves of garlic and add them to the leek mixture.
Depending on what you like and what you have on hand, you can add bell peppers, corn, peas, and beans. Just about anything that you enjoy. To me, that is the beauty of a vegetable base soup.
You can also add heavy cream if you want a richer texture and flavor. I personally like mine without the cream or whole milk It's a lower-fat option.
If you choose to eliminate the broccoli then you would have potato leek soup and if you eliminate the potato then, of course, you would have broccoli leek soup. The combinations are endless.
Comfort Food
The term comfort food refers to those foods whose consumption provides consolation or a feeling of well-being. Foods, in other words, that offer some sort of psychological, specifically emotional, comfort.
Frequently Asked Questions

What is the benefit of potato broccoli leek soup?
Leeks are an amazing superfood. They are full of folate and polyphenols, both promote cardiovascular health. Leeks can also reduce cholesterol and lower blood pressure.
Potatoes have a high dietary fiber content and can promote weight loss.
Broccoli also is rich in fiber and antioxidants, and also contains important vitamins and minerals.
Should I leave potato skin on for soup?

I prefer to peel my potatoes but the skin actually has a lot of flavor and nutrients so if you want to leave it on, you certainly can and it will save you time.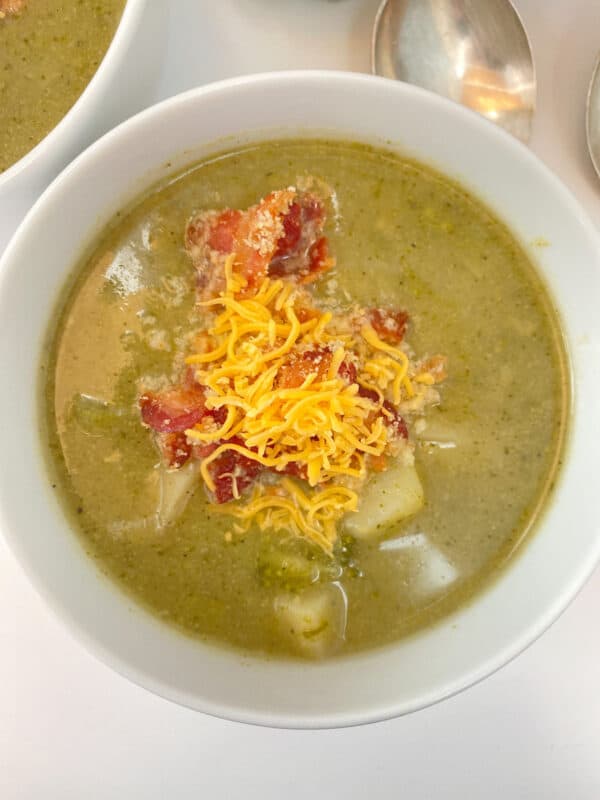 This creamy soup is an all-around good soup. It tastes delicious and it's good for you.
Peace and Love,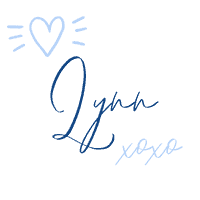 In case you missed it, I recently shared another favorite soup recipe for Tortellini Spinach soup. You can find the recipe HERE
Thanks for Following Along
If you enjoyed this post I hope you sign-up to be a friend of Living Large in A Small House! Then you won't miss any of the inspiration that is shared with you each week! You can also follow me on Instagram, Facebook, and YouTube. I share even more inspiration on Pinterest! You can listen to me chat on my Podcast

A great way to save this recipe is to save it to your Pinterest boards. You can find the pin button in the top left corner of the photo below. Also, don't forget to follow me on Pinterest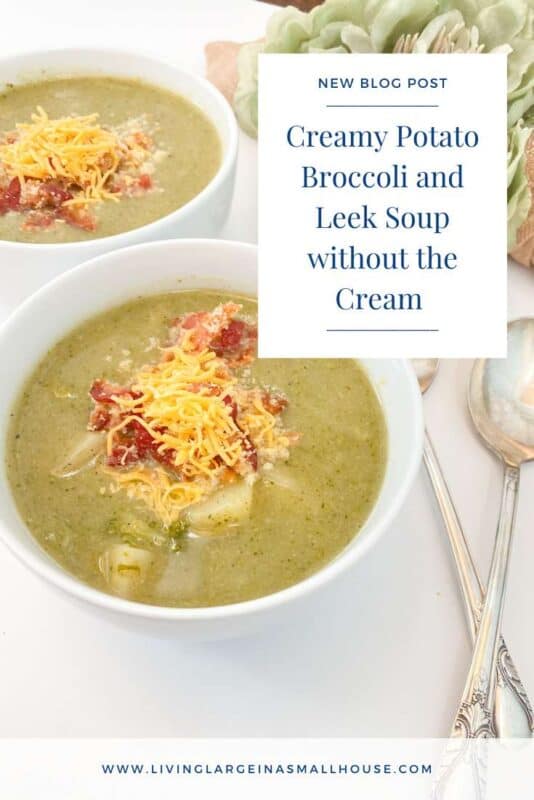 Living Large Podcast
My blogging friend Donna from An Organized Season chatted with me this week about organizing.
You definitely want to listen.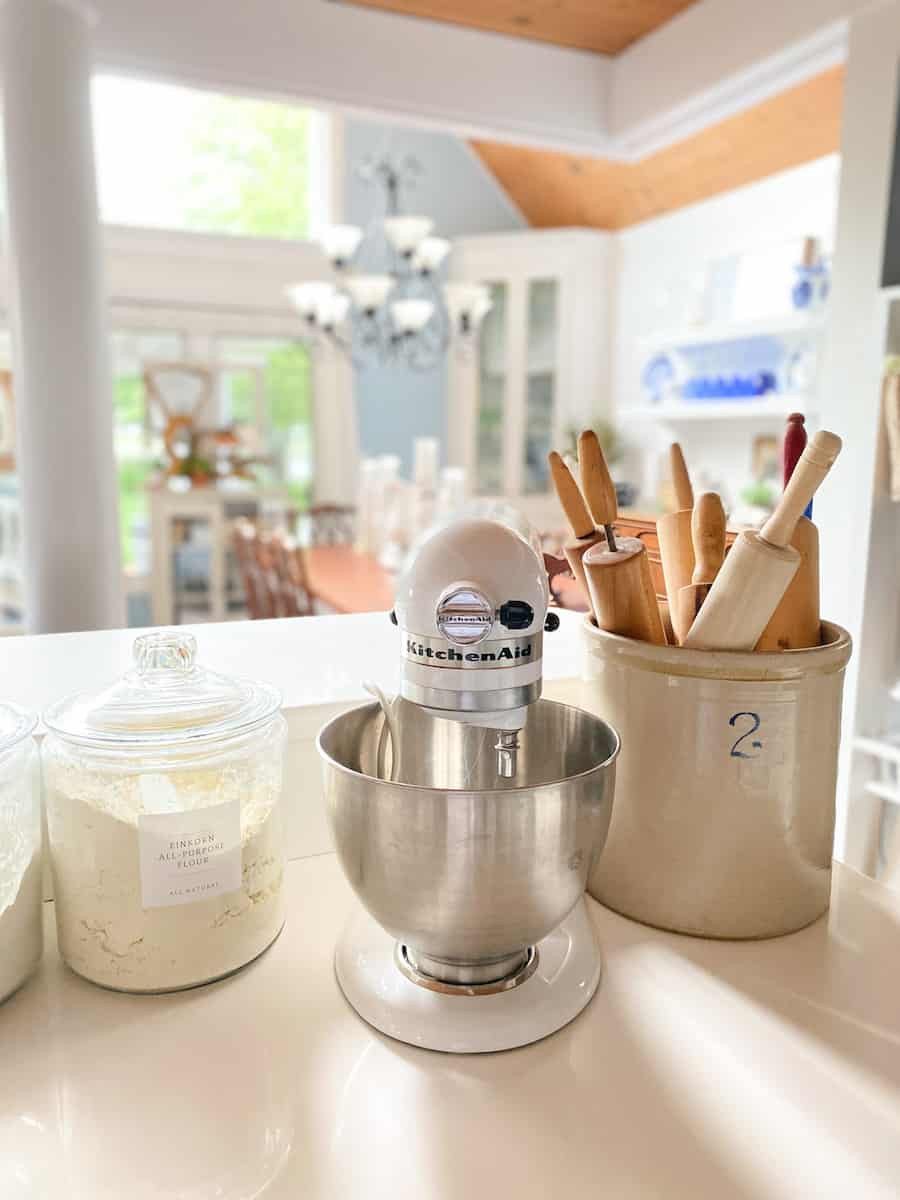 direct access to my amazon store
On Amazon
Did you know that you support my little business by purchasing through my links?? The price to you is the same but I receive a small commission on ALL the purchases you make when you shop through one of my links. I appreciate you helping Living Large in A Small House to grow!