Best Organizing Tips for Bedrooms and Bathrooms
Bedrooms should be a place of calm and rest so I'm sharing my best organizing tips for bedrooms and bathrooms with you today.
I've grouped bedrooms and bathrooms together because they tend to be in close proximity to each other. In most cases, we move between the two, especially with our morning routine.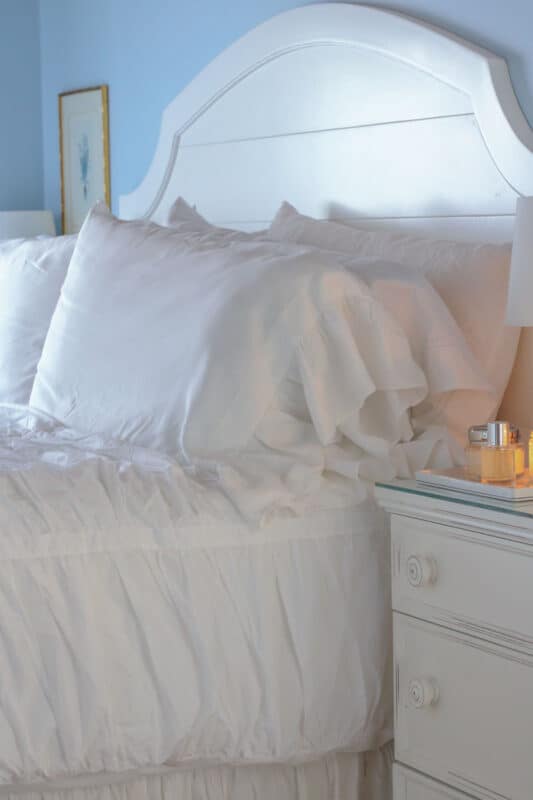 On my blog Living Large in A Small House, I may sometimes use affiliate links, which means a small commission is earned if you make a purchase via the link. The price will be the same whether you use the affiliate link or go directly to the vendor's website using a non-affiliate link. You can find my full Disclosure Policy HERE
As we head into the second week of organizing, I'm tackling my bedroom and bathrooms. The good news for me is that they are in pretty good shape. The bad news is that the areas that need some work are the hardest. My linen closet and our clothes closet.
Most of you will only be working on your bedroom this week and the bathrooms next week.
Bedroom Organizing
Whether you have a small bedroom or a large bedroom, keeping things organized is an easy way to have the perfect place for a tranquil and relaxing sleep.
If you have a small space, organization is crucially important so that you can make the most of tight spaces.
Because our bedrooms aren't typically a high-traffic area, they tend to get overlooked or in many cases are used as extra storage for things that don't necessarily belong in a bedroom.
The first step to organizing a bedroom is to start by purging the things that we don't need, use or love from the space.
It's always better to start with one area at a time instead of trying to tackle the whole room all at once.
That can be overwhelming.
If you are the type of person who likes to get the biggest task out of the way first, then start with your closet. If baby steps are more your speed then work on one nightstand or side table first.
Once you've organized a nightstand and experienced the great feeling of having an organized area while hopefully gaining some new valuable space, you will be motivated to continue the process.

The Simplest Bedroom Storage Ideas
Use under-bed space is a great spot for extra storage

For out-of-season clothing
Extra linens
Exercise Equipment

Use door organizers on the back of your closet or bedroom door

Great place to organize shoes
Belts & Ties
Scarves
Jewelry

Drawer Organizers are ideal for nightstands and dresser drawers
Keeping similar items corralled with drawer organizers is a great way to keep things in their proper place
Folding your clothing the way Marie Kondo does truly work to save space and you can see everything in your drawer or on your shelf.
Using vertical space is another way to gain more square footage in a room

Tall Book Shelves can house more than just books and use vertical storage
Tall Armoires take advantage of vertical space
Use all the space from floor to ceiling in your closet

Basket and fabric storage boxes make great storage containers

A great place to contain things while looking decoratively pleasing makes them one of my personal favorites.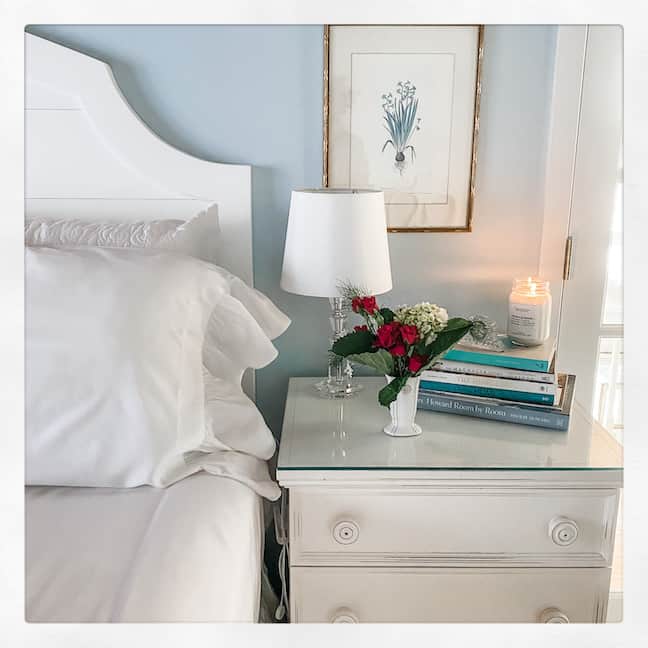 Closet Tips & Tricks
A good rule of thumb is if you haven't worn something in 6 months to a year, it's time to reevaluate it.
If you're still having trouble getting rid of an item, turn all your hangers backward. When you wear something and hang it back put the hanger the correct way. If after a set amount of time (3 months, 6 months) you still have not worn that item, it's time to get rid of it. (this is an oldie but goodie trick)
Use the slim hangers, it really does help to fit more clothes in your closet.
Hand your pants together, your shirts (I do sleeveless, short sleeve, ¾ sleeve, and then long sleeve), sweaters, jackets, etc.
Once you have your clothes organized then organize them by color. When I saw how many black tops I had I knew that I didn't need to purchase another black top
I use shoe bins from the Container Store. The reason I chose their set is that they have small (for my shoes) large (for Handy's shoes) and boot bins. We aren't fancy people and we only wear our fancy clothes on special occasions. Keeping shoes in bins not only keeps them organized (and stacked), but it also keeps them clean and in proper shape. The bins are clear so it's really easy to see what is inside.
If you have the space to have a section for a double rod it uses that vertical space so much more efficiently. We have two rods on the longest wall and "Handy's" clothes are on the top and mine on the bottom. We then have a smaller full-length rod for dresses and coats.
Our walk-in closet is a small space but it gives us the room to have an organizer system in it that has drawers and shelves. It's where "Handy" has all of his folded clothes that would normally go in a dresser. Since we only have room for one dresser in our bedroom space, that is where I keep my folded clothes.
Closet hanging storage is also something I'm a big fan of. You can use a simple hanger that attaches to the rod for extra storage space. I use mine for summer shoes (flip flops, flats, water shoes)

"I've learned, above all, that less is truly beautiful. That happiness and contentment can't be manufactured, bought, subscribed to, or achieved by adding more to our lives. It's the counter-intuitive action of stripping away the excess that allows us to discover beauty and joy in the good lives we already have."
– Emily Ley
Bathroom Zones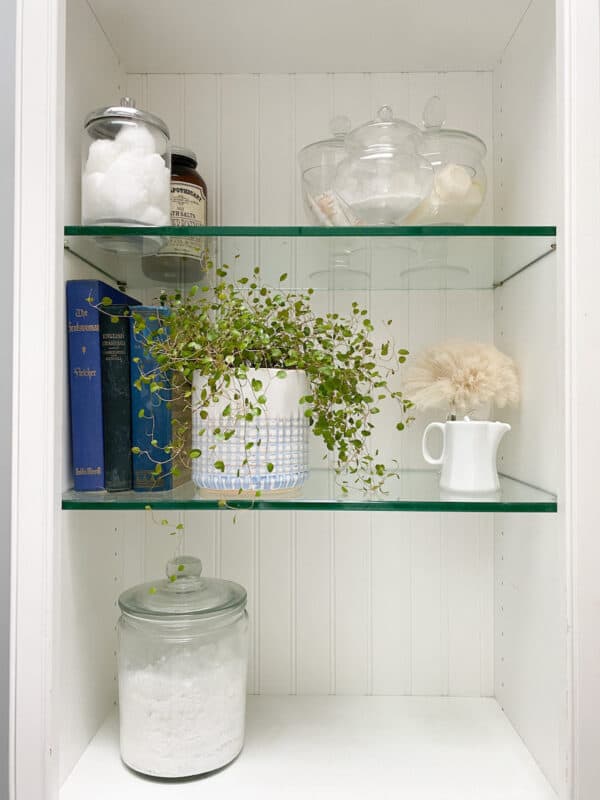 Bathrooms typically have zones of things that need to be grouped together
Hair products and appliances
Beauty & Skin Products
Hygiene Products (Toothbrush, Toothpaste, Soap, Menstrual Products)
Towels
Medicines, First Aid
Bath and Shower Products

Using my small bathroom as an example, we have the following for storage:
Sink Cabinet with one door and two drawers

Hair products and appliances (Drawers)
Garbage, Cleaning Supplies (Door)

Medicine Cabinet

Personal Products and Medicine (Deodorant, Toothbrushes & Paste, Medicines)

Over the toilet built–in cabinet

Beauty Products
First Aid & Additional Medicine (Cold Medicine etc)
Misc; razors, Q-Tips, Tweezers, creams, and lotions

Floor to Ceiling Wall Cabinet

Towels and Wash Cloths
Toilet paper
Back-up Shampoo, Soap, Toothpaste Etc
Menstrual Products
In our other bathroom, we don't have the floor-to-ceiling cabinet but we have a linen closet right outside the bathroom and it houses.
Towels and Washcloths
Additional linens for guest room
Rugs
Major first-aid and drugstore supplies
Bathroom Organizing Ideas
The multi-sized drawer organizers that I use in my kitchen and bedroom are used in the bathroom cabinets as well. I also use caddies to house everything from cleaning supplies to hair products and beauty products. They are easy to take out when you need to use them and easy to stash back into their spot when you're done.
Because our bathroom is a small room, I have a small bookcase right outside our upstairs bathroom and use collapsible storage squares to house extra towels, extra hair products, curling irons, and hot rollers.
Cubes are a great way to neatly store things without anyone seeing anything but the outside of the cubes and I like to make cute tags to hang on the front handles to identify what is in the cube.
This past fall when I was organizing our bathroom, one of the best things I did was eliminate the large garbage can that was under the sink in the bathroom. I found a perfect unit that fits on the inside of the cabinet door.
It gave us extra space in the cabinet by eliminating that large can and it also gave us easy access to the garbage by just opening up the door. I have one in my cart for the other bathroom.
When you are emptying out all the areas of your bathroom, this is a good time to do some deep cleaning.
I know that my cabinet needs to have the drawers completely pulled out and everything needs to be vacuumed out, scrubbed down and shelf paper added to clean it up even more.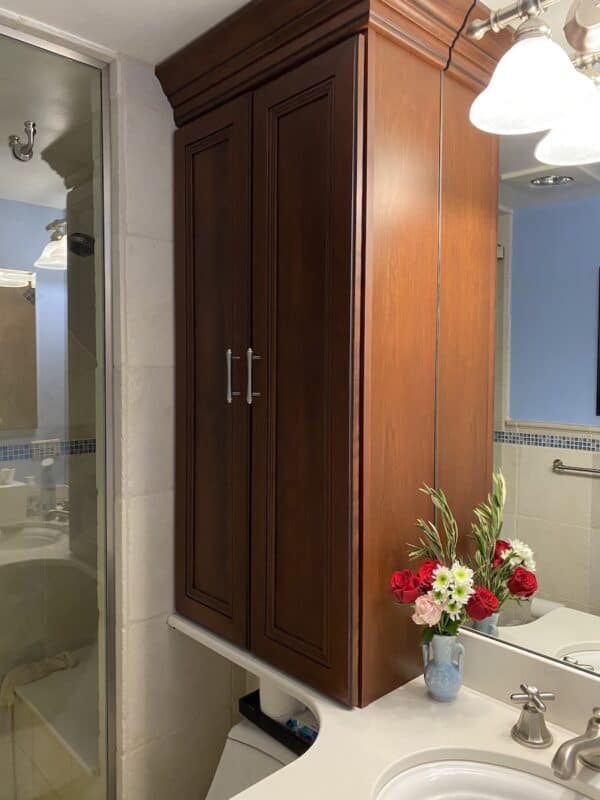 My Favorite Places
Please use my links below as they will help support Living Large in A Small House at no additional cost to you.
There is no lack of storage solutions available for purchase but I strongly suggest that you don't invest in anything until you know what you will be keeping and have found the perfect place to store it.
Then measure your spaces to make sure that your storage system will fit.
Frequently Asked Questions
Where do I start with Organizing My Room?
If your room is cluttered start with the floors first and begin your process of KEEP * THROW * DONATE/SELL. Get rid of the things your not keeping and put the things you use, need, and love where they belong.
Then start with the surfaces in your room; your dresser top, your nightstand top, and maybe you even have things on your bed.
This will give you the space to start moving on to the interior of closets, dressers, and nightstands.
How do You Organize a Room with Too Much Stuff?
You will need to get some boxes or bins and make those decisions that can be hard.
Only keep what you wear, love, and need. Try to be as honest with yourself as possible. Don't hang on to clothes that don't fit you, clothes you've never worn, and maybe even still have the tags on them or clothes that are past their prime.
Throw away old toiletries, donate hotel-sized products to local homeless shelters, and be realistic about nick-knack items.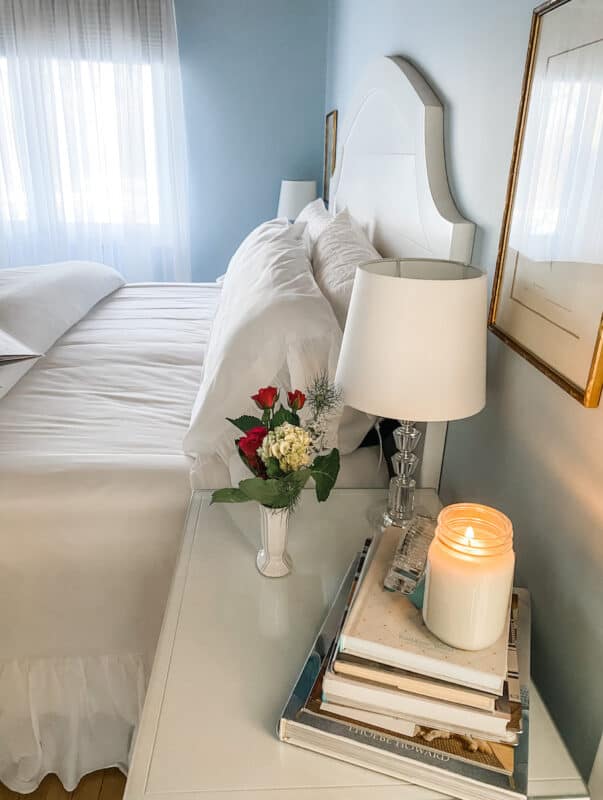 What are we Organizing Next?
Next week my blog post will be about general organizing tips and tricks and I will also touch on laundry rooms and entryways as both can use some help in my house.
You might be working on another space entirely and that's OK.
Know that we are all in this together. There are almost 200 of us working together to organize our homes.
No matter what your organizing looks like; whether it is a small closet or a walk-in pantry the goal is to feel excited about the organization and find more space as you purge.
Don't forget you can always reach out to me if you have any questions. Email me at Lynn@livinglargeinasmallhouse.com
Have a great week!
Peace, Love & Organization!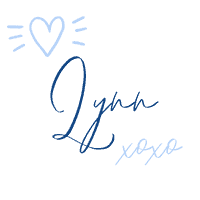 Thanks for Following Along
If you enjoyed this post I hope you sign-up to be a friend of Living Large in A Small House! Then you won't miss any of the inspiration that is shared with you each week! You can also follow me on Instagram, Facebook, and YouTube. I share even more inspiration on Pinterest! You can listen to me chat on my Podcast.


A great way to save this article is to save it to your Pinterest boards. You can find the pin button in the top right corner of the photo below. Also, don't forget to follow me on Pinterest






living large podcast
This week is a short Podcast where I'm sharing what's going on at Living Large in A Small House and what I have coming up.
Be sure to tune in again on Wednesday when I chat with Donna from An Organized Season about all things Organizing.