Why You Need A Capsule Wardrobe?
Why do you need a capsule wardrobe?
A capsule wardrobe is 8-10 quality, basic items that you build your wardrobe around. It helps you to streamline your closet and your life.
You can quickly put together an outfit that makes you look and feel good about yourself.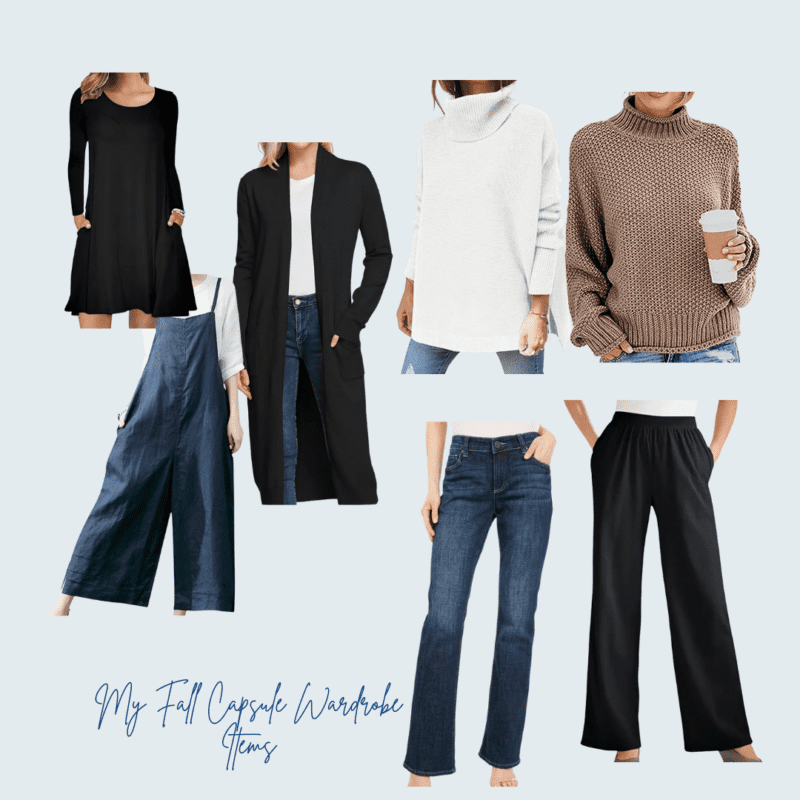 On my blog Living Large in A Small House, I may sometimes use affiliate links, which means a small commission is earned if you make a purchase via the link. The price will be the same whether you use the affiliate link or go directly to the vendor's website using a non-affiliate link. You can find my full Disclosure Policy HERE
Here's the truth! For far too long I struggled with getting out of my leggings and sweatshirts after Covid.
My hair was always in a bun on top of my head. I rarely wore makeup and just felt yucky!
Part of our self-esteem is centered around how we feel about ourselves in general.
I wanted to take control of my appearance. I wanted to feel like I looked good no matter what.
What Should You Have in Your Capsule Wardrobe?
I thought a good deal about my wardrobe and what I already own that I feel good wearing. I have a nice pair of jeans that I feel good in and I feel good in a turtleneck in the fall and a sundress in the summer.
A great pair of blue jeans, nice slacks, and a dress can be changed with different tops, sweaters, and jackets.
I have recently discovered that a cute linen jumpsuit fits my lifestyle very well. I'm able to work on projects around the house without feeling completely frumpy.
Making Room for Your Capsule Wardrobe
I'm knee-deep in my 30-Day Organizing Challenge and one of my projects is to tackle our bedroom closet.
I was surprised to find that I have most of the basics that I need already in my wardrobe.
Once I purge some things that I never wear, I will have room for a few things to freshen up my fall/winter wardrobe.
I am actually in great shape with the basics for my fall/winter capsule wardrobe.
If that isn't the case for you, I strongly suggest you start by purging the things in your closet that you don't like, don't wear, and don't fit you.
Then access what you need to create your staple wardrobe.
Capsule Wardrobe for Fall
These are the pieces I will need for my Fall/Winter Capsule Wardrobe
Pair of Jeans
Cable Knit Turtleneck
Black Knit Pants
Long Black Cardigan Sweater
Camel Turtle Neck Sweater
Linen Jumpsuit
White Turtleneck
Black Dress

Navy Keds
Black Tall Boots
Camel Booties
Fun Colorful Sweater
Jean Jacket
Shacket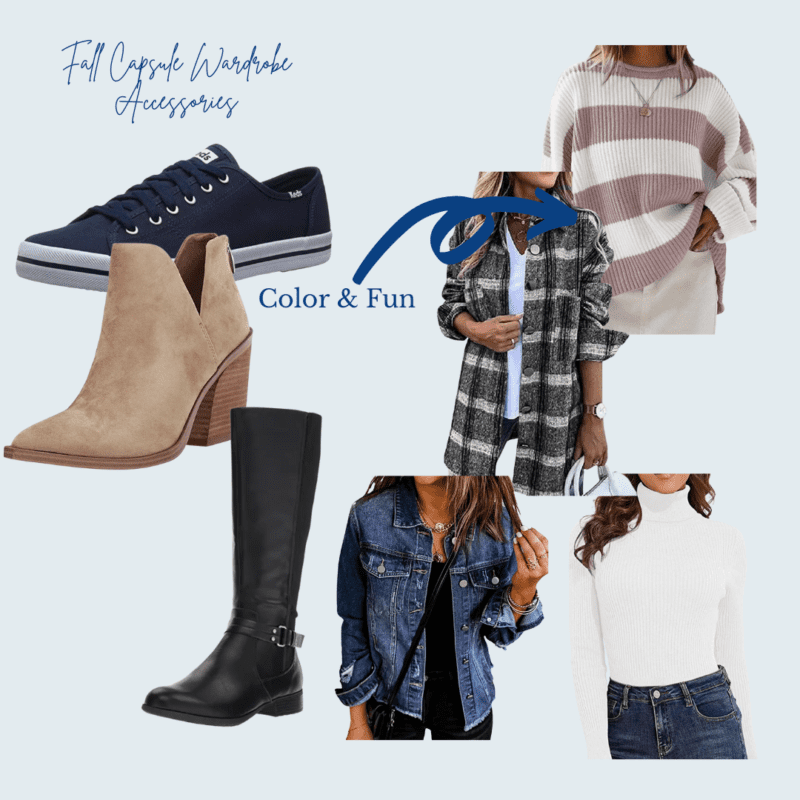 If you have 3 or 4 outfits that you feel comfortable in, that can be the foundation of your wardrobe.
Add a few more tops and sweaters to switch things up.
Accessories can also give outfits a completely different look.
Quality over Quantity
This is my list of what I think my personal capsule items need to be for spring and summer:
Consider spending more on the staple items in your wardrobe. I have found that the cut and fabric of a more expensive item just look and lays nicer than something less expensive. It also lasts forever so also consider something classic.
So saving up for some of your main items is worth the effort and the wait. You can also get great quality items on sale or at resale shops. Keep your eyes open.
What Does Your Capsule Wardrobe Look Like?
Your capsule wardrobe might look different than mine.
You might want a pair of jeans, a skirt, a pair of dress black pants and a basic black dress. Everyone is different in what they are comfortable wearing and also what their lives look like.
If you are going to an office every day or you are driving kids to sports twice a week, your wardrobe is going to look different.
The key is to look and feel good about yourself whether you're heading off to work, taking your little to a Mommy & Me class, or running to the grocery store.
Spring/Summer Capsule Wardrobe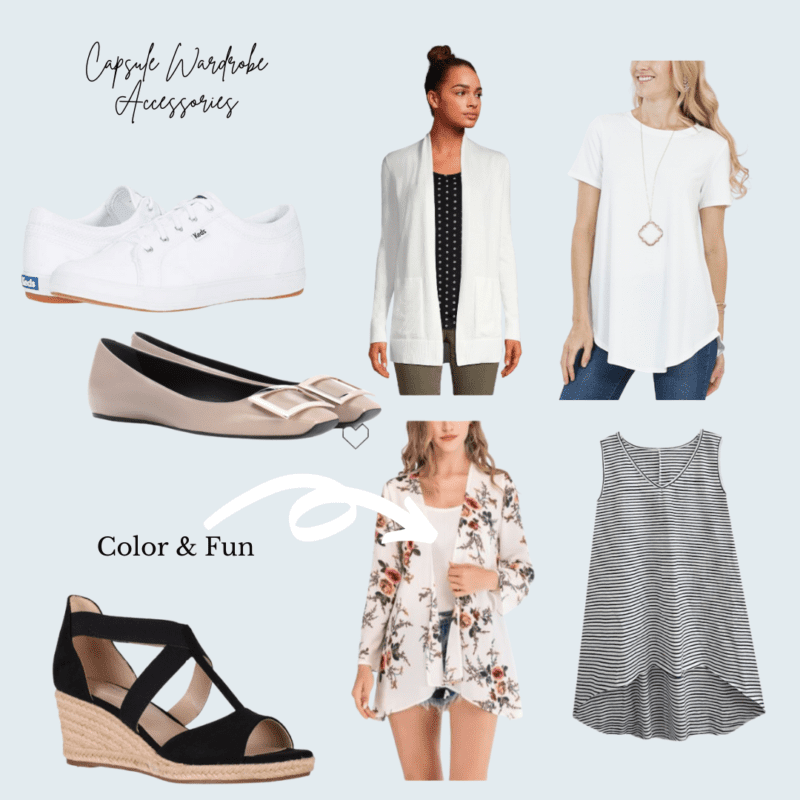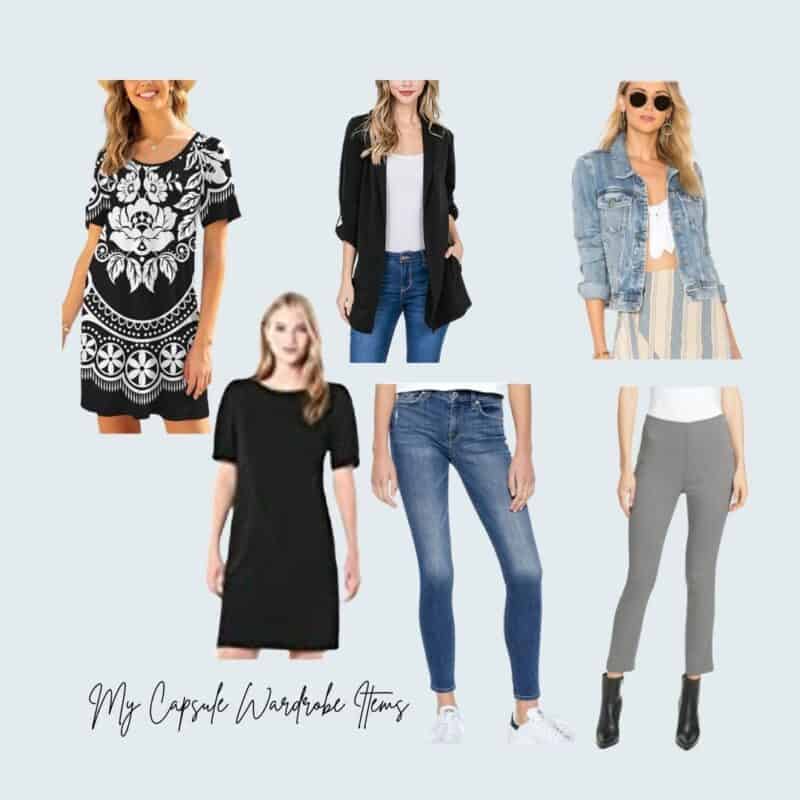 The bottom line of why you need a capsule wardrobe is that it will eliminate the stress of "what am I going to wear".
You are worth feeling good about yourself.
When you feel good about yourself, you will have the confidence you need to tackle the day and whatever it is that you need to do to be happy!
You are AMAZING!
Peace my Friends,
If you want to see my Fall 2021 Capsule wardrobe additions, you can find them HERE

A great way to save this article is to save it to your Pinterest boards. You can find the pin button in the top left corner of the photo below. Also, don't forget to follow me on Pinterest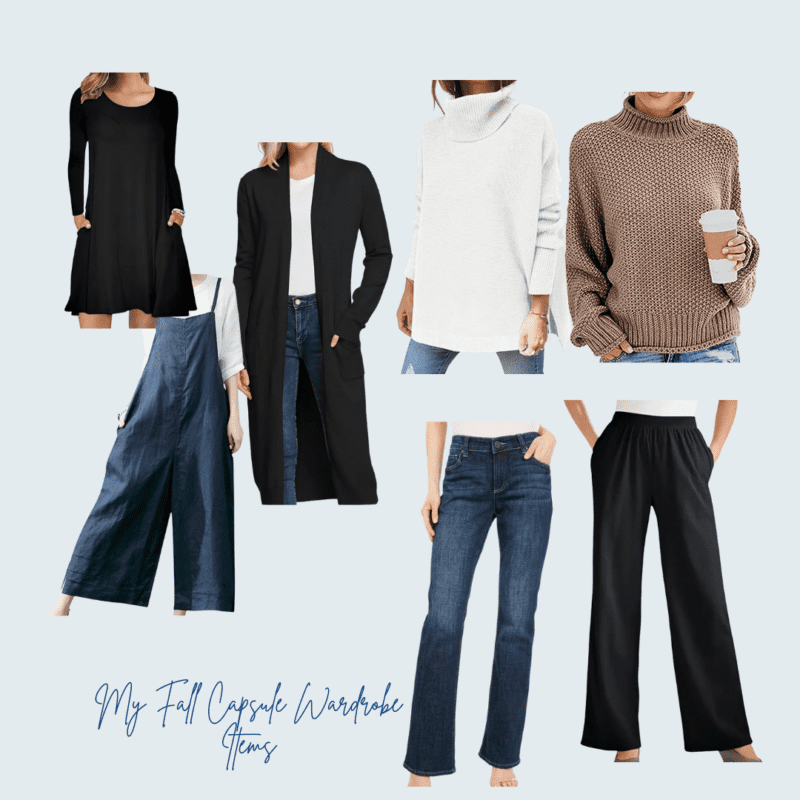 Living Large Podcast