Living Large Podcast with Amanda Connelly
Living Large Podcast with Amanda Connelly
Amanda is the Senior Community Manager for HomeTalk. Inc. She works with bloggers like me to promote things like DIY projects on HomeTalk, Recipes on FoodTalk, Fashion and Makeup on UpStyle, and ways to simplify your life on Simplify.
These are not platforms for just content creators, it's a place for anyone to find new ideas. Are you one of the 21 Million people who follow HomeTalk?
Don't miss this fun episode
On my blog Living Large in A Small House, I may sometimes use affiliate links, which means a small commission is earned if you make a purchase via the link. The price will be the same whether you use the affiliate link or go directly to the vendor's website using a non-affiliate link. You can find my full Disclosure Policy HERE

Season 6 – Episode 3
ABOUT AMANDA
Amanda lives in Florida with her husband and she is the Senior Community Manager for HomeTalk, Inc.
WHAT YOU WILL HEAR ABOUT IN THIS EPISODE:
– How Amanda and I know each other
– What is HomeTalk, Inc., FoodTalk, Upstyle, Simplify
– How you can join at Creators.Hometalk.com
– Who these platforms are for?
– What is a Senior Community Manager
– My experience with all of HomeTalk's Platforms.
RESOURCES/LINKS MENTIONED:
House Across the Lake by Riley Sager
It Starts with Us by Colleen Hoover
It Ends with Us by Colleen Hoover
CONNECT WITH AMANDA
Watch Our Call
If you're interested in watching us chat, you can do that by clicking the graphic below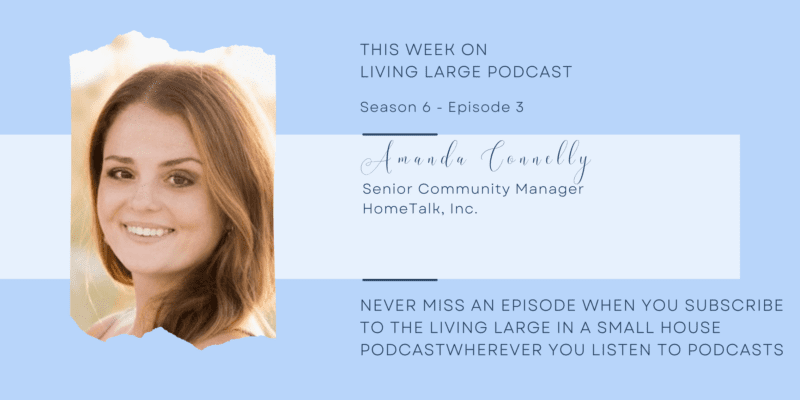 Read about how the Podcast came to be HERE
Don't miss last week's podcast with Lauren Dierschke from Restored 316