Do You Want to Know What My Favorite Office Supplies Are?
Do you want to know what my favorite office supplies are? Well quite frankly, all of them! I just love the office supply store. I guess being an organizer by nature, I just can't seem to have enough things for my desk and my working life!
My Absolute Favorite Office Supply
I'm also a very visual person and so lists and writing everything down are my thing. When you keep track of your life on paper you know that sometimes plans change. That is why my absolutely favorite office supply is my Frixion Erasable Markers. I have probably bought two dozen sets over the years. I typically like the medium tip 24-color pack but I've recently switched to the fine tip. One of the reasons is they are more like a pen so I'm not losing the tops and they seem to last longer as the other ones dry out.
Why the different colors you might ask?? Well, I color-code things. I used to use a different color for everyone in the family and their activities and another color for family events. I also used a completely different color for my meal planning. Once I started working full-time I used them to color code the task (conference call, meeting, out of town, etc). Now that I'm working from home, I color-code my days into tasks for the day and I still color-code my meal plans.
My Planners
I love to make lists and write things down so I'm a paper planner nut! I have several. My blogging business and my notes planners are both ARC planners. My business planner is an 8-1/2″ x 11″ size and my notes are a 5-7/8 x 8-1/4″ size (A5). Inside my business planner are the templates from Restored 316 Business. I love it because I can print out just what I need and put those sheets into my binder. I also use an A5 planner for all of my home ideas, paint chips, etc. This baby travels along with me in the car at all times. It's getting pretty full so I've decided to take my garden section out and make that its own planner.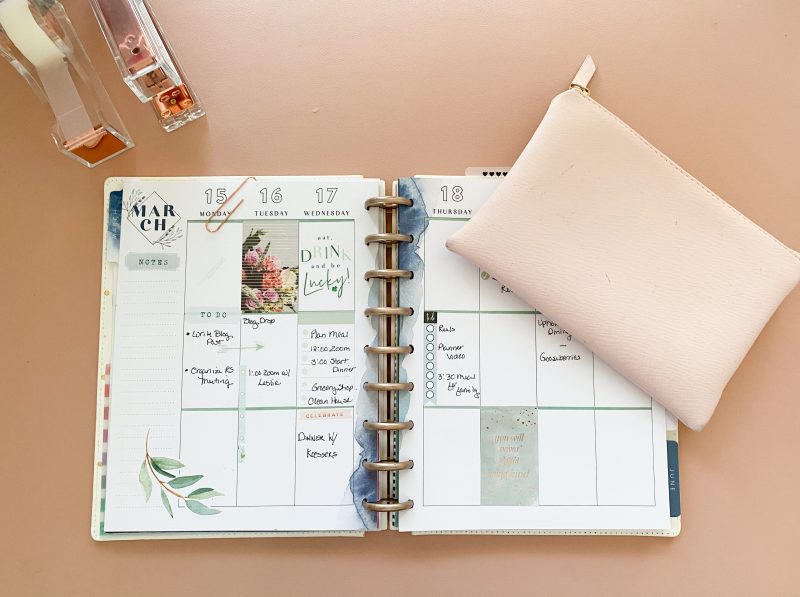 My calendar is the Classic Happy Planner size and it's just enough space for me to plan out life. It also serves as a scrapbook of sorts for me. I can look back to remember events and things that we have done.
I purchase a lot of planner inserts from Etsy. You can find downloadables that are beautiful and very inexpensive. You can then print out exactly what you need and what works for you.
My Rose Gold Desk
I'm obsessed with rose gold accessories and I have a bit of it. My current desk is two IKEA white wooden trestles. Currently, I can only find them in birch but you could always paint them. I topped them with a glass top which allowed me to customize the size of my desk.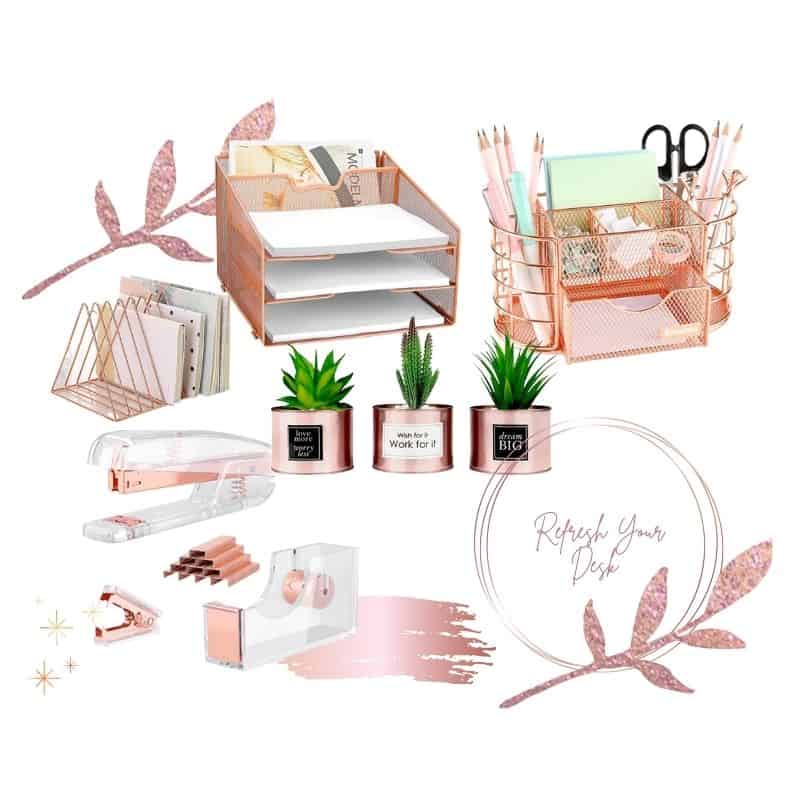 I have had a desk in just about every room in my house but I'll save that journey for another post 🙂 What are your favorite office supplies and office organization tips? Please leave comments below. I love hearing from you my friends!
Peace,