Living Large in a Small House Podcast
Season 9 – Episode 4
You are really going to enjoy my chat today with Chelsea from Generation Bakes. She's a young mom who has reinvented herself and started a small business that includes baking incredible celebration cakes.
WHAT YOU WILL HEAR ABOUT IN THIS EPISODE:
How Chelsea and I know each other
Her move to Tennessee from Illinois
Her life as a young mom to three children who she homeschools
A new passion for baking cakes
Show Notes:
Some of the Things We Referenced
TV Shows
British Baking Show
Preppy Kitchen
Cookbooks
Homeschool Curriculum
Cake Decorating
Homemaker Chic Podcast – Angela Reed & Shaye Elliott
@savvycityfarmer – Joy – Seller of English Advertising Pots
CONNECT WITH CHELSEA: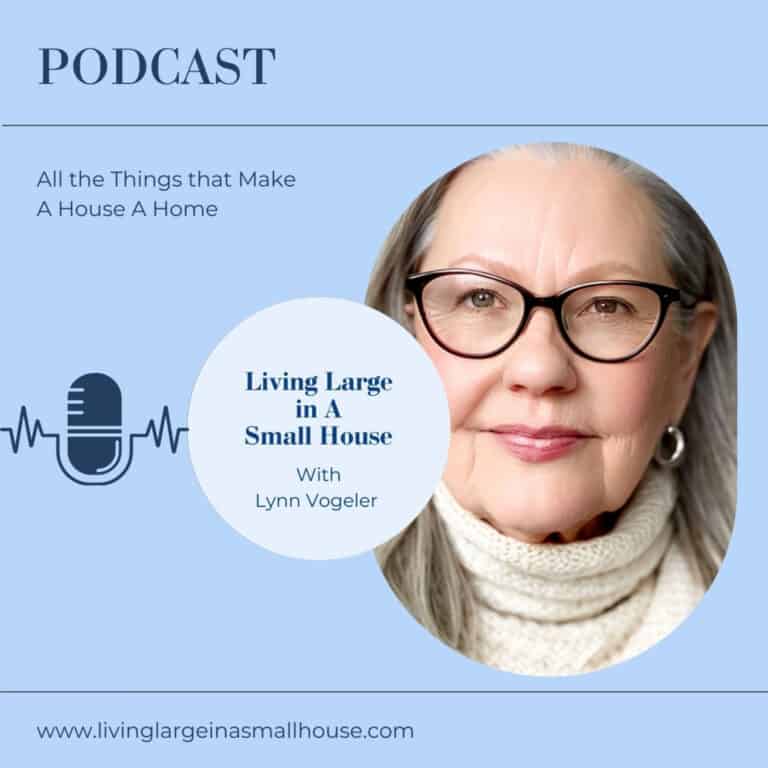 Living Large in A Small House Podcast
I'm Lynn the creator of the blog "Living Large in A Small House". I'm passionate about decorating, cooking, entertaining, organizing, and gardening. I live in a 1,300 sq., ft., home with my husband who I call "Handy" on my blog. I'm Mom to three grown kids, Kenny who lives in LA, Annie who lives with her husband Tommy in Dallas, and Emma who lives in Chicago. We also have a 15-year-old Shih Tzu named Molly and 5 beautiful hens who provide us with organic, fresh eggs daily.
I'm pretty transparent about my life and what goes on at this small house!
Living Through Violence – October National Domestic Violence Month
Living Through Violence – October National Domestic Violence Month
Season 9 – Episode 10
On this podcast, my guest is a Licensed Clinical Professional Counselor. I asked her to join me for a couple of reasons. Not only is October National Domestic Violence Month, but I've also been sharing on my blog a part of my life when I was in an abusive relationship. I felt it was important to talk with a professional to give us the best advice on this subject.
WHAT YOU WILL HEAR ABOUT IN THIS EPISODE:
Different types of abuse in Relationships
Potential Signs of Domestic Violence
When or Should you intervene if you think a friend or family member is being abused?
If you are in an abusive situation is it common to not tell others?
Can abuse extend to others in the family?
What are the ramifications for children living in a violent household?
Resources
RESOURCES/LINKS MENTIONED:
If in immediate danger, call 911 for emergency assistance. If not in immediate danger, contact national and local DV victim service agencies for support (safety planning, child custody laws, orders of protection, and more).
National Domestic Violence Hotline. Call 1-800-799-7233 (SAFE) or text "START" to 88788 for confidential assistance from trained advocates. The hotline is open 24/7 and has interpretation services for 200+ languages. Website: www.thehotline.org.
National Sexual Assault Hotline. 1-800-656-4673 (HOPE).
More local information:
Illinois Coalition Against Domestic Violence. 806 South College Street, Springfield IL 62704. Website www.ilcadv.org. Phone 1-217-789-2830 (Monday – Friday from 8:30 am – 4:30 pm).
Illinois Domestic Violence Hotline 1-877-863-6338
Turning Point, Inc. 11019 US-14, Woodstock IL 60098. Phone 815-338-8081. Website: www.turnpt.org.
Wings Program. Phone: 847-519-7820. Website: www.wingsprogram.com. DV 24-hour hotline 847-221-5680
Podcast with Lori Corrigan: Holiday Stress
CONNECT WITH LORI CORRIGAN, MA, LCPC
Founder of Foundations 4 Life Counseling & Wellness Center
CONNECT WITH ME:
There are affiliate links in these notes. I may receive a small commission at no cost to you if you choose to use them. You can find my full disclosure policy HERE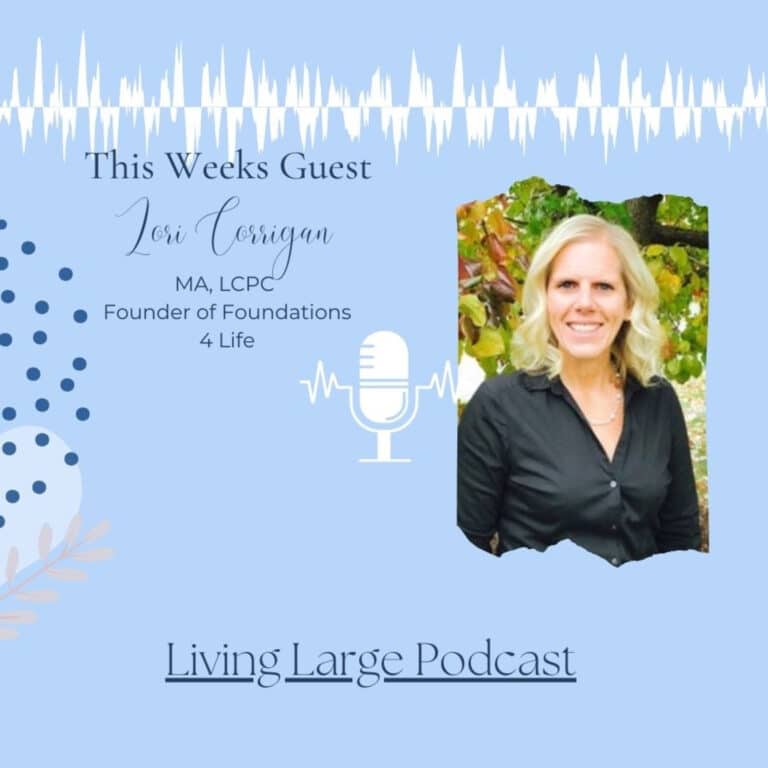 Search Results placeholder

Read about how the Podcast came to be HERE
I hope you enjoyed this episode of the Living Large Podcast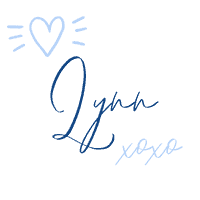 Are you ready to start organizing?
30-Day Cleaning & Organizing
Includes:
30 Page Guide
Tips & Tricks for Successful Organizing
Reproducible Charts, Calendars & Planners, and Worksheets

You can find last week's episode HERE