What Will Thanksgiving Look Like for you in 2020?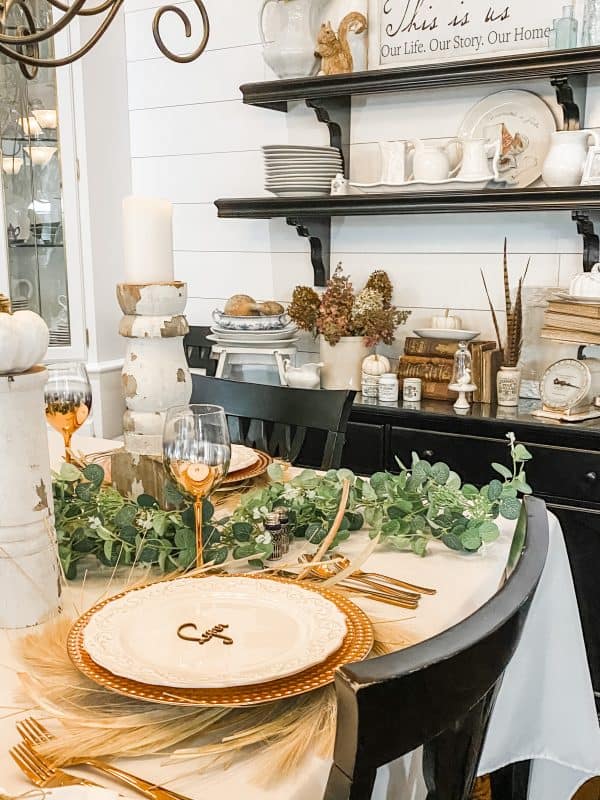 What will Thanksgiving look like for you in 2020? We typically go to my brother and sister-in-law's home for the holiday. I don't know that we will be going this year. It's typically a big family gathering that includes extended family and all of our young adult children. I'm not sure that we will risk an indoor event where social distancing can't really happen.
Likely we will have just a small quiet day with our youngest Emma. I've started setting my table to make sure that we have a special day. I pulled out the rose gold that I've used for Christmas in the past. The table is set with rose gold chargers, silverware, and wine glasses. I topped it with my white plates. There is a little store about an hour from me (Urban Farmgirl) and they had a recent sale of some fun feathery wreaths. All I could see was a great addition to my tablescape. They look absolutely amazing!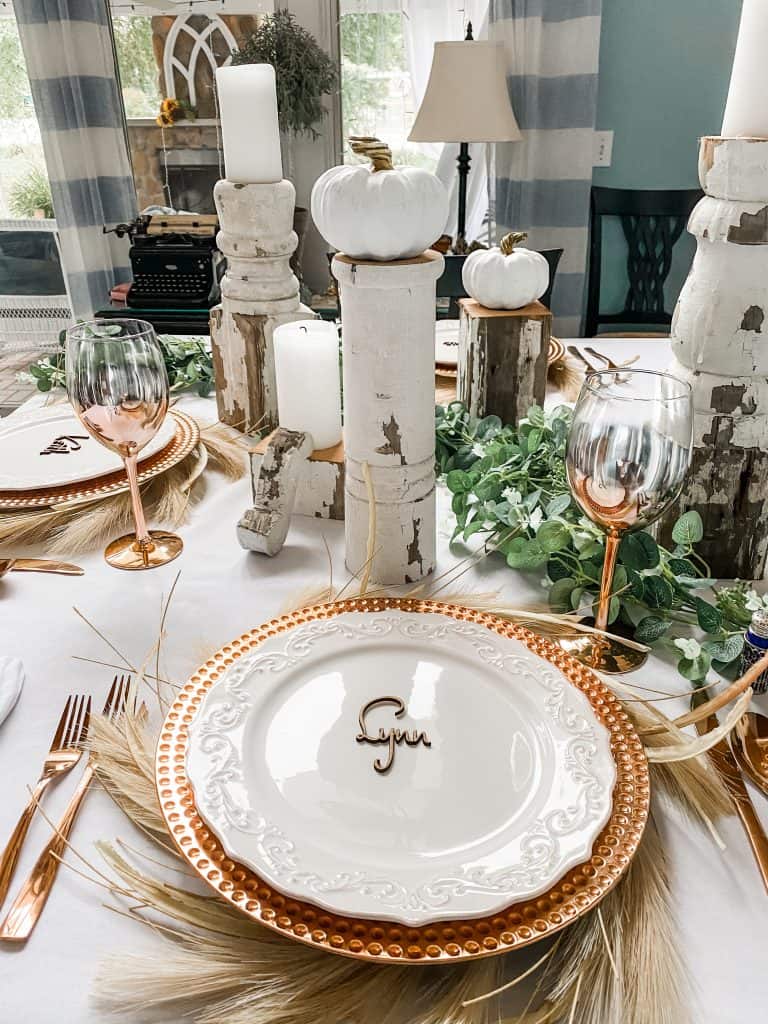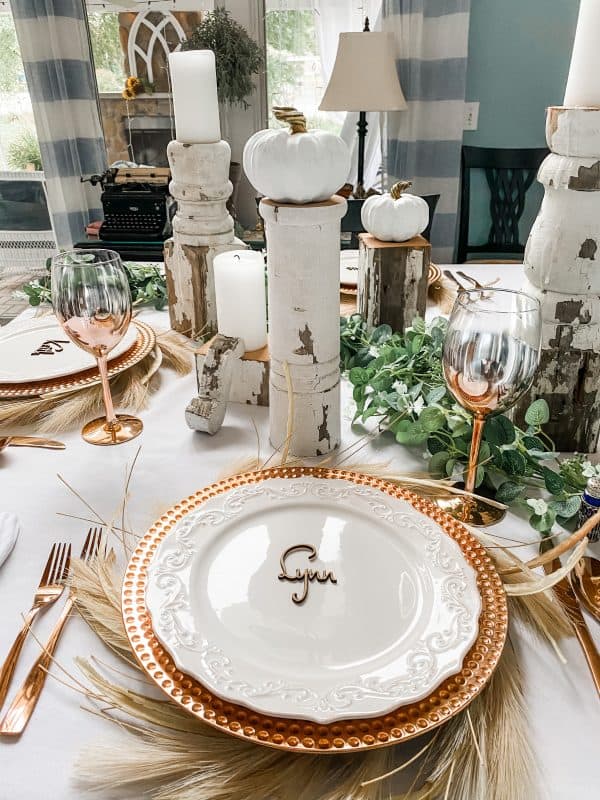 I used a beautiful faux garland from Amazon that I just draped along the table and staggered some vintage candle holders that "Handy" made out of an old porch post. I topped three of them with candles and two with white pumpkins.
Finally, I topped each plate with my laser-cut wood names. I discovered FranJohnsonHouse on Etsy and purchased some a few years ago for the holidays. They came so quickly and were so reasonably priced that I've ordered from her four times. I absolutely love to support small businesses, even ones that aren't in the US. Many of the sellers on Etsy are women who are supporting their families with their Etsy shops. I just love that I can help entrepreneurs.
New Traditions
While I hope that this holiday will be a very short-lived situation, I plan to incorporate some new ideas for a fun day. Here are some of the things I'm thinking about doing on Thanksgiving Day.
Planning our dinner time with other family members and Skyping during our meal
Delivering groceries for a Thanksgiving Meal to a family in need
Play a fun new game or watch a new movie
Take a Walk or Run – If weather cooperates
Watch Football & the Parade
Start a Thanksgiving Journal
Start organizing family photos
Draw names for the Family Christmas grab bag
Plan a craft to make for the Christmas Tree
Put up a Christmas Tree
Thanksgiving Menu for 2020
I'm typically in charge of the charcuterie board/table each year. Maybe I'll just up my game and make our day one of grazing on appetizers all day? Whatever we decide to do for Thanksgiving in 2020, I promise that I will document it and share it with all of you.
What is Thanksgiving going to look like for your family this year? Please share your ideas in the comments. I would love to hear what everyone has planned.
Whatever your plans, I hope that your Thanksgiving holiday is special even if it looks different.
Peace,