What to Do with Your Children this Fall
The topic for quite some time now has been, what are you going to do with your children this fall? Will you be sending them back into a classroom? Are you considering the hybrid option? Will your child be remote learning at home? Another option would be to choose to homeschool your children.
This blog post started off as exclusively talking about how to make a classroom and/or office in your home. It has morphed into something quite different.
First and foremost on everyone's mind I know is; what is the best solution for my child for schooling in the fall. I first want to tell you, I'm glad I don't have to be making that decision. It's a tough choice for almost all families. Do you need to send your children to school because you need to work? Do you even have the choice of sending your child to school? Are you afraid of putting your child into the classroom setting? But you're also afraid of any long-term harm of keeping them home? Are you considering the hybrid option or have to conform to the hybrid option and are you not sure how to negotiate that?
Wow! So much to consider. I'm going to assume that keeping your child home or part-time home is the option in front of you. In Illinois many of the districts are daily, rolling back the hybrid option to remote learning, at least to start off the year. If you're sending them back to school your life should go pretty much back to your normal. That is until there is a positive case in your classroom and then they will be back home for a period of time.
Most of you will be using the school's eLearning option and your school district and their teachers will be schooling your kiddos via computer. I will go into other options further in this post. What you will need to consider will be the first thing I'm going to talk about; how to set up a classroom or a classroom space in your home
Setting up a Home Classroom
Where is the best place in my home for my children to learn this fall? The best solution would be if you could transform an unused space in your home. A guest bedroom, a dining room that doesn't get much use, a space in a bonus room? Even if you don't have extra space, you can make a portable school and/or office with a few creative tools. Your space might need to be your kitchen table. A space in a bedroom or family room.
The important thing about your space would be to try to have it be a well-lit, peaceful place. Ideally, this would be a dedicated space that is your student's study area. It's important to be functional so you're not recreating every day. This space might also look quite different for a 6-year-old than it does for a 16-year-old. For a younger child, I think that a consistent place is more important while an older child might be working on the computer on the family room sofa today and in a bean bag chair tomorrow.
A desk can be anything from a traditional desk, a small table, your kitchen island, or your dining room table. I see small desks and tables on Facebook Marketplace and LetItGo every single day for reasonable prices. Once you've decided on the surface to use as a desk then I think storage is your next big consideration.
I've talked to several homeschool Moms who shared many tips and tricks with me (we'll get into that later) but a space to put your school supplies is important. It can be a bookshelf, a rolling cart, or a cabinet that you can close the doors on at the end of the school day. I can imagine a combination of all three. Again, Facebook Marketplace is full of people trying to get rid of old TV armoires and/or dining room hutches. How fun would that be to chalk paint and turn someone's unwanted furniture into your homeschooling storage unit? It could be an art project!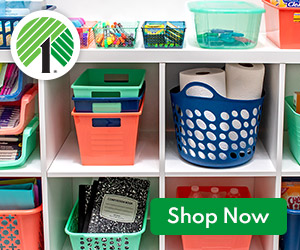 I'm a huge fan of rolling carts and I use several myself. What I like about them is that you can neatly store your things and roll them into a closet or into a corner very easily at the end of the school day. While I was scrolling through Pinterest (great resources) for a picture of some carts, I stumbled upon a cart/table from Michaels. Kill two birds with one stone! I have a cart from Michaels and World Market however, many others like IKEA and Walmart also make great options. This little beauty from Amazon is great. And when it comes to creative inexpensive storage you can't beat the Dollar Tree. Remember you can have items you find online shipped to your local store. Who knew??
I found these ideas on Pinterest and did my best to identify the sites where they came from:
Other Options
These pictures are from my friend Chelsea @nourished__minds on Instagram. I met her through her Mom, Joy. Joy was one of my first Instagram friends @savvycityfarmer. She happens to live a few towns over so we've gotten to know each other in person. I've bought essential oils from Chelsea @nourished__minds and I know that she homeschools her children. She graciously agreed to share her journey with me along with a neighbor Kelly www.sothatgod.com who also homeschools her children. They are at both ends of the spectrum with kids. Chelsea's children are very young and Kelly has kids who are older. Both had made the decision to homeschool long before Covid so their lives haven't changed much when it comes to their children's education.
Both families have opted to homeschool their children because they want to incorporate their own values and faith into their daily learning. Their homeschooling lives are similar in that they keep a schedule. School time is usually 8 o'clock to noon. Chelsea shared that she prefers to get up well before the kids to get herself ready, have some alone time before the day begins. Kelly whose children are older and much more independent gets up with her kids at around 6. The kids do chores, have breakfast, and then start their school work. From my conversations with them it would as you can imagine consuming more of your time when the kids are younger and then as they get older and become more independent, you transition into having more of your own time.
I learned so much from them. I actually cried when I listed to Chelsea's podcast about homeschooling her kids. Sometimes I wish for a do-over! The thing that I loved about the homeschooling concept is that your kids have the opportunity to learn by doing and living life. Our schools are teaching our children to memorize to take a test. (period)
If you are even somewhat considering homeschooling your children this fall, you can get a good description of the different types of homeschooling options by watching the video at Charlotte Mason. I also urge everyone to listen to both Chelsea and Kelly as they share their experiences. It will help you think a little differently about having your kids home, especially if you're struggling with it. My guess is that's the case for many, many families.
Now I'm sure you're going to say, great info Lynn but I have to work and I don't have the pleasure to work from home. Again, I can't even imagine the situation this is putting so many families in.
I've thought long and hard about it and I don't know that my solutions are the best but here's what I've got. First, I think that as a family and a community we have to get creative. Are there a trusted group of family and/or friends that can form a co-op of sorts? Some of the parents work while some of the parents stay home with the kids. Maybe a nanny might be an option for you. Possibly a grandparent might be willing to take the children during the day. No solution is perfect and you really have to weigh the pros and cons. As a family, you might decide that one parent is going to stay home and you make the adjustments and sacrifices to navigate this new normal.
You're probably still thinking! What am I going to do with my children this fall?
Keep an open mind when looking at all the options. It makes me sad to see how angry everyone is about everything. Our kids see this and they are soaking in what we give out. I see it in my grown children. It's hard to admit but I see the good things I've given them but I also see the negative pieces of me and it makes me regretful.
As I said earlier, I wish I had a chance for a do-over! So in conclusion, if having a classroom at home is in your future, I say – embrace it. Make it fun and incorporate it into your lives. Please let me know how it's going with your children this fall. I would love to hear constructive comments on what you're doing to figure this out!
Peace,