What am I Making for Dinner Tonight?
Are you like me wondering what am I making for dinner tonight? As much as I like cooking, I sometimes ask this question. It usually happens when I don't meal prep.
With a wedding and a move in the last 8 days, I haven't had time to sit down and meal plan.
On my blog Living Large in A Small House, I may sometimes use affiliate links, which means a small commission is earned if you make a purchase via the link. The price will be the same whether you use the affiliate link or go directly to the vendor's website using a non-affiliate link. You can find my full Disclosure Policy HERE
What am I Making for Dinner Tonight?
This meal seems really fancy but it actually pretty quick prep. When crab legs are on sale we stock up and stick them in the freezer.
Using a pasta pot, we steam the crab legs from frozen for 15 minutes and just add more legs as we need them. That way we never really waste anything. Any legs we haven't steamed go right back in the freezer.
I'm making potatoes in a foil packet. We call them campfire potatoes.
Another quick protein is salmon and I also prepare that in a foil packet with butter, fresh lemon juice, and herbs. Salmon only takes about 15 – 20 minutes so I will start the potatoes first.
What to have as a Side?
Tonight we are making a family favorite, Campfire Potatoes. There is minimal prep involved and we either throw that packet of potatoes in the oven or on the grill for about an hour.
We are cooking for two so I use just use about 1/2 of all the ingredients. This is a recipe that you don't need to be precise about. If you like more onions, go for it. You could add thyme, Italian seasoning, or seasoning salt. Actually, you can add whatever spice suits your fancy. I have fresh rosemary in my garden so I'm going to chop up a little of that and add it to my potatoes.
We sometimes add cheddar cheese after we put the potatoes on our plates. You can add it to the packet in the beginning and it will get really crunchy and tasty.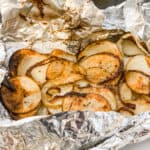 Print Recipe
Campfire Potatoes
Ingredients
4

large russet potatoes washed

1/2

large onion

4

tbsp

butter

salt and pepper
Instructions
cut a long piece of extra-wide foil about 2 ft., long. If you don't have wide foil you can take two regular width foil pieces and fold the long edges together twice to make one wide piece. You will need two of these wide pieces.

slice the potatoes (with the skin on) and the onion into thin slices

Spray one of the foil pieces (non-shiny side) with cooking spray. Put a layer of potatoes (overlapping a bit) onto the center of one of the pieces of foil, top with some onion rings, 4 -1/3 tbsp of butter pads, and salt and pepper, continue this with two more layers of the same.

Fold up the foil that the potatoes are sitting on to make a pack and then use the other piece to seal up the pack, making sure that the seams are opposite with each pack. Make sure all the foil edges are firmly gathered and sealed. You want to steam the potatoes in the foil pack and not let any of the moisture out.

Pop the foil pack on a baking sheet and put it into a 350° oven for about an hour. If you put it on the grill, you can just lay it on the grates.

Be careful when you are opening the packs as hot steam will come out of them.
Notes
Add cheese and/or other spices as desired. Pretty much everything in the pack is "to taste"
"Handy" and I work together to make this pack. He cuts the potatoes and onions and I arrange everything on the foil.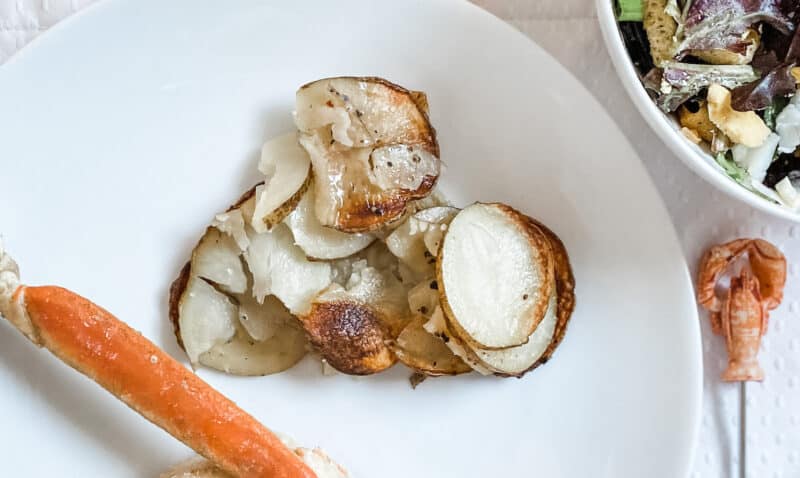 Add a side salad and you have a great meal.
Foil Packet Meals
The reason why we call these potatoes campfire potatoes is that they are in a foil packet and you can put them on a campfire. Foil meals can also be a one-pack meal. There are lots of one-pack meal ideas that I will link below.
Foil Packet Meals
Delish has 35 best foil packet recipes HERE
I love Taste of Home and they have 32 Wrap-and-Cook Foil Packet Recipes HERE
You'll find 30 Best Foil Packet Dinner Recipes from Country Living HERE

On hot summer nights when you are wondering "what am I making for dinner tonight?" a foil packet meal is such a great idea. It's simple, it's nutritious and it can be thrown on the grill so you don't have to heat up your home.
I hope you enjoy
Peace,

A great way to save this article is to save it to your Pinterest boards. You can find the pin button in the top left corner of the photo below. Also, don't forget to follow me on Pinterest