My Home Decorated for the Season of Autumn
I'm so excited to share with you my home which is decorated for the season of autumn
If you've headed here from LoraBloomquist.com and her Cozy Fall Home Tour – Welcome
I want to thank Pasha from Pasha Is Home for Hosting this Inspirational Fall Event.
Fall is my favorite time of year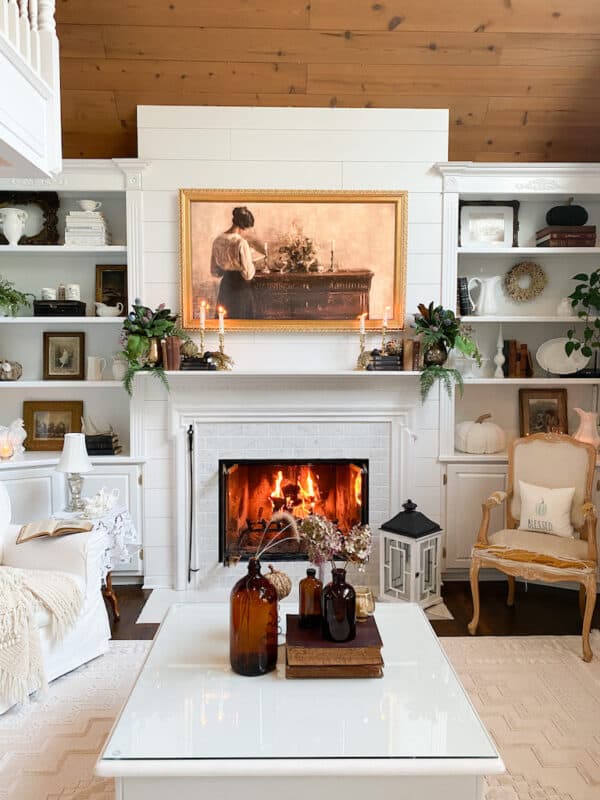 On my blog Living Large in A Small House, I may sometimes use affiliate links, which means a small commission is earned if you make a purchase via the link. The price will be the same whether you use the affiliate link or go directly to the vendor's website using a non-affiliate link. You can find my full Disclosure Policy HERE
Fall Home Tour
The days are sweater weather and the nights are crisp and clear
It's my absolute favorite time of year

At the end of August, I started to switch out the summer decoration and started fall decorating. By labor day I was fully into the autumn season in my home decor.
The Living Space
The first space I'm going to share is our great room. With small home living our space is small but we made it feel more spacious when we expanded our kitchen into our living room and dining room spaces, creating a great room.
In the spaces this year, I added some fun fall throw pillows, and a chunky throw with neutrals and blues to my white slipcovered furniture.
I don't use your typical fall colors for the fall season as I'm not a big fan of orange or orange pumpkins. The closest I've gotten is some fun peach-colored pumpkins that I found at Target.
I kept my fall decorations pretty simple and just used my vintage white ironstone along with brown and neutral vintage books incorporated into my bookshelves and displays.
I love simple seasonal touches and just a subtle nod to fall.
Using natural elements like dried hydrangeas and other fall foliage in my simple floral arrangements is a part of my autumn decor. It's such an easy way to add texture and visual interest to my room. Cutting fall foliage and bringing them indoors is a simple way to get free fall decorations to your home.
I've added some faux and real fall foliage, dried artichokes, and fresh figs along with more vintage books, and candles to my fireplace mantel.
I recently received the Ivory Alya Rug from Boutique Rugs. It's soft and neutral and really enhances the cozy fall feel of my living space.
It is by far my favorite rug that I've ever had in this space. It's a very high-quality rug at an affordable price. With my discount code LIVINGLARGE you can get an additional 5% off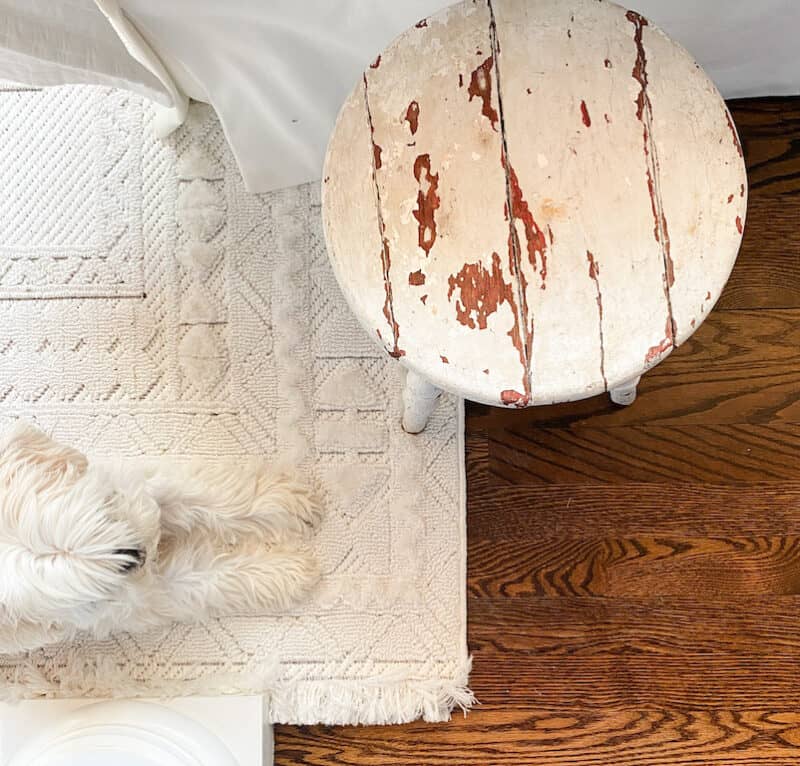 Once I had the new rug, I painted my black coffee table white, and what a difference that made. The whole room just has such a cohesive feel to it.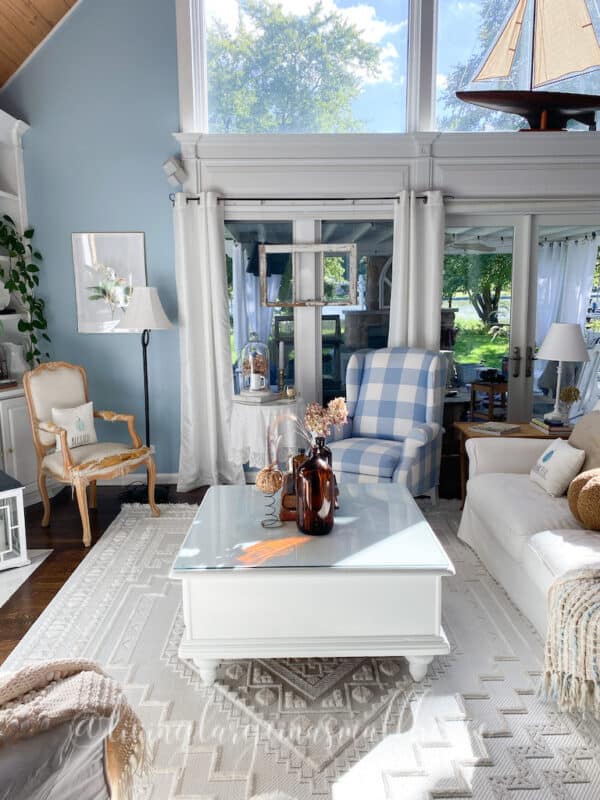 The neutral color palette gives me great options as we switch from fall and Thanksgiving into Christmas
I also always turn my sofa towards the fireplace in the fall and winter seasons to give it a more homey atmosphere.
My girls said to me the other day that they have never liked the space more than what it looks like right now. In my humble opinion, it has some of my best fall decor ideas yet.

My Dining Room
On my dining room table, I once again added some natural materials in earthy colors to a wooden tray along with some white pumpkins, more figs, fall plates, a vintage pot with vintage cutlery, and some natural beeswax candles from Cape Candles to provide a fall focal point on the dining table. You can use my discount code. LivingLarge5 for a 5% discount from Cape Candles
The open shelves in my dining room mimic my living room bookshelves will lots of white ironstone and not a lot of seasonal decorations.
The beauty of neutral and white is that they will easily carry me through the holiday seasons. I can easily switch a few things here and there as the seasons change.
Fall Kitchen
For me, my fall kitchen is more about the stews and soups on the stove in the fall than it is about the decor.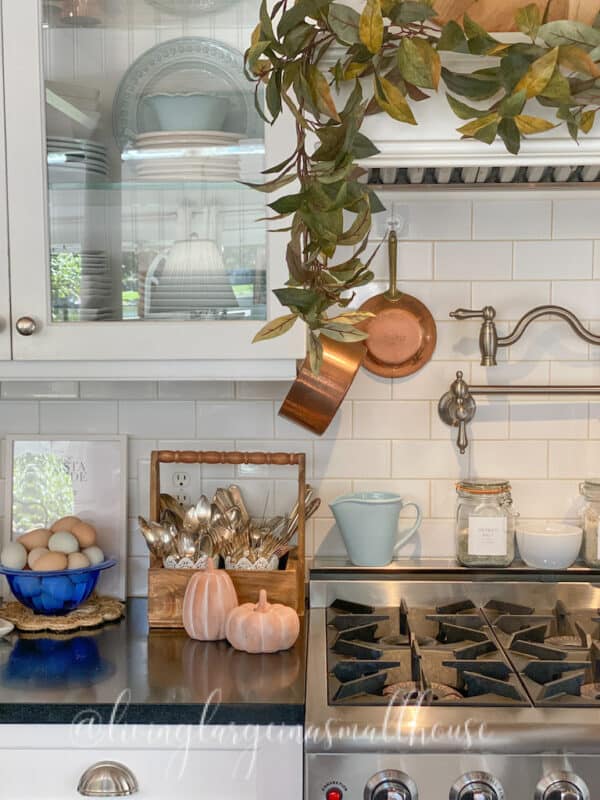 I have however added some faux fall garland to my stove hood and that is where I have my cute Target peach pumpkins.
I'm leaving my kitchen island pretty open so that there is space for people to belly up to the bar for chili or hot apple cider.
Fall Entryway and Front Porch
In my front entryway, I just made a few small changes; including hanging a cute throw and plaid jacket on my coat rack wall.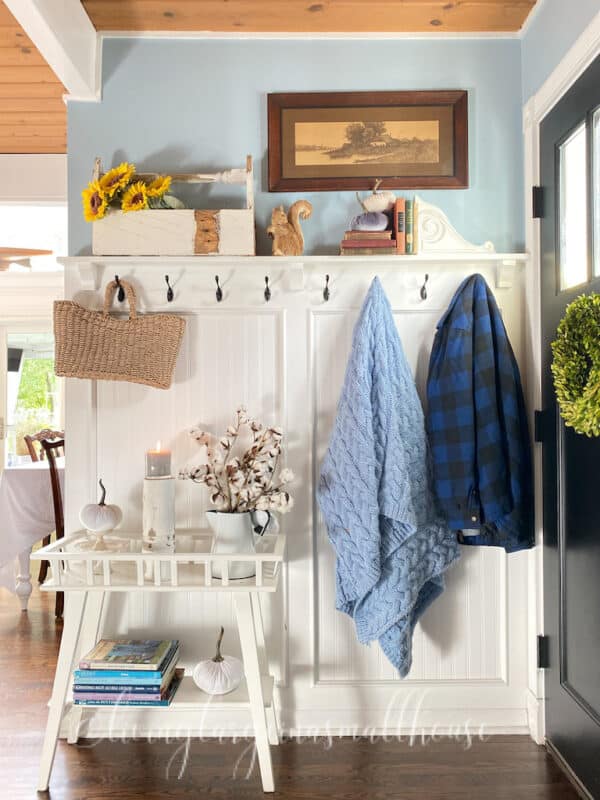 Then added a few faux pumpkins and pine cones into what I currently had displayed
Last week I shared my fall porch with you. You can see all of it HERE.
My outdoor spaces are just as important to me as the inside.
Because our home is small we use our outdoor living spaces for as long as we can.
Outdoors I love to add hay bales and mums.
Switching out my summer pots will fall flowers also make a big difference and freshes everything up as we head into the colder months.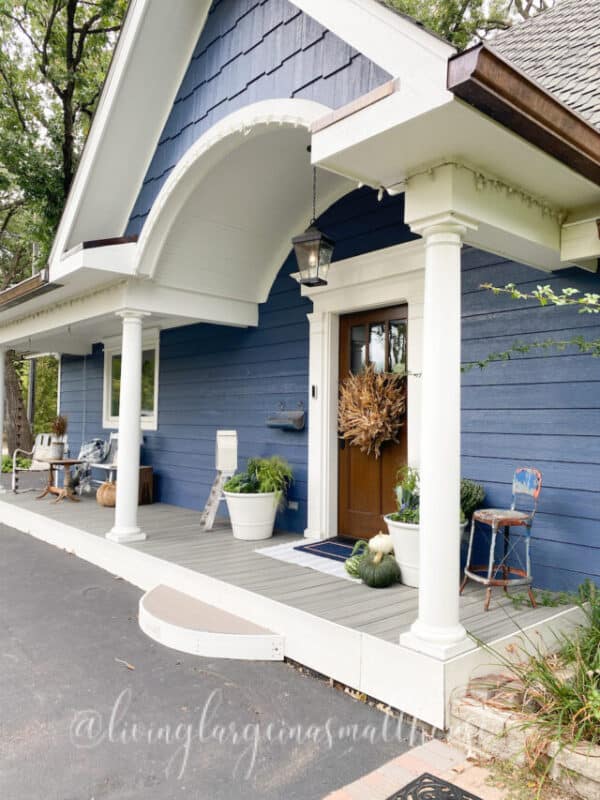 I put the finishing touch on the porch by adding a fall wreath to the front door
Fall
The season when leaves fall from the trees: AUTUMN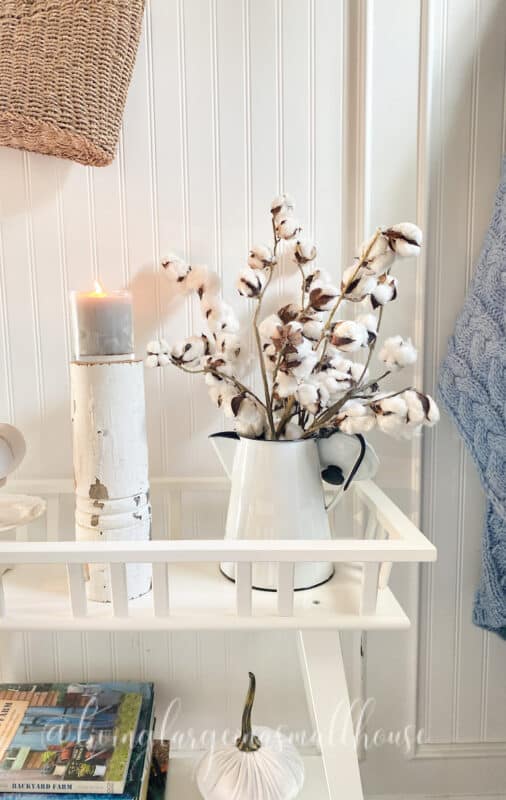 Fall Home Tour – The End
Now is the perfect time to get out the chunky knit blankets and beautifully scented candles that will add fall charm to your home.
I hope you enjoyed my home decorated for the season of autumn and the coziness that I've created in this small house.
The next stop on the Blog Hop is Meeghan from Cali Girl in a Southern World. Head right over I promise you won't be disappointed with her Casual Fall Outdoor Gathering.
Peace,


A great way to remember these fall ideas is to save them to your Pinterest boards. You can find the pin button in the top left corner of the photo below. Also, don't forget to follow me on Pinterest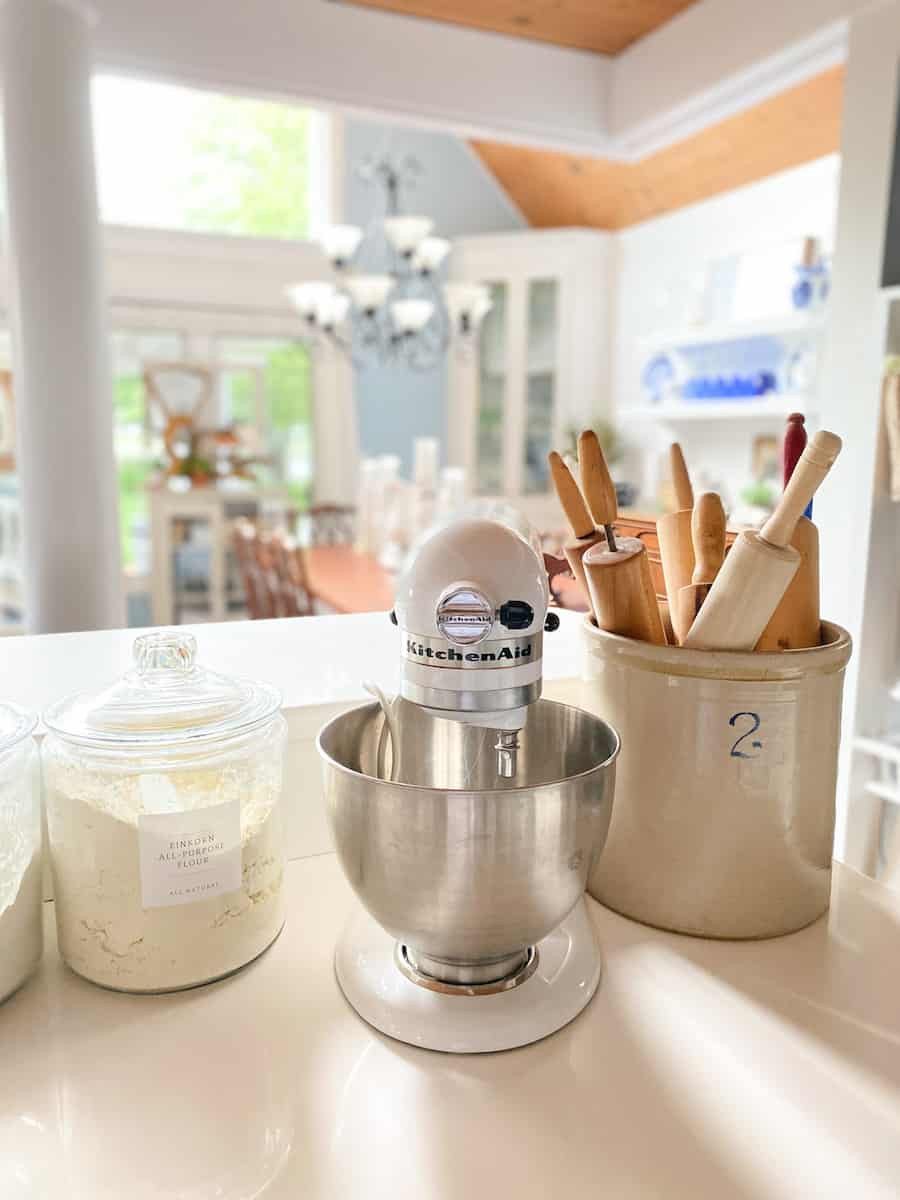 direct access to my amazon store
On Amazon
Did you know that you support my little business by purchasing through my links?? The price to you is the same but I receive a small commission on ALL the purchases you make when you shop through one of my links. I appreciate you helping Living Large in A Small House to grow!

Living Large Podcast
This week I have my daughters; Annie remote in Dallas and Emma remote in Chicago on my Podcast. We discuss tattoos and Christmas. Strange combination!