How to Quarantine at Home during a Pandemic
Do you have someone who needs to be quarantined in your home? We learned first hand how to do it.
Our daughter was studying abroad in Ceasares, Spain when the Coronavirus took hold in Europe. When her good friend in Italy was brought back by their university we started to get a little concerned. Long story short, things escalated really fast and we had to pull every string to get her home and then prepare for her and her friend to be quarantined at home for 14 days. We didn't take this lightly as we are older parents (over 60) and I've had some major health issues in the last year.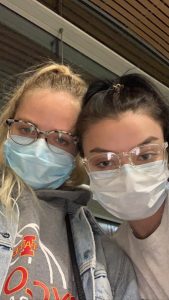 How we prepared
We started looking for supplies when all of the hoarders had already depleted almost all supplies. "Handy" is very creative and thanks to him we were able to secure most of what we needed. Being in the construction industry has its advantages. He knew exactly what to look for. We found a plastic wall with a zipper door that we could use to separate the girls from the rest of the house. An item used during remodeling projects 😉 We also found plastic gloves in the construction area of a big box store. Those were the only items I could find online. We bought one box for us and one box for them.
Then it was off to an off-brand dollar retailer. Here we found two bottles of rubbing alcohol, Lysol spray, two thermometers, and Aloe baby wipes (I poured a little rubbing alcohol into these); they have served us well as disinfecting wipes since we haven't been able to find these at all.
We have a bedroom and bathroom right off of our laundry room and they are all at the end of a hallway. The door went up in that hallway.
If you don't have a set-up like ours you can use a basement or second story as your quarantine at home area. I've even heard since we started this of people using their garages. This wouldn't work for us for a number of reasons; first our weather and second, we don't have a garage!
Our neighbors loaned us a mini-fridge and we created a little kitchenette in my laundry room. We stocked them up with water, juice, snacks, cereal, fruit, bread, peanut butter, jelly, and lunch meat. There were some other miscellaneous supplies we provided for our 21-year-old gals.
Day to Day Living
We put meals outside their door and then move away and they bring it in. Then I Lysol down the area. They put things back out once a day and I pick them up with gloves. With the garbage cabinet and the dishwasher already open, I can scrap and put the dishes right into the dishwasher. When I was done I take off my gloves, inside out, and throw them away. Then I wash my hand thoroughly and Lysol the area again. I wipe down all the counters with bleach water.
My hands by the way are a mess. I'm going to try "No-Crack" tonight to see if I can get some relief from my rough, dried-out hands. I've been using some regular hand lotions and it's not helping at all. I probably wash my hands 30 times every day. I wipe down all the things that get touched by us (doorknobs, light switches, soap dispenser handles, faucet handles, toilet handles and lids, drawer and door handles) several times a day.
Instacart App is how I've been buying our groceries we have had such a wonderful experience with Aldi. I'm going to write a separate post just about that.
I certainly can't guarantee that what we are doing is 100% foolproof but we are doing our best with no guidelines that we could find. Hope we can help someone else who needs to quarantine at home.
Please comment if you have any questions, I promise I will get back to you with answers.
Please stay healthy and safe! STAY HOME
Peace,