Grilled Garlic & Orange Marinated Chicken Skewers
Are you looking for the perfect blend of sweet and savory chicken kabobs? You will find it in my garlic & orange marinated chicken skewers recipe.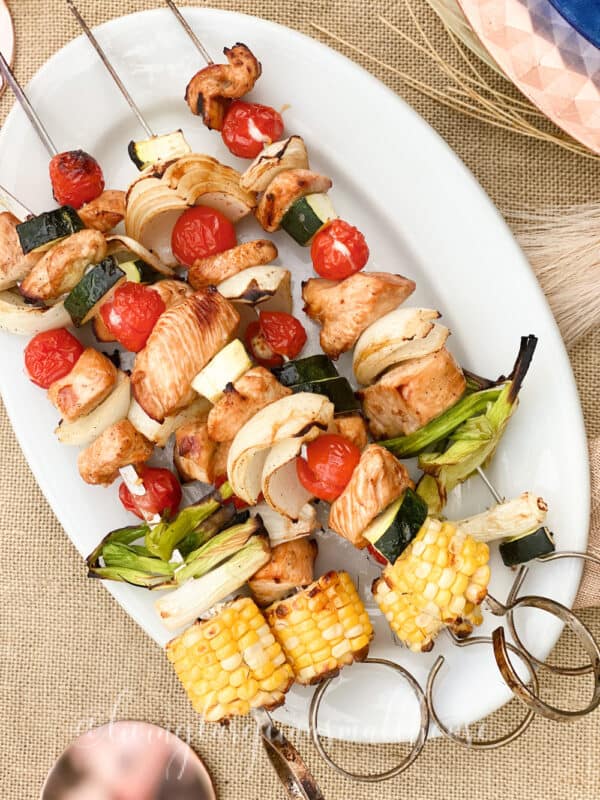 On my blog Living Large in A Small House, I may sometimes use affiliate links, which means a small commission is earned if you make a purchase via the link. The price will be the same whether you use the affiliate link or go directly to the vendor's website using a non-affiliate link. You can find my full Disclosure Policy HERE
Grilled Garlic & Orange Marinated Chicken Skewers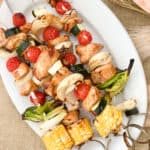 Print Recipe
Garlic & Orange Chicken Kabobs
An easy sweet and savory summer chicken meal
Ingredients
1

cup

orange juice

1/4

cup

lemon juice

1/2

cup

soy sauce or amino acids

1/4

cup

olive oil

2

tbsp

crushed garlic

1/2

tsp

black pepper

1

large

onion, cut into quarters

1

pound

boneless skinless chicken breasts

cut into 1-2" chunks
Instructions
Marinade
Whisk together the first 6 ingredients in a small bowl

Put chicken and onions in a medium-sized bowl and cover with the marinade. Toss to coat

Let sit for at least 30 minutes but no more than 3 hours. The acids in the citrus cans start to cook the meat if you let marinade for too long.

If you want to make a sauce from the marinade, please see important notes below.
Assembling Skewers
Thread the marinaded chicken pieces onto the skewers with the marinated onions and veggies of your choice. Alternating as you go.
Grill
Preheat the grill to medium-high heat. You can place the skewers on direct heat if you want a char but only for a minute on each side and then cook with indirect heat as you want to make sure that your chicken is cooked through. With an internal temperature of 165°
Notes
What to add to the chicken?
cherry tomatoes
red bell pepper
yellow bell pepper
green bell pepper
mushrooms
red onion
pineapple
zucchini
parboiled red potatoes
green onions
corn cob pieces
Actually, anything that sounds good to you from the garden works!
If you want to prepare a sauce to serve with your kabobs, double the recipe and transfer half of the marinade to a small cooking pot, and simmer on medium heat. Add 1 tsp. of corn starch and whisk into the sauce to thicken. It is very important that you do this before you put the chicken into the entire marinade. Once the raw chicken has been in the marinade, it is no longer safe for consumption.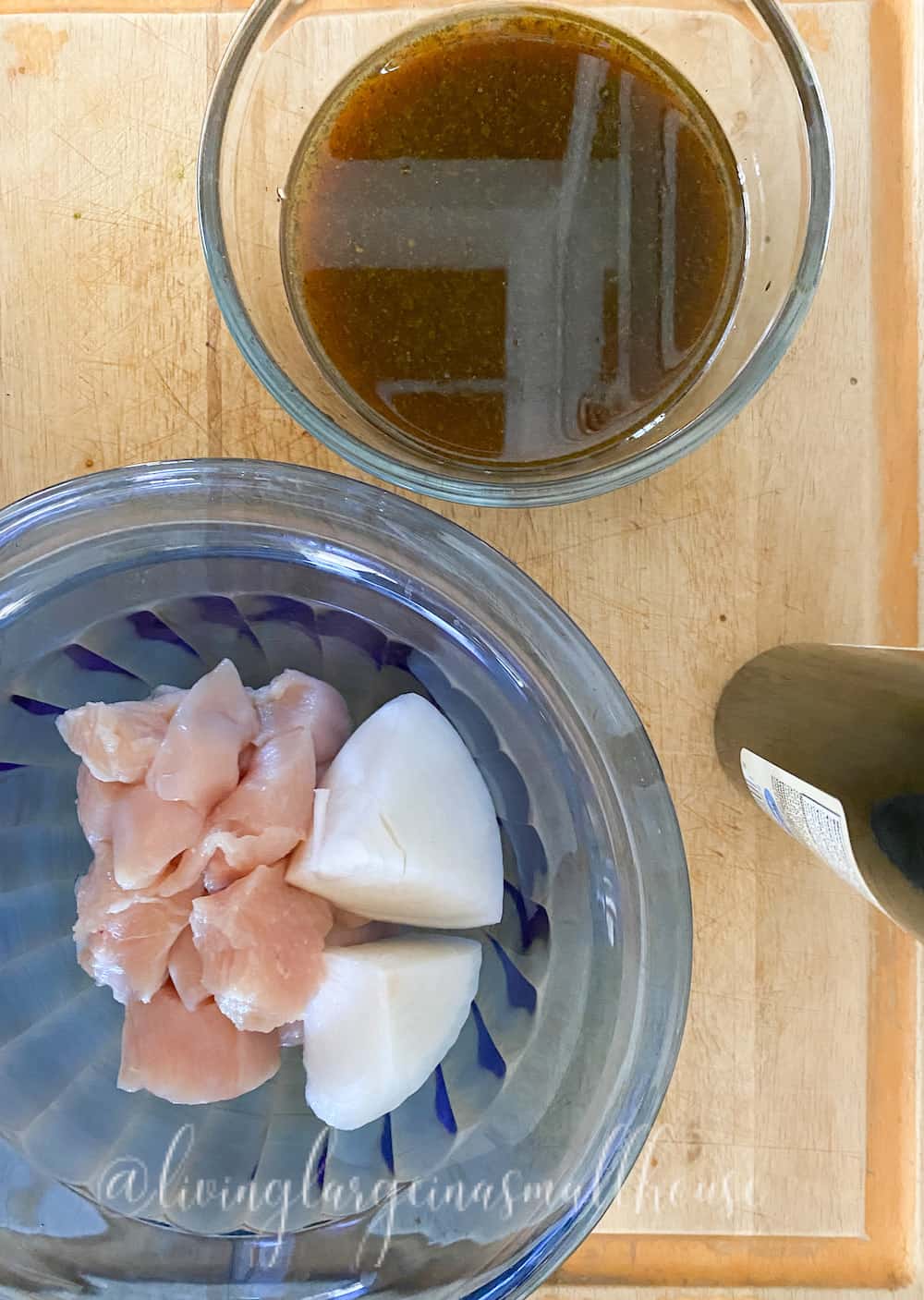 Assembling the Chicken Kabobs
Thread the marinaded chicken pieces onto the skewers with the veggies of your choice.
Handy isn't much of a vegetable guy so we are pretty plain here but these are some other ideas for adding colorful veggies to your chicken kebabs:
Cherry Tomatoes
Red Bell Pepper
Yellow Bell Pepper
Green Bell Pepper
Mushrooms
Red Onion
Pineapple
Zucchini
Parboiled Red Potatoes
Green Onions
I add some of my veggies to my marinade like the onions for added flavor, You can add whatever you like to the marinade as well or just put them on your skewer as is.
If you like spicy flavors you could add crushed red pepper flakes and/or hot sauce to the marinated chicken breasts
I don't use wooden skewers but if you do soak them in water for about an hour so they don't burn on the grill.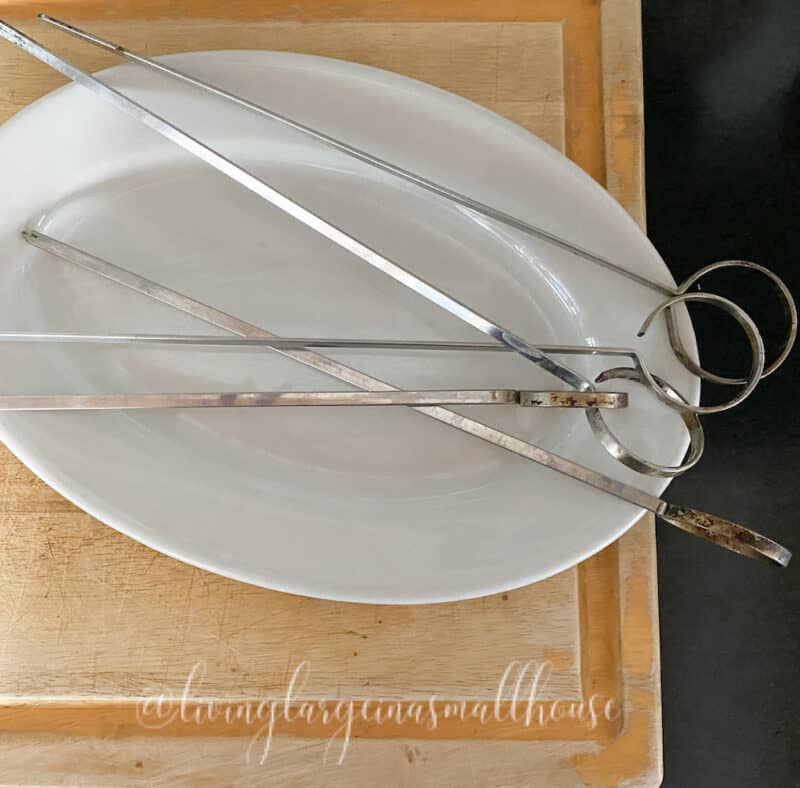 We use flat metal skewers.
They ensure that the meat and vegetables don't roll around on the skewer. Allows for nice even cooking
"Eating Outdoors makes for good health and long life and good temper, everyone knows that"
-Elsie de Wolfe
Fun Food
The best part of kabobs is that they can be made ahead of time and everyone can make their own kabobs to suit their own taste buds.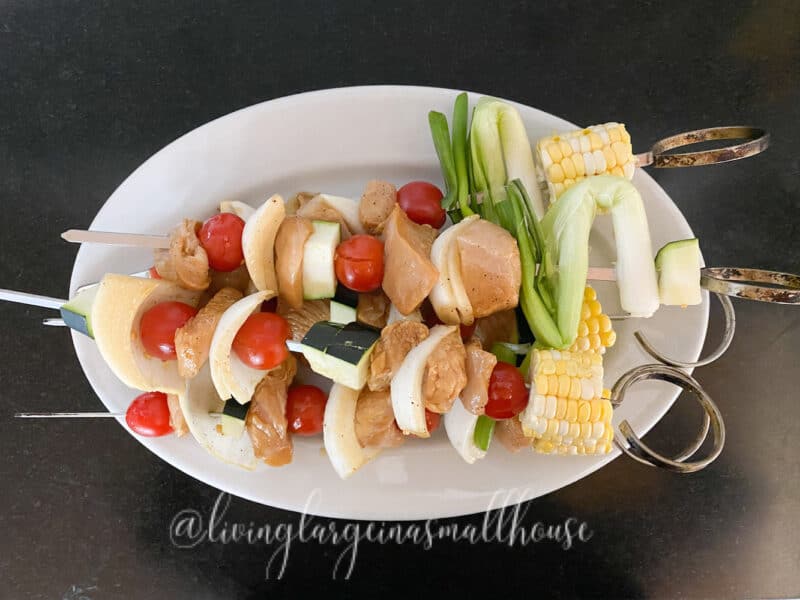 This is an especially fun meal for kids.
I would definitely put chicken kabobs in the easy meals category.
How Long Do You Grill Chicken Kabobs?
You can put the chicken on the grill on direct heat if you want a quick char on your chicken kabobs but then place kabobs on indirect medium-high heat for 10-15 minutes to cook or until cooked through as chicken.
Once the chicken is done, take the kabobs off the grill and place them on a serving platter.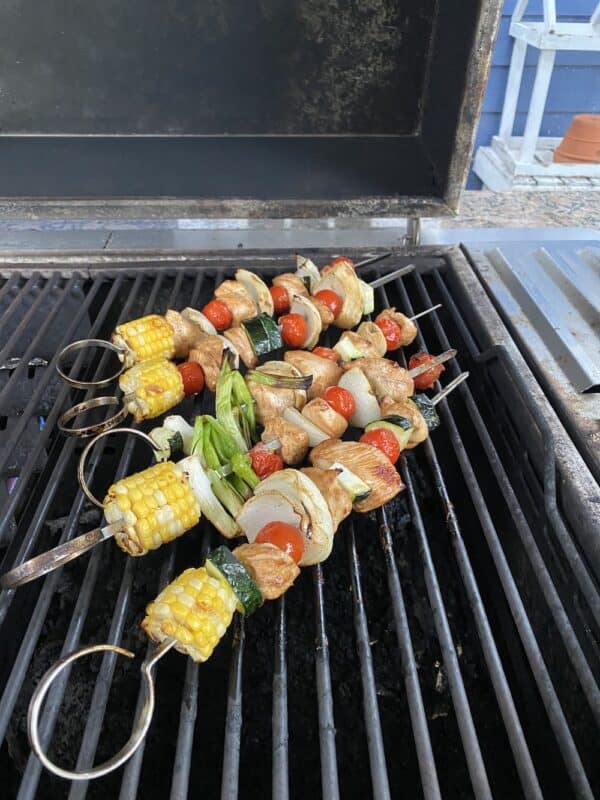 What Should You Serve with Chicken Kabobs?
Kabobs are a great summer meal for warm weather.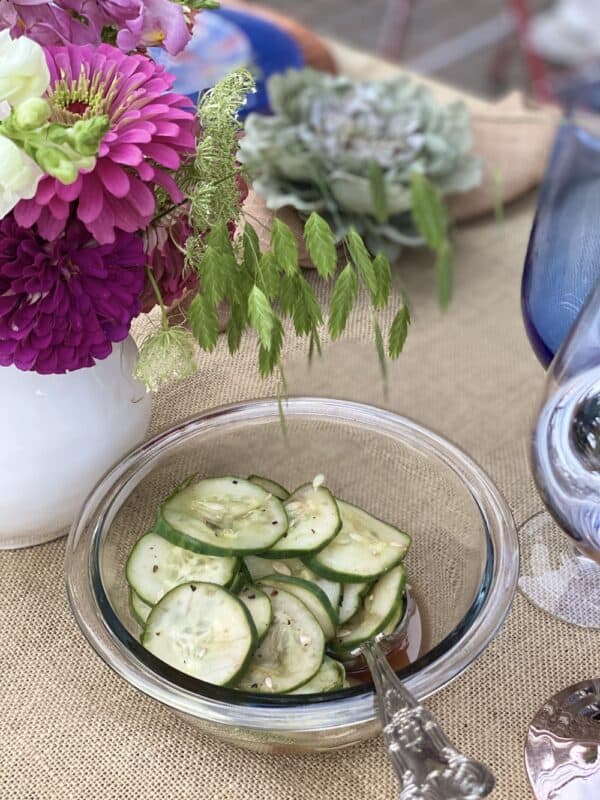 You can do most of the cooking on the grill.
You can also serve easy-to-prepare sides with kabobs.
I like to have either rice as a side but you can also have a large green salad or fruit salad to complement this dish.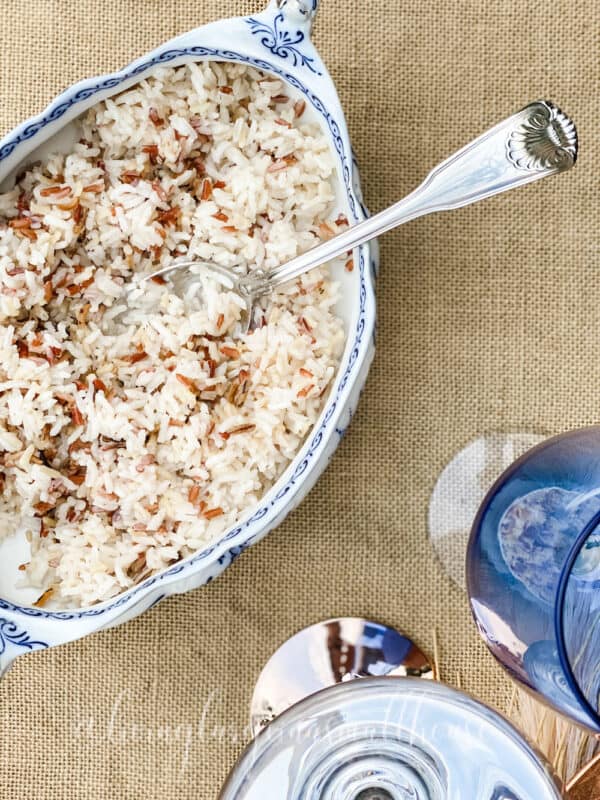 Right now we have tomatoes, cucumbers, and onions in our garden so I could also make a salad with these ingredients tossed together with vinegar, oil, and some fresh herbs.
Other summer side dish ideas include; corn on the cob, potato salad, cole slaw, and rice balls, I think a cucumber yogurt dipping sauce might also be yummy for this recipe.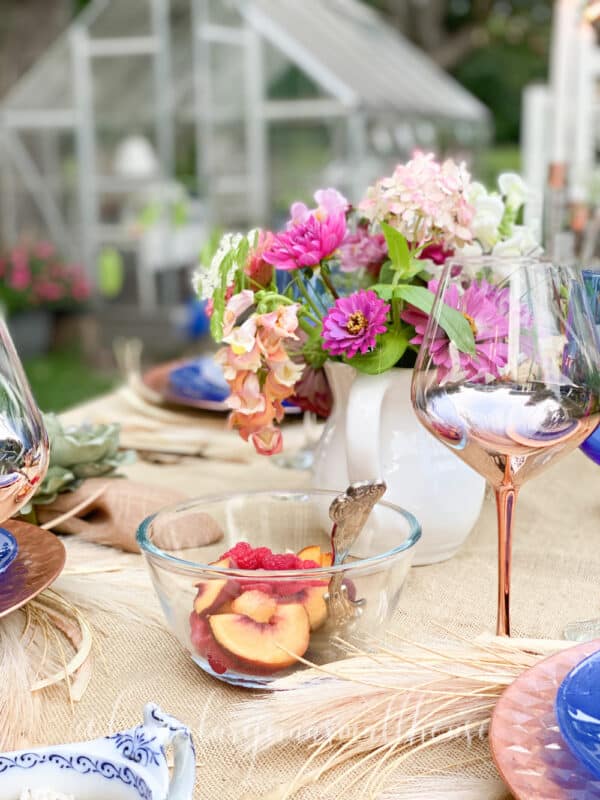 Here is a great cucumber sauce recipe at Cookie + kate

You of course can make your kababs with beef (I would eliminate the orange juice and add 1/4 cup red wine vinegar, 1 tbsp dijon mustard, 2 tbsp Worcestershire sauce, 1 tsp thyme, and a bit more olive oil).
Shrimp is also another good choice for protein. You could use either marinade with shrimp.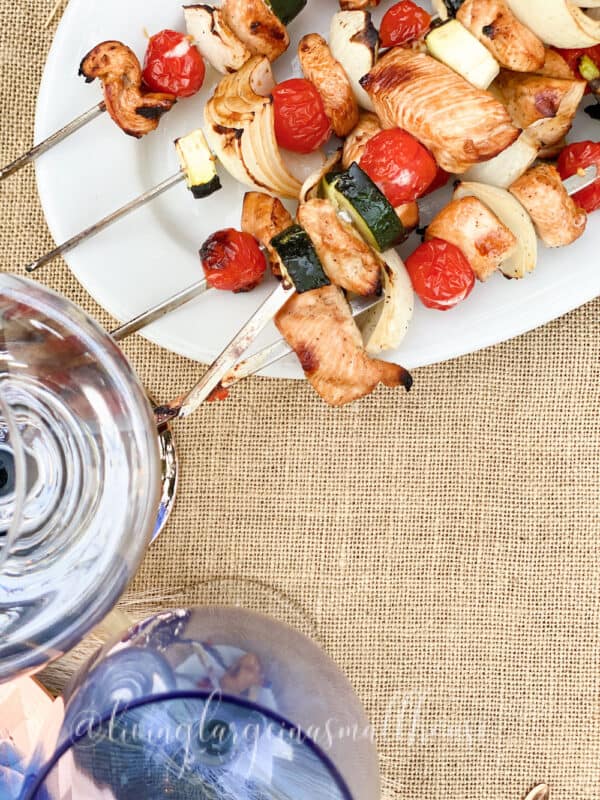 This marinade is so good that you could use it for any chicken recipe. It doesn't just have to be for chicken kabobs.
Hope you enjoy it!
Peace,

A great way to save this article is to save it to your Pinterest boards. You can find the pin button in the top left corner of the photo below. Also, don't forget to follow me on Pinterest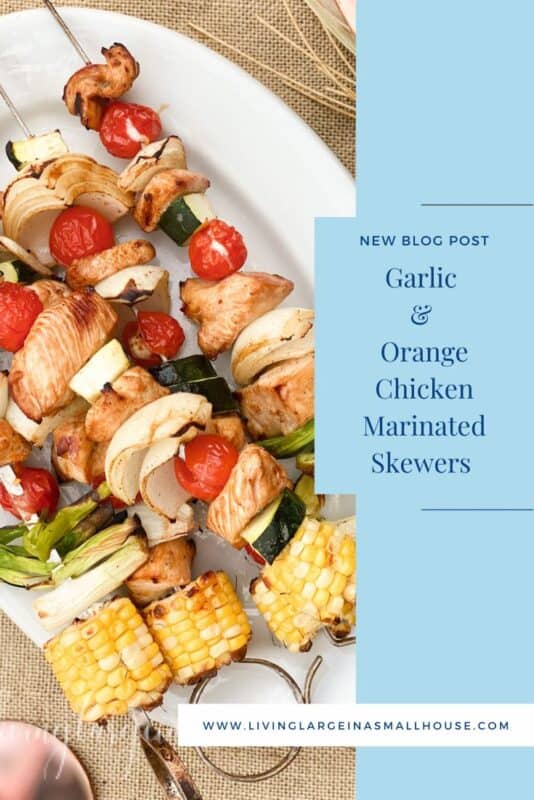 Shop My Table